This Jacked Up Peach Cocktail is made with Jack Daniels, Peach Schnapps, and some other yummy things to make a drink that tastes like a juicy peach soaked in whiskey. It's light and refreshing — just right for a summer party.
For this recipe you'll need: Jack Daniels, Peach Schnapps, St. Germain Elderflower liqueur, brown sugar, peaches, Fee's Old Fashioned bitters, about 4 ounces gingerale or club soda, on the rocks glasses, maraschino cherries, and ice
If you are in a hurry click here to go straight to the recipe.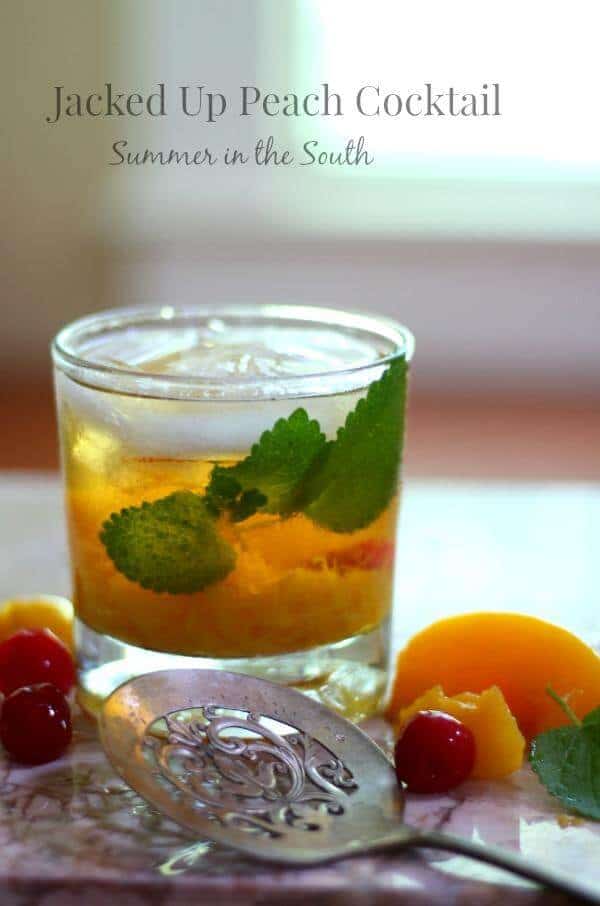 The Restless Chipotle Channel
If you think I am posting a lot of peachy cocktails lately, well, you're right. I love a fresh peach cocktail in the summertime — and while some of you might still be shoveling snow, I'm wearing sandals and tank tops in 90 degree heat.
When you think of peaches you might think of Georgia but here in Texas we think of Parker County. It's about 90 minutes west of where I live and I just love the area because it's very country, very classic Texas, and there are a ton of Texas sized, ripe, juicy peaches in the summer. Absolute perfection.
If you aren't lucky enough to live within driving distance of Parker County, or it happens to be a part of the year when peaches are not in season then you can use canned or frozen peaches in this recipe. If having peach pulp in your drink isn't you thing then try blending the drink with ice before you add the gingerale or club soda. It gets really slushy and good — this is an especially nice way to make the drink if you are using frozen peaches.
One warning though — I don't make this fresh peach cocktail by the pitcher because I will seriously sit and drink it all day long. It's just that good. Is it better than the Bourbon Peach Tea I posted last week?
Well…… I'll let you decide. One thing I do like about this Jacked Up Peach cocktail is that is is fizzy and you can control the sweetness by using either gingerale (my personal favorite) or club soda.
Jack Daniels is pretty much a standby whiskey in the South. You might find expensive bourbon and imported single malt scotch in a Southern pantry but it will almost always be sitting next to a bottle of Jack Daniels. We don't do Bourbon and Coke here so much as we do Jack and Coke. There are no less than 10 country songs about Jack Daniels, my favorite being Jack Daniels, You Lied to Me Again by Ray Stevens. There are probably more than 10 but that's all I could think of right off hand.
So you see, Jack Daniels is pretty much a Southern icon — like screen doors, sweet tea, and Sunday supper.
Now, being a food writer I have an entire shelf of my pantry dedicated to booze. Sometimes companies send it to me as part of a recipe they want me to develop, sometimes clients gift me with it when they are especially happy with my work, and sometimes I buy it for a particular recipe I want to work on. This was one of those times when I paid for it myself to work on this cocktail… and it took a lot of testing. A lot.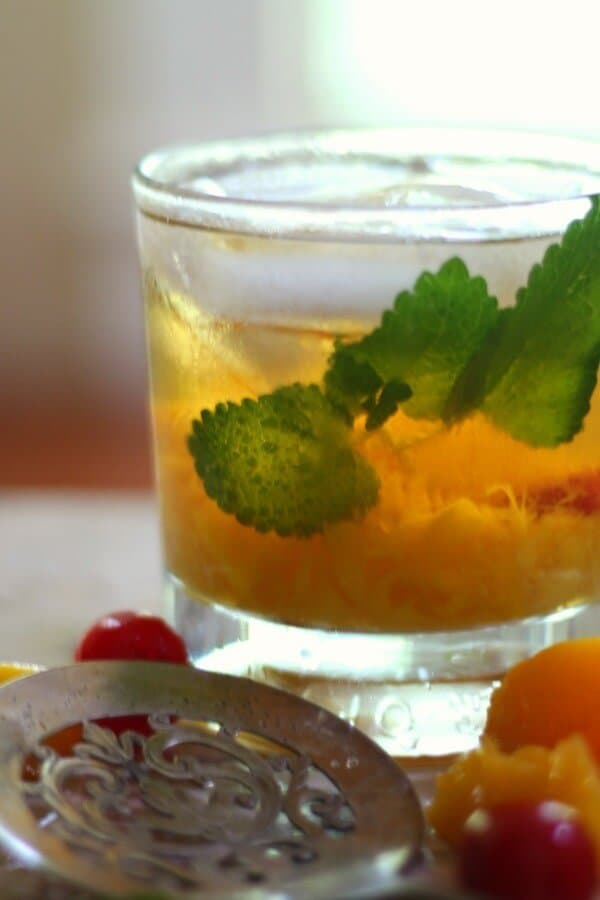 I prefer the Gentleman Jack as a general rule because it's very smooth and rich. Feel free to use the standard Jack Daniels if you like but don't use the Fire or the Honey. It will make the drink too sweet and throw it off. I also tucked a few lemon balm leaves in it because I had them handy in my herb garden and I thought it would look good. You don't need them. Now… ready to add another star recipe to your collection of peach mixed drinks?
The following are affiliate links. If you click through and buy something I will get a small commission used for keeping the blog up and running smoothly. Thank you for being a part of Restless Chipotle!
The Fee Bros. Peach Bitters just adds a deeper peach note to this cocktail. Fee Bros. are the only ones I use consistently. Very high quality. They have other flavors of bitters, too but the Old Fashioned or Peach (or both) is what you want for this cocktail. These on the rocks glasses are heavy and just right for this Jacked Up Peach Cocktail. They show it off beautifully.
Here's that Jacked Up Peach Cocktail! Happy Friday!

Jacked Up Peach Cocktail
A refreshing summer cocktail made with fresh peaches and Jack Daniels, the Jacked Up Peach is perfect for sipping by the pool.
Ingredients
2

slices

of fresh

ripe peach, peeled

1

teaspoon

brown sugar

1.5

ounces

of Jack Daniels

1/2

ounce

peach schnapps

1/2

ounce

St. Germain Elderflower Liqueur

3

dashes Fee Bros. Old Fashioned bitters

Ice

4

ounces

gingerale or club soda

Peach slice and Maraschino cherry for garnish
Instructions
Place the 2 peach slices and the brown sugar in the bottom of an on the rocks glass.

Muddle together until a paste is formed.

Add the Jack Daniels, Peach Schnapps, St. Germain, and bitters to a cocktail shaker with ice.

Shake gently and pour the mixture over the muddled peaches.

Fill the glass with ice.

Pour gingerale or club soda over the top and stir gently.

Add the peach slice and cherry to the glass and serve.
If you liked this Jacked Up Peach Cocktail you may also like…
Jack's Sweet Tea The Slow Roasted Italian
Black Raspberry Margarita Intoxicologist