This bourbon peach tea is the perfect summer cocktail and best of all you can make it by the pitcher. Sweet, refreshing, and enough of a bourbon kick to say, welcome to the south, y'all!
For this recipe you'll need: peaches, dark brown sugar, vanilla bean, sugar, filtered water, loose leaf black tea, bourbon, peach schnapps, pitcher, ice
If you are in a hurry click here to go straight to the recipe.

The Restless Chipotle Channel
As I write this I am 35,000 feet in the air just returning from France. It's amazing to me that I can sit in a plane going something like 600 miles an hour, in a crazy altitude, and message with family and friends or do a little work. Plus wine, of course. Yeah for technology!
My birthday vacation in France has been amazing and I want to thank all of you who were kind enough to wish me a happy birthday on the Facebook page. It really was wonderful and I 've seen so many things I've only dreamed about in the past. Plus I have lots of images to share and recipes to create. I've been inspired!
I'll also be reviewing the tour, the places I've gone, and the hotels plus giving you advice and tips for your French vacation! I'll be sharing over the next several weeks so please subscribe to the newsletter in the sidebar so you don't miss any of it.
Let's talk about summer in the United States, though. More specifically, let's talk about summer in the South. Hot, muggy, and oppressive– our summers are almost unbearable sometimes. Many of us spend afternoons on the porch where we can catch a cool breeze — and a porch is incomplete without a pitcher of sweet tea. I've taken this sweet tea to another level with the addition of bourbon and peaches. I guarantee that you're friends will be asking for this recipe way before the summer is over.
Keep a pitcher of this available for those drop in guests — you'll probably find that the number of "drop in guests" goes up quite a bit.
Now, honestly I'm in a plane and I've had a couple of glasses of wine… so if there are typos I'll try to catch them early next week when I've recovered from my travels! This is a little shorter than usual but I am hoping to get a nap in before I get home. I can't wait to share more about France with you!
The following are affiliate links. If you click through and buy something I will get a small commission used for keeping the blog up and running smoothly. Thank you for being a part of Restless Chipotle!
This pitcher and glass set is perfect for serving your bourbon peach tea! It's very "southern" to take the tea and glasses out to the porch to sip and watch the world go by. Fresh, bourbon vanilla beans are exactly the right way to take the flavor in this drink right to the top.
Here's the bourbon peach tea! Give it a try and let me know what you think!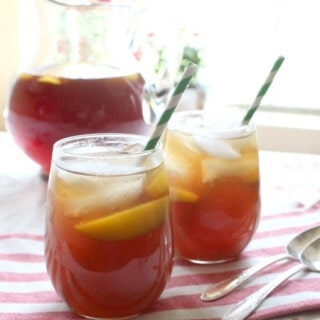 Bourbon Peach Tea
Course:
Beverage - Cocktail
Ingredients
For the peach puree
• 1 pound peeled

pitted, and sliced peaches

• 3/4 cup dark brown sugar

• 1 vanilla bean

split lengthwise
For the tea
• 2 cups white

pure cane sugar

• 1/2 gallon filtered water

• Generous 1/3 cup loose leaf tea or 4 family sized tea bags
For each drink
• 1 ounce of bourbon

• 1/2 ounce Peach Schnapps

• 3 tablespoons of the peach puree

• 6 ounces of sweet tea

• Ice

• Sliced peaches for garnish
Instructions
For the peach puree –
Mix the ingredients together.

Cover tightly and keep in the refrigerator overnight.

Next day the sugar will be dissolved and the mixture will be juicy.

Remove the vanilla beans.

Blend the peach mixture until smooth.

Store tightly covered in the refrigerator.
For the tea
Put the water in a large pot.

Add the sugar and bring just to the boiling point, stirring until sugar is dissolved.

Immediately remove from the heat.

Stir in the tea or add tea bags.

Steep tea bags for 5 minutes or loose leaf tea for 3.

Remove tea bags or strain the loose leaf.

Pour tea into a pitcher and let come to room temperature before adding ice.
For each drink
Fill a glass with ice.

Add 2 tablespoons of the puree, the bourbon, and the tea to the glass.

Stir to blend and add the peach slices to garnish.
If you liked this bourbon peach tea you may also like…
Blackberry Bourbon Lemonade Bake Your Day
Grapefruit Ginger Bourbon Sour Fake Ginger