The Alabama Slammer Cocktail is a sweet, fruity drink (think Hawaiian Punch with a kick) that's made with Southern Comfort. No one really knows who invented it but legend says that it was created at the University of Alabama in the mid-1970s…and who am I to argue? With it's bright red color it's supposedly the signature drink of Crimson Tide. What I do know is that this gorgeous ruby cocktail is one of my favorites, right along with my vanilla gin and tonic!
This recipe is meant for people over 21 years old. Please drink responsibly.
Last Updated: October 8, 2019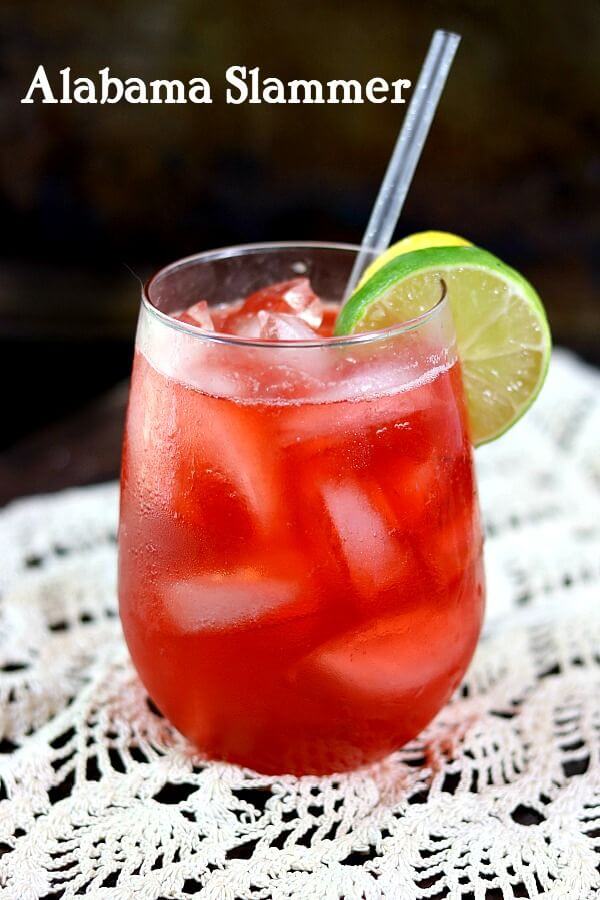 Cocktail Ingredients
There is a lot of alcohol in this definitely all-adult beverage! Be sure to check the notes for variations to this recipe.
Southern Comfort is a smooth whiskey that was created in New Orleans in 1874. It's actually a whiskey liqueur with a closely guarded ingredient list. Cherry and orange flavors are most commonly mentioned.
Amaretto is an Italian almond liqueur.
Sloe Gin is liqueur made with gin and a fruit that's related to a plum called sloe drupes. Glad you asked?
Orange juice does give a bright flavor and helps to cut some of the syrupy sweetness from all the liqueurs.
Grenadine, good grenadine is actually a pomegranate based syrup. Most cheaper brands use some form of maraschino cherry juice.
Maraschino cherries and the following ingredients are all garnish.
Orange slices
Lemon Slices
Lime Slices
Alcohol + Teenagers +1976
In the mid-1970s I was 15 but there is a statute of limitations and so I think that whatever I say after this point is covered by layers of dust.
At age 15 my main goal in life was to have a boyfriend and be part of the cool crowd. It was relatively easy to accomplish the first but the second goal eluded me until I didn't really care anymore. In fact, it is interesting to note that I became infinitely more popular amongst my high school peers after I published my first book and established myself as a food writer.
C'est la vie
Why I Can't Drink Cherry Flavored Cocktails
For my 16th birthday my best friend came to pick me up to take me out. My mother LOVED him and was totally sure I was completely safe in his hands. Excuse me while I laugh hysterically.
So he came to pick me up on a warm April evening in 1976 and I was ready in my Brittania jeans, wedge heels, and tube top _ Texas big hair, super shiny kissing gloss, and kohl rimmed eyes – I was the epitome of 1970s style. In the car he triumphantly lifted up two bottles of cherry vodka and two bottles of Sprite.
Our evening was set.
All I can tell you about that night is that throwing up cherry vodka and Sprite is awful and I can't stand the combination to this day.
Alabama Slammer for Tailgating
So what does this have to do with an Alabama Slammer Cocktail?
Not much… it was just a funny story… but there are some similar flavors. Southern Comfort has a fruity, almost cherry, flavor to it and when you mix it with the other ingredients magic happens.
Plus it turns a bright crimson, which happens to be my favorite color. The Alabama Slammer Cocktail came back to life in the Tom Cruise film, Cocktail. I suspect a lot of cocktails came back to life in that movie!
Lastly, I assume some of y'all are sporting sweatshirts that proclaim, Roll Tide and showing up at a tailgating party with several Mason jars of this iconic cocktail in an ice chest would make you very popular.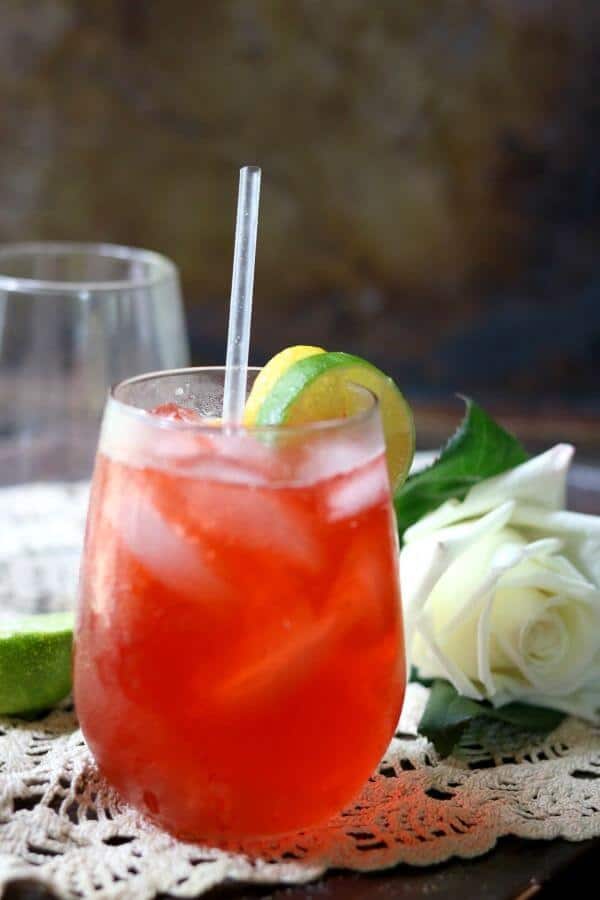 Alabama Slammer Variations
Like most things there are more than a couple of ways to make the iconic Alabama Slammer Cocktail. Sloe gin is a red liqueur made with gin and small fruit related to the plum called sloe drupes. It's not available everywhere but luckily there are ways around that.
Substitute 1/4 ounce grenadine and 3/4 ounce vodka for the sloe gin
Add a little vodka for extra kick
Add 1/2 ounce peach schnapps
Squeeze of lemon juice
Squeeze of lime
Cranberry juice or Pineapple juice instead of orange juice
Sprite or club soda for some sparkle
Alabama Slammer Cocktails are sometimes served as shots.
Alabama Slammer Cocktail FAQs
Here are the most commonly asked questions about this recipe. If you don't find the answer to yours here leave a comment below or email me – I'll get back to you as soon as I can!
What does Alabama Slammer mean?
It's a bright crimson cocktail that's made with Southern Comfort, Amaretto, Sloe Gin, orange juice and grenadine. It's the official unofficial drink of the University of Alabama – and is often served as a shot. I'd guess the "slammer" part is related to "slamming back" a shot. But… who knows?
What's the difference between gin and sloe gin?
Gin is a clear, distilled alcohol made with grain and flavored with juniper berries while Sloe gin is a sweet liqueur made from a sloe berry and is red. Gin has a much higher alcohol content.
More Cocktail Recipes
Love this? You may also love these great cocktail recipes!
Sex in the Driveway All Summer Long
Bright blue, this Sex in the Driveway cocktail is just right for summer parties! Sweet peach and orange flavors make this easy to drink.
Check out this recipe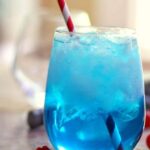 Frozen Banana Daiquiri
Smooth and creamy, this tiki style drink will whisk you away to warm, sunny beaches and blue skies — even if you're really sitting in a crabgrass filled yard with your feet in a kiddie pool.
Check out this recipe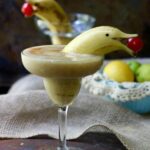 Classic Tom Collins Cocktail
Classic Tom Collins cocktail made with homemade simple syrup, lemon, gin, and club soda. It's a refreshing drink
Check out this recipe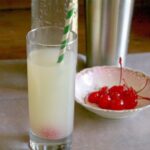 Dirty Shirley Cocktail
Fizzy and sweet – you'll love this grown up version of the Shirley Temple! Be sure to use a good grenadine because it makes all the difference.
Check out this recipe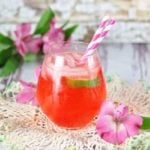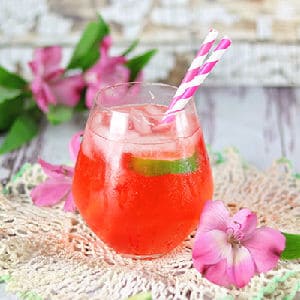 Sangria Sunrise
Fruity sangria meets orange juice in this twist on the Tequila Sunrise. Sangria Sunrise Recipe
Check out this recipe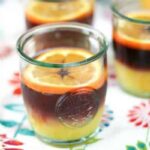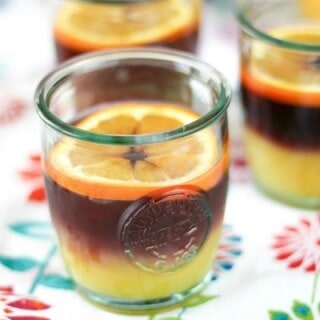 Gin and Tonic Cocktail
This classic gin and tonic cocktail is so simple. Be sure to use the best ingredients you can afford for the best flavor– this slushy beverage is full of the gorgeous red, white, and blue color.
Check out this recipe
Or check out this Slo Gin Fizz from Inspired Taste.
You May Need…
The following are affiliate links. We are a participant in the Amazon Services LLC Associates Program, an affiliate advertising program designed to provide a means for us to earn fees by linking to Amazon.com and affiliated sites.
What's new? Check out my Restless Chipotle & Co. Store on Amazon where you'll find all kinds of nostalgic goodness! Thanks so much for being a part of Restless Chipotle!
There are always things that make creating recipes easier. This is a super easy recipe but one thing that makes it amazing is a good grenadine. Most of the grenadine you find in the store is not real grenadine – oh it's red but it's like cherry juice. Real grenadine is made with pomegranate and makes a huge difference!
Alabama Slammer Cocktail Recipe
This easy recipe is perfect for summer sipping! You can adjust the servings by clicking on the number if you'd like to make it as a pitcher drink.
If you click on the number of servings in the recipe card you can adjust the measurements up or down for the exact number of servings you need.
If you love this recipe please give it 5 stars! ⭐️⭐️⭐️⭐️⭐️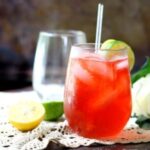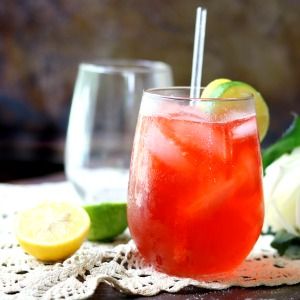 Alabama Slammer Cocktail
Print
Add to Collection
Go to Collections
The Alabama Slammer is a red, fruity cocktail that was made popular in the Tom Cruise movie, Cocktail. It's refreshingly sweet for summer and a gorgeous color!
As an Amazon Associate I earn from qualifying purchases.
Ingredients
1

ounce

Southern Comfort

1

ounce

Sloe Gin

,

, may substitute vodka

1

ounce

Amaretto

,

or Orgeat

1/2

ounce

grenadine

3

ounces

orange juice

Ice

Oranges, lemons, limes for garnish
Instructions
Shake all ingredients (except garnish) with ice in a shaker.

Strain into a glass filled with ice.

Garnish with an orange, lemon, or lime slice, or cherry… or any combination!
Notes
Substitute 1/4 ounce grenadine and 3/4 ounce vodka for the sloe gin
Add a little vodka for extra kick
Add 1/2 ounce peach schnapps
Squeeze of lemon juice
Squeeze of lime
Cranberry juice or Pineapple juice instead of orange juice
Sprite or club soda for some sparkle
Alabama Slammer Cocktails are sometimes served as shots.
To make it slushy freeze the orange juice in cubes and then blend the cocktail ingredients in a blender
Nutrition
Calories:
313
kcal
|
Carbohydrates:
39
g
|
Sodium:
9
mg
|
Potassium:
170
mg
|
Sugar:
32
g
|
Vitamin A:
170
IU
|
Vitamin C:
42.5
mg
Sign up for the emails and never miss another recipe!!
We'll never share your email or send you spam. Pinkie swear.