A flowery gin and tonic with the nuance of sweet vanilla makes a refreshing and unique cocktail.
This post was sponsored by Citadel Gin and the book, Paris Cocktails. Vanilla Gin and Tonic made with Citadelle Gin is a slightly sweet and flowery cocktail - a unique twist on the classic G&T!
I love when people contact me and ask me if I'd like to create a recipe or review a book or, even better, receive a bottle of booze to try. This is the case with this recipe -- I was contacted and asked if I'd like to receive a review copy of Paris Cocktails and a bottle of Citadelle Gin. Saying no was not even a consideration, y'all.
I'm a gin and tonic girl. Well, I'm a vodka tonic girl and, to be perfectly honest, I never really enjoyed G&Ts too much until I got the Citadelle. Holy Moly! It's not like any gin I've had before and I am definitely keeping this stocked in the bar. It's very smooth and flowery - much different that the other gins I've had.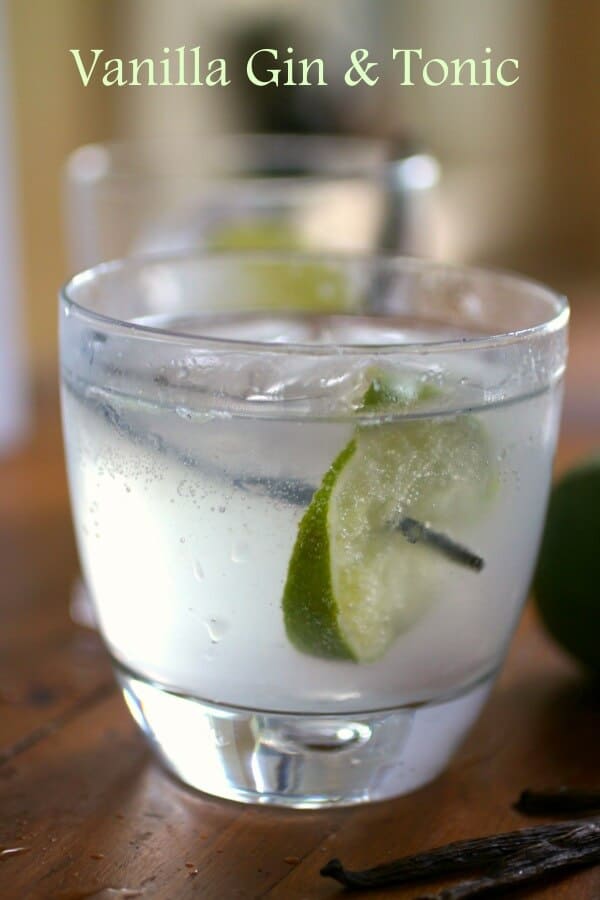 You know, I haven't travelled much in my life. I got married at 20 and had kids -- a one income family just doesn't have the extra to do much more than go camping. It was never an issue and I certainly don't regret having kids... but... I always wanted to go to Europe, and especially France. I had kind of stuffed those dreams down until I married my second husband (he's been literally everywhere except maybe Australia) and we took a couple of cruises.
All of those travel dreams came back to me in force. I may never get to France but I can certainly visit via the food and drinks I make. Someday maybe I'll get to do it but for now books, movies, and ingredients are the way I visit other countries and I am totally ok with that. UPDATE: My husband took me to France for my birthday in 2016!!!
Paris Cocktails leads you through Paris via the cocktails and bartenders that make them in the city. There are many I have never heard of and others that are made differently than I've made them in the past. It is full of information that I had never known and I know that I'll be using it a lot in the future. Not only are the more than 100 French and French inspired cocktail recipes but there are suggestions for throwing the perfect French party and a list of the classic French bars in Paris, the United States, and the world. I was thrilled to see Boulevardier, a local bar and restaurant, in there!
I made the gin and tonic in the book, a simple concoction of Citadelle, Fever Tree, and lemon. Although I hadn't bothered to use the more expensive Fever Tree tonic before the author explained that the flavor was much different so I splurged and got the good stuff. The difference is really is incredible!
My challenge was to take the basic French G&T and make it my own. I can't tell you (no, really, I can't) how many drinks I made and poured out, made and drank, made and forced my over-21 family members to drink in order to come up with something I loved. I persevered and, even as I write this, I can tell you that I am sipping the best gin and tonic ever.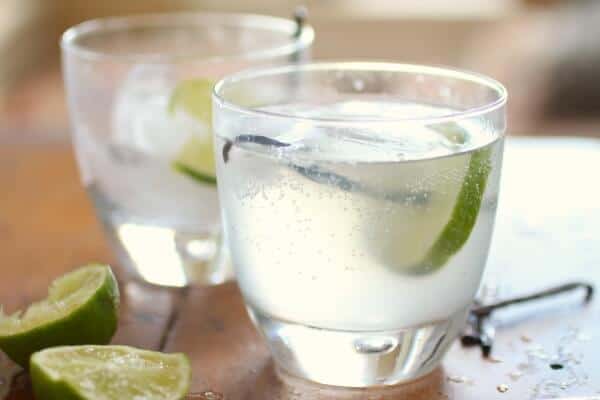 Admittedly, I am a big fan of girlie drinks. My favorite are sweet, smooth, and taste like some sort of juice or soda. I can drink scotch, bourbon, whiskey, or whatever and I can drink it neat. I can probably drink most of you under the table BUT I prefer smooth, sweet, and soothing.
The Citadelle gin is, as I said, very flowery and naturally kind of sweet. I decided to add a piece of vanilla bean to see how that worked.
It worked good, y'all. Really good. The vanilla flavor complemented the flowery flavor of the gin perfectly.
What's new? Check out my Restless Chipotle & Co. Store on Amazon where you'll find all kinds of nostalgic goodness! Thanks so much for being a part of Restless Chipotle!
If you want your own copy of Paris Cocktails (and you do) you can get it on Amazon. It's got tons of recipes to try and lots of information about how to create a Parisian style cocktail party plus some great information.

Paris Cocktails: An Elegant Collection of Over 100 Recipes Inspired by the City of Light
📖 Recipe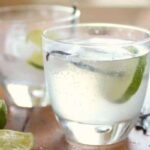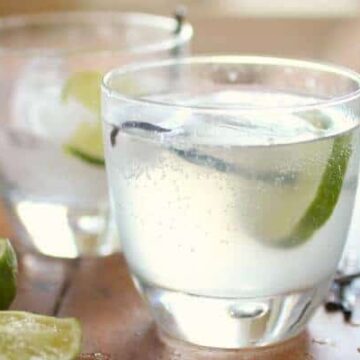 French Gin & Tonic My Way
Print
Save
Saved!
A flowery gin and tonic with the nuance of sweet vanilla makes a refreshing and unique cocktail.
Ingredients
2

ounces

Citadelle gin

½

inch

piece of vanilla bean

1

tablespoon

lime juice

Ice

4

ounces

Fever Tree Tonic water

1

slice

of lime

1

vanilla bean
I earn a commission from Instacart from qualifying purchases.
Instructions
Add the vanilla bean to the gin and let sit for at least 15 minutes before mixing your drink. The longer it blends the deeper the vanilla flavor will be..

Add the gin, the vanilla bean, and the lime juice to a chilled glass.

Add ice.

Pour the tonic water over the gin mixture.

Garnish with lime and the vanilla bean.
You'll find more helpful tips and variations in the body of the post.
Nutrition information is estimated as a courtesy. If using for medical purposes, please verify information using your own nutritional calculator. Percent Daily Values are based on a 2000 calorie diet.
Sign up for the emails and never miss another recipe!!
We'll never share your email or send you spam. Pinkie swear.

Both the book and the gin were provided to me at no charge. All opinions are my own.
If you liked this Vanilla Gin And Tonic you may also like...