What do you do when the temperatures climb into triple digits and the dog gives you dirty looks when you reach for the leash? Well, around here I fill a pitcher with ice and start pouring an Arnold Palmer spiked with vodka. Cool and refreshing- it's one of those perfect cocktails that will tame the hottest summer day.
For this recipe you'll need: sweet tea, lemonade, vodka, citron vodka (optional) lemon slices
This recipe is meant for readers 21 and over - please drink responsibly.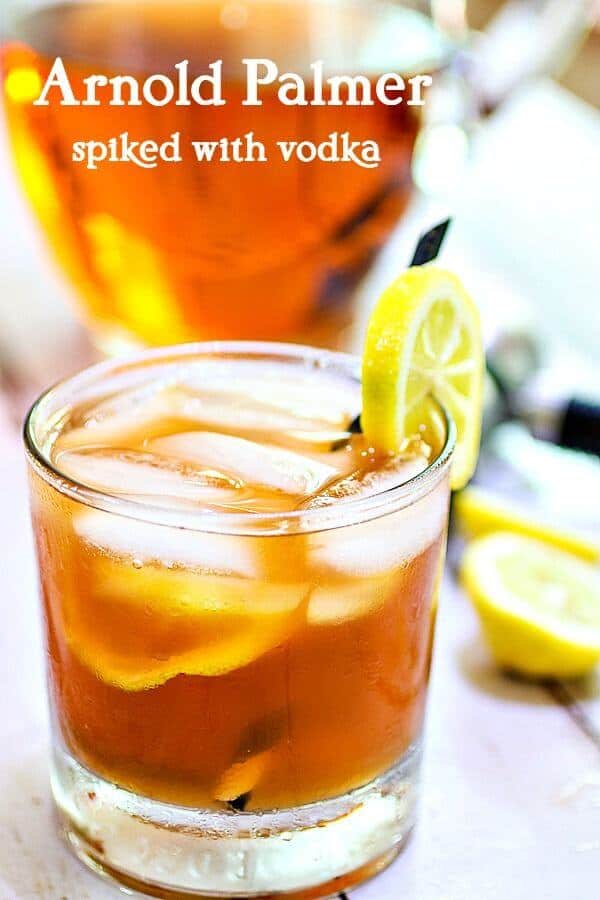 This recipe is so easy that it's embarrassing and, y'all, I really thought about not posting it. I mean, who doesn't know how to make an Arnold Palmer spiked with vodka?
Apparently quite a few of you, since I have been asked about how to do it.
We're smack dab in the Dog Days around here. Heat hit with a vengeance last week and we've been in triple digits. If you follow me on Instagram you probably saw my story where the plastic handle of tongs I was grilling with got melty and sticky sitting on my chair. This morning I turned on the faucet to get a drink of water and then dang water came out hot - about bath temperature.
It's crazy!
This spiked sweet tea is one of my favorite summer drinks. It encourages you to sit on the porch and read a book or just watch the world go by. It's sweet and refreshing with just a little bite from the vodka. I tend to make mine on the weak side because I like to have a couple of them without passing out on the porch with drool running out of the side of my mouth.
But you know if that DID happen we'd be sure to have someone come to the door. #mylife
Spiked Arnold Palmer Drink Variations
Anyway, I'm giving you the basic drink recipe but don't be afraid to tweak it a little. Some of the variations of made are:
Bourbon instead of vodka
Citron vodka
Adding a little splash of peach schnapps
Using orange juice instead of lemonade
Using limeade instead of lemonade
Adding a little fresh mint
You get the idea.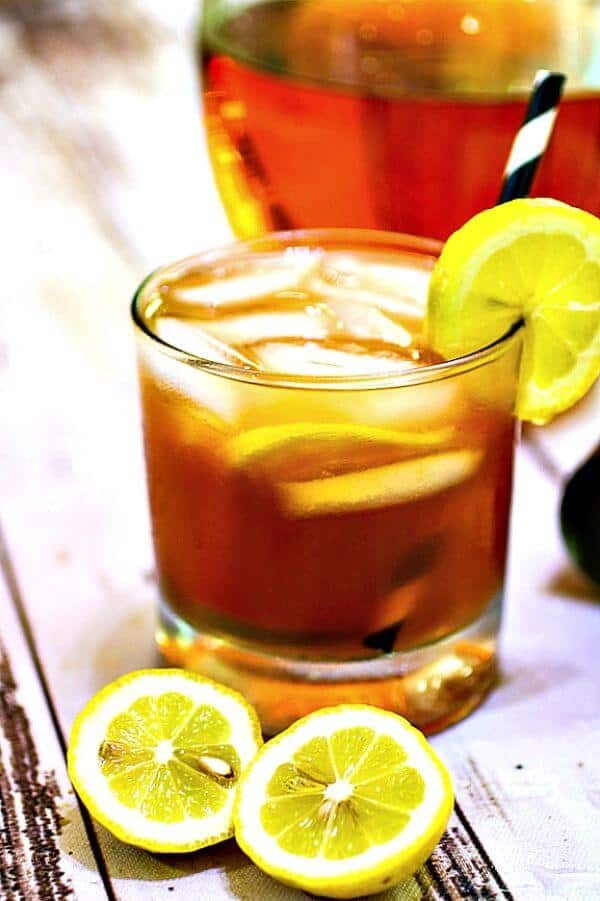 This Arnold Palmer spiked with vodka is perfect for summer parties
YOU MAY NEED…
The following are affiliate links. We are a participant in the Amazon Services LLC Associates Program, an affiliate advertising program designed to provide a means for us to earn fees by linking to Amazon.com and affiliated sites.
Thanks so much for being a part of Restless Chipotle!
One of the most welcoming sights in the world to me is walking in a friend's house and seeing a big pitcher of tea and a couple of glasses ready and waiting on a table. Click on the serving sizes and move the thingie up to 8 to make a pitcherful. This pitcher and tea glasses set is perfect! The design makes it just fancy enough for company but not too fancy for friends.

More Reasons to Invite a Friend Over for Cocktails
There's a reason southerners have the reputation of being relaxed. A couple of these, a rocking chair, and a friend on a hot afternoon will make you wonder why you were in such a hurry to fold that laundry anyway. Make yourself a tall, cold glass of this Arnold Palmer spiked cocktail and click through to take a look at these other refreshing drinks.
Arnold Palmer Spiked with Vodka Recipe
Sweet tea and lemonade - it's the drink of summer! Add a little vodka and it becomes a simple pitcher drink to sip with friends. If you love this recipe please give it 5 stars.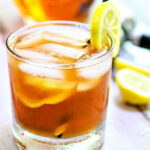 Vodka Spiked Arnold Palmer
Print
Pin Recipe
Save
Go to Collections
A light, refreshing drink made of iced sweet tea and ginger ale spiked with a splash of vodka. You can easily make it by the pitcher by changing the servings on the recipe. The ingredients will update automatically. Drink responsibly, y'all - be safe.
As an Amazon Associate I earn from qualifying purchases.
Ingredients
1

cup

sweet tea,

, cold

⅓

cup

lemonade

,

, cold

2

ounces

vodka

,

, don't get a cheap one

½

ounce

citron flavored vodka

,

, optional

ice

1

lemon slice

,

, garnish
I earn a commission from Instacart from qualifying purchases.
Instructions
Pour the tea, lemonade, and both vodkas over ice in a shaker.

Strain into a glass filled with ice and add the lemon slice.
Nutrition Facts
Calories:
296
kcal
|
Carbohydrates:
33
g
|
Sodium:
15
mg
|
Sugar:
32
g
Sign up for the emails and never miss another recipe!!
We'll never share your email or send you spam. Pinkie swear.