Spring is almost here!
This week the meal plan includes lots of Irish inspired dishes for St. Patrick's Day as well as some snack type meals for March Madness noshing.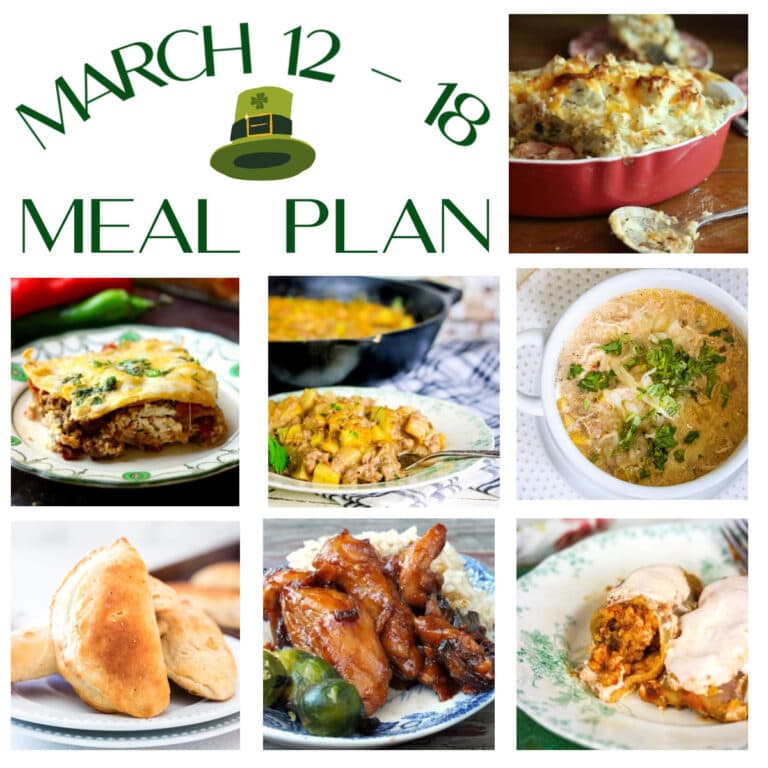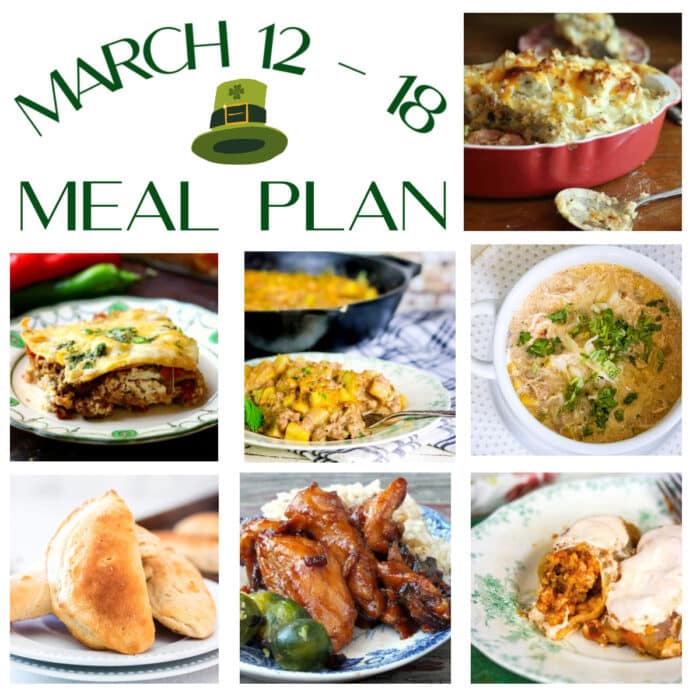 Jump to:
🫑 What's in Season?
A better question might be, "what isn't in season?"
Everything is ripening and coming into the Farmers' Markets now. It's fresh, in season, and at it's best. Make the most of these fresh flavors.
Apricots
Beets
Bell pepper
Berries (raspberries, strawberries, blackberries, blueberries)
Chiles
Corn
Cucumber
Eggplant
Figs
Green beans & Wax beans
Mangoes
Melon
Nectarines
Okra
Peaches
Pineapples
Plums
Radishes
Tomatoes
Zucchini and yellow squash
apples
artichokes
arugula
avocado
asparagus
bananas
beets
bok choy
broccoli
brussels sprouts
cabbage
carrots
cauliflower
celery
collard greens
grapefruit
kale
leeks
lemons
limes
mushrooms
oranges
onions
parsnips
pear
pineapple
potatoes
radishes
spinach
sweet potatoes
turnips
💭 Tips for success
When you're making the ground beef for the beef and potato skillet brown enough for the cabbage rolls (or casserole!) and Mexican lasagna.
You can save time by assembling the cabbage rolls and Mexican lasagna ahead of time. Just slip into the oven to bake before serving.
March Madness starts on the 18th. If you're a fan make up a batch of the empanadas and freeze them. They make great snacks!
Have beef and potato skillet leftovers? Roll out rounds of refrigerated biscuit dough and put about a tablespoon and a half of it in each one. Bake as directed in the empanadas recipe. It's a great lunch!
🍀 Happy St Patrick's Day!🍀
This week is St. Patrick's Day. There are lots of ways to celebrate and you may want to exchange some of these recipes for the ones in the St. Patrick's Day category.
The Irish apple cake is not overly sweet and it makes a great brunch bread on St. Patrick's Day. Serve it with my Irish Cream hot chocolate bombs!
Whether you're having a Zoom bash or getting together with a few close friends you'll enjoy these St Patrick's Day cocktails, too.
March 12
March 13
🥧 March 14
March 15
March 16
🍀 March 17
🏀 March 18
📚 Related recipes