If you're wondering what to serve with chicken noodle soup, you've come to the right spot. This collection of delicious recipes includes the perfect side dish no matter what you're in the mood for—or have in the pantry!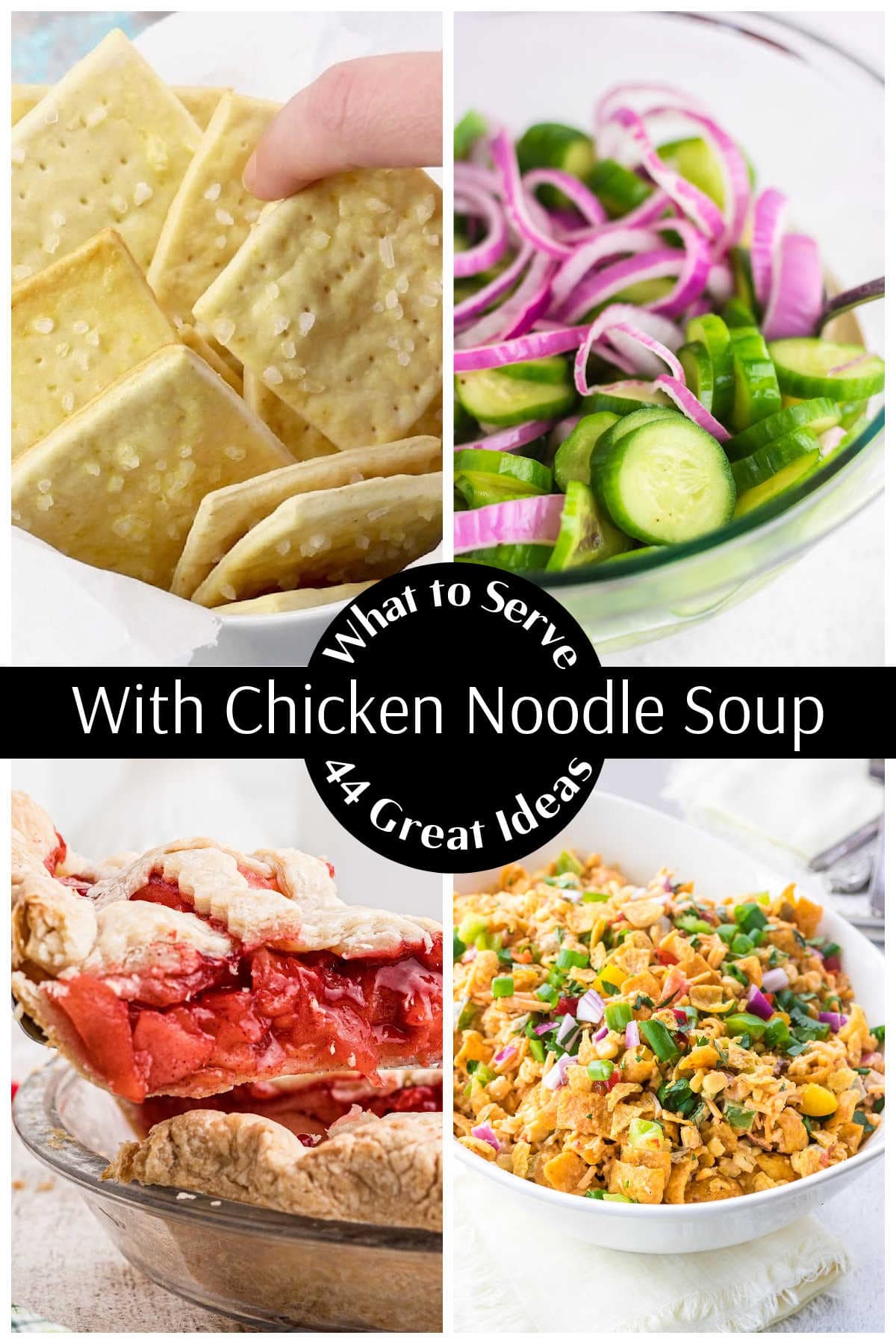 Table of Contents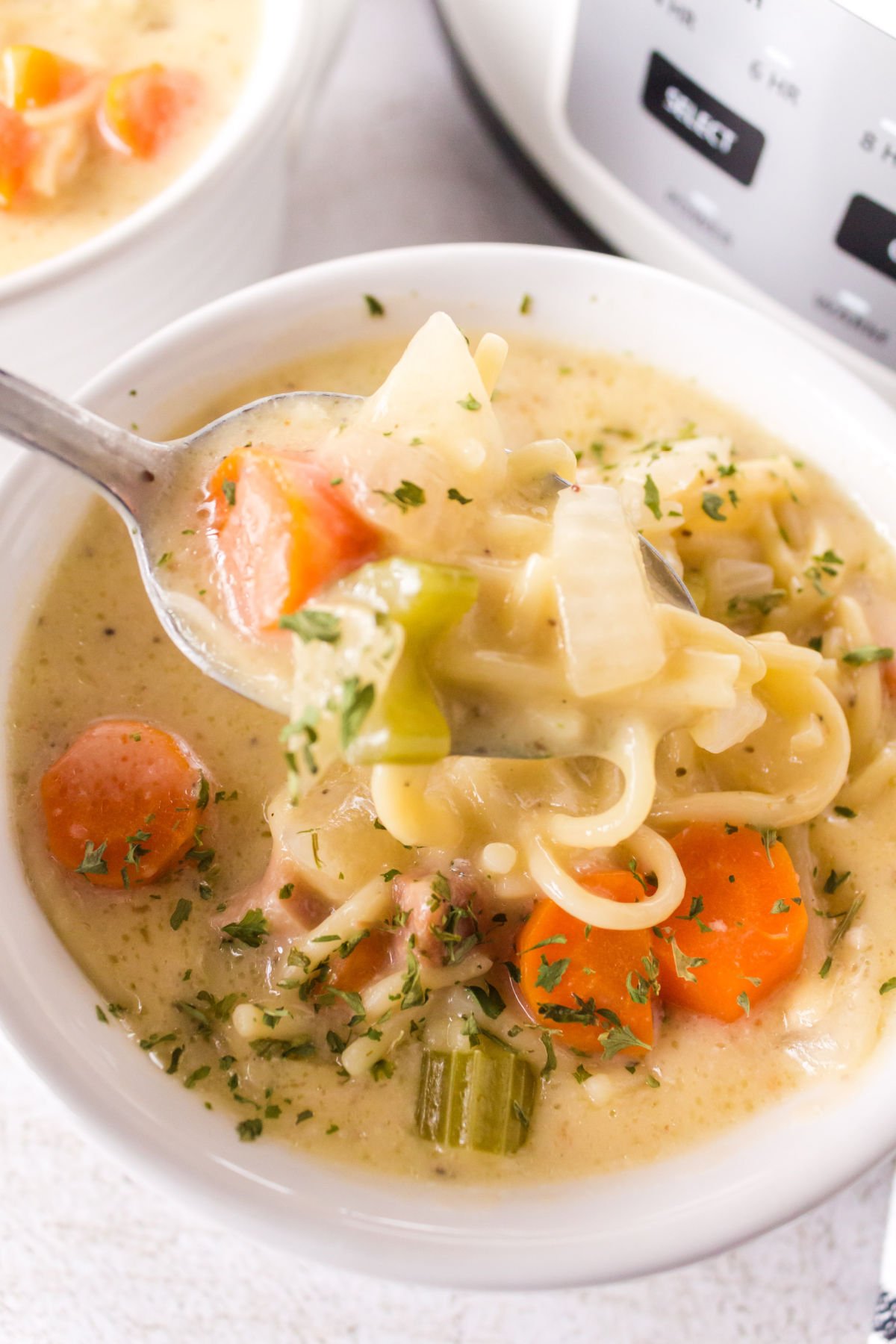 ❤️ Why we love these
Hearty soup is classic comfort food and a great way to feed a big family
Sides take a simple meal to the next level when entertaining guests
Turn your favorite soup into a complete meal with easy recipes
The best side dishes to serve with a bowl of soup include satisfying, yet simple ingredients—just like the main dish!
This way, it's possible to enjoy many different flavors and textures, without breaking the bank. In fact, you might not even need to go to the grocery store!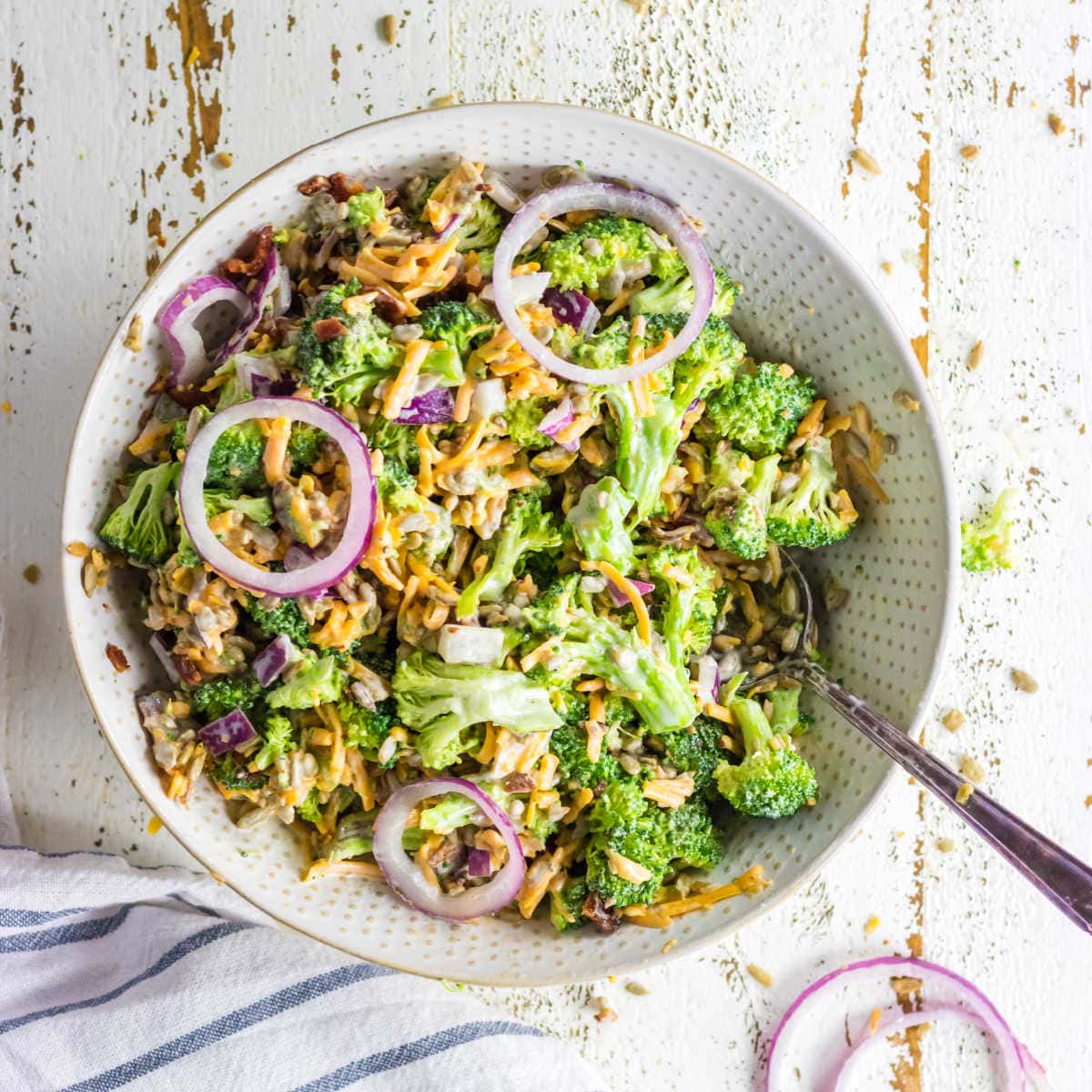 🥦 Vegetables and Sides
Vegetable sides add a nice contrast in texture when served with a bowl of chicken noodle soup. That's why soup and salad make such a perfect combination—you can find it on almost any deli or cafe menu!
Potato puffs
Wedge salad
Roasted butternut squash
Vegetable panini or flatbread
Onion rings
Microwave-cooked sweet potatoes
Fresh salad kit from the grocery store
A tray of cold cut deli sandwiches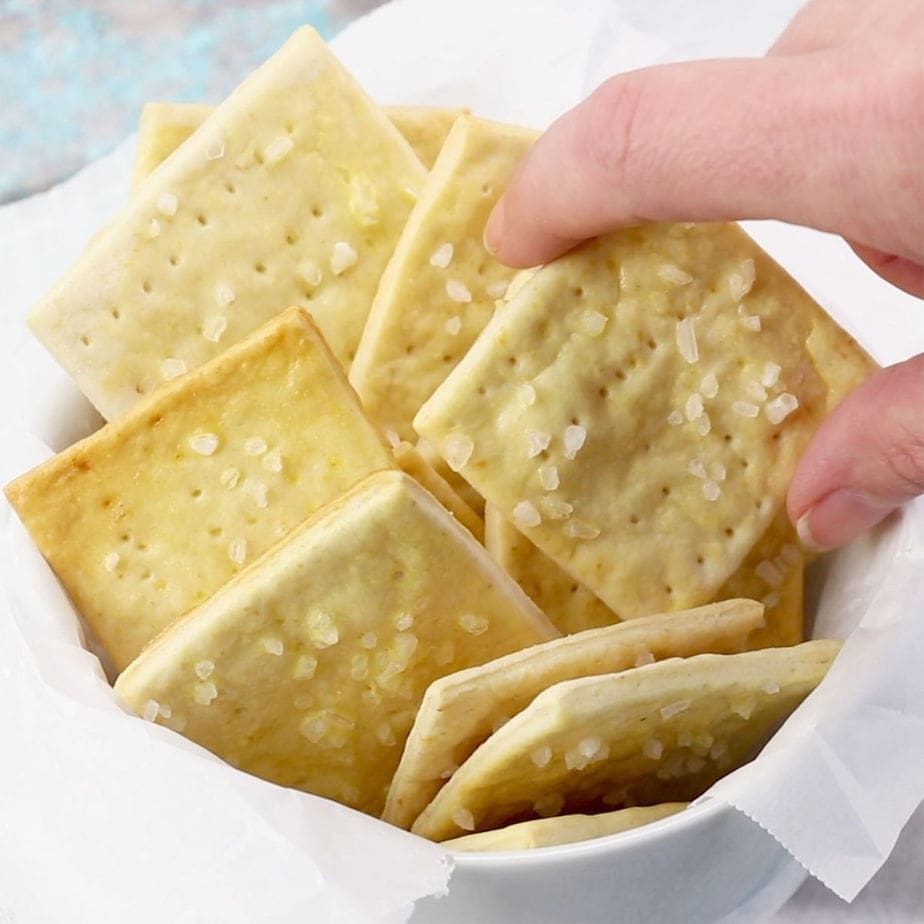 🥖 Breads
Though there are many different types of bread, not all are created equally! These bread recipes make a great addition to your yummy chicken soup dinner.
Garlic bread
Soft pretzels
Grilled cheese sandwiches
Pretzel rolls
Don't forget to serve your chicken soup inside some fun (and delicious) bread bowls!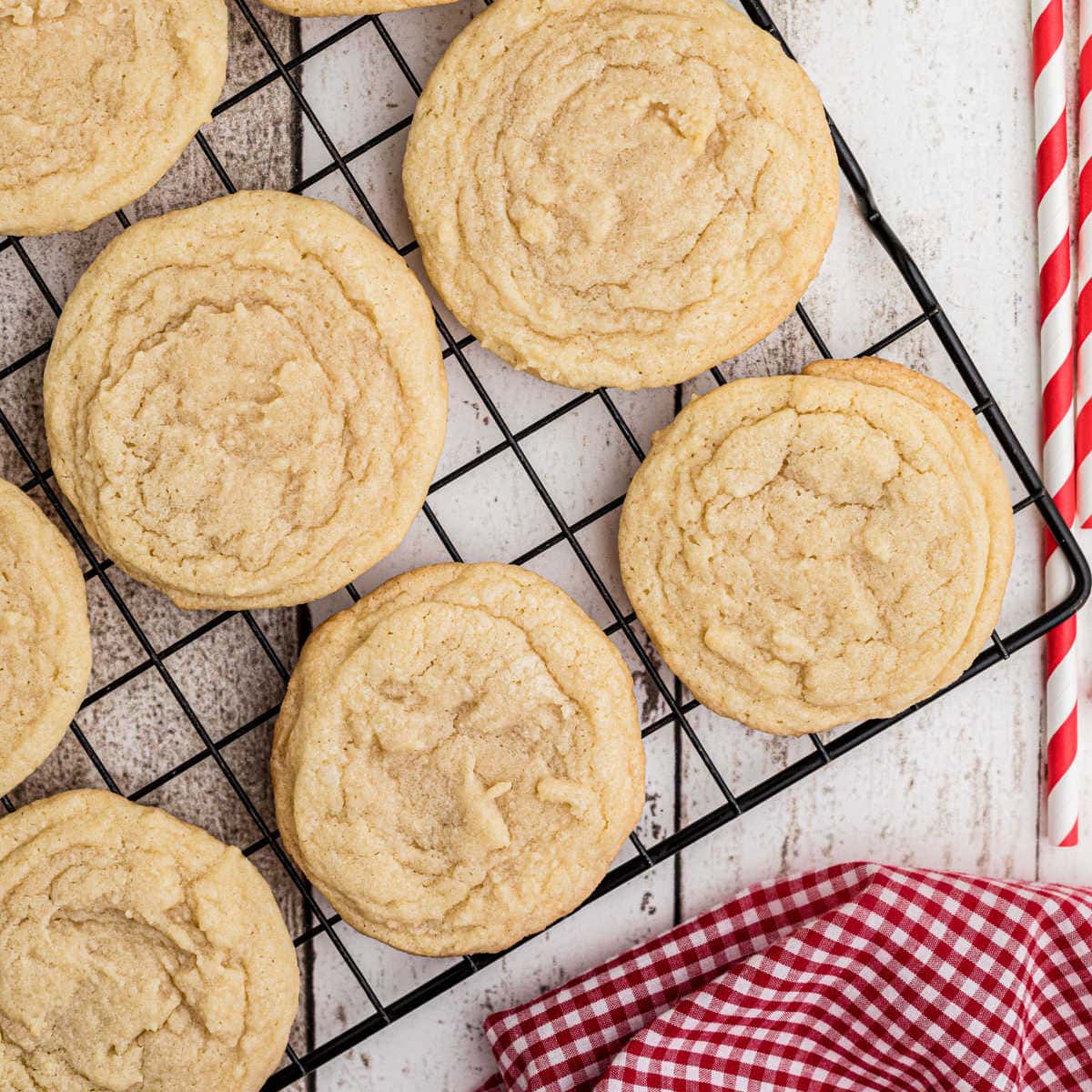 🧁 Desserts
Treat the entire family to another classic combination: dinner and dessert! These simple recipes are great when you need just a little bit of something sweet after your meal.
Blueberry pie
Ice cream sundae
🍷 Wine and cocktails
After enjoying chicken noodle soup, the ultimate comfort food, wash it all down with a special drink. Serve these types of wine and cocktails to best complement your main course!
Pinot Blanc
Chardonnay
Sauvignon Blanc
Pinot Noir
🍇 Garnish
The best way to make a meal worthy of two thumbs up? Some garnish! Here are a few great options when it comes to garnishing your chicken noodle soup.
Fresh parsley or other fresh herbs
Oyster crackers
Bacon bits
Sun-dried tomatoes
💭 Things to know
Follow these tips to make the best chicken noodle soup—ever. Then, no matter what side you serve with it, your dinner will be delish!
First things first: start with the right recipe. This slow cooker version is one of my family's favorite chicken soup recipes.
Though egg noodles are traditional, you can generally swap in any type or shape of pasta you like. This includes gluten-free pasta, too!
Use Rotisserie chicken to save prep time. Plus, you can use the carcass to make flavorful homemade broth!
Make your soup stretch by adding lots of veggies. Frozen bags are great if you don't like chopping!
Chicken stock has more flavor than broth, but feel free to use whichever you prefer or have on hand.
Don't hesitate to use dark meat—it has a ton more flavor, and picky eaters won't even notice!
If you feel like the soup is missing "something" but can't put your finger on it, that usually means you need more salt.
Add a splash of lemon juice to brighten up the flavor a bit.
Chicken noodle soup is a great freezer meal. Portion it into individual airtight containers or heavy duty freezer bags. Heat and serve whenever you need it!
These side dishes also go with...
Too many easy side dishes to choose from? Try them with one of these meals, instead!
Crackers, sandwiches, salads... what are your favorite side dishes for chicken noodle soup? Leave a comment and let us know!