There isn't much that is better than a great chocolate cake recipe unless it is a great chocolate cake recipe that has a fantastic cookies and cream filling and then is slathered in rich chocolate frosting.
That, my friends, is what we call chocolate nirvana. Please step away from your computer so that the drool that is about to flow does not damage your keyboard.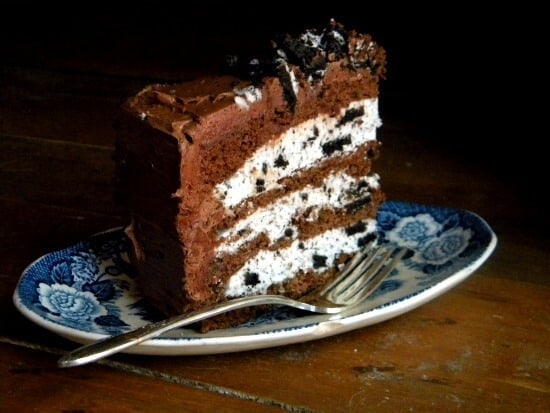 The Restless Chipotle Channel
Doesn't that look ….. oh yeah it does.
Four, count 'em, FOUR layers of rich, moist chocolate cake with three layers of thick filling with crunchy bits of Oreos swimming in vanilla flavor. Slather on a thick coat of chocolate frosting and …BAM! There it is.
Here is the deal. Each bite is perfectly balanced between cake and filling. The cake is moist, the frosting is creamy, the cookies add a nice crunch. This is a cake for those among us with a sweet tooth that may well have once belonged to the saber toothed tiger. Cut the slices thin and serve espresso or a stout Earl Grey tea.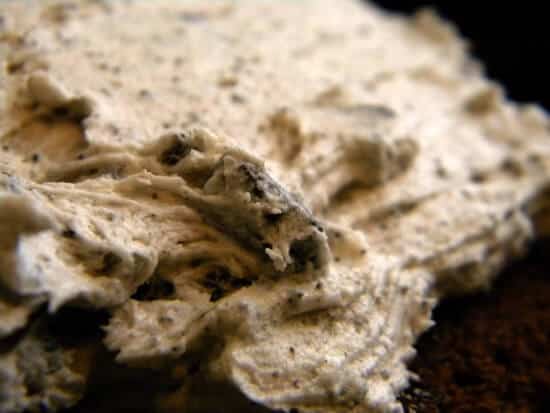 The cake is baked in two layers and then cooled. It is dense enough that slicing each layer in two is simple. Once you have the cake and filling put together push four drinking straws down through the cake to stabilize the layers. Put it in the freezer for about 30 minutes.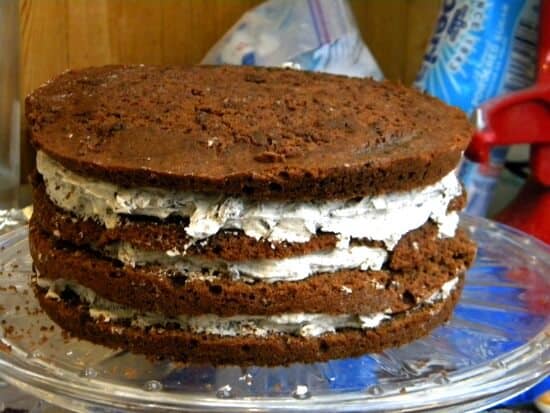 Take it out of the freezer and put the crumb coat on then slip it back into the freezer for about 30 minutes before you put the final frosting on it.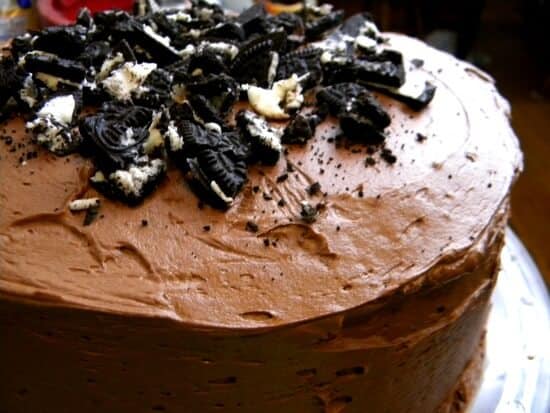 Top with some crushed cookies and it's ready to go.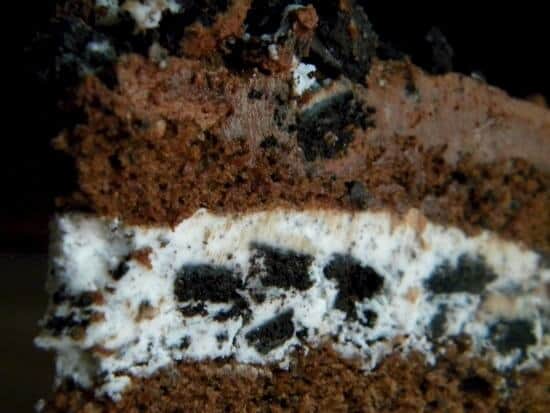 This really isn't as complex as it looks, goes together easily, and would make a great cake for a birthday or other celebration. Just a hint — If you have trouble with your cake tops being domed try making a hollow in the center of the cake batter once it is in the pan It doesn't have to be real deep but the sides will rise a little differently than the center and your cake will be flat on top.
Print Recipe
Chocolate Layer Cake with Cookies and Cream Filling
Rich chocolate cake is split into four layers and filled with a thick, rich cookies and cream frosting.
Ingredients
Cake
Filling
1

package Oreos

6

cups

confectioner's sugar

16

tbs

(1 cup) unsalted butter

1

tbs

(tablespoon) vanilla

up to 1/4 cup heavy cream

Chocolate frosting
Instructions
Cake
Preheat oven to 350F

Grease and flour 2- 8 inch layer cake pans

Blend flour, baking soda, baking powder, salt, and cocoa - set aside

Beat butter until creamy

Beat in sugar until light and fluffy

Add eggs one at a time

Mix in vanilla

Add 1/3 of the flour mixture and beat in quickly

Add 1/2 the buttermilk and beat until blended

Repeat ending with the last of the flour mixture

Spoon batter evenly into pans

Bake for 25 to 30 minutes
Filling
Crumble the cookies in chunks, not too big - set aside

Mix the confectioner's and the butter until the mixture is blended and crumbly

Add vanilla - beat well

Add about 2 tablespoons of the cream and beat

Beat in the cream, 2 tablespoons at a time until the mixture is creamy (you may need a bit more cream than 1/4 cup)

Stir in the cookies, reserving 1/2 cup of cookies for the top of the cake
Assembly
When cakes are done remove from oven and let stand for 10 minutes

Remove from pans and cool completely

Slice each cooled cake in half horizontally to make 4 layers total

Place one layer on a cake plate and cover with 1/3 of the filling

Press the next layer gently over the filling

Add 1/3 of the filling

Press the next layer gently over the filling

Add the last 1/3 of the filling and top with the last cake layer

Push 4 straws into the cake around the center to stabilize it and freeze for 30 minutes

Remove from freezer and smooth a thin layer of chocolate frosting over the cake

Freeze for 30 minutes

Remove from freezer and finish frosting the cake

Sprinkle reserved crumbs on top and refrigerate

Let stand 30 minutes at room temperature before serving

Remove straws before serving
Notes
Try using mint, peanut butter, or golden oreos in the filling