Summer is in full swing and quick and easy meals are on the menu! 30 minute meatball stroganoff, the BEST chicken salad ever, and more handpicked meal plan ideas to make your busy life easier!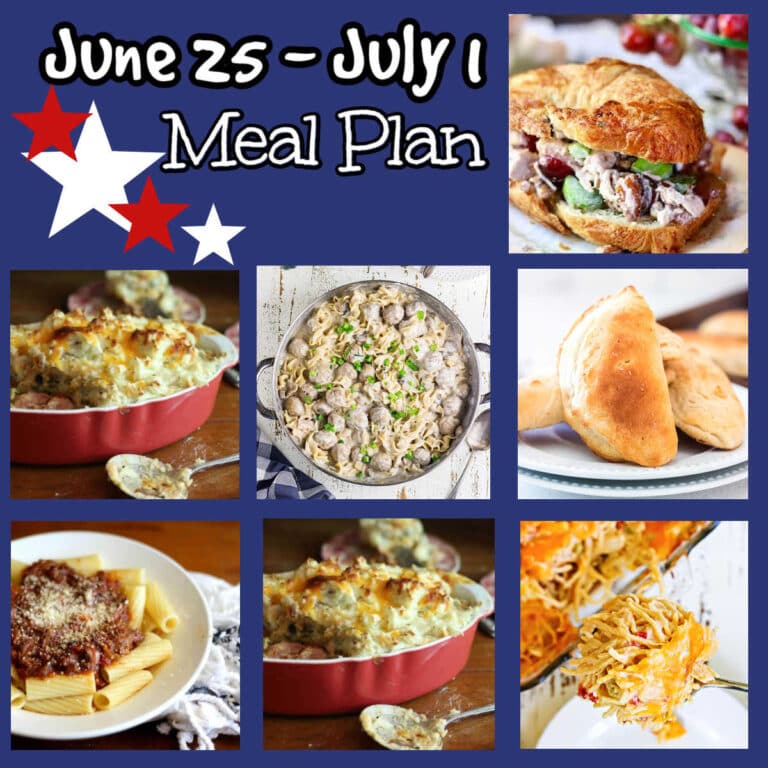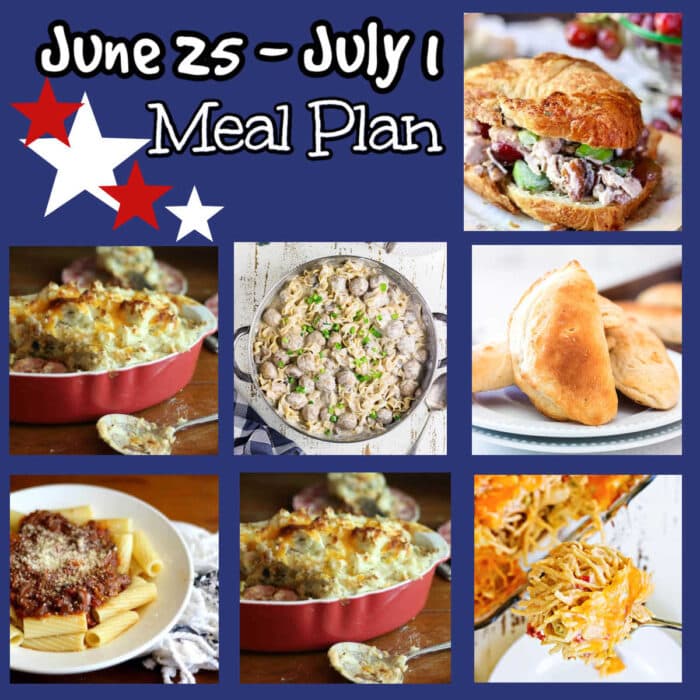 Jump to:
📅 Food Holidays
We celebrate a couple of fun food holidays this week. They're silly little holidays but it gives us an opportunity to make some memories and have some fun!
June 26 Chocolate Pudding Day
July 1 National Gingersnaps Day
🫑 What's in Season?
A better question might be, "what isn't in season?"
Everything is ripening and coming into the Farmers' Markets now. It's fresh, in season, and at it's best. Make the most of these fresh flavors.
Apricots
Beets
Bell pepper
Berries (raspberries, strawberries, blackberries, blueberries)
Chiles
Corn
Cucumber
Eggplant
Figs
Green beans & Wax beans
Mangoes
Melon
Nectarines
Okra
Peaches
Pineapples
Plums
Radishes
Tomatoes
Zucchini and yellow squash
🍹This week's cocktail
💭 Tips for success
Get a big bag of chicken breast at Costco and cook it all at once. Use the cooked chicken for the chicken spaghetti, the chicken salad, and the chicken empanadas.
When you make the easy baguettes make enough to go with the chicken spaghetti, the rigatoni ragu, and the shrimp po'boys. If you are going to buy baguettes be sure to get them all at once. They'll freeze if you are worried about them getting moldy.
Get enough green beans for the salad and southern green beans. They are best fresh.
I like to make a big batch of snickerdoodle dough and form it into balls and then flash freeze them right on the cookie sheet. When they're frozen put them in a freezer container with parchment between layers. Whenever you want cookies roll in cinnamon sugar and bake!
If there are leftover snickerdoodles make ice cream sandwiches with them!!!
June 25
June 26
June 27
June 28
June 29
June 30
July 1
📚 Related recipes
You can subscribe and get the meal plan right in your email every single Saturday.
If you'd like to subscribe to the weekly meal plan plus the regular emails subscribe here-
If you would like us to email you JUST the new meal plan every week subscribe here.