Gooey Butter Bars are a shortbread cookie dough topped with a gooey cheesecake-like topping. This "from scratch" recipe includes chocolate chips and the unique nutty flavor of browned butter in the shortbread crust.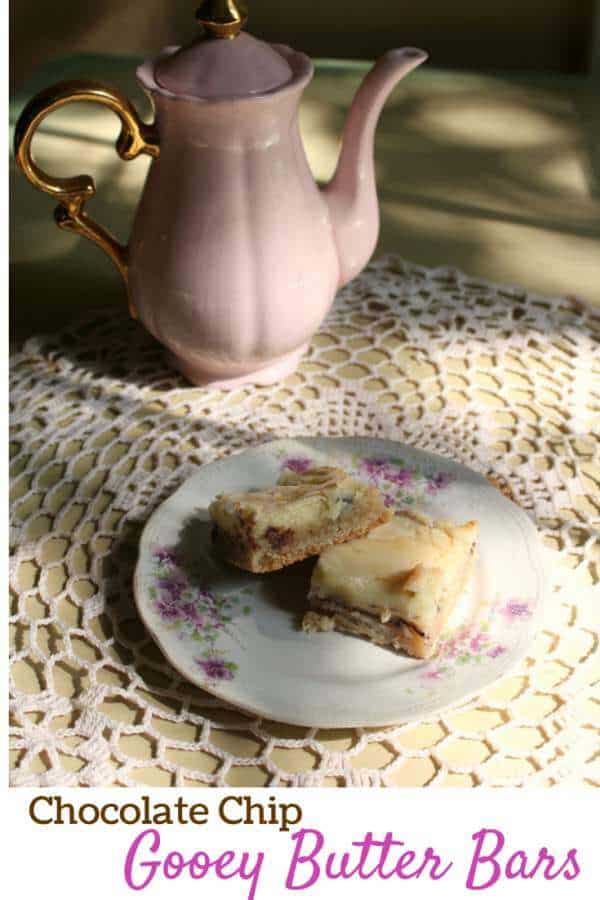 My family pretty much takes the fact that our lives revolve around food for granted. They really have no clue that they eat really well. Well, until they move out of the house, that is. At that point there is usually a new appreciation for Mom's cooking. If I sound frustrated, well... I am.
So, my husband told me that he needed to bring something to work for a buffet meal they were having. You know, build camaraderie, esprit de corps, and all of that. He offered to pick something up at the grocery store bakery and I thought I was going to have to slap him.
"This is what I do for a living..." I spat out between gritted teeth.
So I wanted to do something that would knock everyone's socks off -- just to show the family that I am frickin' amazing in the kitchen. I decided on these bars. I haven't made them in years. I used to make them for our small group fellowships back in my "other" life but I had kind of forgotten about gooey butter bars until I was trying to think of something that would bring the world to its knees in appreciation... or at least be something that everyone would like.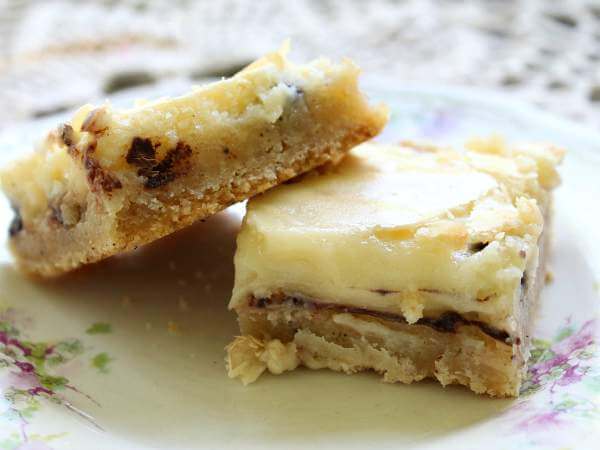 I don't know anyone who doesn't like these. They are gooey, they are buttery, they are sweet, they are indescribable perfection on a plate. These are not made from cake mix. I use almond flour to make the bottom layer a bit more like shortbread and browning the butter gives them that toasty, nutty, caramelly flavor. So good!
I also add a handful of chocolate chips on top of the cookie layer before I spoon the cream cheese mixture on top.
Tip for Browning Butter
If you haven't browned butter (on purpose) before you can do this - it's easy. You want to let the butter melt in a heavy pan over medium low heat and once it's melted leave it there, watching carefully as the clear liquid turns from a yellow color to a golden brown - about the color of caramel or maybe just slightly darker. If you get to the color of coffee you've gone too far. Watch it carefully, and push the light colored foam on the top aside so you can see the actual color of the butter.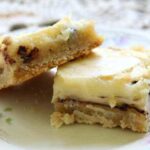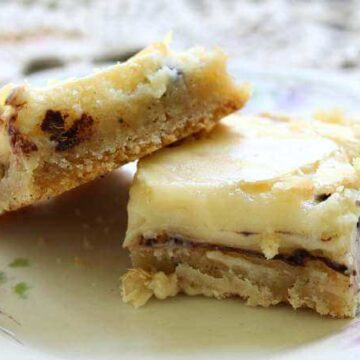 Chocolate Chip Gooey Butter Bars
Print
Save
Go to Collections
Something like shortbread, something like cheesecake, something like nothing you've ever tasted! These Gooey Butter bars are rich and addictive with the nutty flavor of brown butter in the dough. Chocolate chips take them right over the top. Everyone loves these - expect a battle over the last piece.
As an Amazon Associate I earn from qualifying purchases.
Ingredients
Bottom layer
1 ½

cups

all purpose flour

½

cup

almond flour

1 ½

cups

sugar

2

teaspoons

baking powder

¼

teaspoon

kosher salt

1

large egg

,

, room temperature

½

cup

unsalted butter

2

tablespoons

whole milk
Gooey Layer
8

ounces

cream cheese at room temperature

2

large eggs

,

, beaten, room temperature

11/2

teaspoons

vanilla extract

½

cup

unsalted butter

,

, melted

1

pound

confectioner's sugar

,

, make sure there are no lumps

1

cup

chocolate chips
I earn a commission from Instacart from qualifying purchases.
Instructions
Bottom layer
Melt the butter in a small pan and allow it to turn golden brown.

Remove from heat and allow to cool.

Blend the flour, almond flour, sugar, baking powder, and salt in the bowl of a mixer.

Add the browned butter, eggs, vanilla, and milk.

Beat until the dough is firm and sticks together.

Press the dough into the bottom of a greased 13x9-inch pan.

Set aside.
Gooey Layer
In a clean mixer bowl blend the cream cheese, eggs, vanilla, butter, and confectioner's sugar until well blended and smooth.

Sprinkle the chocolate chips on the bottom layer then carefully pour the cream cheese mixture over the top.

Bake at 350F for 40 minutes. DO not overbake.

Cool completely before cutting in bars.

Store, tightly covered, in the refrigerator.
Sign up for the emails and never miss another recipe!!
We'll never share your email or send you spam. Pinkie swear.