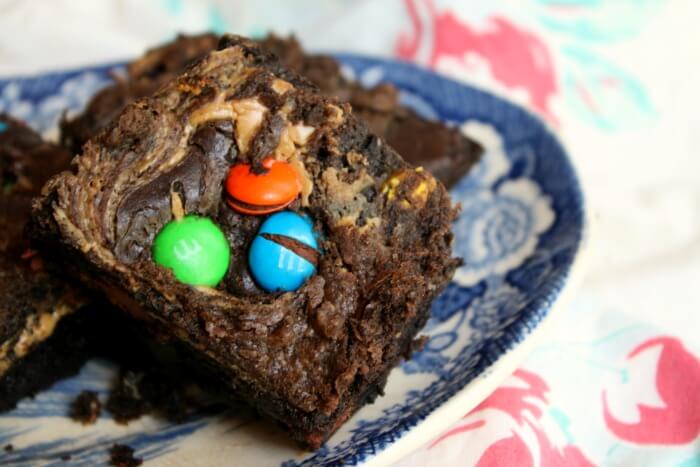 These M&Ms Brownies are chewy, fudgy, chocolaty, and they have a river of salty peanut butter coiling through all of that rich, chocolate goodness. You know what that means? It means they are irresistible — don't even try, y'all. I made a big batch of M&Ms brownies in a 13 x 9 inch pan and they disappeared pretty quickly. I did hide a couple so I can tell you that they stay moist for at least three days. I wouldn't count on them lasting that long, though. What is it about brownies that make them such a major comfort food?
I don't care what is going on in someone's life, no matter how horrible it is, you can take them a pan of warm brownies and they'll smile. It may be a weak smile, mind you, but it will be there flirting with the corners of their mouth.
I know that I might be showing a little favoritism here but I think I make the best brownies in the known universe. They are easy but more importantly they are dark chocolaty magic. Moist and chewy with perfectly baked edges, my basic brownie recipe is one I developed years ago and I honestly haven't been able to improve on it. What I have been able to do is to make infinite varieties of brownies based on this recipe and all of them have been yummy.
All of them.
These have all of that dark chocolate chewiness but with the addition of a generous amount of colorful M & Ms sprinkled randomly throughout. When the brownies are cooled the candy coating and chocolate in the M & Ms provides a crisp, dense burst of milk chocolate as you eat them. The peanut butter stays smooth and salty-rich which keeps the brownies from being overly sweet. It's perfect, I tell ya.
Just make sure not to overcook these. They are still somewhat soft in the middle when you take them from the oven and you'll need to let them cool a bit. They freeze well and work great for school lunches. Wrap them individually and put them in a plastic freezer container. That way you can just get them out when you are making the kids' lunches and pop them right into each lunch box. They'll be thawed and ready to eat at lunchtime.
Really easy, really chocolaty M&Ms brownies. Enjoy!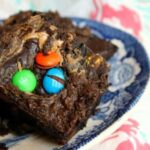 Fudgy M&Ms Brownies with a Peanut Butter Swirl
Print
Add to Collection
Go to Collections
Chewy dark chocolate brownies, filled with colorful M & Ms and swirled with a generous amount of salty peanut butter are great for adding to school lunches. They freeze well.
As an Amazon Associate I earn from qualifying purchases.
Ingredients
Instructions
Preheat the oven to 350F

Grease a13 x 9-inch pan.

Whisk cooled melted butter, sugar, eggs, and vanilla together until smooth.

Mix the dry ingredients.

Stir in the dry ingredients to the egg mixture until well blended but do not over beat.

Fold in the M & Ms, reserving a few to sprinkle on top.

Spoon into the prepared pan.

Warm the peanut butter just a little.

Spoon it in thick lines across the brownies.

Use a spoon to swirl it through - don't ove rmix.

Sprinkle with a few more M & Ms if desired.

Bake at 350F for 25 to 30 minutes, or until done but still soft in the middle.
Sign up for the emails and never miss another recipe!!
We'll never share your email or send you spam. Pinkie swear.
If you liked Fudgy M&Ms Brownies with a Peanut Butter Swirl you may also like...
Cookie Dough Brownies Restless Chipotle
Kahlua and Chocolate Krispy Treats Restless Chipotle
Turtle Brownies Averie Cooks
German Chocolate Brownies My Baking Addiction