Easter Egg Bread is a sweet, yeast dough braid with colored eggs decorating it. It is easier than you'd think and these eggs, which I dyed with Koolaid, are adorable enough to be decor all by themselves.
Although I am a Texas girl through and through I lived in Pennsylvania from the time I was about three to the time I was about 10. We weren't really a church-going family but we usually went on Easter. Back in the 60s it wasn't just a matter of throwing on some clothes and going, either. Nope, back then you had layers. A dress with a petticoat underneath to hold it out just so. White, lacy socks, white shoes, white gloves,white purse, little hat, coordinating jacket…
For a tomboy like me, because despite the hours my mom took creating a head full of Shirley Temple style finger curls I was a tomboy to my core, it was hell.

The Restless Chipotle Channel
Once dressed we drove from our Philadelphia suburb to Valley Forge to attend service at the very, very, very old church that was there and so my mom could see if the dogwoods and azaleas were in bloom. It was a five day drive and my dad did not believe in bathroom breaks.
OK. A 20 minute drive that seemed like forever.
What does this have to do with that gorgeous Easter Egg Bread?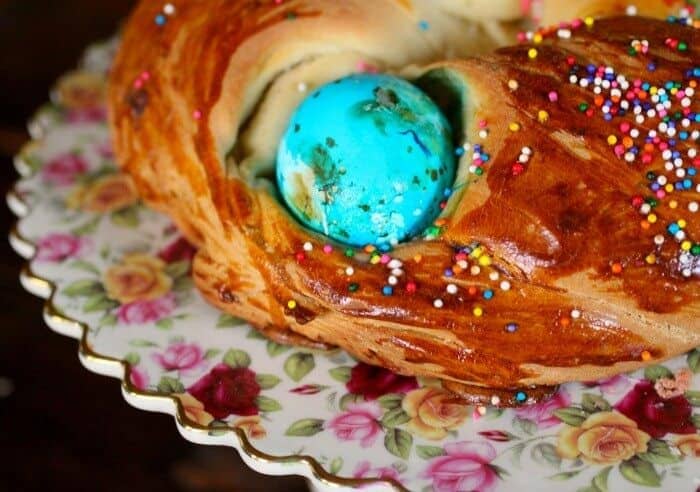 Not a thing. I am pretty sure I had Cap'n Crunch and a white chocolate bunny for breakfast most Easters. My mom was not a woman that enjoyed cooking. She was, however, an avid nature lover and she painstakingly looked for and found robins' nests so that I could peek at the eggs.
But this. This is a glorious way to begin Easter Sunday — or Fourth of July for that matter.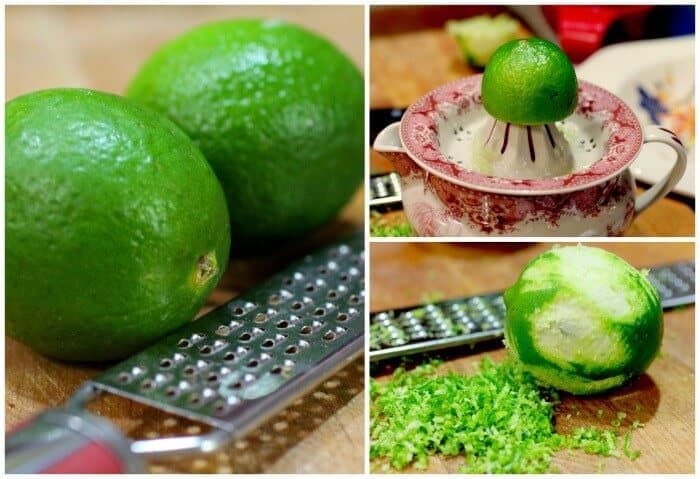 Lightly sweetened, rich, buttery yeast dough is flavored with vanilla and lime, braided, and baked. I'm not sure what else to say — Easter Egg Bread is as beautiful as it is delicious.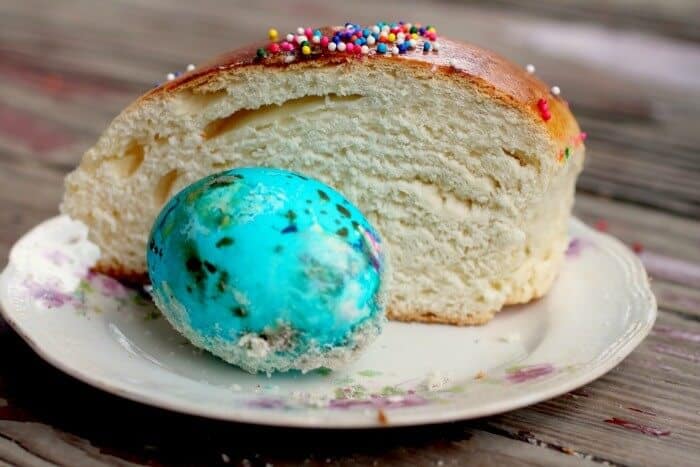 Clickable Table of Contents
hide
To Dye Eggs with Koolaid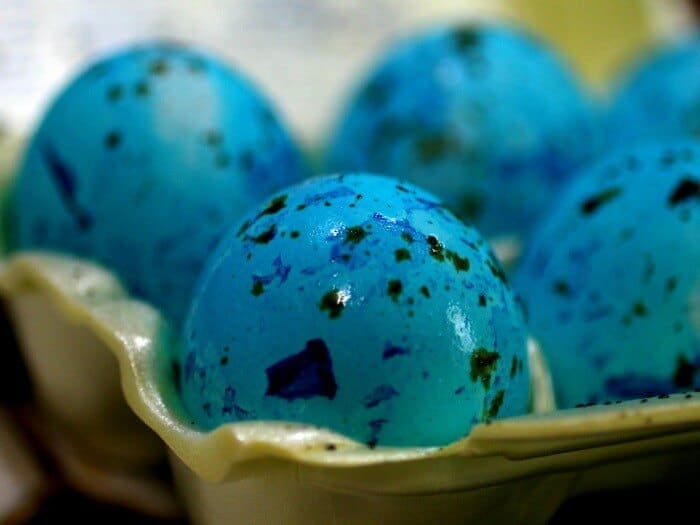 I dyed these eggs with the blue Koolaid and then used a toothbrush to "speckle" the eggs with diluted brown food coloring gel. It was fun and I really liked how they came out!
You just pour one envelope of Koolaid into a 10 ounce container and add 2/3 cup water. Stir to dissolve the Koolaid. Add an egg and keep it under the "dye" until it is the color you want. Remove it and let it dry.
Dilute brown gel food color with a little water. Dip a toothbrush in and then, with the brush pointed at the egg, run your thumb down the bristles to splatter the color. It does take a little practice.
Steps to Shaping the Bread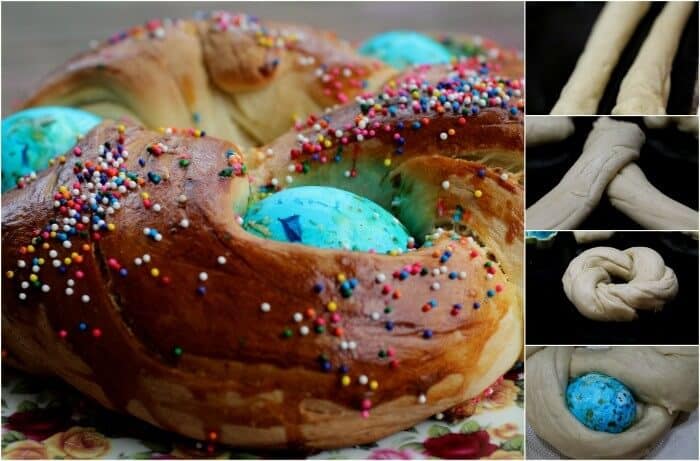 You are going to cut the dough in four equal pieces. This recipe makes two loaves.
You'll then roll each piece into an 18 inch long rope.
Place two ropes parallel to each other and pinch the ends together.
Bring one rope over the other.
Repeat until you get to the end. It's actually more of a twist than a braid.
Form into a circle.
Gently separate the ropes and insert the raw eggs as pictured. (They'll cook in the oven.)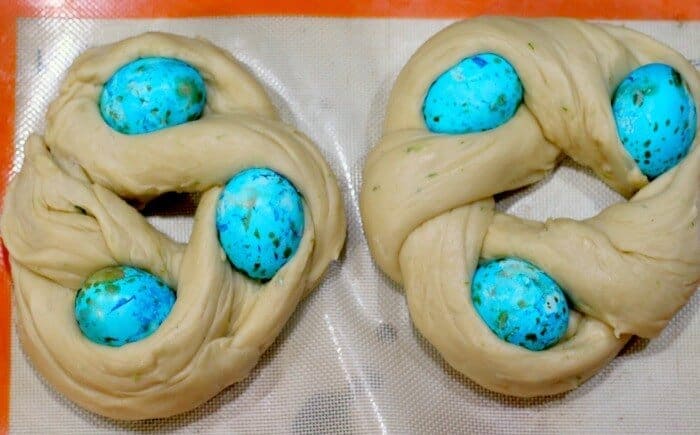 I used bread flour in my recipe which creates a more dense, breadlike texture. If you want a softer texture use all purpose flour.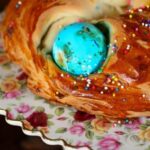 Print Recipe
Easter Egg Bread – Pretty Holiday Brunch
A beautiful Easter Egg bread is the perfect centerpiece to any spring brunch. This slightly sweetened, lime and vanilla braid has colored eggs baked in it. You can also let it rise overnight in the refrigerator and bake it in the morning.
Ingredients
2

tablespoons

active dry yeast

2

tablespoons

sugar

1 ½

cups

bread flour

¾

cup

unsalted butter

1

cup

sugar

1 ½

teaspoons

salt

3

eggs

1

egg white

1

tablespoon

lime zest

2

tablespoons

lime juice

1

teaspoon

vanilla

3

cups

to 4 of bread flour

6

in

eggs

they'll cook in the oven, the shell, dyed but not cooked

1

tablespoon

heavy cream

1

beaten egg yolk

2

tablespoons

sprinkles
Instructions
Mix yeast, 2 tablespoons of sugar, and 1 ½ cups flour until smooth.

Set aside until doubled, about 1 hour.

Cream the butter, 1 cup of sugar, and salt together in a bowl.

Stir in the lime zest, juice, and vanilla.

Add the eggs one at a time, mixing well after each addition.

Add the egg white and mix well.

Stir in the yeast mixture and add the remaining flour until a smooth dough forms and pulls away from the bowl.

Knead for 5 minutes by machine or 10 minutes by hand.

Oil the dough and place it in a greased bowl. Cover and let rise about 1 hour, or until double.

Deflate the dough gently and cut into 4 pieces.

Let rest for 5 minutes.

Roll each piece into a rope about 18 inches long.

Lay 2 ropes next to each other.

Loosely braid them together, making sure you can separate the strands to put the eggs in.

Seal the ends together to make a ring.

Separate the ropes to fit the eggs into the braid.

Repeat with the other two ropes.

Let rise until double, about 40 minutes.

Preheat the oven to 350F.

Beat the egg yolk and cream. Set aside.

Bake in a preheated oven for 10 minutes.

Brush on egg yolk mixture.

Decorate with sprinkles.

Continue to bake until the loaves sound hollow when tapped, about 30 to 40 minutes.

If you liked Easter Egg Bread you might also like —
Chocolate Chipotle Babka Restless Chipotle
Cream Cheese Crowns Restless Chipotle
Paska Bread Celebration Generation
Bunny Bread Sweet Sensation