B is for Babka – this chocolate babka is filled with chocolate, chipotle, and roasted cinnamon then a thick layer of streusel iis added on the top. Better get a drip cup , though. You will be salivating by the time you've finished reading this.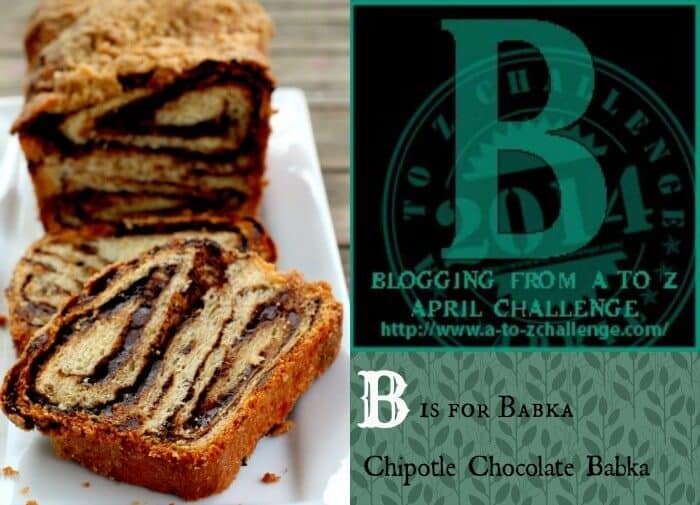 Babka is an Eastern European sweet bread made with a rich, yeast leavened dough that is similar to brioche. It is often served for Easter and, I have to say, this would be an awesome addition to your Easter table! It is not quite a dessert but not really a bread either. 

The Restless Chipotle Channel
The bread is buttery and tender with a chipotle, roasted cinnamon ganache swirled through it. It's topped with a not too sweet streusel and it really is a treat for brunch or as an afternoon treat with a cup of Earl Grey. Although it takes quite a lot of time to make very little of it is hands on. You make the dough and then let it rise overnight in the refrigerator. Hands on time is maybe 30 minutes, if that.
Steps to Shaping Chocolate Babka
When you shape the dough you twist it. It is a little complicated to explain but you can see how it's done in the images below.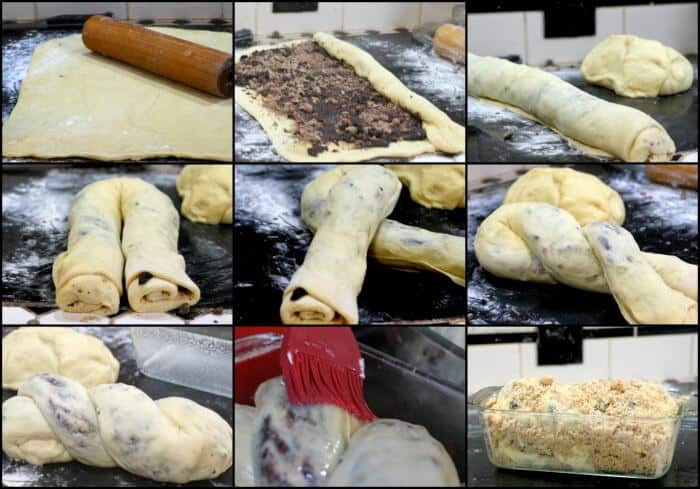 Roll it into a rectangle.
Spread with the filling.
Roll up from the long side.
Fold in half.
Twist a couple of times.
Brush with butter.
Put in loaf pans.
Sprinkle with streusel.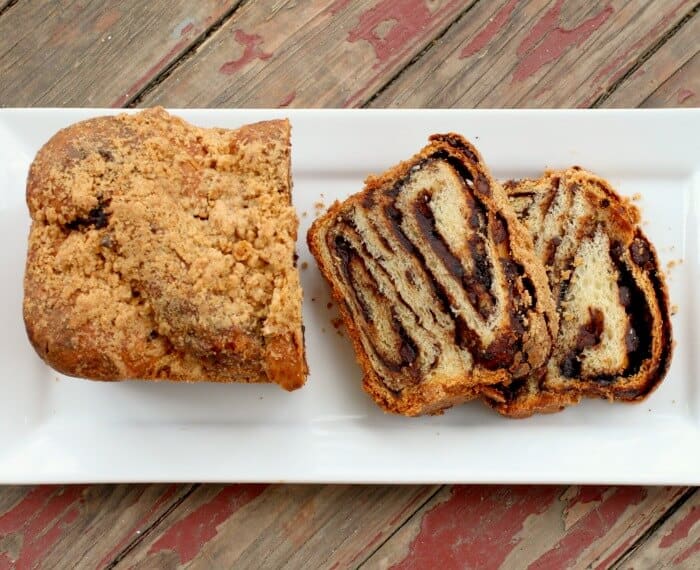 This should freeze just fine for up to three months as long as you keep it tightly wrapped.
I've seen all kinds of recipes for babka with all kinds of ingredients but I like this one best. It is simple, it is do-able, and it's delicious. You may want to try all kinds of fillings once you make one. I've seen cream cheese and strawberry babkas, nut babkas, and almost everything else that you can imagine.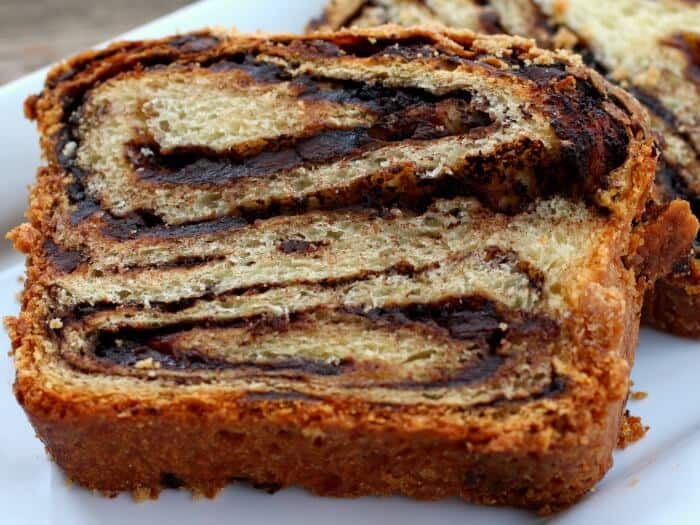 You can't begin to imagine how the house smells when this chocolate babka is baking in the oven! I adapted this Babka recipe because it seemed closest to what I was looking for.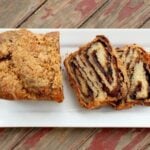 Print Recipe
Babka – Chocolate and Chipotle with a Touch of Roasted Cinnamon
A buttery, rich sweet yeast bread with a generous swirl of chocolate chipotle ganache running through it.
Ingredients
1

cup

whole milk

1

package active dry yeast

4 3/4

cups

all-purpose flour

9

tablespoons

chilled

, unsalted butter

1

tablespoon

sugar

3

eggs

1

egg yolk

2

teaspoons

vanilla extract

1

teaspoon

salt
Chocolate Chipotle Filling
1/4

cup

dark cocoa powder

1

cup

sugar

Pinch teaspoon kosher salt

2

teaspoons

roasted cinnamon

1/2

teaspoon

chipotle powder

11/2

tablespoons

cream

3/4

cup

unsalted butter

1

pound

bittersweet chocolate

, chopped
Instructions
Warm the milk until it is 110F.

Put the milk into a large bowl and whisk in the yeast.

Whisk in 1 cup of the flour.

Set aside for 20 minutes. It will foam up.

Beat the butter and sugar in the mixer for 4 minutes on medium speed.

Add the eggs, yolk, and vanilla.

Continue to mix on medium speed - scrape down the sides often.

Add the remaining flour.

Now, add the milk mixture.

Mix on low speed with the dough hook until the dough pulls away from the bowl.

Oil the top with a light vegetable oil or butter.

Cover and refrigerate overnight.

The next day let the dough come to room temperature.

Separate it into two equal balls.

On a floured surface roll each ball of dough into a 12"x 20" rectangle.

Spread with the chocolate.

Cover with chopped chocolate.

Start rolling up from the long side, keeping it tight as you go.

Once it is rolled up fold it over so that it creates a "U".

Twist it a few times and put it in a well greased bread pan.

Brush with butter and sprinkle with streusel.

Let rise until the loaves are about 1 inch over the top of the pans.

Bake at 325F for 1 1/2 hours.

Cool completely.

Slice in thick slices.
Chocolate Filling
Whisk dry ingredients together in a medium bowl.

Combine cream and butter in a heavy pan and bring to a simmer.

Pour the cream mixture over he dry ingredients.

Mix well.

Add half the chopped chocolate to the mixture and stir until thick.

Set the rest of the chocolate aside.

As the mixture cools it will be like ganache.
If you liked Chocolate Babka you may also like:
Overnight Pecan Sticky Buns Restless Chipotle
English Muffin Bread Restless Chipotle
Cheese Babka Comfy Cook
 Babka Hungry Couple