Looking for a fun, easy way to dye Easter eggs this year? Look no further than your favorite childhood drink mix – Kool-Aid! 
Kool-Aid can be used to dye eggs in a variety of colors, and all you need is a small amount of additional water.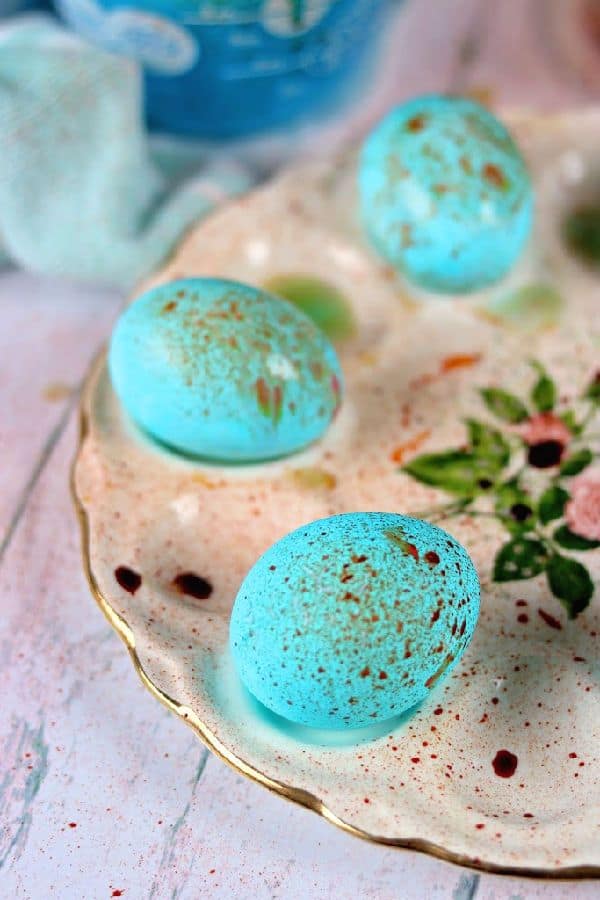 Table of Contents
❤️ Why you'll love it
It's simple and produces a variety of bright, vibrant colors.
No vinegary smell!
Inexpensive - and y'all know that's always a good thing!
Using Kool Aid to dye eggs is one of my favorite ways of coloring Easter eggs - especially with little kids. It's a fun alternative to traditional egg dyes and the colors are gorgeous.
🧾 Supplies for Kool-Aid dyed eggs
You don't need much!
You're going to want the original, old school Kool-Aid packets. You know, the kind that you add sugar to when you make the drink mix. You won't need to add sugar to these of course.
💭 Things to know
No need to add vinegar because the Kool-Aid contains citric acid.
Always start with clean, white eggs for best results.
Leave the eggs in the dye until you get the color you want.
Don't pat the eggs dry with paper towel - it will soak up the dye and cause the eggs to be blotchy.
You need to add orange to the lemonade flavor or it will be WAY too light.
For more intense colors use a little less water.
Just put colored eggs in an egg carton or dish and let them dry. An egg plate works great.
Keep colored eggs in the refrigerator. Hard boiled eggs will keep about a week.
Kool Aid doesn't flavor the eggs.
Putting the egg inside a balloon whisk is a great way to give young kids the chance to dye eggs at Easter time without a lot of help.
It's a good idea to cover the table surface with a plastic tablecloth. When you're done just fold up the tablecloth and toss it out. Easy cleanup.
🌈 Kool Aid colors
Some Kool-Aid flavors work better than others. Keep in mind that you can mix the powders to get different colors. Start with 1 full packet + ¼ a packet and keep mixing until you get the colors you want.
| Kool Aid Flavor | Color |
| --- | --- |
| Black Cherry | dark red |
| Blue Raspberry/ berry blue | light blue (the color I used above) |
| Cherry | bright red |
| Orange | orange |
| Strawberry | rose to dark pink |
| Lemonade + orange | deep yellow |
| Lemonade | pale yellow |
| Grape | kind of a stone gray |
| Cherry + lemonade | peach |
| Lemon-lime | green |
| Strawberry + grape | lilac |
| Mixed berry | a darker blue |
For darker colors you can use two or more packets of Kool-Aid.
📖 Variations
Spoon different colors of the Kool-Aid mixtures over the egg to make tie-dyed eggs.
You can draw on the eggs with waxy crayons and no dye will stick to those areas just like with the dye tablets!
Dip just half the egg in one color and the other half in another color.
How do you dye Easter eggs with Kool-Aid?
A packet of KoolAid, ½ to ¾ cup water, and some white hard boiled eggs, and time to let the eggs soak in the Kool-Aid dye are all you need.
Can you dye brown eggs with Kool-Aid?
You can! The final results will be darker colors. They're richer, and more earth toned because of the brown color of the shell. White eggs will give brighter colors and brown eggs will give darker tones. Keep in mind you can't get the lighter colors with brown eggs.📖 Variations
Is it better to dye eggs hot or cold?
Warm water and cool eggs is the magic recipe for the best colors!
Do I need spring water?
Plain old tap water works just fine.
🐇 Step by step instructions
This is so easy to do, y'all!
Time needed: 1 hour
Coloring Easter eggs with Kool-aid is fun, colorful, and easy to clean up!
Make the dye:

Pour one 0.22 ounce envelope of Kool Aid ( a full packet of KoolAid mix) into a 10 ounce container and add ⅔ cup water. Stir to dissolve the Kool Aid.

Dye the eggs:

Place eggs in each container that has Kool-Aid in it . White eggs work best but brown eggs can be pretty, too.

Let dry:

When eggs are the desired color take them out of the dye with tongs or a spoon and let them dry.

Create speckled eggs

If you want to go a step further in your Easter egg decorating you can give them a nice speckled look. First dilute brown gel food color with a little water.

Add speckles:

Dip a toothbrush in and then, with the brush pointed at the dyed egg, run your thumb down the bristles to splatter the color. It does take a little practice.

Let eggs dry:

Let the eggs dry completely and then they're ready to be used as you wish!
These Easter eggs are SO pretty and so much fun to do! I use this method to dye the eggs in the Italian Easter Bread.
📚 Related recipes
Here are some great Easter recipes to try.