Easy cream cheese coffee cake recipe is stuffed full of rich cream cheese and tangy-sweet ripe summer berries, then topped with a crunchy cornbread streusel that will have you going back for more.
Here's a taste of the south in summer - all in one delightful mouthful.
First Published:June 5, 2017... Last Updated: July 3, 2019
For this recipe you'll need: flour, baking powder, baking soda, salt, butter, sugar, eggs, vanilla, almond extract, sour cream, cream cheese, raspberries, blueberries, leftover cornbread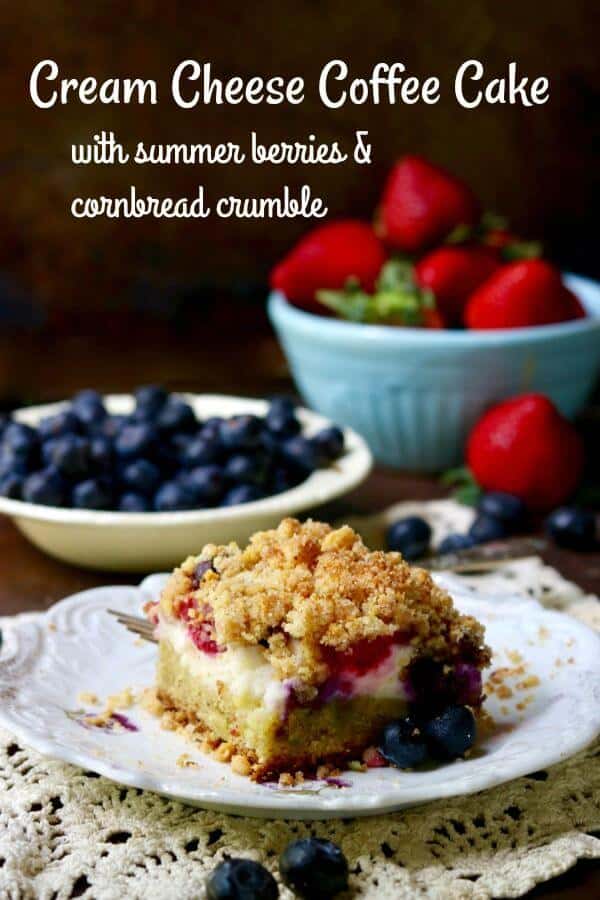 Jump to:
Classic Cream Cheese Coffee Cake Recipe
Oh my gosh, y'all. This is the stuff, right here. This is why God made summer and summer berries without a doubt.
I used blueberries and raspberries in my cream cheese coffee cake creation but strawberries, peaches, mango, cherries.... any ripe summer fruit would work as well.
You might need to adjust the sweetness depending on how tart or sweet the fruit is - other than that the flavors are going to work perfectly with about any fruit you can pick up at your local farm stand.
Well maybe not tomatoes? AND definitely not cucumber.
Although I 've been making this recipe for years I hadn't made it in a very, VERY long time.
Cornbread Streusel Elevates This Classic Brunch Recipe
As I was making it I decided that it was time for an update and I wanted something for the crumb topping that was just a little out of the ordinary. You know, I've been trying to make sure that I stay true to the Texas/Southern slant of Restless Chipotle -- which isn't always easy.
So, when I was putting this together I happened to remember I had half a pan of leftover cornbread from a project I was doing for a client.
What, I ask you, what is more southern than cornbread?
Cornbread has a naturally nutty flavor and when it's combined with butter and sugar in the crumb topping you almost taste vanilla flavors.
Plus it retains its shape and texture when it's mixed with sugar, flour, and butter so the crumb topping on this particular cream cheese coffee cake is easily the best that I have ever made.
Each luscious bite is redolent of languid summer days that stretched on endlessly, snaking their way through Memorial Day, Fourth of July, and Labor Day - so far in the distance that it was almost unimaginable.
I'd give a lot for another summer like that!
More Great Brunch Recipes!
I love brunch! Breakfast is my favorite meal to eat at a restaurant and a huge, pastry filled brunch is my happy place.
This butter cake with boozy berries from A Communal Table looks like a fantastic addition to brunch, too.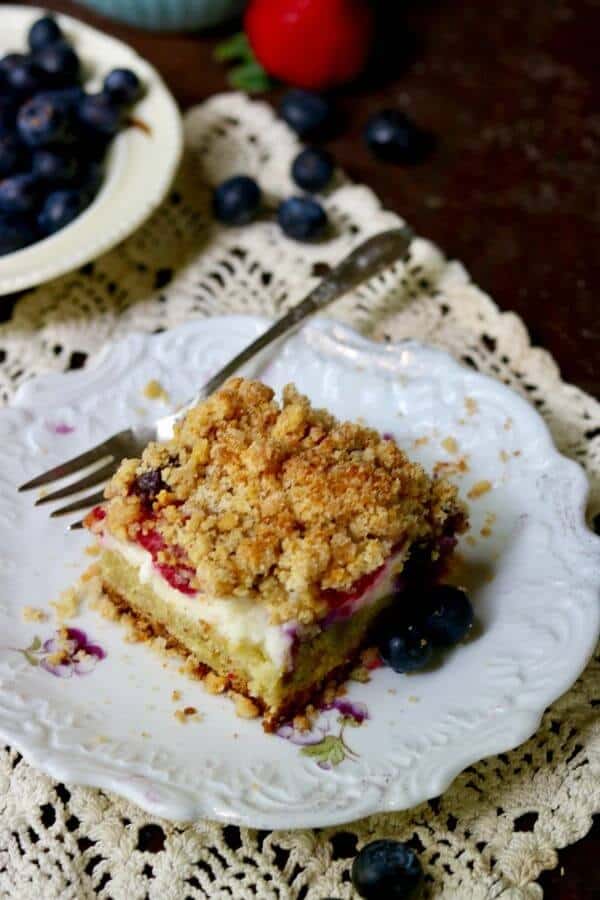 Summer Memories Circa 1968
There was something about waking up on that first morning of no-school-for-three-months-and-dang-what-am-I-going-to-do. I've always been a morning person and so summer days were not much different for me. I got up as soon as the chatter of the waking birds permeated my dreams and drew me back from where ever my imagination had wandered during the night. As soon as my eyes squinted open my bare feet would hit the coolness of the smooth wood floor and I'd jump into the least amount of clothing required by my mother, ready to head out for adventure.
Back then we had a freedom that has dwindled with each generation. My mother often talked sadly of how much more free she had been as a child than my generation was and I look at my grandchildren and sigh that they don't know the bliss of long, uninterrupted hours tramping through the woods, free from adult supervision and social requirements. I knew where the biggest, fattest dewberries grew without needing Google Maps to find them. I knew exactly which tree bent close enough to the ground to allow me to climb high into the branches and eat tooth-shatteringly crunchy, not-quite-ripe pears.
There's Education and Then There's Education
The education that I received during the summer months was maybe even a little more valuable to me as I reached adulthood than the long months of studying in a classroom the rest of the year. Somehow that freedom allowed me to retain some of the magic of childhood -- the belief that anything can happen and that the next moment in time could be life changing.
And all of those memories and magic are infused in this cream cheese coffee cake recipe. I'm not sure how but it's there. The sunny scent of a warm day, the simplicity of walking through the woods, the bright flavor of a sun-warmed berry popped into your mouth... it's all there for you to experience bite by bite by glorious bite.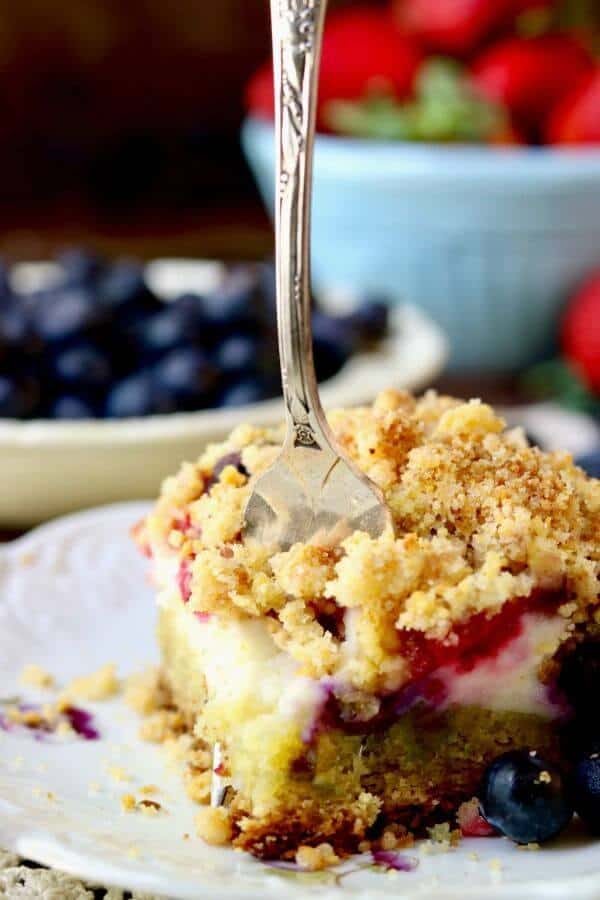 Tips
This makes a large cake. It could easily be cut smaller and feed 16 or more people.
Although cream cheese coffee cake does keep well for up to a week you'll want to keep leftovers tightly covered in the refrigerator after a couple of days because it contains so much dairy and fresh fruit. You don't want to end up with a wine and bleu cheese coffee cake... at least I don't think you do.
Use regular, full fat cream cheese. Don't use low fat, whipped, fat free, or any combination. It just won't work - trust me.
If you don't have leftover cornbread you can use bread crumbs or cake crumbs if you must.
Don't use mushy or bruised fruit. It will make the whole thing soggy.
This won't freeze well. You can click on the number of servings in the recipe below and adjust servings either up or down. All of the ingredient amounts will adjust right along with the serving sizes.
The cake is not super sweet. It's got more of a firm biscuit-like texture and buttery flavor than something like a yellow cake.
FAQs
Got questions? I have answers! If you don't find the answer you're looking for be sure to leave a comment or email me.
Can you freeze cream cheese coffee cake?
Yes and no. You can freeze cream cheese coffee cake fairly well but once you add berries to the recipe it's generally a no go. Most fruit gets a little soggy in the freezer.
Does cream cheese coffee cake need to be refrigerated?
Sugar is a great preservative - it's safe to store at room temperature for about 2 days - I wouldn't try to go farther than that. Honestly it never lasts past day one here.
Can I use Greek yogurt in place of the sour cream?
Yes! Greek yogurt works just fine.
Equipment
The following are affiliate links. We are a participant in the Amazon Services LLC Associates Program, an affiliate advertising program designed to provide a means for us to earn fees by linking to Amazon.com and affiliated sites.!
What's new? Check out my Restless Chipotle & Co. Store on Amazon where you'll find all kinds of nostalgic goodness! Thanks so much for being a part of Restless Chipotle!
Y'all know I am partial to Pyrex baking pans. I like glass because I think it heats more evenly and I like how it feels. Don't even ask me why - I just do. If you find that you need a pan to make this cake I'd suggest this 13x9-inch Pyrex glass pan.

If you're looking for a book to read to your kids that *might* inspire them to get outside and off the cell phones I just want to recommend one of MY favorites from when I was a kid, My Side of the Mountain. I loved it SO much I read it to all my kids. And they all loved it, too.
If you are looking for the star recipe for your next summer brunch you've found it right here... Rich cream cheese, juicy-ripe summer berries, and a nutty-sweet cornbread streusel? It's just amazing.
📖 Recipe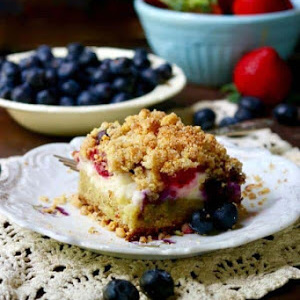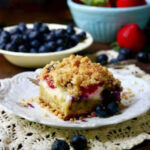 Cream Cheese Coffee Cake with Berries
Print
Save
Go to Collections
Easy cream cheese coffee cake recipe is stuffed full of rich cream cheese and tangy-sweet ripe summer berries, then topped with a crunchy cornbread crumble that will have you going back for more. As summer progresses use what ever fruit that's ripe and in season!
As an Amazon Associate I earn from qualifying purchases.
Ingredients
Cake
3

cups

flour,

all-purpose

1

teaspoon

baking powder

¾

teaspoon

baking soda

½

teaspoon

salt

⅔

cup

butter

,

room temperature

1 ¼

cups

sugar

6

egg yolks

,

room temperature

1

tablespoon

vanilla

½

teaspoon

almond extract

1 ½

cups

sour cream
Filling
16

ounces

cream cheese

,

room temperature

½

cup

sugar

3

egg whites

,

room temperature

2

cups

raspberries

,

washed and drained

2

cups

blueberries

,

washed and drained
Instructions
Grease 13x9-inch pan and dust with flour.

Set aside.
Cake
Stir together flour, baking powder, baking soda and salt together.

Set aside.

Cream together the butter and sugar on medium-low speed.

Beat in the egg yolks, vanilla, and almond extract.

Slowly mix in the flour mixture alternating with the sour cream.

Transfer the batter into the prepared pan and smooth the top.
Cream Cheese Layer
Mix together the cream cheese and sugar on medium-low speed with the paddle attachment until creamy, about 3 minutes.

Add the egg whites, switch to the whisk attachment, and whip on high speed until the mixture is light and fluffy and has the consistency of good buttercream frosting.

Set aside.
Cornbread Streusel Topping
Combine the sugar, flour, crumbs, and butter.

Blend and mix with your fingers until you can make a ball with the crumb mixture but it breaks apart into crumbs when you squeeze it.
Assemble
Spread the cream cheese over the cake batter.

Sprinkle the raspberries and blueberries evenly over the top.

Add the crumbs.

Bake for 45 to 55 minutes at 350°, or until a cake tester comes out clean.

Cool to room temperature before serving.

Store leftovers in the refrigerator.
Notes
If you don't have cornmeal crumbs crushed cornflakes, dry breadcrumbs, or even old cake or cookie crumbs will work as a substitute.
Nutrition Facts
Calories:
541
kcal
|
Carbohydrates:
64
g
|
Protein:
7
g
|
Fat:
28
g
|
Saturated Fat:
16
g
|
Cholesterol:
150
mg
|
Sodium:
392
mg
|
Potassium:
193
mg
|
Fiber:
2
g
|
Sugar:
35
g
|
Vitamin A:
995
IU
|
Vitamin C:
5.9
mg
|
Calcium:
94
mg
|
Iron:
2.1
mg
Sign up for the emails and never miss another recipe!!
We'll never share your email or send you spam. Pinkie swear.