Here's your free weekly meal plan for May 28 through June 3! This week we look toward summer with ideas for grilling as well as some Memorial Day favorites!
Don't forget to check out the time saving tips to get the most out of these meal plans!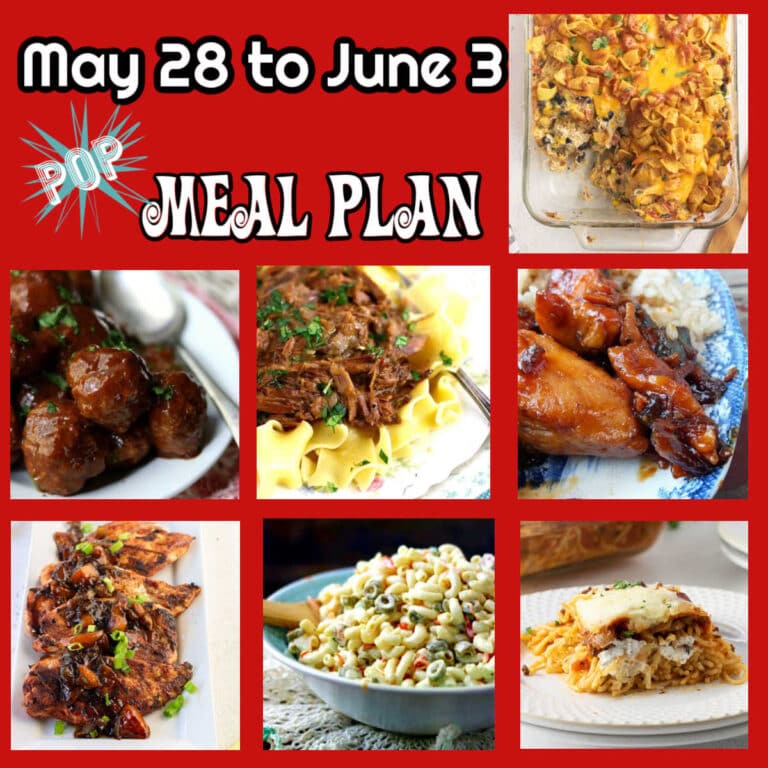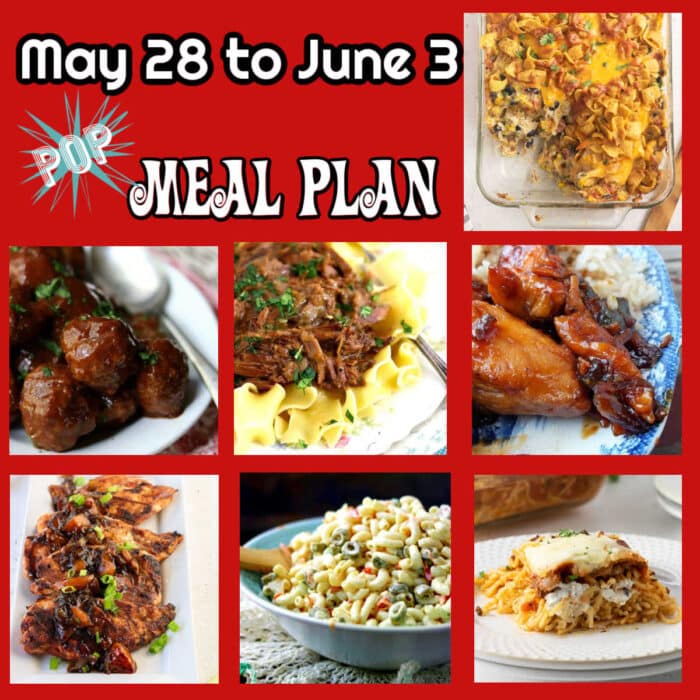 🫑 What's in Season?
A better question might be, "what isn't in season?"
Everything is ripening and coming into the Farmers' Markets now. It's fresh, in season, and at it's best. Make the most of these fresh flavors.
Apricots
Beets
Bell pepper
Berries (raspberries, strawberries, blackberries, blueberries)
Chiles
Corn
Cucumber
Eggplant
Figs
Green beans & Wax beans
Mangoes
Melon
Nectarines
Okra
Peaches
Pineapples
Plums
Radishes
Tomatoes
Zucchini and yellow squash
💭 Tips for success
Use frozen meatballs to get a head start on the honey garlic meatballs.
Double the recipe for the Honey Garlic Meatballs and freeze half. You'll have an easy dinner when you need it.
Make extra fried potatoes to serve with breakfast later in the week.
Leftover grilled chicken and bourbon peaches are delicious when added to a salad. Or use the leftover chicken chopped up in the Frito chicken casserole.
Lemon icebox pie freezes like a dream so make a couple and enjoy them all summer long.
Freeze leftover biscuits and use them for the base to strawberry shortcake later on.
If you don't want to make the stars for the fruit salad out of peaches you can use a tiny star cutter and make stars out of bananas like I did with the plain cheesecake.
🍹This week's cocktail
May 28
May 29
May 30
May 31
June 1
June 2
June 3
📚 Related recipes
Find one for each week in the meal plan category!
🛒 Shop this post
I use my slow cooker all year. It saves time and it really helps to keep the kitchen cool in the summer. This is the one I buy my kids when they leave home. It's been used in military bases all over the world as my kids traveled from one duty station to the next and has moved with them time and time again.