Frito Chicken Casserole - just by the title you should be able to guess that it is from one of my vintage cookbooks, right?
This is an easy, recipe that is a great way to use up leftovers because you start with cooked chicken. You can also run by the deli on the way home and get a rotisserie chicken if you are rushed and don't have the leftovers.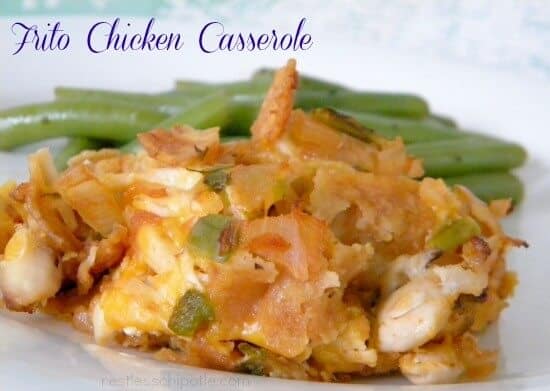 When I made this I started with chicken breast and cooked it in a crockpot with chicken broth, basil, and jalapeno. It's a great way to have cooked chicken on hand for those nights when you just don't have anytime to cook. The crockpot makes it really tender and the chicken soaks up whatever flavors that you add to it. Keep it simple so that you can use the chicken in more than one dish. Save the broth after cooking - it is doubly infused with chicken flavor!
Anyway, this is easy and it is very family friendly. Fritos were a part of my childhood long before I became addicted to Doritos in my teens. I can still sing the Frito Bandito song with ease, by the way... and if you are my age I am willing to bet it is flooding your brain right now.
You're welcome.
Anyway, back in the 50s and 60s these new fangled snack foods were just emerging and since families really didn't understand the concept of junk food and eating constantly, women used these foods as ingredients in recipes. It wasn't until well into the 1970s that America learned to overeat.
This recipe calls for a package of Fritos Corn Chips. Do not get something else. Please, let's keep this pure, shall we? You toss all of the ingredients together in a pan, pop it into the oven and pull out dinner about 40 minutes later. Easy.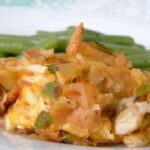 Frito Chicken Casserole
Print
Add to Collection
Go to Collections
An easy casserole that the whole family will love - chicken, corn chips, and cheese - what's not to like? So simple that the kids can get dinner started before you even get home.
As an Amazon Associate I earn from qualifying purchases.
Ingredients
2

medium onions

,

, chopped

2

tablespoons

fresh oregano

,

, chopped

1 ½

cups

Spicy V-8 juice

8

cups

Fritos

4

cups

cooked

,

, diced chicken

2

cans green chilies

2

cups

grated cheddar cheese

4

cups

chicken broth
Instructions
Preheat the oven to 350F.

Grease a 13x9 inch pan.

Add broth and tomato juice to a pan.

Add the onion and oregano.

Simmer for 10 minutes, or until the mixture reduces a little bit.

Add a layer of Fritos to the casserole pan.

Sprinkle part of the chicken over the top.

Sprinkle cheese over that. (reserve a little to sprinkle on top)

Repeat layers until all the ingredients are used.

Pour the tomato sauce mixture over all, sprinkle with reserved cheese, and bake for 40 minutes.
Sign up for the emails and never miss another recipe!!
We'll never share your email or send you spam. Pinkie swear.