Kick your casserole game up a notch with a supply of perfectly cooked chicken! Unlock the secrets of tender, flavorful chicken for your next comfort food masterpiece.
Plus, you'll be able to throw a casserole together at a moment's notice.
Don't want to scroll through the page to get to the recipe? Use the table of contents to click on the section you want to go to.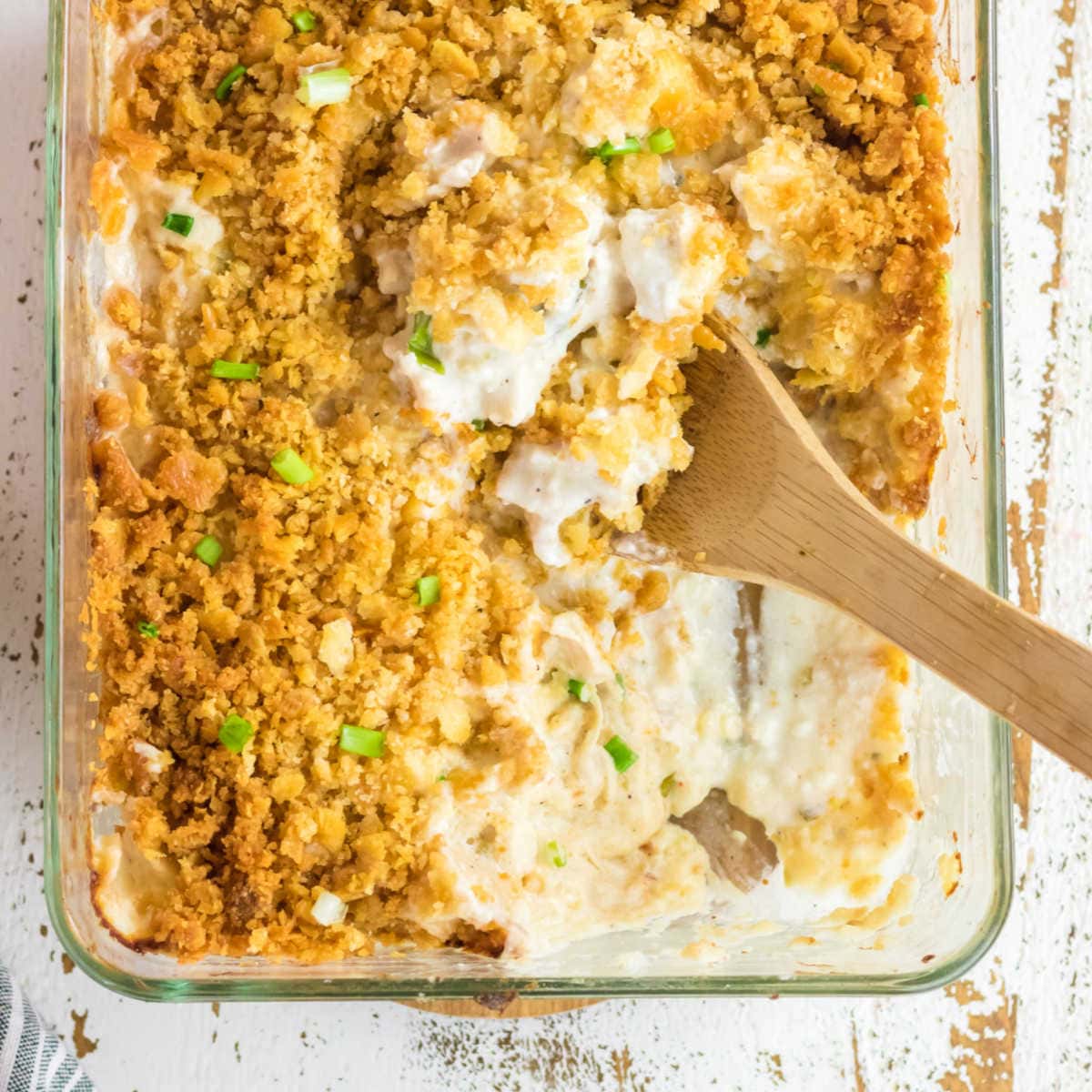 Jump to:
🗝️ Key takeaways
Making chicken ahead of time saves time, money, and energy. Plus, learning various ways to cook it allows you the flexibility to make it fit your lifestyle and tastes.
Chicken casserole recipes are simple and great make-ahead meals.
Back to school, holidays, or when your life is chaos are all good times to have pre-cooked chicken in the freezer to make nearly effortless meals.
You'll learn 7 different methods for cooking chicken in bulk and storing it for casserole recipes.
You won't have to wander the aisles of the grocery store for hours, and you'll still end up with a week's worth (or more) of delicious chicken recipes that taste unique and satisfying!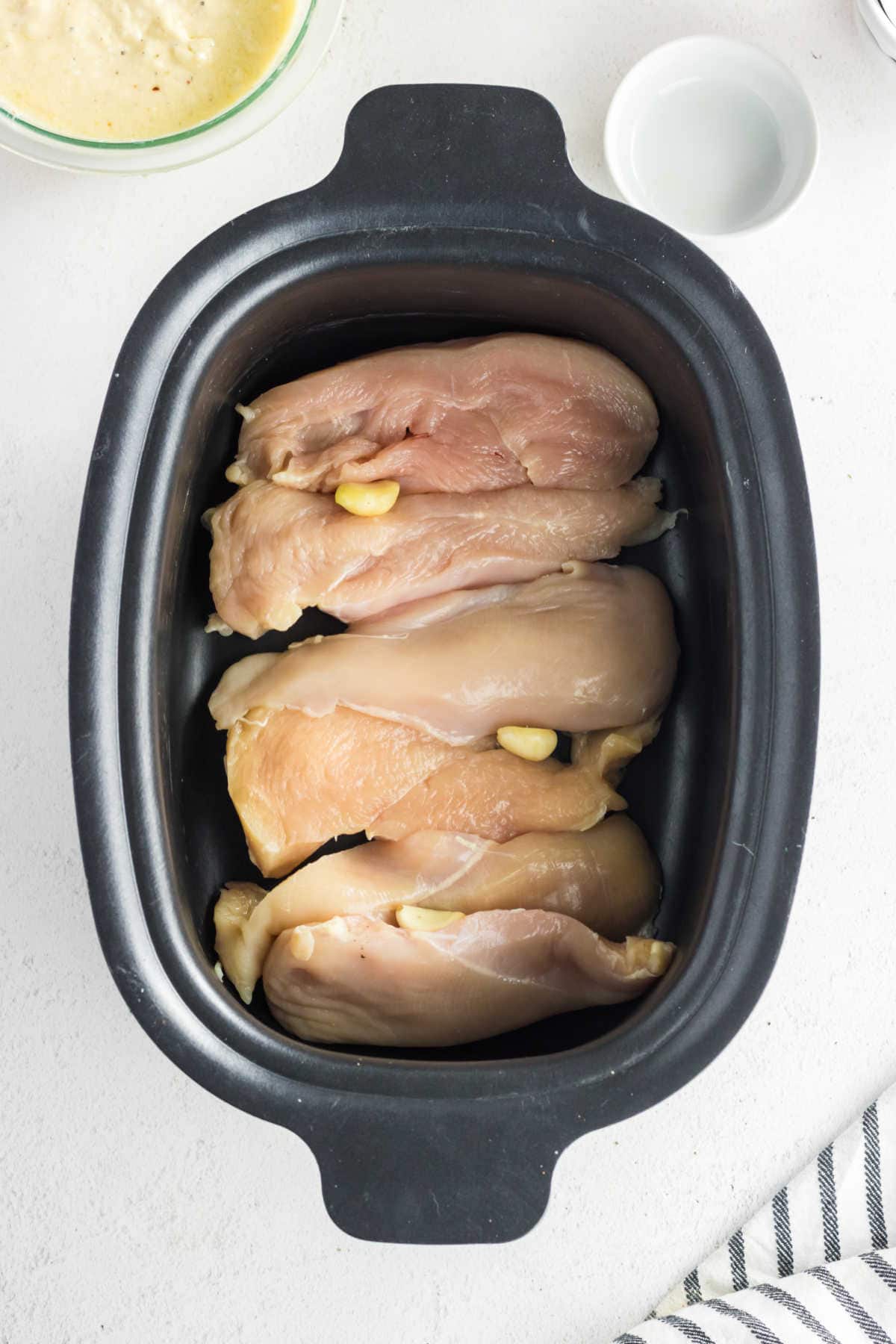 Crockpot
If you need juicy, tender chicken breasts, and want to prep ahead of time, the slow cooker is about to become your new best friend.
Crockpot chicken dinners are pretty much the best thing ever.
Season the chicken breasts with a touch of olive oil, salt, and pepper. Feel free to add any other spices or herbs you prefer. Try garlic powder, onion powder, Italian seasoning, and so on.
Be careful though. The more you season them the fewer recipes you'll be able to put them in.
No one wants taco-flavored chicken in their chicken a la king!
Cook the chicken on the low setting for 3-4 hours or until a instant-read thermometer registers 165F.
If you'd like to make shredded crockpot chicken, let it cook for 6-8 hours. Cooking chicken on low helps it stay moist and delicious.
Poach
If you're wondering how to cook chicken for a casserole, here's what you need to know: poaching chicken to juicy perfection is both easy and fast. Plus, all you need is a large pot—nothin' too fancy here!
Place the chicken breasts in a pot, then add liquid.
You can use water or vegetable/chicken broth, but be sure to cover the chicken by two or three inches.
Optional: for extra flavor, toss in some lemon wedges and bay leaves.
Place the pot on the stove and set it to medium-high heat. When the water/broth starts to boil, cover the pot with a tight-fitting lid. Turn the heat down to low.
Let it simmer for about 10-15 minutes, or until the internal temperature of the chicken reaches 165 degrees F (more on this below!)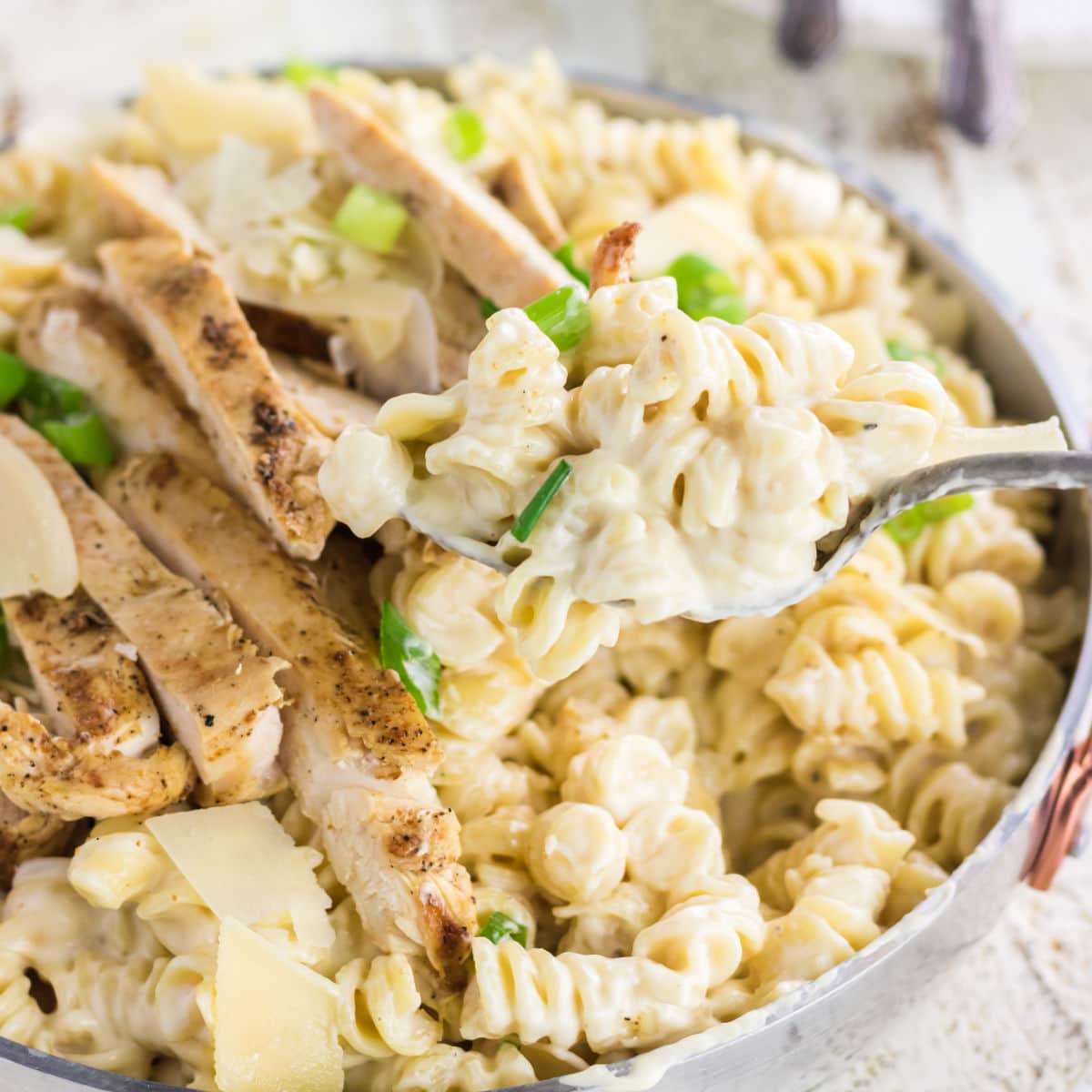 Bake
Baked chicken is a family favorite because it's easy and versatile. While the chicken's baking, you can throw in sides or veggies, and you have a classic dinner done in a jiffy!
Lay chicken in a single layer on a greased casserole dish or baking sheet. You can add other simple ingredients for flavor, like fresh herbs, garlic, sauces, or lemon slices.
Once it's cooked you can cube it and freeze it in recipe-sized portions for casseroles and salads.
There are so many popular recipes for baked chicken, it can be hard to sort through them all. Here's a summary of the recommended cooking times and temperatures:
| Type | Time | Temperature |
| --- | --- | --- |
| Boneless, skinless chicken breasts | 20 - 25 minutes | 375 degrees F |
| Bone-in chicken breasts | 35-40 minutes | 400 degrees F |
| Boneless, skinless chicken thighs | 25-30 minutes | 400 degrees F |
| Bone-in chicken thighs | 30-40 minutes | 400 degrees F |
| Chicken wings | 35-45 minutes | 425 degrees F |
Safe temperature for chicken of any kind is 165 degrees F.
Pan Fry
Pan-fried chicken is the base for tons of great recipes.
It's an easy way to meal prep for the whole family and tastes great tossed over a fresh salad or creamy rice as a last-minute lunch.
Pound the chicken breasts with a meat mallet until they're the same thickness throughout.
Optional: cut the chicken into bite-sized pieces using a chef's knife.
Meanwhile, warm some oil/butter over medium heat in a large skillet.
Add the chicken pieces or whole breasts to the hot pan.
Let cook for 5-8 minutes or so, before flipping or giving everything a good stir.
Allow the chicken to cook until golden brown on all sides and no pink or red color remains inside.
For thicker chicken breasts, sear the outside until golden. Then, transfer to a preheated oven to finish baking, until the internal temperature reaches 160 degrees F.
Tent with foil and allow to rest for 10 minutes. During this time the temperature will come up to a safe 165F.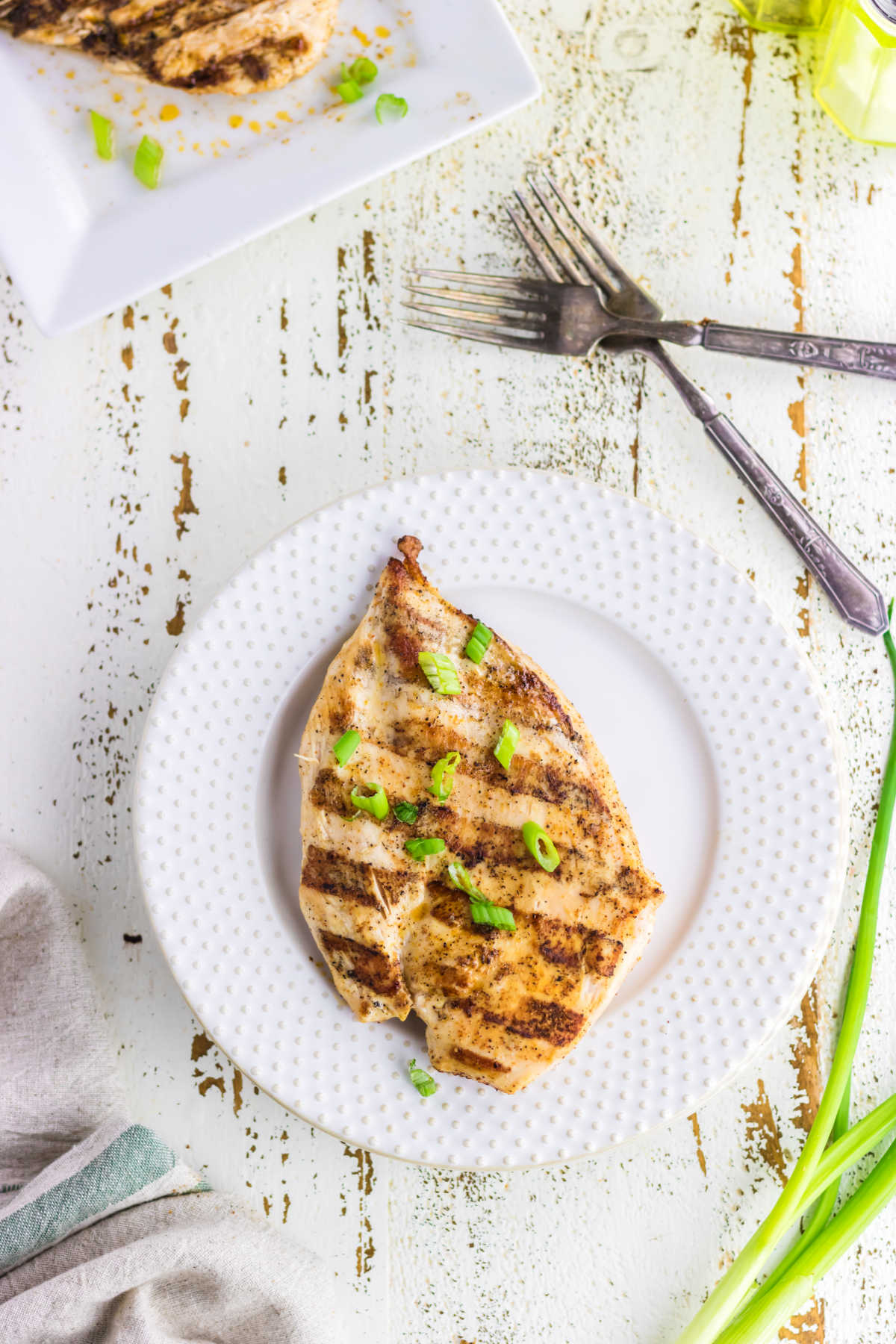 Grill
Grilled chicken is easy to stir into casseroles and makes a fabulous summer dinner because it's quick, easy, and doesn't heat up the house. Plus, it's a great option for healthy eating—though, with the juicy, smoky flavor, you don't feel like you're sacrificing anything!
Let your grill get all smoky and hot, before adding the chicken to it. You can cook marinated or plain chicken on the grill—whatever you prefer.
Average-sized chicken breasts only need about 5-6 minutes of direct heat on each side, and grilled chicken tenders only about 3 minutes per side. Boneless chicken thighs need about 7-8 minutes on each side.
Roast
Everyone loves a classic, roasted chicken.
Something about it just whisks you away to dinner at grandma's house on a Sunday afternoon. If you're looking for ways to cook a chicken for casseroles, don't count this method out.
Prepare your whole chicken with a few tablespoons of butter and rubs, herbs, or spices as you'd like. Set it on a rack in a roasting or baking dish with high sides, and preheat the oven to 425 degrees F.
The general rule of thumb goes like this: start the chicken at 425 degrees F for 30 minutes. Then, lower the temperature to 350 and continue cooking for about 10-15 minutes per pound. You'll have to do a little math, and don't forget to rely on your thermometer!
Air Fry
Air frying gives a nice, crisp exterior to your favorite protein, but without all the fuss. It's a game-changer for making BBQ chicken that tastes straight off of the grill, but you can cook it this way for casseroles, too!
Simply preheat the air fryer to 380 degrees F. Cook boneless chicken thighs for 12-15 minutes, and chicken breasts for 10-15 minutes. Voila!
Buy rotisserie chicken
Store-bought rotisserie chicken is my favorite mom hack for easy, balanced dinners that taste great. Plus, they're sold hot and fresh at the grocery store, which happens to be the exact time I never feel like cooking!
You can break down the bird quickly, and serve everyone a different section of the chicken. Otherwise, throw all the meat on a cutting board and give it a few chops with a big knife. You can use rotisserie chicken in any of your favorite easy chicken casserole recipes.
(PS—Don't throw away the carcass. You can use it to make delicious, homemade stock for soup!)
How to shred chicken
Shredded chicken is great for casseroles, tacos, burritos, pasta, and more. It's an easy way to add some protein to your weeknight dinners.
Plus, the best part? You can make it from any of the methods in this post! Once the cooked chicken has cooled a little, transfer it to a large bowl or a cutting board.
Hold one fork in each hand, and tear the chicken apart in separate directions. You'll notice hardly any effort is needed since tender chicken shreds easily.
Some people like to use a hand-held mixer with beater attachments to shred chicken.
This works okay, but I've never found it necessary. Grabbing two forks is quicker than pulling out my powdered sugar-covered mixer, anyway, but do what works for you!
How to store leftovers
Let the cooked chicken cool, then place it into an airtight container. It'll last in the fridge for 3-4 days, or the freezer for up to three months.
I like to put it in Ziploc freezer bags
This goes for leftover rotisserie chicken, leftover shredded chicken, leftover grilled chicken, leftover... well, you get the idea.
You can reheat most types of chicken easily in the microwave but don't warm it for too long or it'll get dry. Start with a few, thirty-second intervals, (stirring or flipping the chicken over in between) until it's hot to your liking.
How much chicken do I need?
If you're curious about how to cook chicken for a casserole, your next question might be about quantity. Here's a quick run-down. (Be sure to bookmark this post or save it to Pinterest so you have it on hand!)
| Pounds Raw, Boneless | Cups Cooked & Diced | Cups Cooked & Shredded |
| --- | --- | --- |
| 1 pound | 1-½ cups | 2-⅓ cups |
| 1 ½ pound | 2-¼ cups | 3-½ cups |
| 2 pounds | 3 cups | 2 - ⅔ cups |
| 3 pounds | 4-½ cups | 7 cups |
Things to know
Expert Tip: Chicken is cooked when the temperature in the thickest part of the breast or thigh reaches 160 degrees F. Always let chicken rest for at least five minutes after cooking (and even longer for larger pieces of meat) so it can come to a safe 165 degrees F.
For best results, brine or marinate your chicken prior to cooking. This helps tenderize tougher proteins and makes chicken more flavorful.
Adding leftover chicken to a casserole and baking it does not "reset" its timeline. Chicken is good for 3-4 days from the first time it's cooked.
Cooking spray is a versatile tool. Use it to prep your baking sheet, grill, air fryer, and crockpot so plain chicken doesn't stick.
👩‍🍳 FAQs
How do I cook a lot of chicken at once?
It's important not to crowd chicken, especially when it's in an air fryer or poaching in a pot. I've found that grilling or baking the chicken offers the most space, so you can make big batches without issue!
Does it take longer to cook bone-in chicken?
Yep! Bone-in chicken generally takes longer to cook than boneless. Be sure to rely on your recipe, the tips in this post, and—above all—your meat thermometer!
How do I thaw frozen, cooked chicken?
It's simple! Let the chicken thaw in your fridge for the best results. For thicker chicken breasts, it might take 24 hours or a little longer. Smaller cuts or shredded chicken thaw more quickly.

If you're in a pinch, and the frozen chicken is in a plastic bag, you can submerge the bag of chicken in a large pot or Tupperware filled with cool water. Replace the water every 10 minutes or so, for about an hour, or until the chicken is thawed.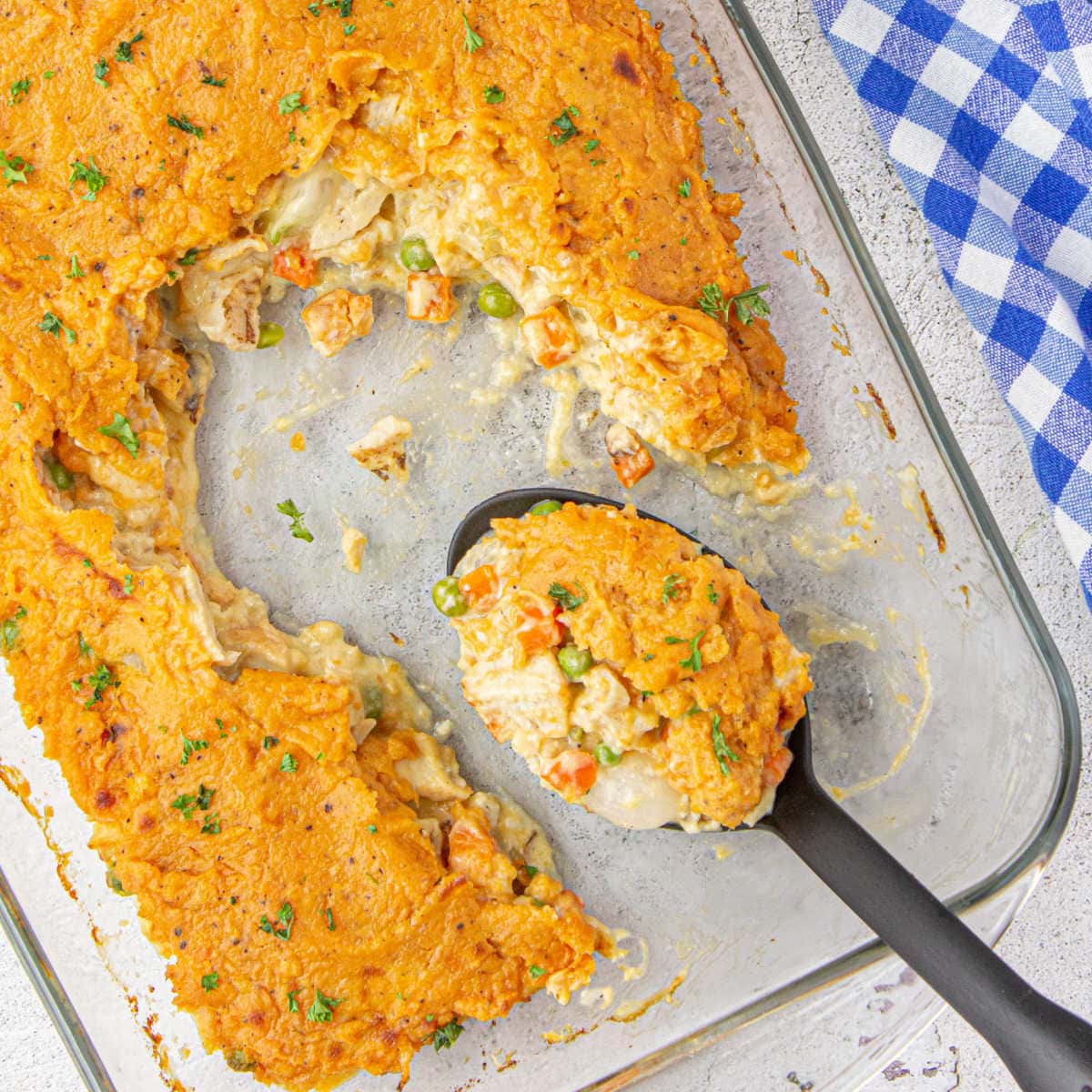 📚 Use cooked chicken in these casserole recipes
📓 Meal plans in minutes