This easy grilled chicken Alfredo is going to be on your A list. Slightly smoky, grilled chicken breasts are sliced and served over tender pasta drenched in a creamy, rich Alfredo sauce. It's easier than you think and, if you grill your chicken breasts ahead of time, goes together in minutes. Olive Garden, Macaroni Grill, or any other place you can think of can't beat this.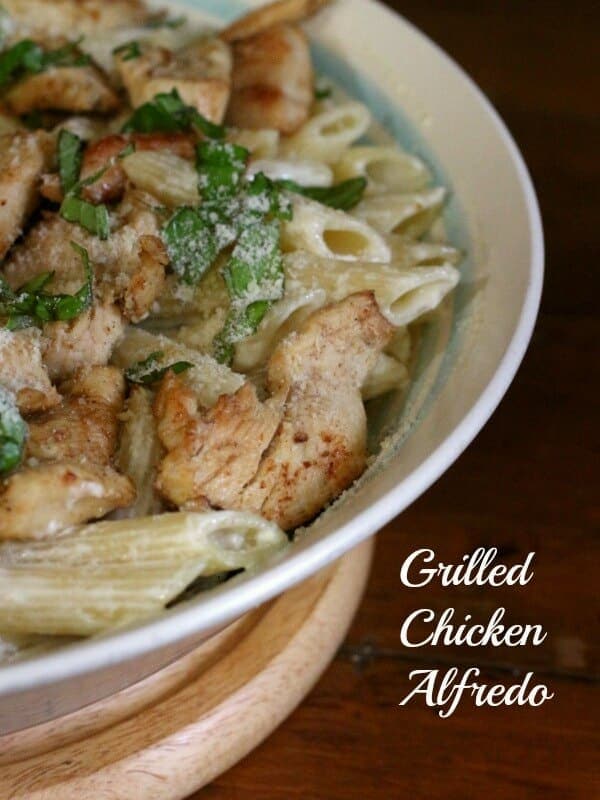 Everyone loves the spaghetti scene from Lady and the Tramp. It's sweetly romantic with the lighting and the sharing of pasta. Italian food is romantic but it's also comfort food. And that's why we love it — it speaks of love in all of its forms. The textures are addictive — creamy sauces, crunchy breading, tender pasta. The flavors in Italian food run the gamut from tangy tomato sauce and fiery puttenesca to mellow garlic butters and soothing Alfredo. There's something for everyone.
Plus Italian dishes lend themselves to special dinners. The kind where you walk in the house and the lights are dimmed, the kids are at the babysitters, and a bottle of champagne chills in an ice bucket illuminated by flickering candlelight. Then again, it's just as welcome on a weekend with all the family gathered around the table, laughing and talking as a platter of pasta is passed around and a pitcher of sangria is filled again and again.
Grilled Chicken Alfredo is just that versatile. It's perfect for any occasion — and if it's in the middle of winter and you don't feel like grilling in a blizzard you can cook the chicken breast in the oven or on the stove. I've even used the cooked, grilled chicken breast from the store. If you don't have fettuccine use spaghetti, farafelle, or rotini… it doesn't matter. It's all good. The main thing to remember is that Alfredo doesn't warm up well so make it, serve it immediately, and eat every last bit. It won't be good tomorrow.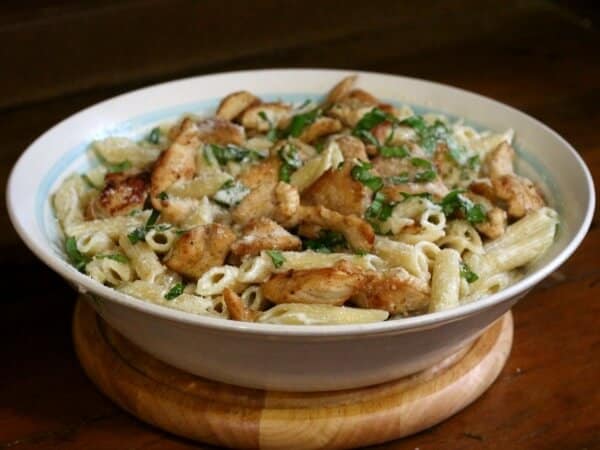 I was a very picky eater as a kid. Now I know it was a result of Sensory Processing Disorder but back then it was just called "geez, you're a picky eater, aren't you?" syndrome. There were few things I would eat but one that never failed to tempt me was biscketti. I liked it with butter and Parmesan. Even when we went to restaurants I'd order it with just butter and Parmesan. One day a very persistent server convinced me to try Alfredo. It was love at first bite. From that point on I became a pasta adventurer and would try almost anything that included pasta.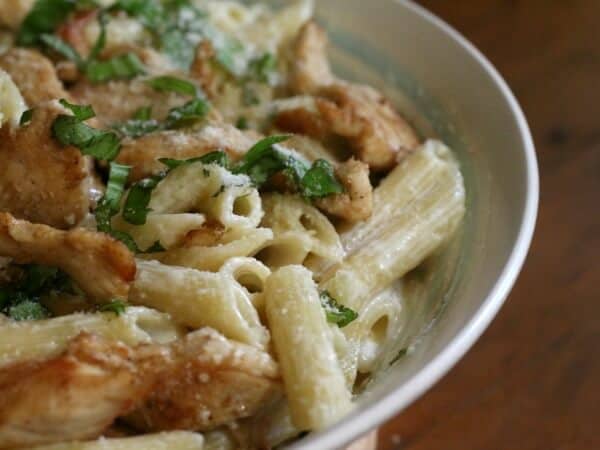 I like to grill a lot of chicken when we're grilling and freeze it for later. It makes this dish go together super fast. This is truly a family favorite. I hope you like this grilled chicken Alfredo as much as we do.
One more thing… marinating the chicken for this Alfredo gives it more flavor but not required. 30 minutes in zesty Italian dressing works great!
As you can probably see I am not a purist when it comes to pasta. I use whatever I have on hand. 🙂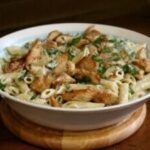 Grilled Chicken Alfredo that Beats Olive Garden
Print
Add to Collection
Go to Collections
Creamy Alfredo sauce is spooned over tender pasta and topped with seasoned grilled chicken. It's an easy, quick meal that everyone will love.
As an Amazon Associate I earn from qualifying purchases.
Ingredients
1 1/2

pounds

seasoned and grilled chicken breasts

,

, sliced

24

ounces

dry fettuccine or pasta of choice

1/3

cup

butter

1 1/4

cups

heavy cream

1

tablespoon

cream cheese

1 1/2

cups

freshly grated Parmesan cheese

Salt and pepper to taste

Pinch of garlic powder

1/4

cup

chopped fresh basil for garnish

,

, optional
Instructions
Cook the pasta in salted water until a la dente.

Drain, reserving 2 tablespoons of the pasta water.

Add the Parmesan to a large bowl.

Melt the butter in a medium, heavy skillet over medium heat.

Once the butter is melted turn the heat down to medium low.

Add the cream and cream cheese.

Stir constantly until it gets smooth and thickens (just a few minutes).

The sauce is ready when you can pull the back of a serving spoon through it and it leaves a trail.

Pour the sauce over the Parmesan, let stand a few minutes, and then stir until smooth.

Taste and add the salt, pepper, and garlic powder as needed.

Add the pasta to a serving bowl or platter.

Pour the reserved pasta water over it and mix in.

Stir in the Alfredo sauce.

Top with the chicken and chopped basil.

Serve immediately.
Sign up for the emails and never miss another recipe!!
We'll never share your email or send you spam. Pinkie swear.
If you liked Grilled Chicken Alfredo you may also like…
Shell Pasta with Creamy Vodka Sauce
Best Homemade Pasta Dough Ever with picture tutorial
Spicy Smoked Sausage Alfredo Bake Let's Dish
Cajun Shrimp Fettuccine Alfredo Closet Cooking