Wondering what to serve with chicken spaghetti casserole?
If you're bored with the same old things check out 50 of my favorite side dish recipes for creamy chicken casseroles like this!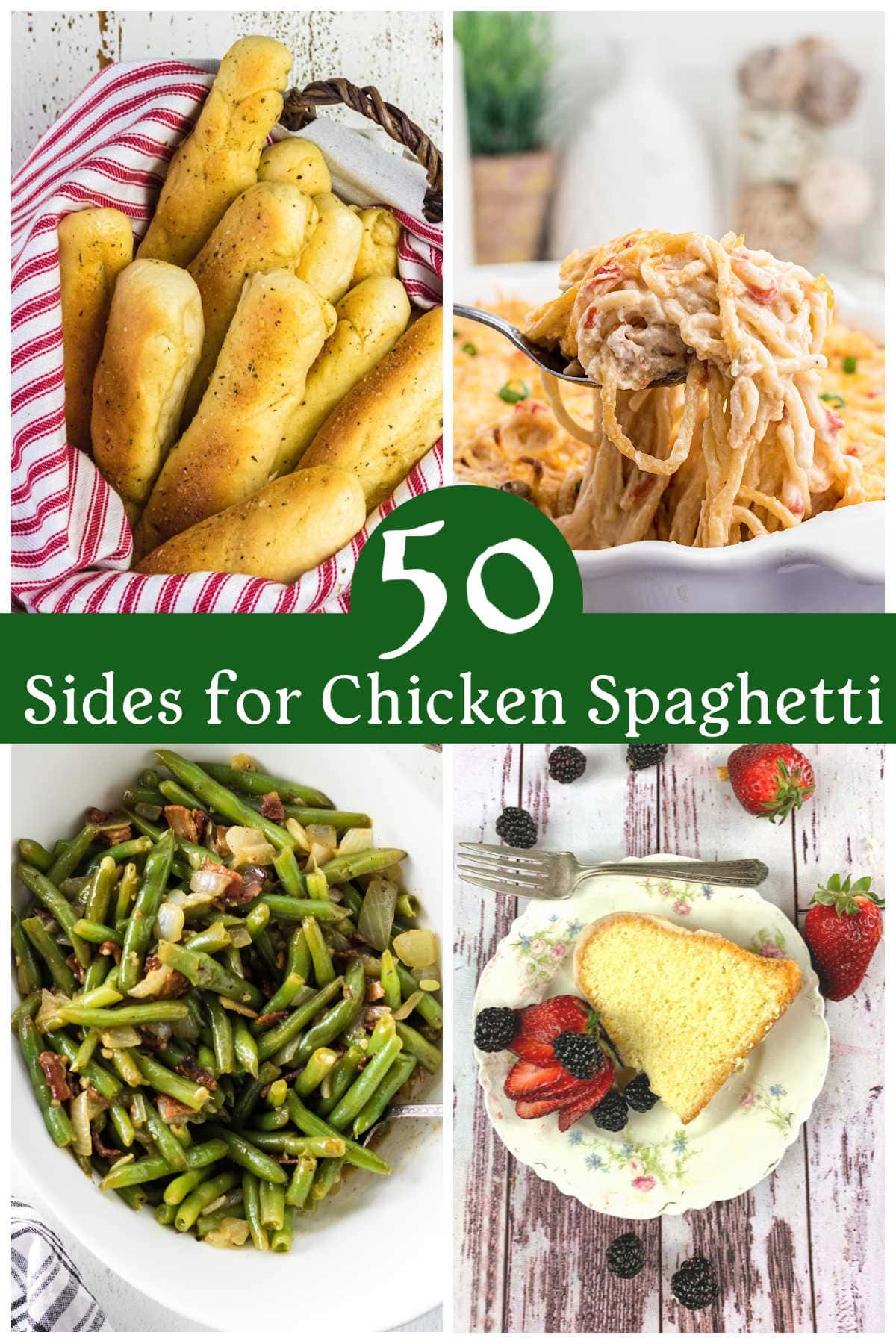 Table of Contents
❤️ Why we love it
Let's face it, as a society we're in love with tender pasta casserole recipes!
Why wouldn't we be? It's so versatile, easy, and quick that dinner can be on the table in minutes.
In my area of the south one of the most popular pasta dishes is creamy chicken spaghetti. It's rich, cheesy, and creamy with a little spicy kick of goodness from the RoTel tomatoes.
When you have a dish like this as often as we do you're bound to get tired of pouring out a bagged salad and slapping some Ranch dressing on the table.
That's why I love lists like this for when I'm feeling uninspired.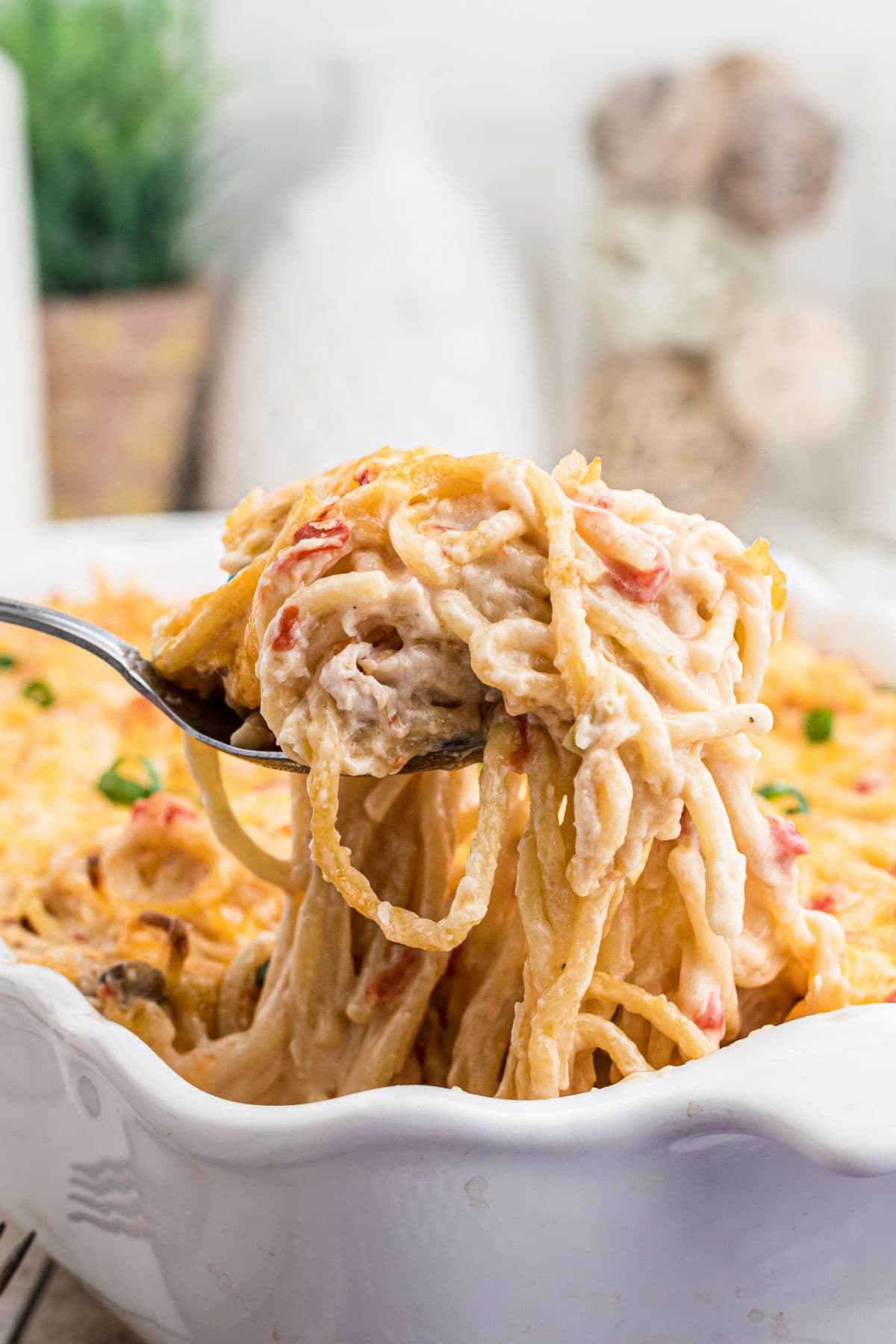 👌 What sides go best with chicken spaghetti?
Chicken spaghetti is one of our favorite comfort foods. It's a simple weeknight meal made with pasta covered in a creamy, cheesy sauce made with cream of chicken soup.
Diced tomatoes and green chiles add a little punch.
The whole dish is mixed with tender, cooked chicken breast before being covered with Cheddar cheese and baked. It's a great way to use leftover chicken.
Of course there are tons of variations to the basic recipe!
Choose side dishes with some texture for variety. You wouldn't want something like mashed potatoes and gravy because the textures would be too similar.
And that's boring!
Choose crunchy, crispy textures like colorful salads made with iceberg lettuce and fresh veggies, or crispy breadsticks.
Be sure to think about color, too. Since the casserole is basically beige try sprinkling it with some cilantro, chopped green onions, or parsley before serving.
A great side dish is one that pops with color like bright red tomatoes, vivid green steamed broccoli, and such as that.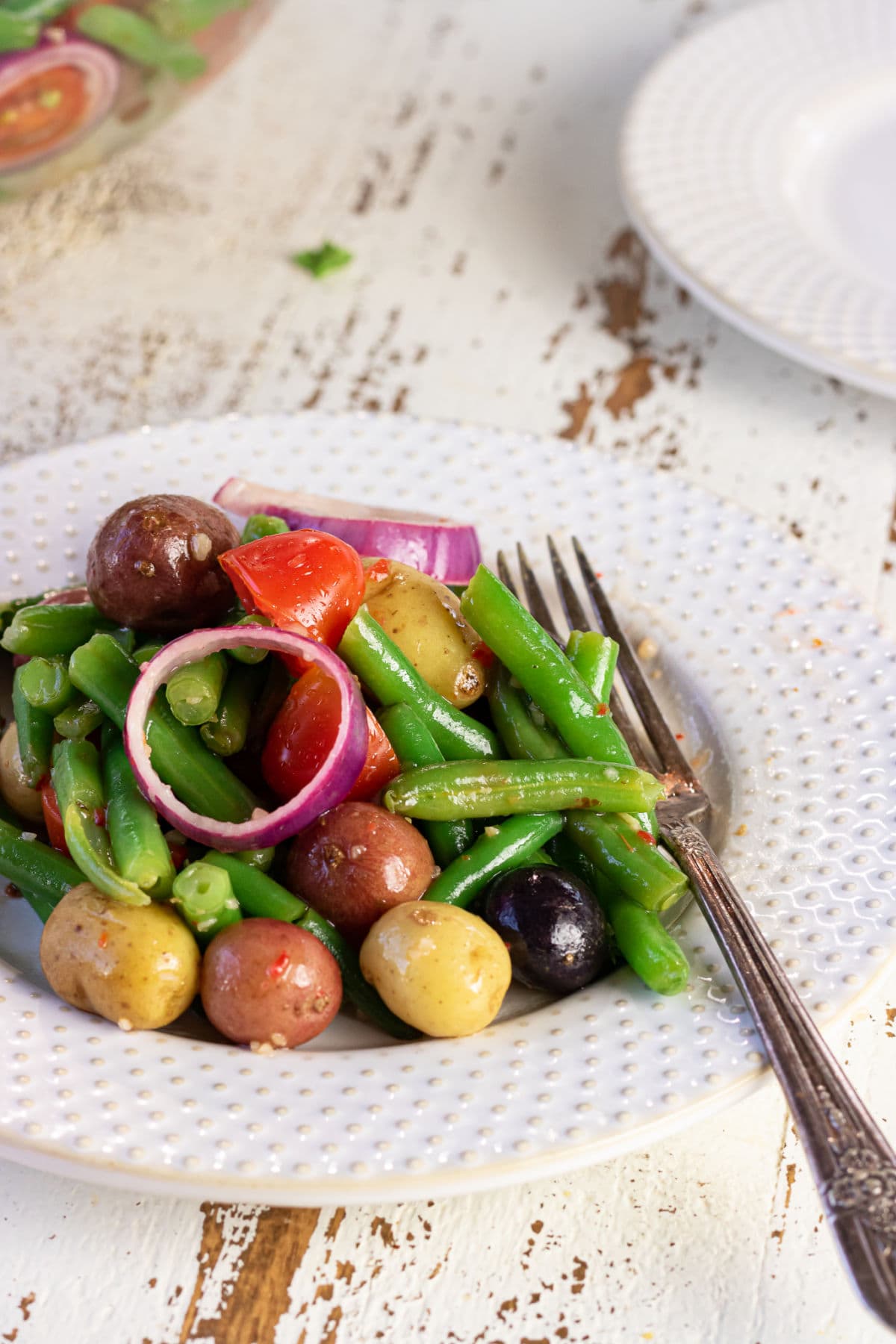 🥦 Vegetables and Sides
Vegetables and salads are the most often served side dishes with chicken spaghetti casserole. They add color, texture, and nutrition to the meal.
Tossed salad is the usual side dish but there's nothing wrong with that. It adds color and crunch!
In the summer homegrown sliced tomatoes sprinkled with a little salt don't need much more than that!
Green bean and cherry tomato salad is perfect if you're in the mood for a little something different. (shown above)
Frito corn salad is crunchy and fun for the whole family.
Steamed broccoli just needs a little butter, salt, and pepper.
Southern stewed tomatoes add a little tangy goodness and color to the table.
Country style scalloped tomatoes have a crunchy crouton topping.
Classic Caesar salad is good with almost everything.
Southern green beans are smothered in a sweet-sour sauce and sprinkled with crisp bacon.
Keep it easy with fresh raw veggies like sliced bell peppers (both green and red peppers), baby carrots, and celery served with ranch as a dip.
I love a good fruit salad - this one has a honey lime dressing that's amazing.
Grilled vegetables are delicious and so quick and easy to make.
I love earthy and spicy black eyed pea salad (cowboy caviar) with this dish. It cuts through the rich sauce and adds a nice texture.
Southern cucumber salad is vinegary and sweet plus the crunch adds texture to the meal.
In the spring try steamed asparagus with just a drizzle of lemon juice and olive oil!
Oven roasted brussels sprouts are easy AND delicious!
Maple glazed carrots are a family favorite. Don't cook them until they're mushy - they should retain some texture.
In the summer a mixture of sauteed zucchini and yellow squash with just a touch of butter, salt, and black pepper is hard to beat.
Cornbread salad is the southern version of Italian panzanella and goes beautifully with this dish!
Grilled broccolini if you're feeling a little adventurous.
Southern fried cabbage with bacon is quick and easy.
Add a dish of homemade pickled onions to the table.
If your family likes a little spicy heat try putting a relish dish of these sweet-hot candied jalapenos on the table, too.
Southern fried apples are a side dish that tastes a bit like dessert and is a delicious side dish for chicken spaghetti!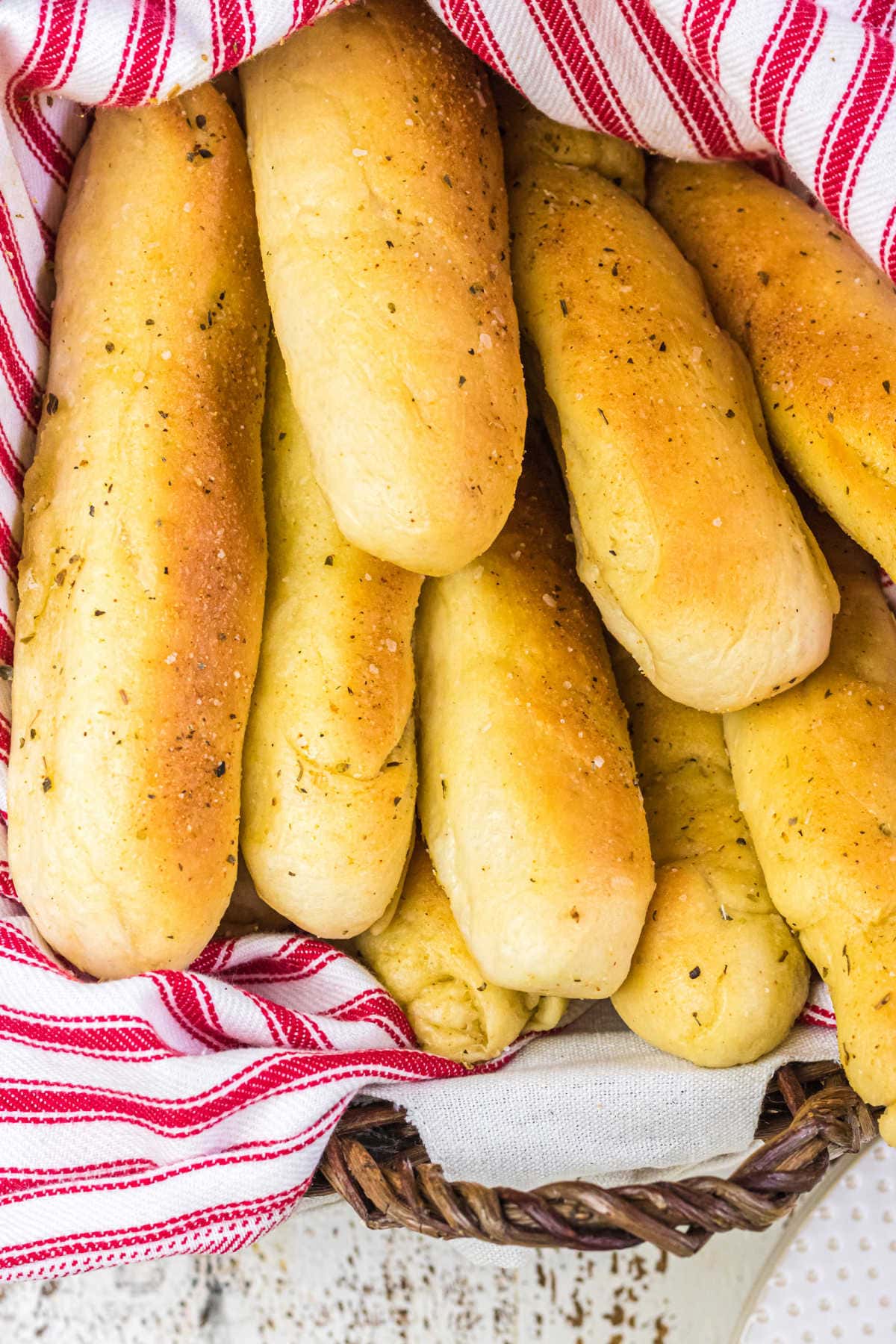 🥖 Breads
Bread is a great addition because it gives you something to sop up the delicious sauce with. Plus, if you happen to have teenage boys it's a great filler!
Garlic breadsticks are soft and buttery just like the restaurant. (shown above)
Use this easy baguette (or buy one) and homemade garlic butter for toasty garlic bread.
Cheese and bacon fougasse is a flatbread from France that is super easy - and fabulous with this dish.
Of course, classic buttermilk biscuits work really well, too.
Whole wheat dinner rolls have that rustic country flavor we all love.
You can never go wrong with southern style buttermilk cornbread!
When I was growing up in Texas you always had sliced bread and butter on the table. This buttermilk bread is our favorite.
Rustic Italian bread is SO easy to make.
No time for regular biscuits? Try these easy drop biscuits!
Pick up those crunchy breadsticks, called Grissini, at the deli department of your store.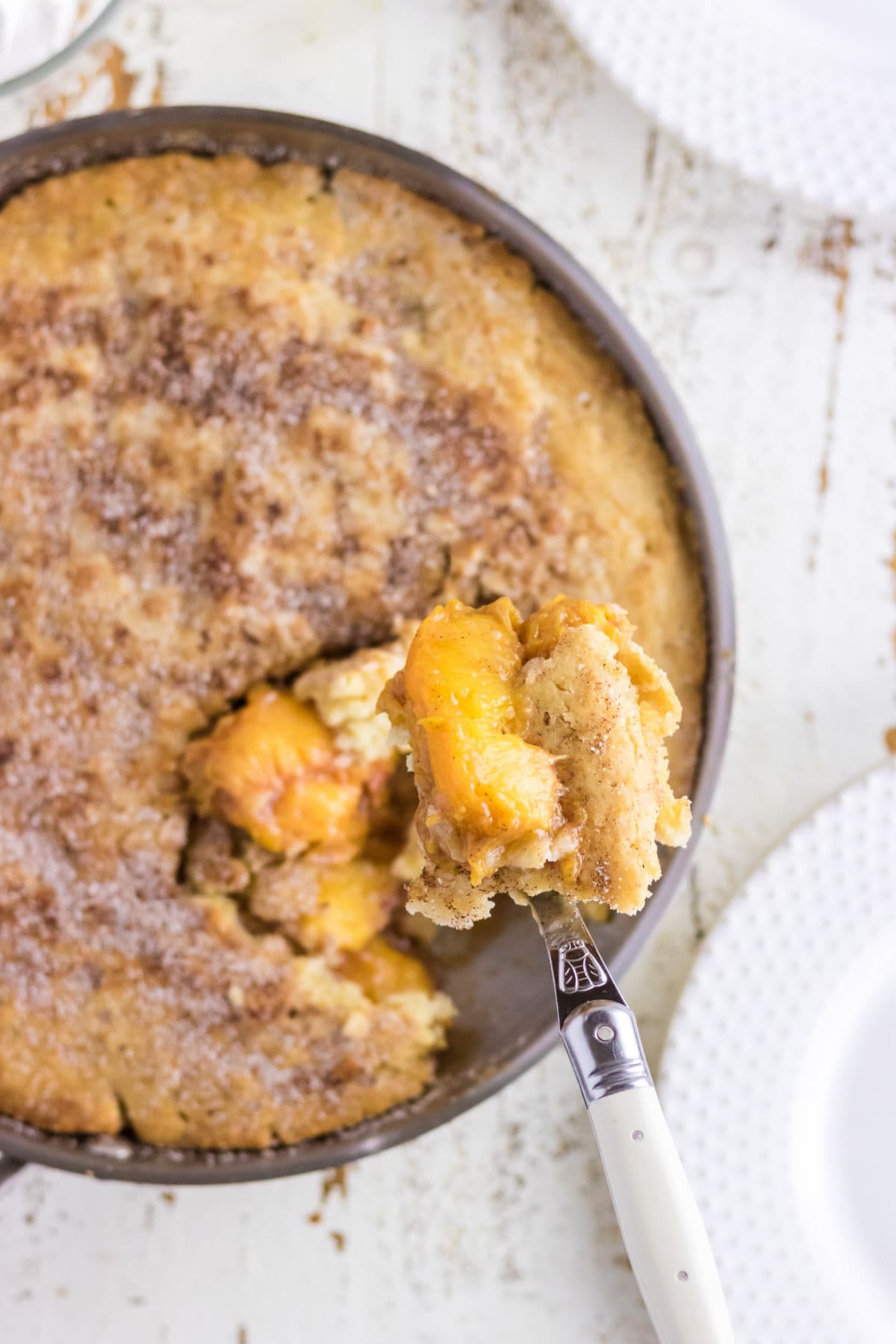 🥧 Desserts
I like to end my meals with a little bite of something sweet, how about you?
Honestly my southern peach cobbler made in an iron skillet is just about my favorite way to end this meal. (shown above)
Old fashioned, no bake lemon icebox pie is an easy dessert and it freezes well so you can always have it on hand.
White Texas sheet cake is full of pecans and coconut flavor! Warning though - you'll need coffee to go with it.
It doesn't get more southern than this double chocolate fudge Coca Cola cake!
Old fashioned buttermilk pound cake goes with everything. Just add a little fresh fruit in season.
The original Quaker oatmeal cookie recipe is the best but they've changed it since it was first published. Luckily my mom tore the original recipe off the box back in the 1950s and I've got it.
Ice cream is always a popular choice around here. Buy your favorite or make your own ice cream.
In the summer I just slice up some watermelon or cantaloupe to go with my chicken spaghetti!
Honestly, if you're in a hurry is there anyone that doesn't like Jello?
In the summer grilled pineapple is delicious as a side dish OR a dessert!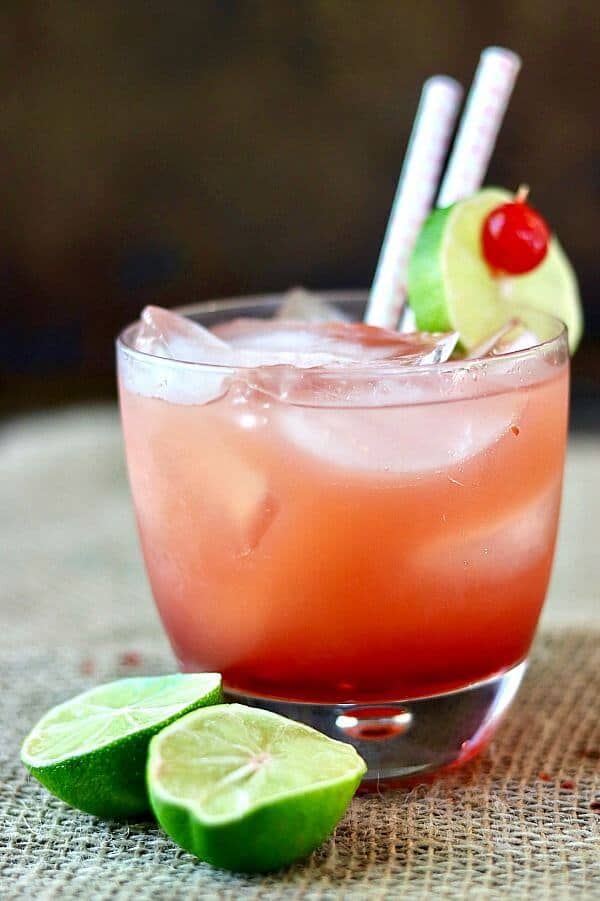 🍷 Wine and cocktails
Normally I don't serve wine or cocktails at a casual family dinner. If you've invited friends over or just want to make it a little extra special here are my recommendations.
Chardonnay
Pinot Gris
Pinot Noir (because I'm not a fan of white wines)
Pineapple sangria is sweet with tons of tropical flavor.
Bourbon peach tea is definitely a southern "sippin'" drink.
Durango cocktail (shown above) is made with tequila and amaretto - totally delish!
💭 Things to know
These tips will help you to have the best chicken spaghetti dinner ever!
If you've assembled the casserole ahead of time choose sides that can be made ahead of time, too.
Always cover leftovers with plastic wrap and refrigerate promptly unless otherwise directed in the recipe.
Don't be afraid to use a rotisserie chicken in the casserole and while you're there at the store look for some of their pre-made side dishes that might work well.
Use quality ingredients for the best flavors. Ingredients like good olive oil, real butter, and fleur de sel (or another finishing salt) will take your meal from average to amazing.
⛔ What sides don't go with chicken spaghetti?
Not every dish goes well with this creamy chicken casserole recipe. Here's what you want to stay away from:
side dishes with creamy sauces and dressings
recipes with similar textures - pasta, rice, etc.
side dishes with similar flavors - green beans are fine but green bean casserole doesn't work
nothing that is high in carbs like baked beans, corn (unless it's mixed with other textures in a salad), and potatoes
foods that are high in dairy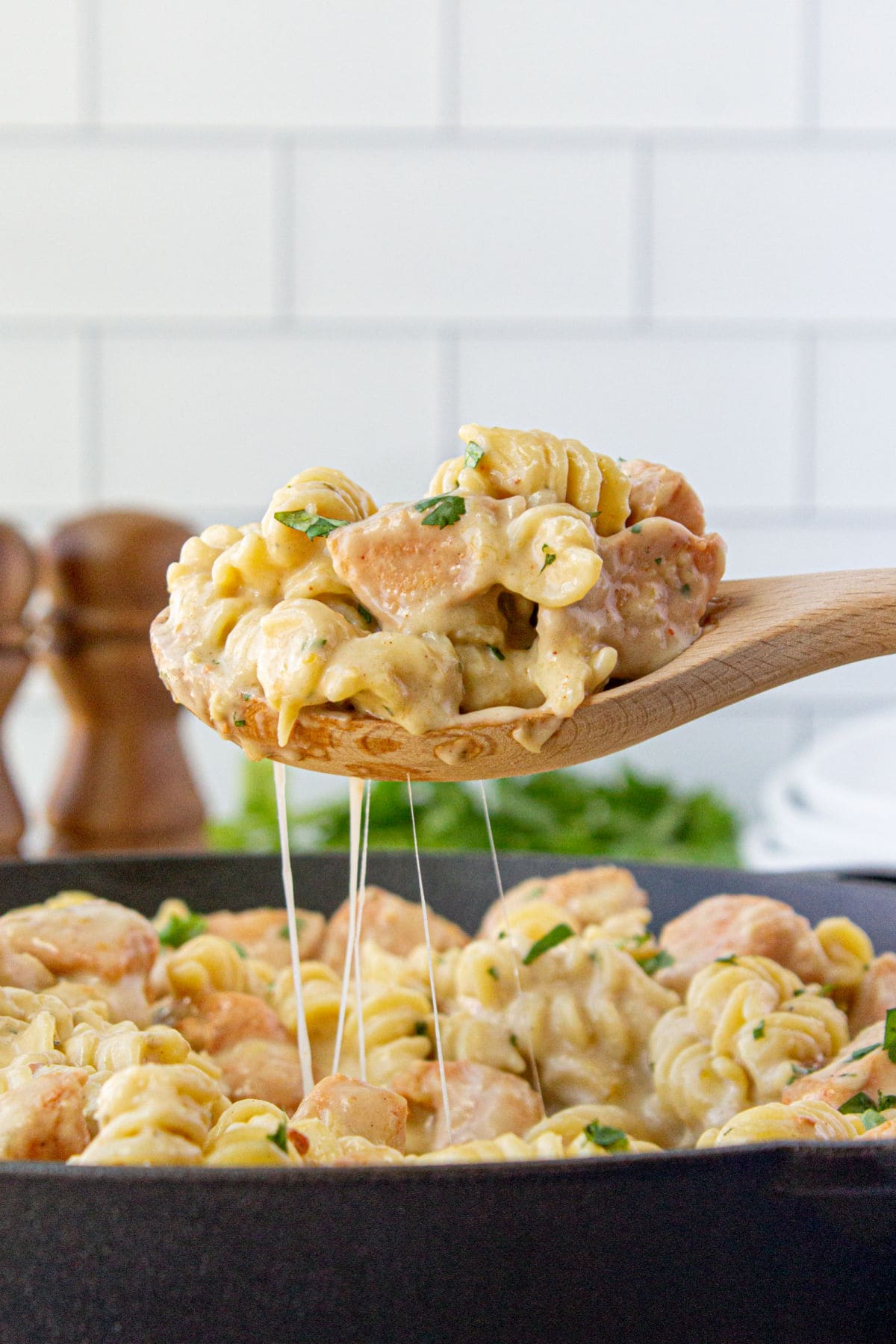 🍝 These side dishes also go with...
Side dishes are versatile and can be served alongside more than one type of dish. Any of these sides can be served with any of the following recipes:
Delicious, creamy casseroles are the epitome of country comfort food! Easy dinners that are ready in no time are perfect for busy weeknights.
Best of all they're always a hit with the whole family!
But what do you pair with them to make the meal complete? Choose recipes from this list of side dishes, breads, desserts, and even cocktail suggestions!
What are some of your favorite side dishes to go with chicken spaghetti casseroles? Share your thoughts in the comments below!