50 of the best red velvet recipes that you'll find anywhere. We've got cakes, cookies, brownies, breads -- you name it! If you love red velvet (and who doesn't?) you'll be visiting this post often!
Red velvet is on of my favorite categories of food. It's got a little chocolate flavor and a lot of red color (when it's done right) so every single red velvet recipe has two of my favorite things without trying at all. Whether you're looking for something pretty to serve on Valentine's Day or Christmas, or you are planning  a red, white, and blue summer party you are definitely going to find something here.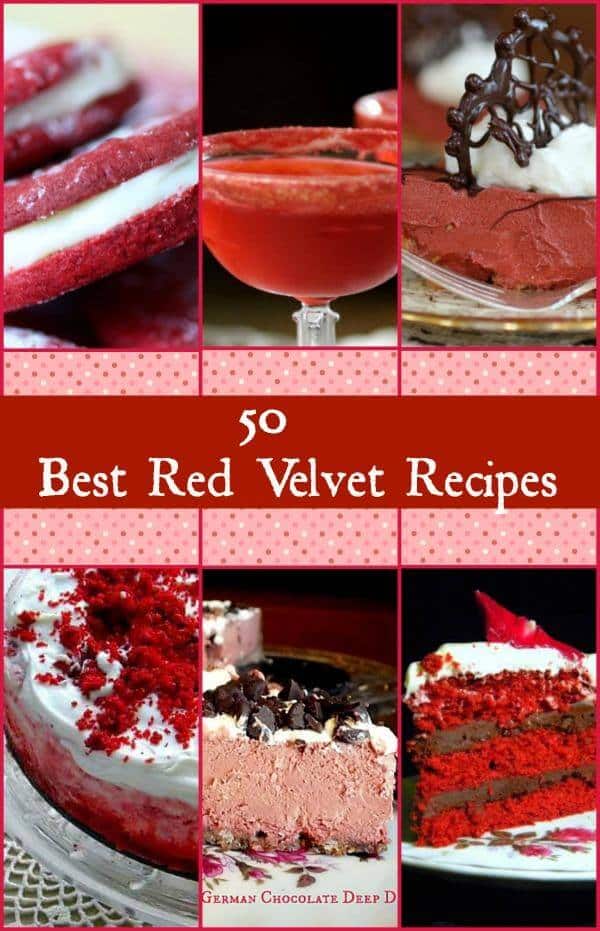 I don't know about you but I am fascinated by how red velvet has taken off over the last few years. Once upon a time you might find a cake or two but now? Now you can find recipes for everything from cocktails to ice cream. I've looked around and here are some of the best red velvet recipes I found.
Here's a tip, though. I've tried all kinds of ways to make red velvet without using traditional food coloring. There's no way around it -- if you want red velvet anything you'll need to use food coloring or else it will be brown.
50 Best Red Velvet Recipes
Red Velvet Creme Brulee
Red Velvet Whoopie Pies