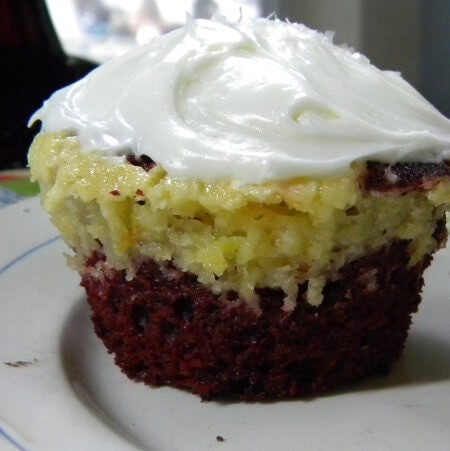 We did the taste test of all taste tests yesterday. I made Red Velvet cupcakes twice, once with beets for the red color and once with the red dye. I used the same recipe both times, with the exception of the beets vs. the dye.
I was "rooting" for the beets. Get it? Rooting?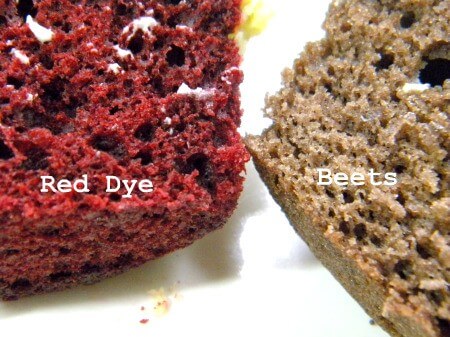 The beet option was not better. It was awful. I had made red velvet cake with both items before but never at the same time, with the same recipe. The beets made the chocolate more brown but it was drier. The red food dye did what it was supposed to do. For both of the recipes I adapted the Red Velvet Cake recipe in the Hummingbird Bakery Cookbook
. So, much as I want to say that natural is better... I can't. If you want red velvet cake, and you want it to be red and good..you are going to need to do the old fashioned thing and go with dye.
Now, the rest of it...imagine biting into rich red velvet cupcake and finding orange cheesecake. The combination of chocolate and orange is fantastic anyway, and the tangy citrus and cream cheese cuts the sweetness of the cream cheese frosting and red velvet cake perfectly. I loved these. My family loved these. You are going to love these!
Be careful not to overbake. You want the cheesecake to remain creamy...and it will cook for a little bit as it cools.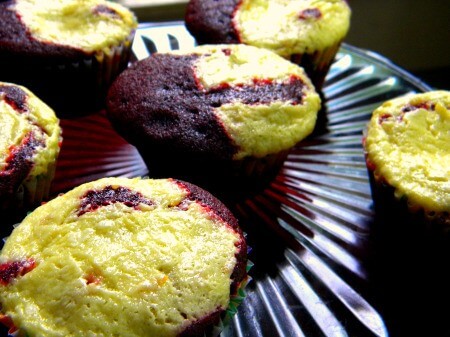 I usually use silicone baking cups, but since I was doing a double batch I didn't have enough. I used paper ones...but I turned the water off when I brushed my teeth and  I didn't rinse...so it evens out.
The list of directions looks long, but it is really quick and easy. These are so awesome and they take no more time than a regular cupcake. Yum!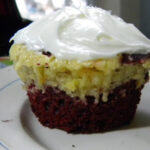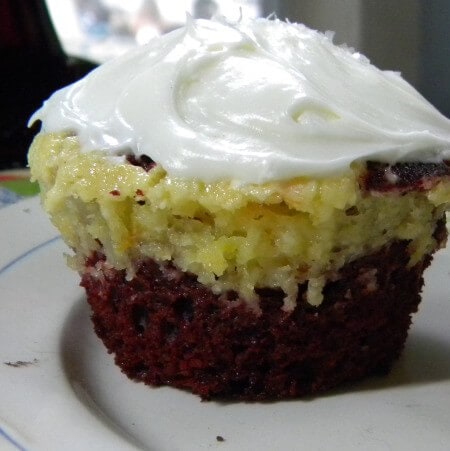 Red Velvet/Cheesecake Marbled Cupcakes
Print
Save
Go to Collections
Intense red velvet cake is combined with fresh and tangy orange cheesecake in these cupcakes. Once cooled they are covered in the richest cream cheese icing ever. It is important that all ingredients be at room temperature when you mix these cupcakes!
As an Amazon Associate I earn from qualifying purchases.
Ingredients
Orange Cheesecake
1 4-

oz

package of cream cheese

,

, room temperature (not low fat)

2

tablespoons

of freshly grated orange peel

½

cup

sugar

1

egg

½

teaspoon

vanilla
Red Velvet Cake
¼

cup

unsalted butter

1

cup

sugar

1

egg

3

tablespoons

dark cocoa powder

4

oz

food grade red food color

1

teaspoon

vanilla

½

cup

buttermilk

1

cup

plus 2 tablespoons all purpose flour

½

teaspoon

of baking soda

1 ½

teaspoons

white vinegar

,

(it has less flavor than any other type)
Cream Cheese Frosting
4

cups

confectioner's sugar

⅓

cup

unsalted butter

8

oz

cream cheese
I earn a commission from Instacart from qualifying purchases.
Instructions
Before Mixing
Preheat oven to 325F.

Add cupcake liners to pans
Orange Cheesecake
Beat together until creamy and well blended.

Do not whip because you don't want to incorporate air.
Red Velvet Cake
Cream the butter and sugar until fluffy.

Add the egg and vanilla and beat well.

Use a rubber scraper to pull any remaining butter mixture off the sides and bottom of the mixing bowl.

Mix again until well blended.

In a separate bowl mix the food color and the cocoa until it makes a paste.

Add the cocoa mixture to the butter mixture and mix until it is evenly blended.

Spoon through to check for streaks.

Add ¼ cup of the buttermilk and beat on low speed until blended.

Add half of the flour and blend.

Add the remaining buttermilk, blend and then add the remaining flour.

Now stir in the baking soda and vinegar
Assemble
Fill muffin cups about ¾ the way with the red velvet batter.

Add a tablespoon or so of cheesecake batter to the top.

Bake for 20-25 minutes, or until cupcakes are firm to the touch. Don't overbake.

Cool completely.

Cover with frosting
Cream Cheese Frosting
Mix butter, salt, and confectioners sugar until crumbly.

Add the cream cheese and beat until creamy, add a little cream if you need to to get the right consistency.

Swirl a good layer atop the cooled cupcakes.

Sprinkle with cocoa, edible glitter, or orange zest.

Keep any remaining cupcakes (as if!) in the refrigerator.
Sign up for the emails and never miss another recipe!!
We'll never share your email or send you spam. Pinkie swear.
images:marye audet