Red Velvet sugar cookies are bright crimson with that unmistakeable red velvet flavor and you can cut them into shapes for decorating for any holiday. They are easy to make -- just remember to give yourself enough time for the dough to chill.
For this recipe you'll need: all purpose flour, cocoa powder, buttermilk powder, baking soda, salt, butter, cream cheese, sugar, vanilla, red food color, cookie sheets, silpat or parchment, cookie cutters, royal icing.
If you are in a hurry click here to go straight to the recipe.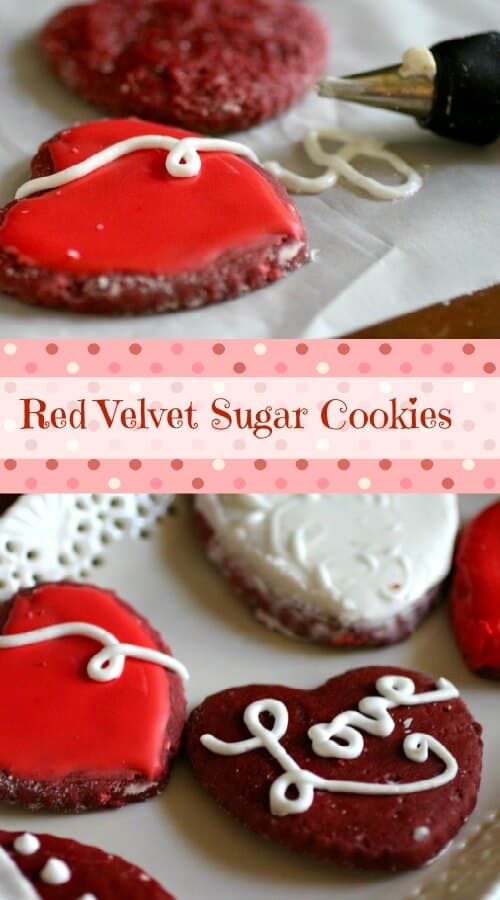 Cut out cookies are always fun for special occasions but when you are talking about Valentine's Day they are even better when they are made with that classic red velvet flavor! These are a beautiful crimson color and they are easy to cut out and decorate, too. These red velvet sugar cookies aren't particularly crispy - they stay softer than my traditional sugar cookies.
Red is my favorite color, and that isn't a big surprise to most of you. It's the color of love, of passion, and of sun ripened tomatoes - who doesn't like those things?
I had everything red when I was growing up from my diary to my hairbrush. When I became an adult for some reason I left it behind and became sort of mundane. During my separation and as I was going through my divorce I reignited my love for the color because I realized that it makes me happy. I began to wear a little something red every day -- even if it was just my nail polish. When I remarried my husband made sure (and still does make sure ) that I am surrounded by my favorite color - red car, red laptop, red phone, red ipad, red roses. When he remodeled my kitchen he put in red light fixtures.
Red. I love it.
So, red velvet cake, cupcakes, cookies, brownies, and all of the rest is a no brainer. Red puts a smile on my face.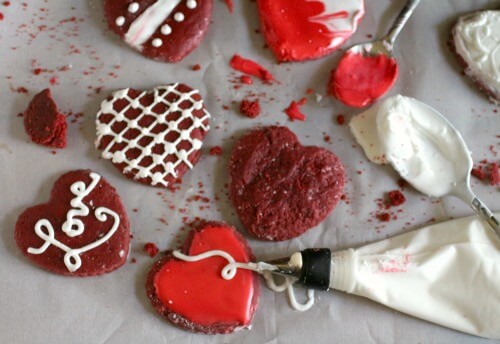 These cookies will put a smile on your face, too. In fact, they are so yummy, they'll put smiles on the faces of everyone who gets blessed with them. They have that distinct red velvet flavor that we all love but in a soft, easily cut out sugar cookie form. The color will depend on the food coloring so use a really good red one. This is probably not the time to try out a food coloring that you haven't tried before. I used McCormick Red Food Coloring in these.
The buttermilk powder adds flavor without adding moisture. I love Bob's Red Mill products and this buttermilk powder has exactly the right flavor and texture improving ability that I am looking for when I can't use the regular liquid buttermilk.
The following are affiliate links. We are a participant in the Amazon Services LLC Associates Program, an affiliate advertising program designed to provide a means for us to earn fees by linking to Amazon.com and affiliated sites.
Thanks so much for being a part of Restless Chipotle!
These are the brands and ingredients that I used in this recipe.
I love Bob's Red Mill products and I use them a lot. This buttermilk powder has great flavor!
If you make a lot of red velvet then buy the big 16 ounce bottle. It's only about 4 times more than the ONE ounce bottle!!!

McCormick Food Coloring, Red, 16-Ounce
Here's that red velvet sugar cookie recipe! And here's the royal icing recipe that I use.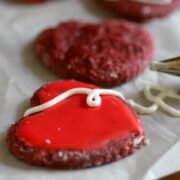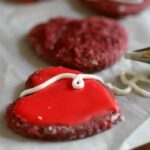 Red Velvet Sugar Cookies
Print
Add to Collection
Go to Collections
Beautiful crimson, red velvet sugar cookies are cut into the shape of hearts and decorated for Valentine's day.
As an Amazon Associate I earn from qualifying purchases.
Ingredients
2 ½

cups

flour

2

tablespoons

dark cocoa powder

1 ½

tablespoons

buttermilk powder

½

teaspoon

baking soda

½

teaspoon

salt

½

cup

unsalted butter

,

, room temperature

8

ounces

cream cheese

,

, room temperature

1

cup

sugar

1

teaspoon

vanilla

1

tablespoon

red food color

Royal Icing for decorating
Instructions
Mix flour, cocoa powder, buttermilk powder, baking soda, and salt in a medium bowl.

Set aside.

Beat butter, cream cheese, sugar, vanilla, and food coloring until fluffy.

With the mixer on low speed stir in the flour mixture until well mixed.

Form dough into a disk. Wrap in waxed paper and chill for several hours or overnight.

Preheat the oven to 350F.

Cut the dough in 3 equal pieces.

Place 2 of the pieces back in the refrigerator.

Spread a piece of waxed paper on the counter.

Sprinkle the waxed paper lightly with flour.

Place the dough on top of the floured waxed paper.

Sprinkle lightly with more flour.

Put a piece of waxed paper over the top, covering it completely.

Roll the chilled dough out to ⅛-inch thickness.

Remove the top layer of waxed paper.

Cut into desired shapes and place on a silicone or parchment covered baking sheet.

Bake for 10 to 12 minutes.

Cool completely.

Cookies will crisp as they cool.

Decorate as desired.
Sign up for the emails and never miss another recipe!!
We'll never share your email or send you spam. Pinkie swear.
If you liked these Red Velvet Sugar Cookies you may also like...
Cookies and Cream Red Velvet Brownies This Silly Girl's Kitchen
Baked Red Velvet Donuts Homemade Hooplah