Frozen Red Velvet German Chocolate pie is a creamy sweet dessert that is a lot more impressive than it is difficult. It's one of those desserts you can make ahead and store in the freezer until you need it.
My version is a little different. I wanted it to be thick and creamy, have that classic red velvet flavor. It just seemed that the German chocolate and red velvet would go together really well. And, I wanted to have a crust that didn't get lost in all of the flavor I was planning to infuse in this thing.
Oh, one more thing. I didn't want to use fake whipped topping. Have you ever tried to find a recipe for frozen German chocolate pie that didn't include fake stuff? It's really, really hard.
I love the cake by the same name and I knew that this pie recipe was going to be a favorite if I could get it just right.
Did you ever wonder where the term German Chocolate Cake came from?
Back in the 1800's a man named Sam German developed a sweet Baking chocolate for Baker's Chocolate. The company named it Baker's German's Sweet Chocolate after Sam German. In 1957 a Dallas newspaper published a recipe for cake using this very chocolate. You can probably figure out the rest. German Chocolate cake is not German at all. It is actually German's Chocolate cake. I'm guessing that the pie evolved from that — since it has German's chocolate in it, too.
I made the crust with toasted coconut and toasted pecans. it gives it such an amazing flavor and is reminiscent of the traditional frosting and filling of the cake. As I was looking for my vanilla I came across the Red Velvet flavoring I had gotten awhile ago. I wondered how it would work and I decided to use it. I got it at Hobby Lobby, by the way. If you can't find the red velvet flavoring and you don't want to get it from Amazon you can use a tablespoon of red food color + ¼ teaspoon orange extract + 1 teaspoon vanilla instead.
This is a big pie. I used a 8-inch springform pan. You might need to add an aluminum foil rim on the top if you have too much filling. The amount of filling may vary a little bit each time you make it because of the volume of whipped cream. To make a collar with the aluminum foil cut a piece of foil long enough to go all the way around the pan. Fold in half lengthwise and wrap it around the top and secure it with tape. You will have added about 3 inches in height.
It's also a good idea to put the springform on a cookie sheet while you are baking it in case some of the butter melts out.
I promise you that this is amazing. It's easy to make and stores for a couple of months in the freezer (as long as you hide it really well). Whipped cream on the top looks really good but you don't really need it. The pie is rich and awe inspiring without it.
The following is an affiliate link. If you click on it and buy something then I get a small commission which is used to keep the blog up and running. Thanks so much for being a part of Restless Chipotle!
This is the red velvet emulsion I use for flavoring. It adds both color and a nice flavor to the dish. You may be able to find it at Hobby Lobby but if not you can get it online.

LorAnn Oils Emulsion, Red Velvet, 4 Ounce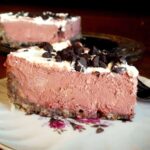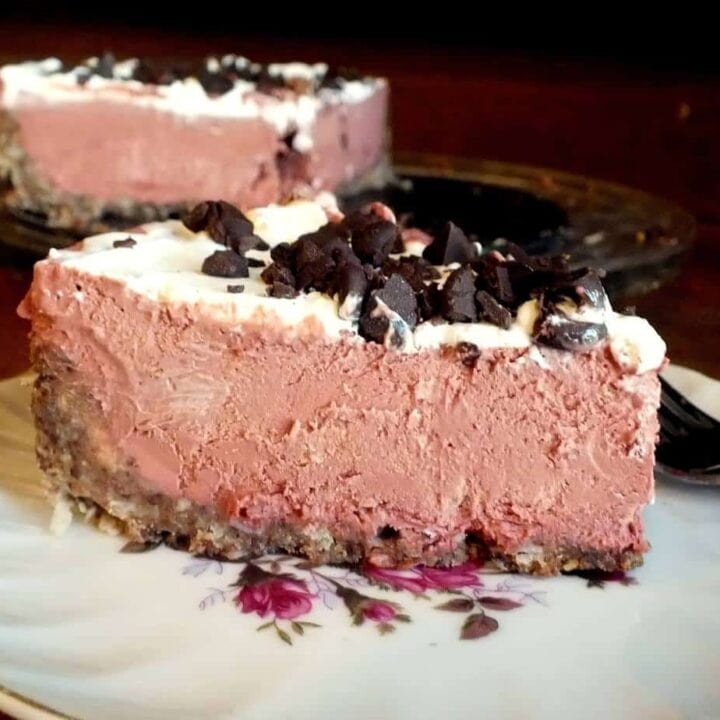 Frozen Red Velvet German Chocolate Deep Dish Pie
Print
Save
Go to Collections
Frozen red velvet German chocolate pie is a showstopper dessert that is unbelievably easy. You can make it well ahead of time and store in the freezer until you are ready to use.
As an Amazon Associate I earn from qualifying purchases.
Ingredients
Crust
1 ½

cups

sweetened coconut

,

, toasted

½

cup

toasted pecans

½

cup

graham cracker crumbs

⅓

cup

melted unsalted butter

1

tablespoon

flour
Filling
1

pkg.

,

(4 oz.) BAKER'S GERMAN'S Sweet Chocolate

2

cups

heavy cream divided use

⅓

cup

sugar

4

oz

. cream cheese softened

2

teaspoons

red velvet emulsion

,

(flavoring)

2

tablespoos sugar
Topping
½

cup

heavy cream

2 - 4

tablespoons

sugar

¼

cup

chopped chocolate
Instructions
Crust
Blend the coconut in a blender or food processor until it looks like crumbs.

Pulse the pecans until they are chopped fine.

Add to a bowl with the graham cracker crumbs and flour.

Mix in the melted butter until crumbly.

Press over bottom and about halfway up sides of the springform pan.

Bake at 325F for 10 minutes.

Let cool.
Filling
Using the microwave, melt the chocolate in 3 tablespoons of the heavy cream.

Stir until smooth.

Beat in the cream cheese, 2 tablespoons sugar, flavoring and 3 more tablespoons of the cream.

Let cool.

Meanwhile beat the remaining whipped cream until very soft peaks form.

Slowly beat in the rest of the sugar until the cream is thick and holds peaks.

Fold the whipped cream gently into the chocolate mixture.

Spoon into the cooled crust, cover with freezer wrap and freeze for at least 6 hours or up to 3 months.
To Serve
About 15 minutes before serving:

Remove the pie from the freezer.

Rub the outside of the springform with a cloth dipped in hot water or a hot towel.

Carefully remove the sides of the spring form.

Whip the remaining heavy cream and sugar.

Top the pie with the whipped cream and chopped chocolate for garnish.
Sign up for the emails and never miss another recipe!!
We'll never share your email or send you spam. Pinkie swear.