Here are the best Christmas cookie recipes and winter holiday cookie recipes that I could find anywhere! They range from classic holiday recipes like sugar cookies to the more unusual like red velvet thumbprints.
First, a disclaimer... I say Christmas cookies because Christmas is the holiday I celebrate and it is more natural for me to say that. They are awesome no matter what holiday you celebrate -- they're even awesome in July! I tried to include a variety of shapes and techniques - there are even cookies that the kids can make by themselves. I've updated this list to include more cookie recipes, more tips, and I've separated the recipes into categories to make it easier to find what you're looking for.
This post has been updated from the original 2015 version. The title used to be 50 Best Christmas Cookie Recipes on the Internet but I keep adding to the list!
Happy Baking!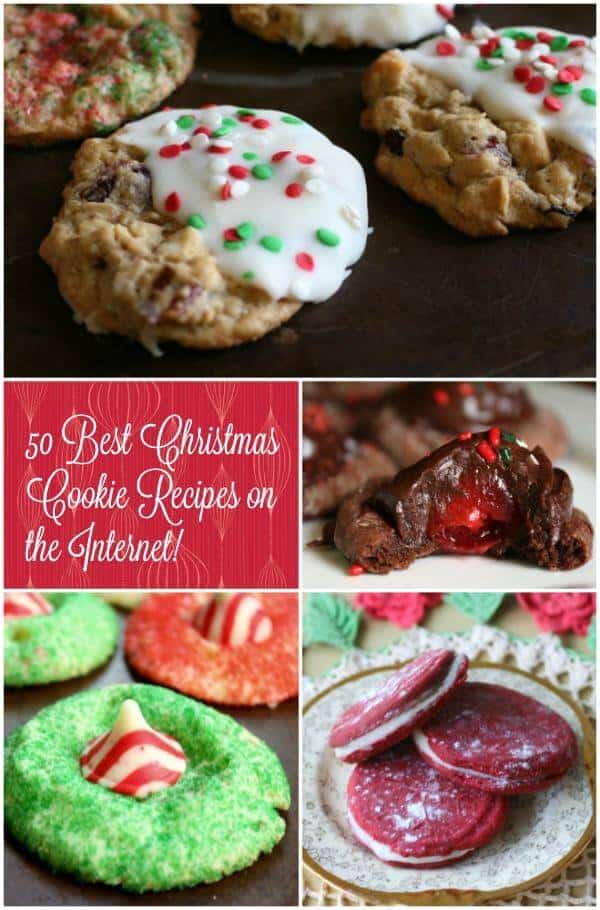 Best Christmas Cookie Recipes
There's no denying that Christmas cookies are a big part of our culture at this time of year. Even people who don't normally make them page through cookbooks and Pinterest to find a couple of varieties to leave out for Santa. I don't know about you but I tend to get really bored with the same things every year so I change it up once in awhile. Of course I always have my classic recipes but sometimes it's really nice to try something new.
Be sure to check out my Gingerbread House Party instructions, too! We've been doing this for 25 years!
Here are the best Christmas cookie recipes I've seen for you to choose from. Some are from Restless Chipotle, some are from my favorite food bloggers, and some are from blogs that I've only just discovered. I hope you enjoy them as much as I do!
Shaped and Rolled Cookies
When you think about Christmas cookies you probably get all nostalgic over decorated cutouts - I sure do! Here are some pretty cutout cookies as well as specially shaped cookies. Most of these will do you proud at Christmas Cookie Exchange Parties!
Refrigerator Cookies
I think refrigerator cookies are some of the best Christmas cookie recipes because you can make up several and keep them in the refrigerator or freezer until it's time to slice and bake!
Cherry Christmas Slices
Thumbprint Cookies and Filled Cookies
Drop Cookies
I like to make drop cookies and freeze them before baking. Once they are frozen hard I scoop them into freezer bags. That way I can put them on a cookie sheet and bake last minute.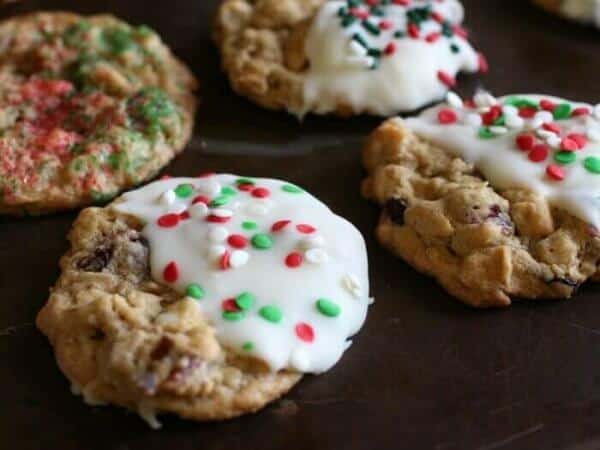 Gluten Free Cookies
I wanted to add some gluten free Christmas cookies to the list. So many people these days have to watch the gluten for various reasons but that's no reason to skip the treat table when you have these gluten free Christmas cookies!
Easy Peasy Bar Cookies
Bar cookies are great because they are done all at once and then ready to go. These recipes are perfect for last minute gifts and galas - and that's why they're in this list of the best Christmas cookie recipes!
Easy Cookies Kids Can Make
Let kids in on the fun! These easy Christmas cookies are perfect projects for the kiddos. Every list of the best Christmas cookie recipes needs some that are just for kids.
Tips for Making the Best Christmas Cookies Ever
You've chosen the best Christmas cookie recipes but picking a great recipe is only the first step to making the best Christmas cookies ever. Here are tips and tricks that will help you every step of the way!
Packing and Shipping
If you're sending cookies through the mail you want them to get there whole and unbroken. Here are tips for packing and shipping that will keep them fresh and perfect. Be sure to click through to #2 on this list for a visual step by step of how to package them for shipping.
Here are some cute ideas for packaging Christmas Cookies.
Have to ship cookies to loved ones? Check out my post on how to pack cookies for shipping overseas.
Use packing peanuts or bubble wrap. Years ago people were suggesting real popcorn because it was better for the environment ... the problem is if you are shipping to someone in the military it can take a little time and it may well arrive buggy. Ew.
Mailing things to my sons when they were in Korea and Japan took 11 to 14 days during normal times. At the holidays it took a minimum of a week more. Plan to send your packages around the first of December if you are sending to military friends and family overseas.
When packing bar cookies bake them in a disposable aluminum foil pan and leave them in the pan, uncut. They will stay fresher.
Choose cookies carefully for shipping - delicate cookies are not a good choice!
Ingredients
Good ingredients equals good cookies. Great ingredients equals great cookies! Get the best ingredients you can find and make sure they are fresh and you'll get the BEST Christmas cookies!!
Please use real butter - it's the only way to get the best Christmas cookies!
Use all-purpose flour unless the recipe specifies otherwise.
Mix the flour up with a spoon to fluff it before measuring.
Make sure the butter is at room temperature. It does make a difference!
Aerating the butter with the sugar is key! It will take about 2 to 3 minutes in a stand mixer with the paddle attachments. Don't hurry it! Beat until the sugar crystals are completely dissolved.
Always add eggs one at a time beating well between each.
Using pecans or other  nuts? Toast them for 5 minutes or so in a 375F oven to really bring out the flavor. Coconut can be toasted before using as well.
Baking
Carefully baking your Christmas cookies means they won't be under or over baked but will have the best texture and flavor every time.
Preheat the oven at least 10 minutes.
Use the middle rack and only bake one cookie sheet at a time.
For perfect cookie bottoms use a heavy cookie sheet covered with parchment.
You can reuse parchment paper until it wears out. Don't just throw it away.
Set the timer for a minute less than specified in the recipe and check for doneness. Sometimes different ovens behave differently and you don't want dry cookies!
Decorating
This is the fun part! Use throw away decorating bags to keep clean up at a minimum.
Use royal icing for picture perfect cookies - otherwise use buttercream - it tastes better.
Use gel or paste coloring for most vivid colors.
Brushing unbaked cookies with egg white beaten with 1 teaspoon of water will help sugar crystals and sprinkles stick.
You can make an edible paint with egg white, 1 teaspoon water, and food color. Just blend together and paint the cookie with a clean brush.
Storing
Properly stored Christmas cookies last longer and taste better! Don't let all that hard work go to waste by storing them haphazardly.
You can cut out or shape your Christmas cookies, lay them on a cookie sheet, then put them in the freezer. When frozen put them in a freezer container. When you're ready to bake just take them out, put them on silpat covered cookie sheets and bake as directed in the recipe. No mess!
Baked cookies can be frozen undecorated for up to three months.
Let cookies cool completely before packaging or storing or else condensation may form and make them soggy.
Store baked cooking in layers with a sheet of parchment between the layers.
You Might Need...
The following are affiliate links. We are a participant in the Amazon Services LLC Associates Program, an affiliate advertising program designed to provide a means for us to earn fees by linking to Amazon.com and affiliated sites.
Thanks so much for being a part of Restless Chipotle!
These Christmas cookie treat boxes are such a cute way to give cookies to everyone on your list! I'm in love with these mini Christmas cookie cutters! They make really cute edible gift tags if you punch a small hole in the top before baking - then just pipe the name of the recipient with royal icing. Let dry, cover with plastic wrap, and tie a string through to attach to the gift.