A couple of years ago Starbucks started serving Cranberry Bliss bars - basically a blondie with cranberries, ginger, and orange that is topped with a thin frosting, sprinkled with more dried cranberries and then drizzled with white chocolate. It was an instant hit - right a long with their pumpkin latte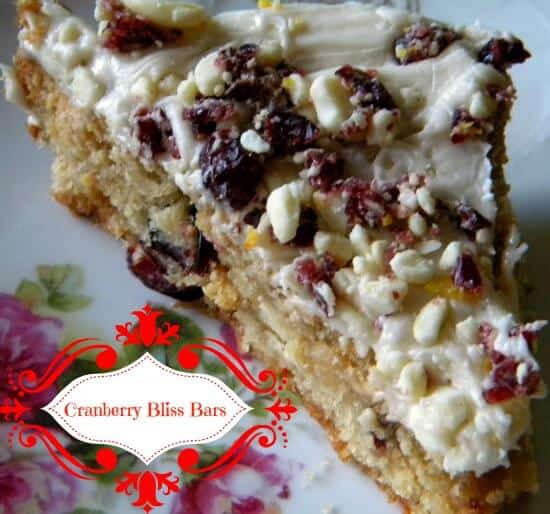 I've tried several cranberry bliss bar recipes and this is the one I like best. These are great to have as a snack in the afternoon. Pour a cup of hot coffee and watch the snow fall as you contemplate the amazing combination of white chocolate and cranberry once again.
What is it about memories that are so different than the reality of how things were? I can remember walking home from school in December in Pennsylvania with the wind whipping at my plaid skirt and the frozen weeds smacking against my legs above my boots and knee socks. Snow was falling softly and it the day was just on it's way to dusk - or maybe it was cloudy.
My legs burned with the cold and every time one of those weeds slapped my skin there was a sharp burning pain. I was too cold to run and my legs were frozen anyway.
I burst into the foyer of our house and immediately felt better. The house was warm and Mom was baking acorn squash with butter and brown sugar. You could smell it throughout the house. She would cut them in half, seed them, and the put them on a baking sheet. She'd brush the flesh with butter, add a tablespoon of brown sugar, and then add a bit more butter. The squash would come out tender with a puddle of buttery melted brown sugar in the cavity. Some of the flesh would have crisped up a bit. I'd take that squash and mix the flesh into the butter mixture right in the shell. The flavor was nutty and sweet and it was just home.
The thing is I know for a fact that my legs really hurt but still, the memory is a pleasant one. The snow was crunchy under my red boots and I could smell the smoke from the chimneys in the houses I passed. If I had to do the same exact thing tomorrow I know it wouldn't be pleasant!
Time and memory do that for us - put a rosy light on things that weren't so great. Thank God they do or many of us couldn't handle the pain.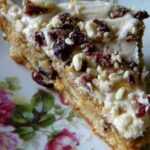 Copycat Cranberry Bliss Bars
Print
Save
Go to Collections
As an Amazon Associate I earn from qualifying purchases.
Ingredients
Blondie Bar
1

cup

unsalted butter

1

cup

brown sugar

⅓

cup

sugar

3

eggs

2

teaspoons

vanilla

2

cups

flour

1 ½

teaspoon

baking powder

1

teaspoon

ground ginger

½

cup

dried cranberries or Craisins

¼

cup

chopped candied ginger

1

tablespoon

of freshly grated orange rind

1

cup

Lindt or Ghirardelli white chocolate coarsely chopped
Frosting
4

oz

. cream cheese

,

, room temp

2

tablespoons

unsalted butter

,

, room temp

3

cups

Confectioner's sugar

1

teaspoon

vanilla
Drizzle
10

ounces

of Ghirardelli White Chocolate Chips - about 1 ¼ cups

1

tablespoon

plain Crisco
Topping
⅓

cup

Craisins or dried cranberries

,

, coarsely chopped

1

cup

Lindt or Ghirardelli white chocolate

,

, chopped

2

tablespoons

grated orange zest
Instructions
Blondie Bars
Preheat the oven to 350 degrees.

Prepare a 10x15 pan by lining it with aluminum foil with 2 inches extending over each end.

Spray with non-stick spray.

Beat together the butter and sugars until light - this will take about 3 minutes.

Blend in eggs and vanilla extract.

Add the flour, baking powder, and ginger and mix well.

Fold in the cranberries, candied ginger,orange peel,and chopped white chocolate.

Do not over mix.

Spread thick batter in prepared 10x15 pan.

Bake 350 for 20-24 minutes until light brown at edges and a toothpick inserted into center comes out clean.

Let cool.
Frosting
Beat cream cheese and butter together until fluffy.

Add vanilla extract and powdered sugar and beat until frosting is a good consistency for spreading on the bars. You can add a teaspoon or so of milk if it is too thick.

Spread the frosting over the cooled bars.
Topping
Use a zester to grate the rind of an orange and sprinkle zest over the frosting on the bars.

Chop ½ cup cup of Craisins coarsely.

Sprinkle over frosted bars.
Drizzle
Pour white chocolate in a bowl set over simmering water.

Once the chocolate has completely melted add the Crisco and stir until completely combined.

If chocolate isn't thin enough add more Crisco, a teaspoon at a time, until you reach desired consistency.

Use a fork or whisk to drizzle the white chocolate diagonally across the bars.

Let the chocolate set for at least an hour.

Cut into triangles.
Notes
Be sure that you don't overbake these or they will be dry as sawdust.
Sign up for the emails and never miss another recipe!!
We'll never share your email or send you spam. Pinkie swear.