I have tried every way I can think of to research the beginnings of Hoosier Peanut Bars. The name sounds like something from the 1930s and I found out that a version of the bar cookies were entered into the Pillsbury Bake-Off in 1949 by Edgar Bleeke of Fort Wayne, Indiana. He won, by the way.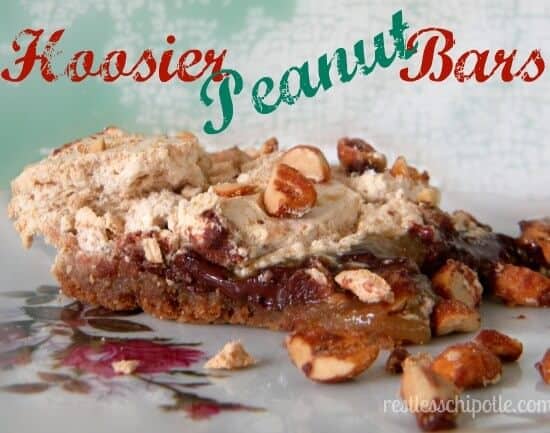 My version is based on a recipe from a 1950's cookbook put out by the Federation of Women's Clubs, who ever that was. It is a collection of recipes from all over the country and is truly falling apart on me. I love these old cookbooks. The recipes change from decade to decade and you can see how America's tastes have changed. I would love to say that they have evolved but in most cases that wouldn't be true.
I never was a big peanut fan until my dad decided to retire to Central Florida in the early 1970s. He had always been an avid gardener and so help me, the man could  jam an apple stem into the ground and grow apple trees. His thumb wasn't green - his blood was. Anyway, he decided that he was going to grow peanuts because he never had before and many of the people in the area did grow them.
He planted them and about four months later they were ready for harvest. I never thought about peanuts actually growing under the ground but they do - like potatoes. So there we were, spading up the plants and it started to rain because that is what it does in Florida. It rains. Almost daily.
I was maybe 14 at the time - not known for being particularly helpful around the house. I adored my dad, though and would do pretty much anything he asked. Standing in the rain, spading up peanuts is not a clean business at all. I won't bore you with the details but by the time we were done mud was smeared everywhere. We went to the barn area and hosed off the plants, looking forward to all of those amazing peanuts.
All six of them.
Truly. Six peanuts out of an entire row of plants. Wet hair, muddy skin and clothes, mud caked under fingernails, and all for six peanuts. Skinny peanuts at that.
He never planted them again and the next year we moved back to Texas and he planted sensible things like okra, green beans, beets, and corn. He and Mr. Peanut developed a pretty close relationship, too. A jar of Planter's peanuts was never far from his reach when playing Scrabble, Monopoly, or UNO.
I learned to like them because the memory was special. It makes me laugh. Now. All these years later.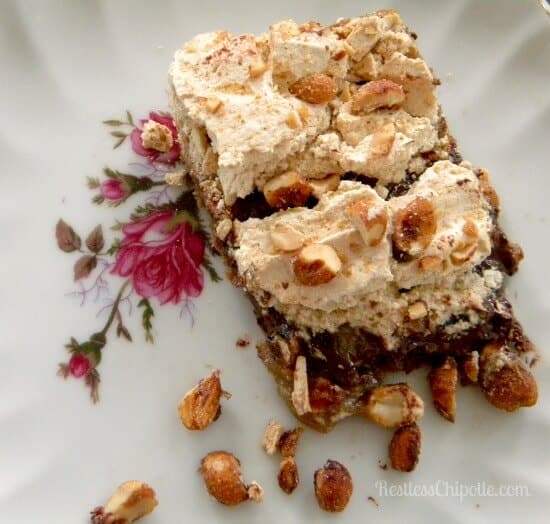 When you make these- because most certainly you will - appreciate the difficulty that someone endured to make it possible for you to enjoy peanuts.
In my research I came across several comments about people not being able to get the meringue to stiffen up and stand in peaks. I even read one site where the writer shrugged it off and said not to worry about it.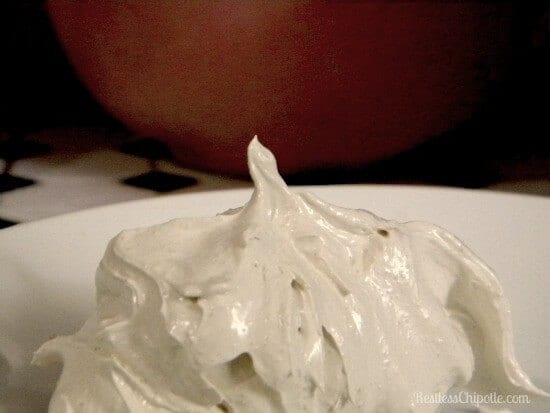 Worry about it. There is no reason you can't get the meringue right if you follow a few simple tips:
Try to make these on a dry day. The less humidity the better.
Always use egg whites at room temperature.
Egg whites can't have even a molecule of fat or they won't whip. No greasy residue on bowls or kitchen tools, no oils from fingers, no spot of egg yolk no matter how small.
Rinse the clean mixer bowl and beaters with vinegar just before making the meringue. Do not rinse the vinegar out ... just dump out the excess. The acid helps the meringues hold up.
Whip the egg whites until they are foamy and translucent before you start to add sugar.
Add the sugar slowly. I timed this - it took me ten minutes to use up the sugar a tablespoon at a time. Whip well after every addition.
Check that the sugar is completely dissolved by rubbing a little of the meringue between your finger and thumb.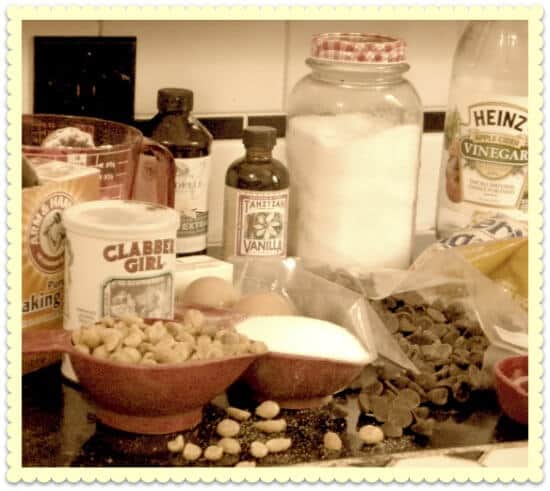 I also use both Tahitian and Bourbon vanillas in this recipe because the combination gives a nice depth of flavor to the recipe.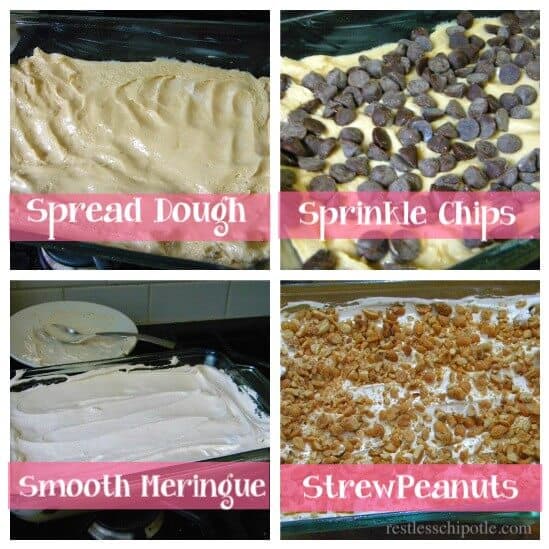 Follow the steps exactly and I think you will find that this recipe is easy, and soon becomes a favorite.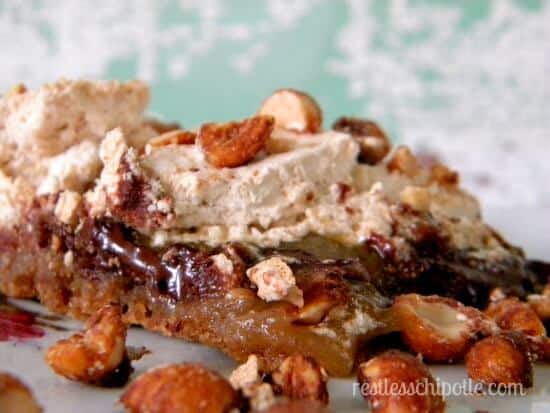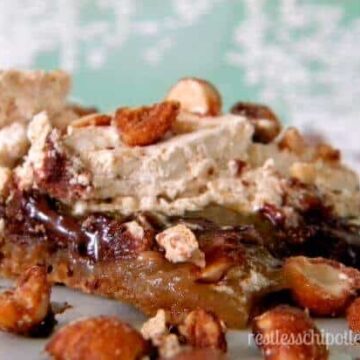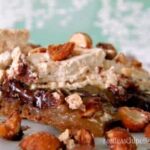 Old Fashioned Hoosier Peanut Bars
Print
Add to Collection
Go to Collections
Old fashioned bar cookie with a chewy bottom layer, chocolate layer, and a crispy meringue topped with peanuts. Perfect for those who love salty and sweet together.
As an Amazon Associate I earn from qualifying purchases.
Ingredients
2

cups

flour

1

teaspoon

baking soda

2

teaspoons

baking powder

½

teaspoon

salt

¼

cup

unsalted butter

½

cup

sugar

1 ½

cups

brown sugar

,

(dark brown will give more flavor)

2

eggs

,

, room temperature and separated

2

teaspoons

vanilla

3

tablespoons

of water

6

ounces

chocolate chips

½

cup

coarsely chopped salted peanuts

½

cup

coarsely chopped honey roasted peanuts

¼

cup

vinegar
Instructions
Preheat oven to 325F.

Grease a 13x9 inch pan.

Mix the peanuts together.

Mix the flour, baking powder and salt in a large bowl.

Cream butter, white sugar and ½ cup of the brown sugar in a bowl until light and fluffy.

Add egg yolks and vanilla and beat well.

Add water and flour mixture and beat on low speed until well mixed.

Press the dough into the bottom of the pan.

Sprinkle with the chocolate.

Rinse a clean bowl and whisk attachment with cider vinegar. Pour out the vinegar but do not rinse with water.

Add the egg whites to the bowl and beat until foamy.

Slowly add the remaining 1 cup of brow sugar a tablespoon at a time, beating until stiff and glossy.

Spead the meringue over the chocolate layer.

Sprinkle peanuts over the meringue.

Bake at 325F for 30 minutes.

Turn oven off and keep the bars in the oven for 30 minutes without peeking.

Remove bars from oven, cool, and cut into 18 pieces.
Sign up for the emails and never miss another recipe!!
We'll never share your email or send you spam. Pinkie swear.
Recipe Cost -.49 per serving
2 cups flour    .24
1 teaspoon baking soda .05
2 teaspoons baking powder .05
½ teaspoon salt .05
¼ cup butter  @3,49 lb .44
½ cup sugar @ 1.60 per pound  .40
1 ½ cups brown sugar @ 1.99 a pound .42
2 eggs @ 20/5.00  .50
2 teaspoons vanilla 12.99 for 8-0z $ 3.24
6 ounces chocolate chips 12 ounces chocolate     @ 2.99 for 12-oz 1.49
1 cup peanuts total  @ 6.99 lb        $ 1.96
Recipe total ---------------------------------------  $8.84
Cost per serving ---------------------------------- .49 per serving