This lemon bars recipe was created as part of the CK Mondavi Ambassador program. All opinions are my own. #CKMondaviHolidayBaking #CKMondaviAmbassador #CKMondaviWines
If you're looking for a homemade lemon bars recipe that is extra lemony, tart, and tangy you've found it! I think this is the best ever! Creamy lemon filling is made with extra lemon juice and baked atop a gingersnap crust for a holiday dessert that will become a family tradition! The tanginess of the lemon custard and the spicy sweetness of the crust work together to create a uniquely delicious bar cookie. Best of all it's super easy, too.
For this recipe you'll need: lemons, sugar, eggs, butter, flour, gingersnaps, Confectioner's sugar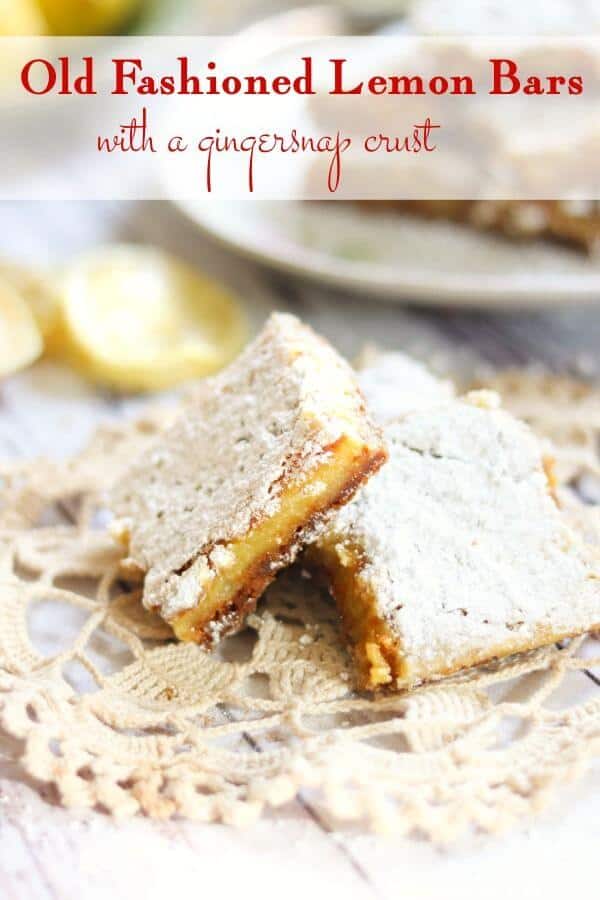 Lemon Bars Backstory
First of all, if you HATE slogging through all of the backstory and you want to get to just the recipe there's a button at the top of this post that will let you jump straight to it. Isn't technology grand?
When I was little we lived in a small little town on the outskirts of a rather large city. There wasn't an all-inclusive grocery store back then; instead Mom picked up meat at the butcher shop, vegetables at the farm stand, and baked items at the bakery. I think there was one largish grocer for canned goods and boxed items as well.
That was back in the day when ladies changed out of their house-dresses and put on a dress, stockings, high heels, and lipstick to go to the store. It seems funny now… I mean have you ever been to the neighborhood everything store?
Exactly.
I loved watching my mom get ready and, although I was very much a tomboy, I didn't mind the puffy dress and patent leather shoes I had to put on because I knew that a trip to the bakery was ahead. Once at the bakery the ladies would gush over my curls and offer me lemon filled donuts.
Score!
Since then any kind of lemon filled pastry just fills me with contentment. After 7 years of curls and those extra tangy lemon bars I am conditioned to feel good about the world after eating one of these.
CK Mondavi and Family Wines
This is my second year being an ambassador for the CK Mondavi and Family Wines. Y'all know how I feel about strong families, family traditions, and family values – and this company has it all. Several generations of Mondavis are involved in the company, which is still very much a family business. Affordable wines that are yummy, too?
Yes please!
When CK Mondavi & Family challenged me to prepare a holiday dessert to go with either the Red Blend or their Chardonnay I accepted the challenge and immediately decided on my favorite lemon bar recipe. It's so simple, yet has so much flavor!
Ultimately I preferred the buttery citrus flavors in the Chardonnay with this recipe but the Red Blend went well, too, because of the spicy gingerbread. You'll just have to treat your guests to both and see which they prefer! Be sure to look for CK Mondavi's special holiday promotions on their wine bottles in stores now through January 31, 2019.
Keep Up with the Mondavi's
Facebook | Twitter | Pinterest | Instagram | Vimeo
Stock Up and Save with SWIZL
It's easy! Just Download the new SWIZL app and order your favorite CK Mondavi and Family wine. The company is offering up to $2 off any one 750ml or 1.5l bottle of wine. Convenience + savings during the holidays always makes me happy!
Lemon Bars Ingredients
This homemade, from scratch lemon bars recipe couldn't be easier! There are just 7 ingredients that go together quickly!
Lemon Bar Recipe FAQs
Recipe rated: Easy – kids 8 – 12 can do this with help.
How long should you let lemon bars cool?
For the best results lemon bars should cool to room temperature (about an hour) and then be refrigerated for 2 hours before cutting.
What is a lemon bar?
A lemon bar is a bar cookie that's made of a crumb crust topped with a creamy lemon filling.
Should I refrigerate my lemon bars?
Yes, these custard based bar cookies should be kept in the refrigerator.
What is the best way to cut lemon bars?
After bars have chilled in the refrigerator pop them in the freezer for about 30 minutes so that they almost freeze. Pull up on the parchment to remove the uncut bars from the pan. Cut carefully with a very sharp chef's knife dipped in hot water.
How long are homemade lemon bars good for?
Plan on eating your lemon bars within two days or so. You can also freeze lemon bars.
How many lemons make a cup of juice?
You'll need 4 or 5 lemons for a cup of lemon juice.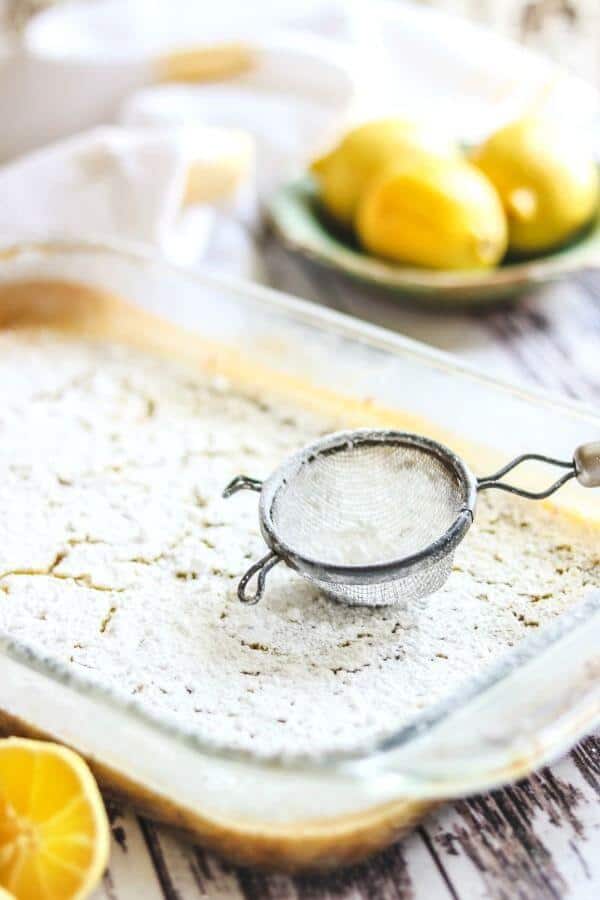 Let lemon bars cool completely before dusting with Confectioner's sugar and cutting into bars.
Get the Kids Involved
Some of my best memories are of baking with my Mom, although those are few and far between. I was messy and she hated messes – it was not a great combination! Baking with your kids is a great way to make holiday memories and create new family traditions – even when the kids are small. Here are some ways to get the littles involved –
Place paper doilies on top of the chilled lemon bars and let someone sift powdered sugar over the top. When you carefully lift the doily there's a beautiful design left behind!
Use a reamer and let someone squeeze the lemons to get all the juice out.
Make a lemon buttercream and tint it green. Let the kiddos pipe small "wreaths" on top of the cut bars then decorate them with a few holiday sprinkles.
Make some tiny gingerbread men (or buy the small, plain ones) and let the kids decorate them while you're making the bars. Once everyone is done place one of the gingerbread men on each bar.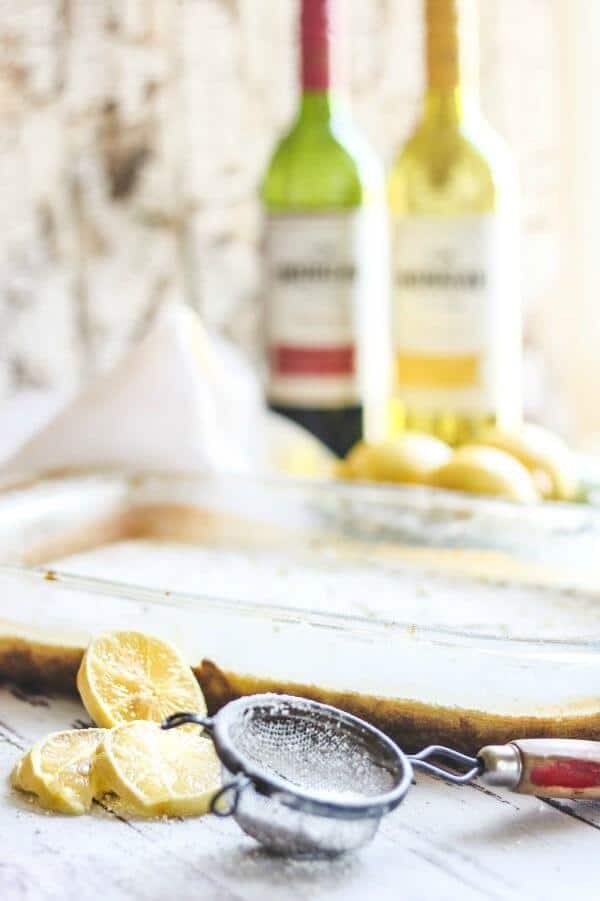 We decided we liked the CK Mondavi & Family Chardonnay the best with this lemon bar recipe!
More Great Holiday Cookie Recipes from Restless Chipotle
Here are some more of my favorite holiday recipes!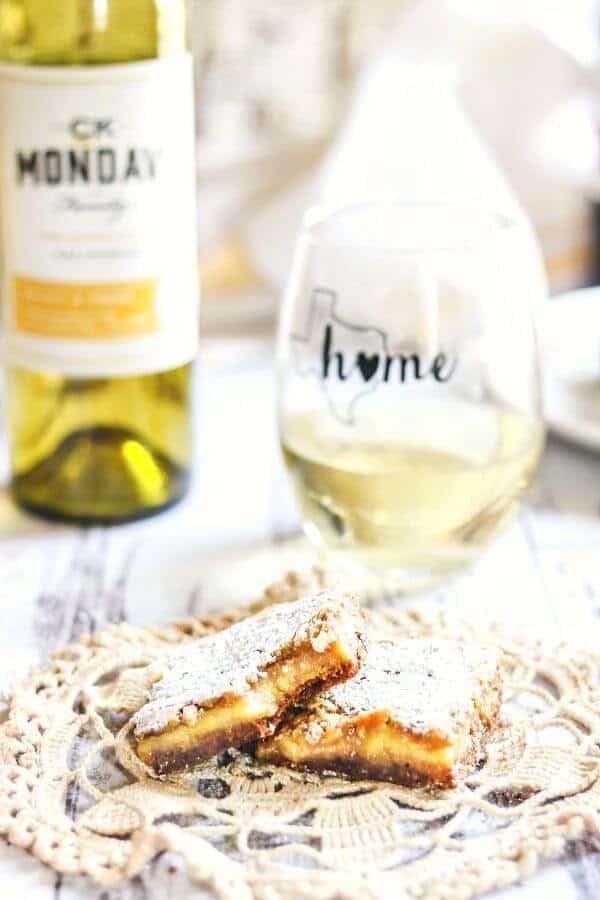 When it's this easy to make lemon bars from scratch you'll never want to buy them again!
Easy Lemon Bars Recipe
This classic bar cookie recipe is pumped up with holiday flavor when you substitute gingersnaps for the shortbread crust. It's so easy to make and the lemon lovers in your life will thank you! If you like this recipe please give it 5 stars.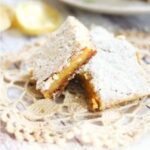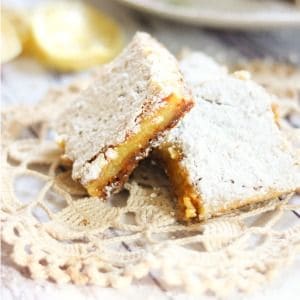 Lemon Bars with Gingersnap Crust
Print
Add to Collection
Go to Collections
Kick classic lemon bars up a notch with this sweet and spicy gingersnap crust! These easy bar cookies are perfect for holiday buffets.
As an Amazon Associate I earn from qualifying purchases.
Ingredients
Crust
3

cups

gingersnap cookie crumbs

1/4

cup

butter ice cold

1/2

teaspoon

ginger

2

tablespoons

flour

1

tablespoon

Confectioner's sugar

,

plus more for sifting over the top of the bars
Filling
1 1/4

cups

sugar

1/4

cup

flour

2

tablespoons

Confectioner's sugar

Zest from one lemon

4

eggs

2/3

cup

lemon juice
Instructions
Crust
Preheat oven to 350°F.

Grease a 9×9 or 11 x7 – inch pan

In a food processor, add gingersnap cookies and pulse until crumbly.

Pulse until combined.

Line gingersnap crust on the bottom of a glass baking pan; bake for 15 minutes.

Remove from oven.
Lemon Filling
Whisk together sugar, flour, and Confectioner's sugar.

Break eggs into a separate bowl and beat until well blended and frothy.

Whisk them into the sugar and flour mixture.

Add lemon juice.

Pour over the baked crust.

Bake for 20 to 25 minutes more, or until filling is set.

Let bars come to room temperature then cover and chill for at least an hour.

Dust with Confectioner's sugar and cut into squares.
Notes
Store tightly covered in the refrigerator.
Nutrition
Calories:
270
kcal
|
Carbohydrates:
42
g
|
Protein:
3
g
|
Fat:
9
g
|
Saturated Fat:
3
g
|
Cholesterol:
15
mg
|
Sodium:
181
mg
|
Potassium:
55
mg
|
Sugar:
26
g
|
Vitamin A:
140
IU
|
Vitamin C:
5.3
mg
|
Calcium:
10
mg
|
Iron:
0.9
mg
Sign up for the emails and never miss another recipe!!
We'll never share your email or send you spam. Pinkie swear.
Part of Meal Plan Monday!