Frosted grapes are easy to make and they add such a pretty garnish to so many dishes.
This easy Christmas desserts board goes way beyond your Mom's cookie tray! A variety of sweets and fruits are attractively arranged on a base so that guests can pick and choose their favorite flavors. The secret is in using a variety of textures, colors, and flavors. You may hear this called a dessert charcuterie, as well.
For this recipe you'll need: grapes, raspberries, pomegranate, other favorite fruits, dried figs, dates, raisins, M&Ms, marshmallows, Andes mints, nuts (both glazed and smoked almonds work great), crackers, cookies - literally anything you would like to put on it!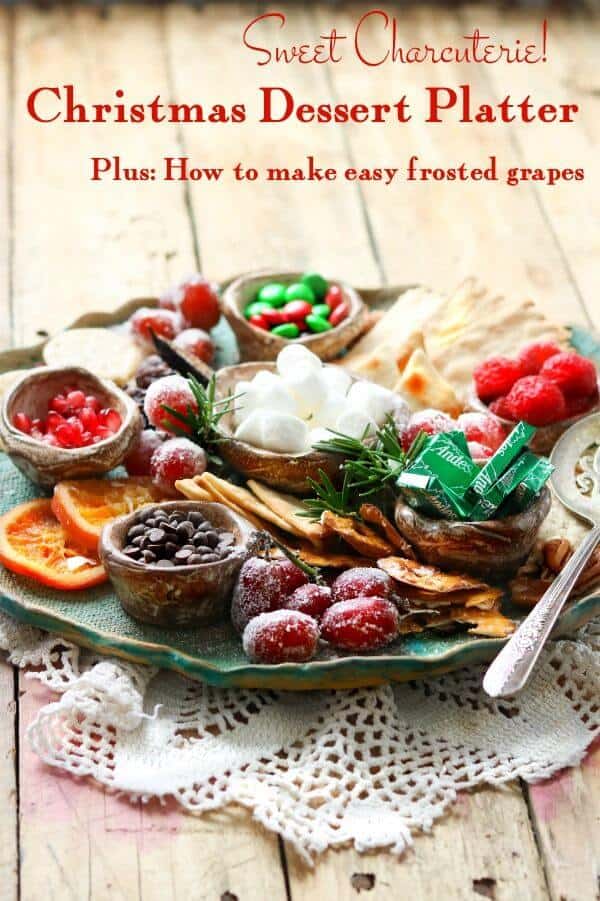 Christmas Desserts Board Background Story
When I was a stay at home, homeschooling mom I loved Christmas. I loved putting up and decorating SIX trees around our Victorian home. I loved decorating the mantles, creating fresh, cedar bough swags for the bannister, and baking hundreds of cookies for cookie trays that I shared with the neighbors, police, fire department, mailman, garbage man (I know, I know, not politically correct), and the UPS guys that came to the house.
I lived in excited anticipation 11 months of the year for December.
Then... radical life change and I started working... and the time I had to work on Christmas was super limited. I stopped putting up all of the trees except the main one, I don't do cookie trays, and it's fake greenery on the bannister. Right now, it's December 9th and I have a huge, beautifully decorated tree in the front parlor... surrounded by boxes that need to get taken back out to the barn.
They've been there for 2 weeks.
I spend most of December feeling guilty for not doing all of the things -- even though I know that I now do other things.
So what does this have to do with this easy Christmas desserts board? Everything, because this is one thing I can put together quickly and it looks festive, and special, and pretty. It makes me feel so much more on top of things to have this sweet holiday ace up my sleeve.
Tips for the Best Christmas Dessert Charcuterie Board Ever
Ok.... Charcuterie is a meat board. It is - there's no way around it. Still, in our society we do what we want, right? Here are some easy tips to help you feel more confident about your Christmas dessert tray capabilities –
This recipe is rated easy.
Use a variety of colors.
Consider textures. Don't use just chewy things, or just rich foods. Have a nice balance of chewy, crispy, crunchy...
Balance flavors like sweet and salty, tangy and rich.
Try to have something for everyone.
Always add the bigger items first then fill in.
Skewers are a good way to dip the foods.
Don't be afraid to use store bought foods to save time.
Shot glasses make a great container for mini parfaits.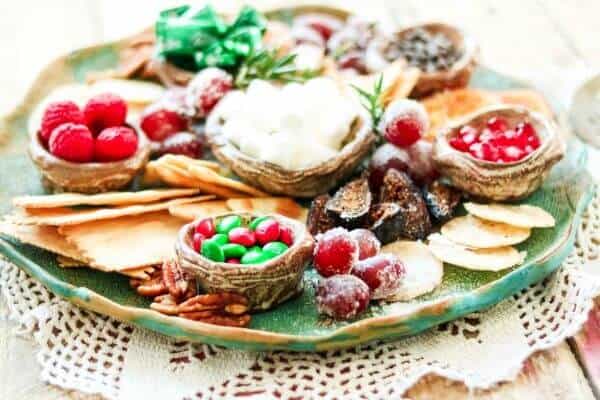 Choosing the Base for Your Dessert Board
The base is important. You generally want something very flat or, if it's a bowl, very shallow. Here are some things to consider-
Silver serving tray
Large wooden cutting board
Serving platter
Cookie sheet with foil over it
Cake plate with a paper doily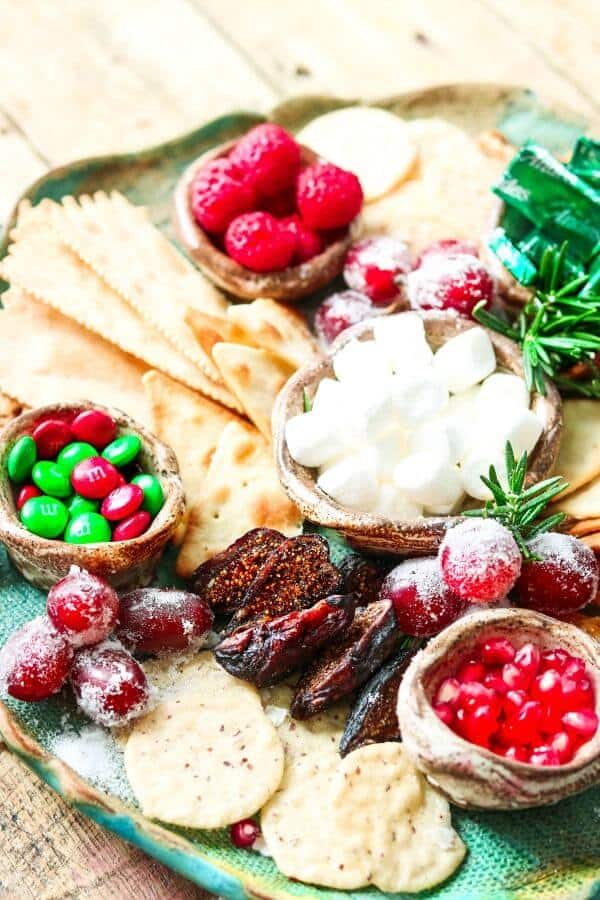 Ingredient Ideas for Your Sweet Charcuterie
There are SO many foods you can put on your Christmas desserts board -
Caramel corn
Angel food cake cut in cubes
Glazed nuts
Smoked almonds
Mini marshmallows
Mini chocolate chips
Wrapped candy
M&Ms
Pretzel rods are fun to dip in frosting and roll in sprinkles
Sliced apples and pears - be sure to dip them in lemon juice
Grapes
Pomegranates
Brie cheese
Figs
Dates
Graham crackers
Cake balls
Chocolate dipped strawberries
Small tartlets
The list is almost endless!
How to Make an Easy Christmas Desserts Board
Learning to this easy Christmas desserts board is going to be holiday changing. All of a sudden you have this fabulous dessert that you can throw together in minutes -- perfect for last minute parties and office buffets.
Prepare your chosen ingredients. Wash the fruit - trim and slice as needed. Leave wrappers on the candies. Sort cookies and crackers.
I like to put pottery pinch cups on the board first and then fill in around them. The pinch cups hold small candies and such.
Put a bigger bowl in the center to hold a sweet dip or marshmallows, or whatever you have time for. I usually put a sweet dip in it but when I was making this dessert tray I was pushed for time so I used marshmallows.
If you're not going to have a dip in the center then it's a good place to put Brie.
Now put you larger ingredients around .
Then fill in with your smaller ingredients.
Finally add some greenery - rosemary, parsley, kale, or whatever to brighten it up.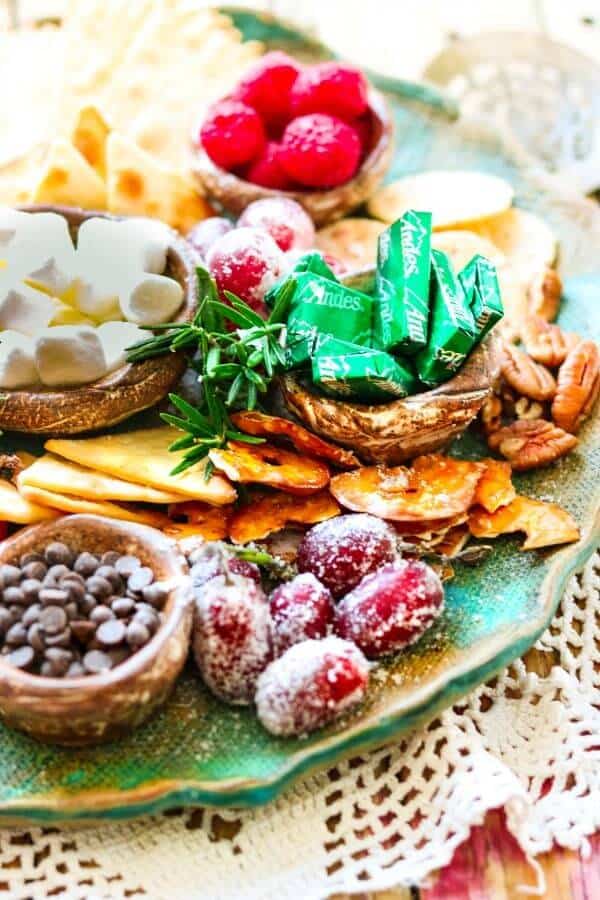 Easy Dessert Board Ideas
You can look at this board and see what I used this time but there are so many things you can do. Here are some dessert trays that I've done in the past -
Hot Chocolate Board - Put a bowl of whipped cream or mini marshmallows in the center. Add mini chocolate chips, mints, butterscotch candies, mini candy canes, and other ingredients that will melt into the hot chocolate. Add different kinds of sprinkles to spoon on top.
Smore's Board - Graham crackers, vanilla wafers, milk chocolate squares, chocolate mint squares, peanut butter cups, marshmallows, and anything else that would work for s'mores.
Candyland Dessert Tray - Use gumdrops, licorice, red licorice, lollipops, candy canes, peanut brittle, chocolate, and other sweets from the classic game.
Dried Fruit and Cheese Board - Figs, raisins, dates, dried cranberries, crackers, brie, camembert, smoked gouda, and other favorite dried fruits and cheeses. Fresh grapes make it pretty and add texture.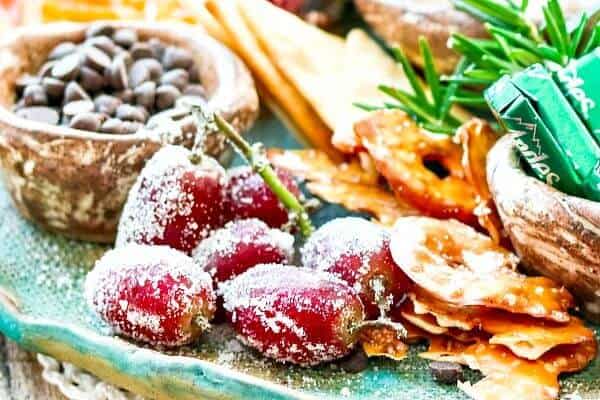 How to Make Frosted Grapes
There are several methods for making frosted grapes but I always like things that are easy. If you have the time the first method will last the longest, however.
Frosted Grapes - Method One
Place ½ cup sugar and ½ cup water in a pan on medium heat.
Stir continuiously until the sugar is completely dissolved.
Add grapes and stir gently.
Remove grapes to a wire rack over some parchment or waxed paper.
Make sure the grapes are not touching each other.
Let sit for at least an hour.
Sprinkle remaining sugar over all sides of the grapes.
Let sit for at least an hour.
Frosted Grapes - Method Two
Bring 2 egg whites to room temperature.
Whisk with ¼ teaspoon lemon juice until well blended.
Add grapes and stir to coat.
Drain the grapes and pat excess egg white off with paper towel.
Sprinkle on all sides with sugar.
Let sit for an hour.
Frosted Grapes - Colored
Follow either method above then sprinkle with sweetened, flavored gelatin powder.
Let dry for at least an hour.
Dips for the Dessert Charcuterie Tray
A dip in the middle is great for cookies, pretzels, and other "dunkables". Here are some of my favorites -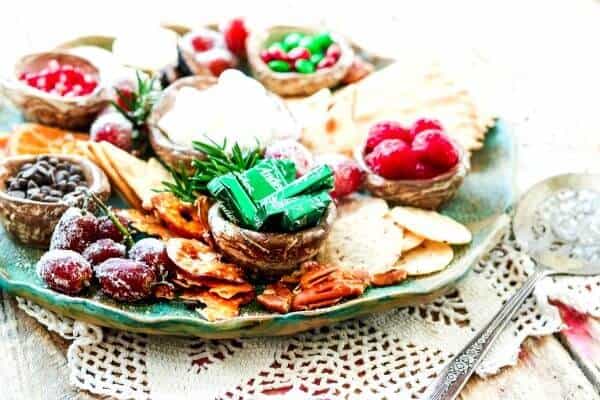 You May Need...
The following are affiliate links. We are a participant in the Amazon Services LLC Associates Program, an affiliate advertising program designed to provide a means for us to earn fees by linking to Amazon.com and affiliated sites.
What's new? Check out my Restless Chipotle & Co. Store on Amazon! Thanks so much for being a part of Restless Chipotle!
I think this Kona wood platter by Noritake would be a gorgeous base for your dessert plate!

Frosted Grapes Recipe for Dessert Trays
Here's the recipe and instructions for frosted grapes. They're a super pretty addition to this easy Christmas dessert board. If you love this post please give it 5 stars.
📖 Recipe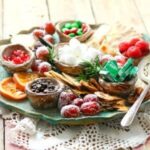 Frosted Grapes
Print
Save
Saved!
Frosted grapes are easy to make and they add such a pretty garnish to so many dishes.
Ingredients
3

cups

grapes

2

egg whites

,

, room temperature

¼

teaspoon

lemon juice

2

cups

sugar
I earn a commission from Instacart from qualifying purchases.
Instructions
Whisk egg whites with ¼ teaspoon lemon juice until

well blended

.

Add grapes and stir to coat.

Drain the grapes and pat excess egg white off with paper towel.

Sprinkle on all sides with sugar, or place in a bag filled with sugar and shake gently.

Let sit for an hour.
Notes
You can leave the grapes in small bunches on the stems or frost them individually.
You'll find more helpful tips and variations in the body of the post.
Nutrition Facts
Calories:
63
kcal
|
Carbohydrates:
16
g
|
Protein:
0
g
|
Fat:
0
g
|
Saturated Fat:
0
g
|
Cholesterol:
0
mg
|
Sodium:
3
mg
|
Potassium:
32
mg
|
Fiber:
0
g
|
Sugar:
15
g
|
Vitamin A:
10
IU
|
Vitamin C:
0.5
mg
|
Calcium:
2
mg
|
Iron:
0.1
mg
Nutrition information is estimated as a courtesy. If using for medical purposes, please verify information using your own nutritional calculator. Percent Daily Values are based on a 2000 calorie diet.
Sign up for the emails and never miss another recipe!!
We'll never share your email or send you spam. Pinkie swear.