These easy Crock Pot tailgating recipes are perfect for game day at home or a tailgating party on the road!
From mac & cheese to a caramel apple cobbler we've got football season covered with crowd favorites that travel well.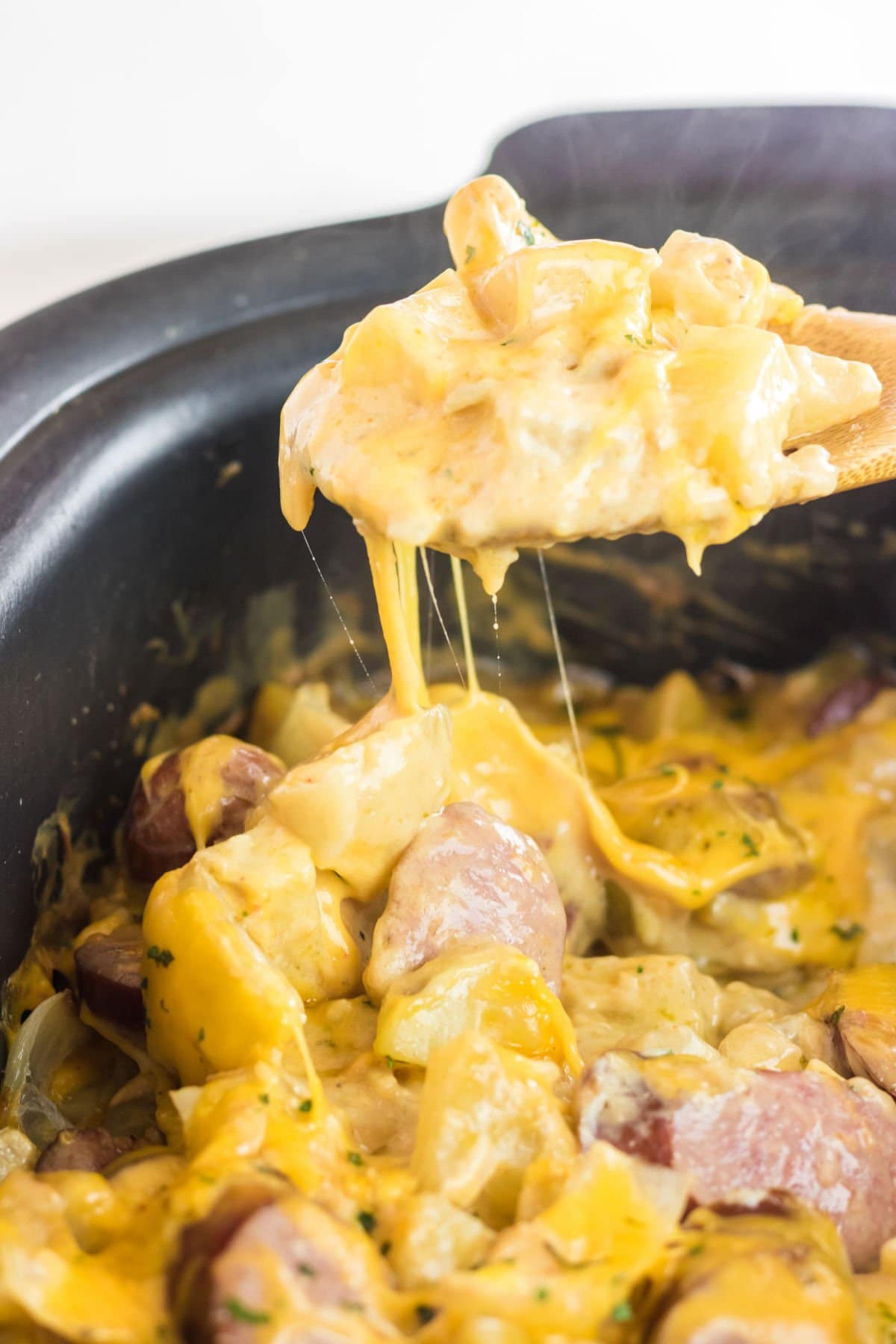 Jump to:
Slow Cooker Root Beer Chicken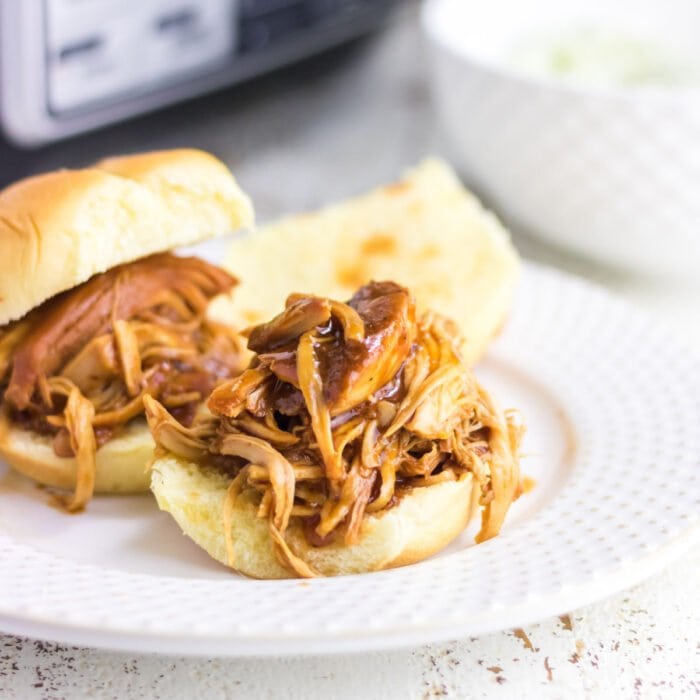 Root beer chicken is tangy and delicious - perfect for thick, bbq sandwiches.
Expert Tip: Do not use sugar free root beer with this recipe - it doesn't work well and the flavor is weird.
Crockpot Mac & Cheese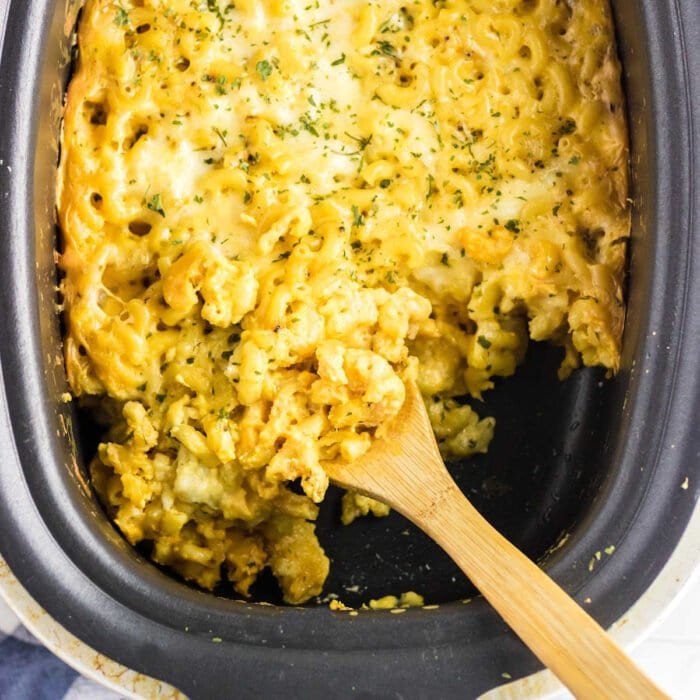 Creamy, gooey, crock pot mac & cheese is an easy to take tailgate crockpot recipe that's easy to make! Crowd favorite!
Expert Tip: Shred your own cheese! It'll melt better and give the macaroni and cheese a perfectly creamy texture. The anti-caking agent in pre-shredded varieties can leave your mac and cheese tasting gritty.
Slow Cooker Chicken & Dumplings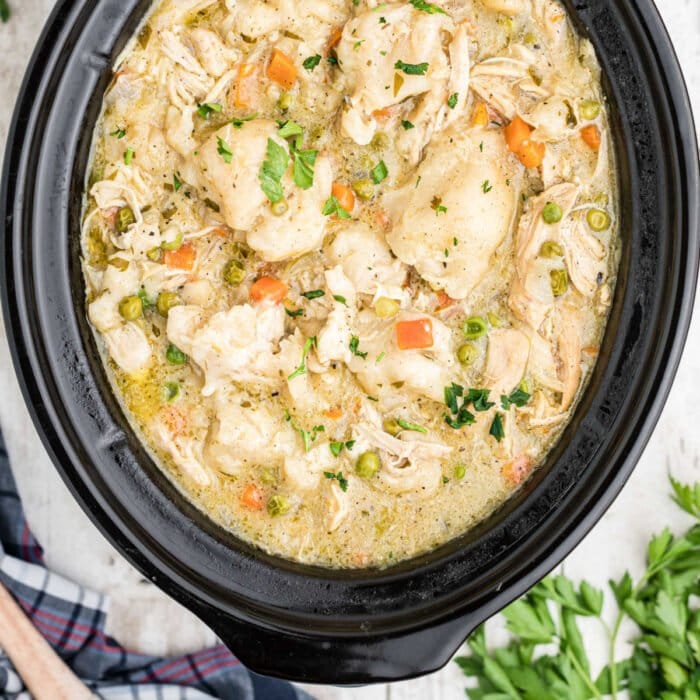 There's nothing as good in a chilly stadium parking lot as a bowl of steaming chicken & dumplings with a great football game on the side.
Expert Tip: I know the aroma is tempting, but refrain from opening the slow cooker lid more than necessary while the biscuit dumplings are cooking. It will release valuable heat that can interfere with their proper cooking.
Crock Pot Biscuits & Gravy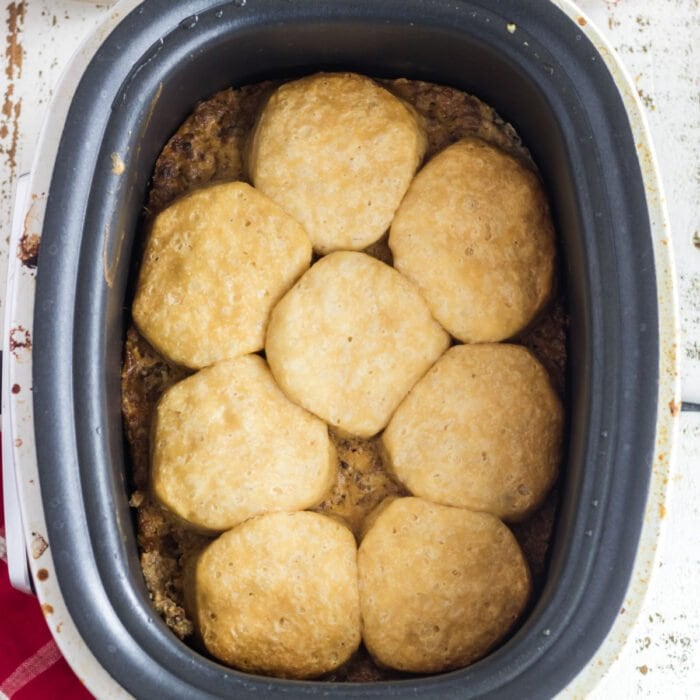 If you've ever wondered what you could make for an easy tailgating breakfast this slow cooker biscuits and gravy is the answer!
Expert Tip: If your gravy gets thick from staying on warm for a long time you can thin it with a little bit of milk or heavy cream to make a creamy gravy.
Fiesta Chicken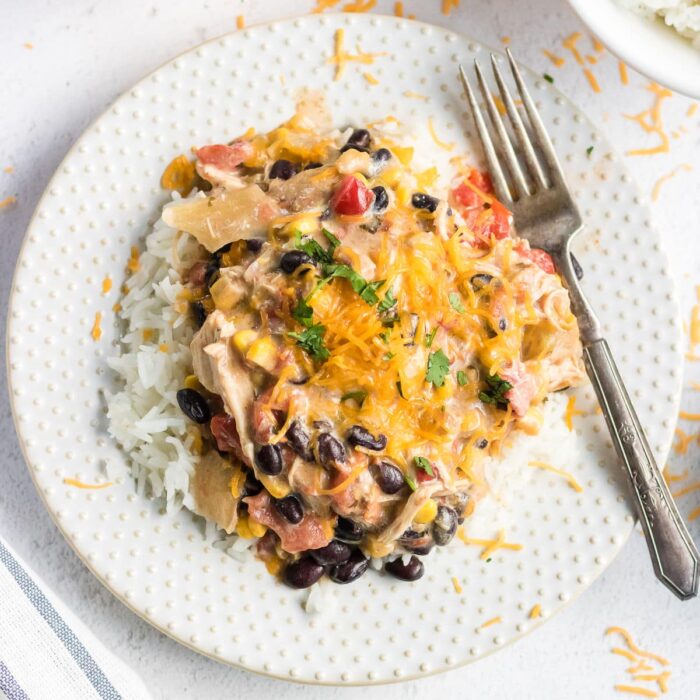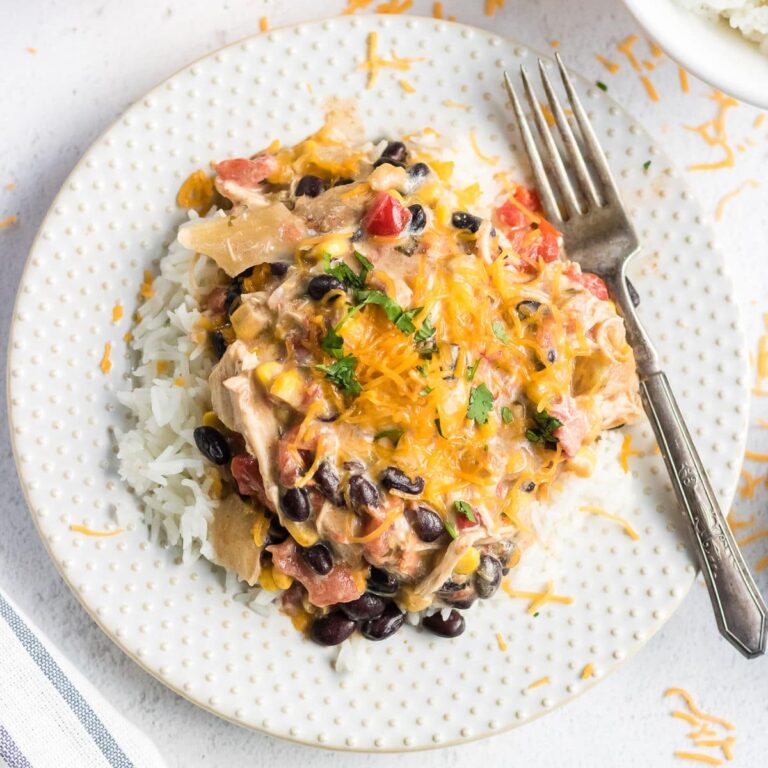 We love this fiesta chicken over tortilla chips for the best nachos ever.
Expert Tip: Add about a cup of milk if you'd like to serve this as fiesta chicken soup.
Chili Soup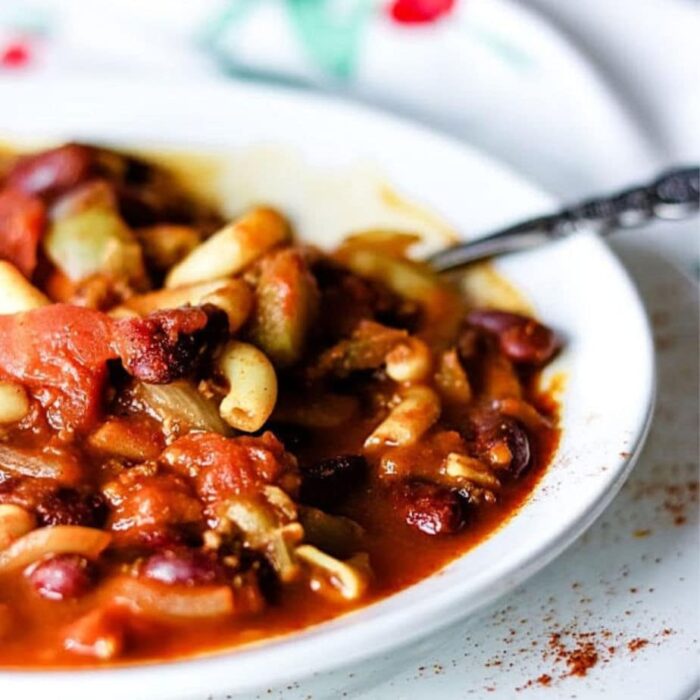 A big crockpot of this hearty chili soup is tailgate heaven.
Expert Tip: Chili powder spice level varies from manufacturer to manufacturer and even from batch to batch. For best results always taste as you go.
White Chicken Chili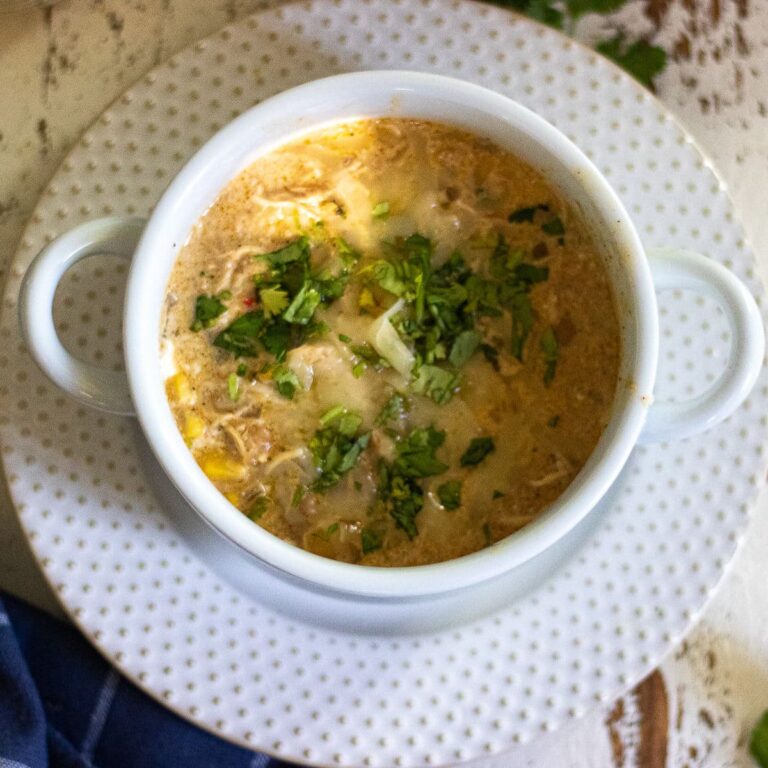 Creamy and comforting white chicken chili has won more than one blue ribbon at chili cook-offs!
Expert Tip: Crumble tortilla chips on top. I like the crunchy texture and salty flavor that tortilla chips bring to this, as well as other casserole recipes. Just crumble a handful on top before serving.
Crock Pot Country Ribs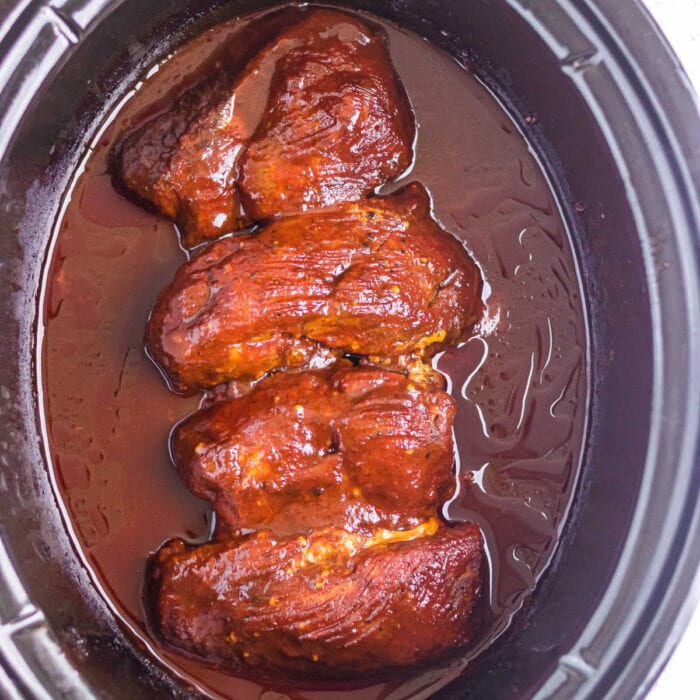 There are lots of ways to make ribs but these Dr Pepper ribs fall are fall apart delicious AND they're a tailgating party classic.
Expert Tip: For best results add layers of flavor. Rub the seasonings into the meat, then add the sauces. After the meat is done brush on some of the sauce from the slow cooker before serving.
Crock Pot Chicken Spaghetti
I never liked taking a casserole dish for tailgating - too hard to keep hot! I created this crockpot chicken spaghetti to be easy!
Expert Tip: Try cooked ground beef instead of the chicken.
Smoked Sausage & Potatoes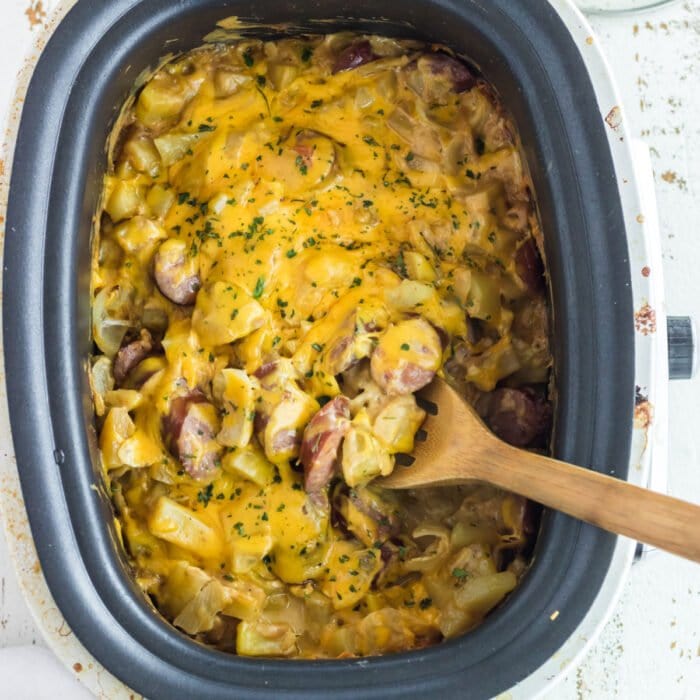 Cheesy smoked sausage and potatoes in the crockpot is always a hit!
Expert Tip: I use thin skinned, Yukon Gold potatoes when I know I don't want to take the time to peel!
Italian Beef Sandwiches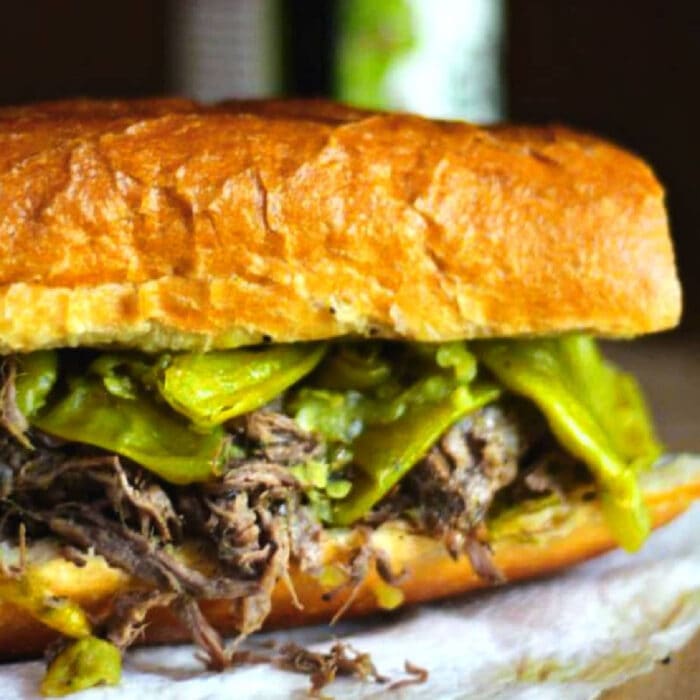 Make this tangy Italian beef in the crockpot and just add to split open hoagie rolls or hamburger buns.
Expert Tip: 8 hours is the minimum cooking duration, but feel free to leave it in the Crockpot for a long time—even up to 12 hours! With slow cooker recipes like these, the meat just keeps getting more tender and flavorful!
Chicken Enchilada Casserole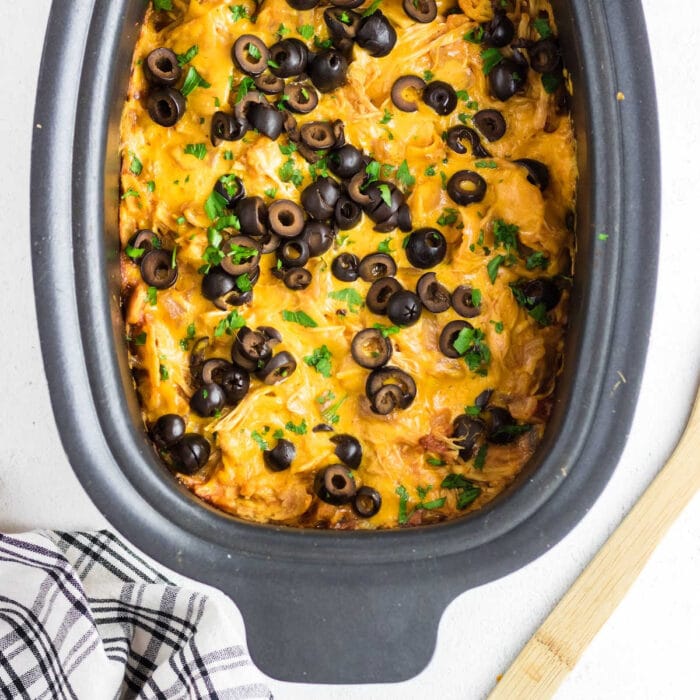 Have Tex-Mex the easy way with this slow cooker chicken enchiladas casserole!
Expert Tip: Flour tortillas don't hold up as well in crockpot recipes and can turn mushy, so I recommend sticking with corn for the best results.
Crock Pot Caramel Apple Dump Cake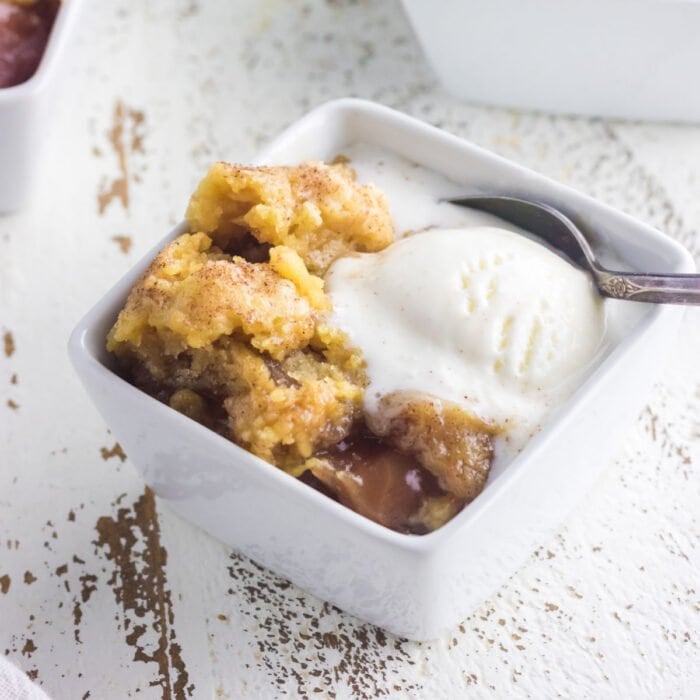 You know the most popular spot is the one with the dessert, right? No one can resist this crockpot apple dump cake.
Expert Tip: As always when cooking in a crockpot, keep the lid closed as much as possible. This helps maintain proper cooking temperature.
💭 Things to know
Keep in mind that once your food is cooked you shouldn't hold it much more than 4 hours on warm.
Keep hot foods hot and cold foods cold - stay safe!
Freeze water bottles to use in place of ice in the coolers. They'll keep things cold and you can drink them when they've melted. No need to plunge your hands into cold slush to get a drink!
If you're cooking on site (and not just keeping warm) then prep everything ahead of time.
Bring extra coolers with extra ice!
👩‍🍳 FAQs
How long do you tailgate before a game?
Plan on being there 4 hours ahead of time... In some areas (I'm looking at you, Texas) it's not unheard of to camp overnight just to get the perfect spot.
Do you tailgate before or after the game?
Generally before but who's going to turn down good food after a great football game? Why not both?
📞 The last word
These cream cheese sausage balls aren't made in the slow cooker but you can keep them warm in one - and they're perfect game day snacks!
A tailgate party needs to be portable and that's where the slow cooker steps in. As long as you have access to an electrical outlet you're ready to roll.