Classic comfort food made quick and easy! Perfect for those busy weeknights. Love this old fashioned recipe? Try this slow cooker chicken and noodles, too.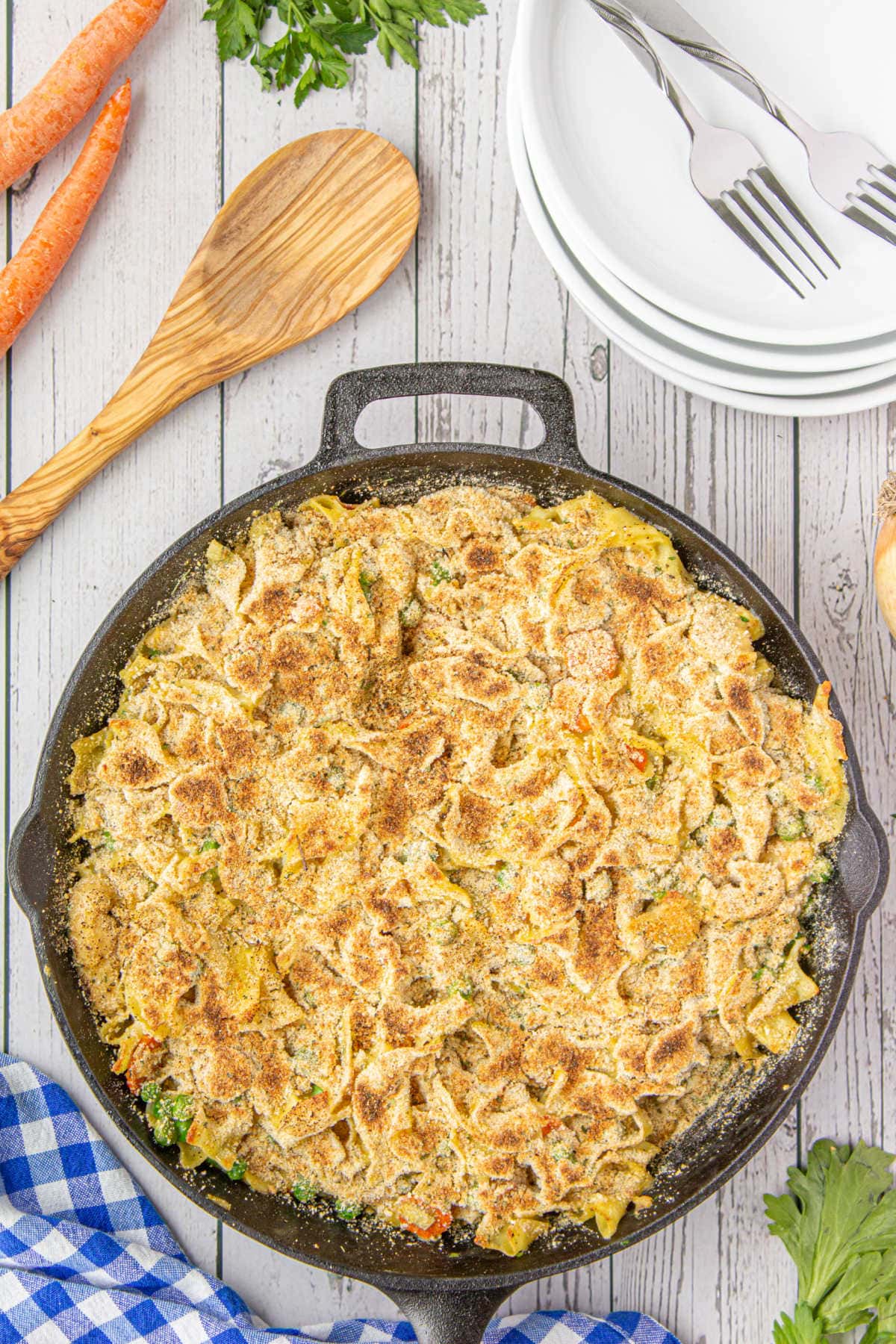 Jump to:
❤️ Why you'll love it
Only takes 30 minutes (or less!)
A complete meal with carbs, protein, and veggies
Creamy sauce and tender chicken make the ultimate comfort food
Gone are the days when mom had to spend 3-4 hours sweating in the kitchen just to get dinner on the table.
This old fashioned chicken and noodles recipe has the great flavor you crave, without any of the hard work.
Love noodles as much as we do? Try this classic tuna noodle casserole!
🧾 Ingredients
This is an overview of the ingredients. You'll find the full measurements and instructions in the green recipe card (printable) at the bottom of the page.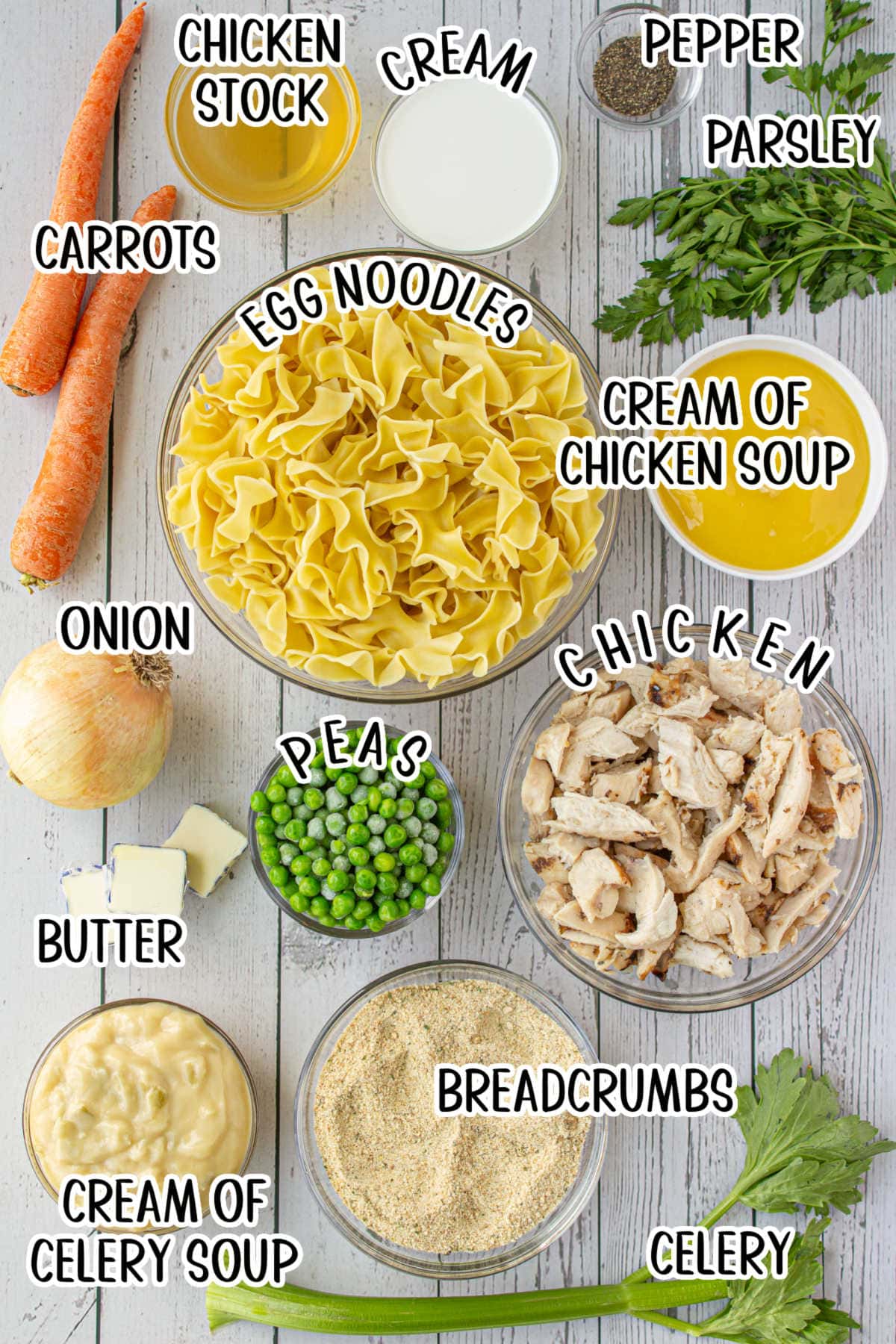 🔪 Instructions
This is an overview of the instructions. Full instructions are in the green recipe card at the bottom of the page.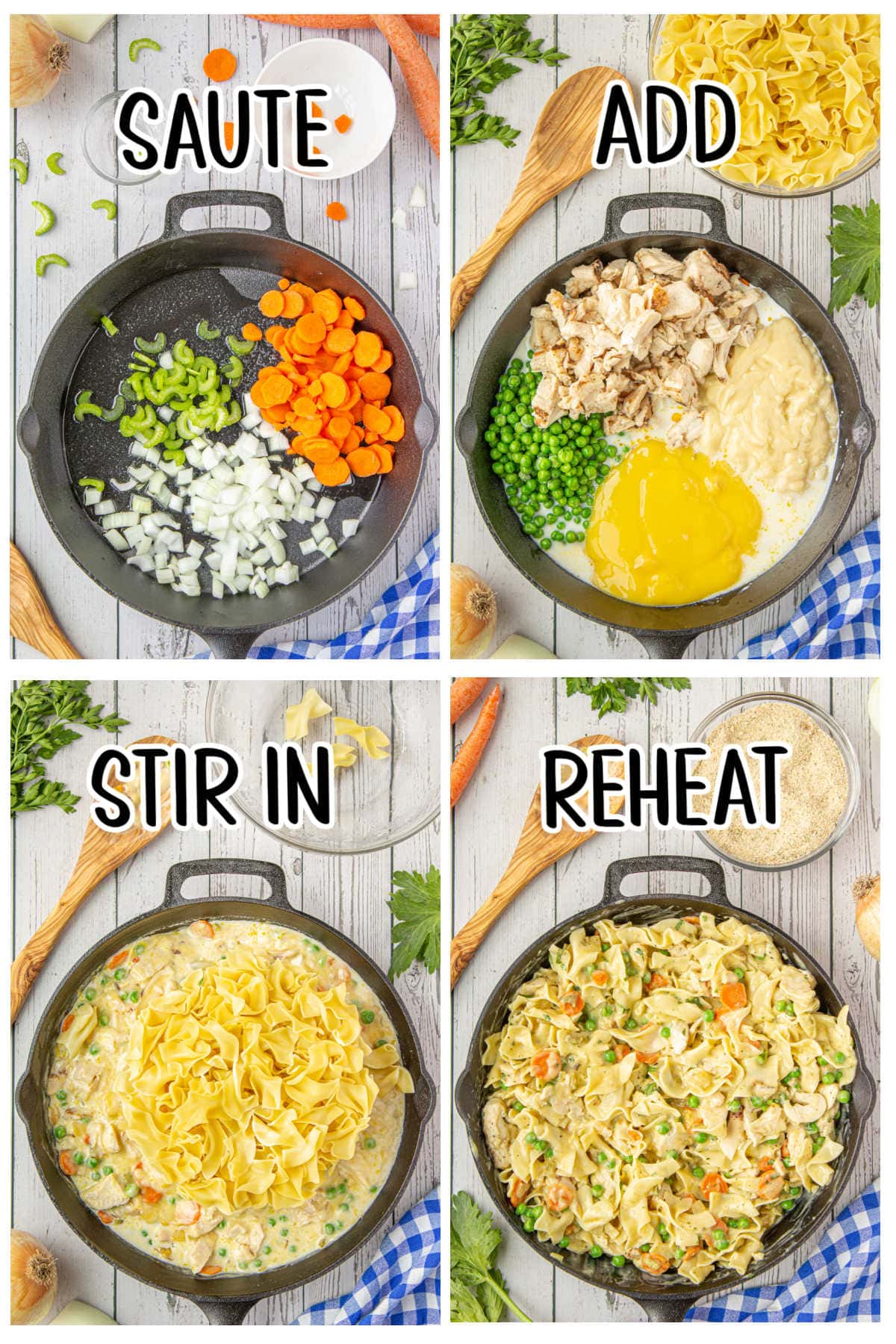 Saute the carrots, onion, and celery.
Add in the chopped/shredded chicken, soups, half and half, and peas.
Stir in the cooked noodles.
Combine to warm noodles, and top with breadcrumbs. Broil 'til toasted.
🥫 Storage
Easy recipe? Check. Feed the whole family in less than a half hour with leftovers for tomorrow? Double check.
Homemade noodles and chicken stores pretty well. Simply put the leftovers into an airtight container (or a storage bowl covered with plastic wrap) and refrigerate for three or four days.
You can also freeze chicken and noodles for up to three months as long as you make it with the condensed soups. A homemade sauce won't freeze as well.
To reheat the leftover chicken and noodles, let it thaw in the refrigerator if frozen. Then, microwave smaller portions until warmed through, or heat in a large pot on the stove.
Just know that the noodles will continue to soak up some of the sauce as the dish sits. For best results, I recommend stirring in a little more milk or cream when reheating to loosen everything up and make it perfectly creamy again.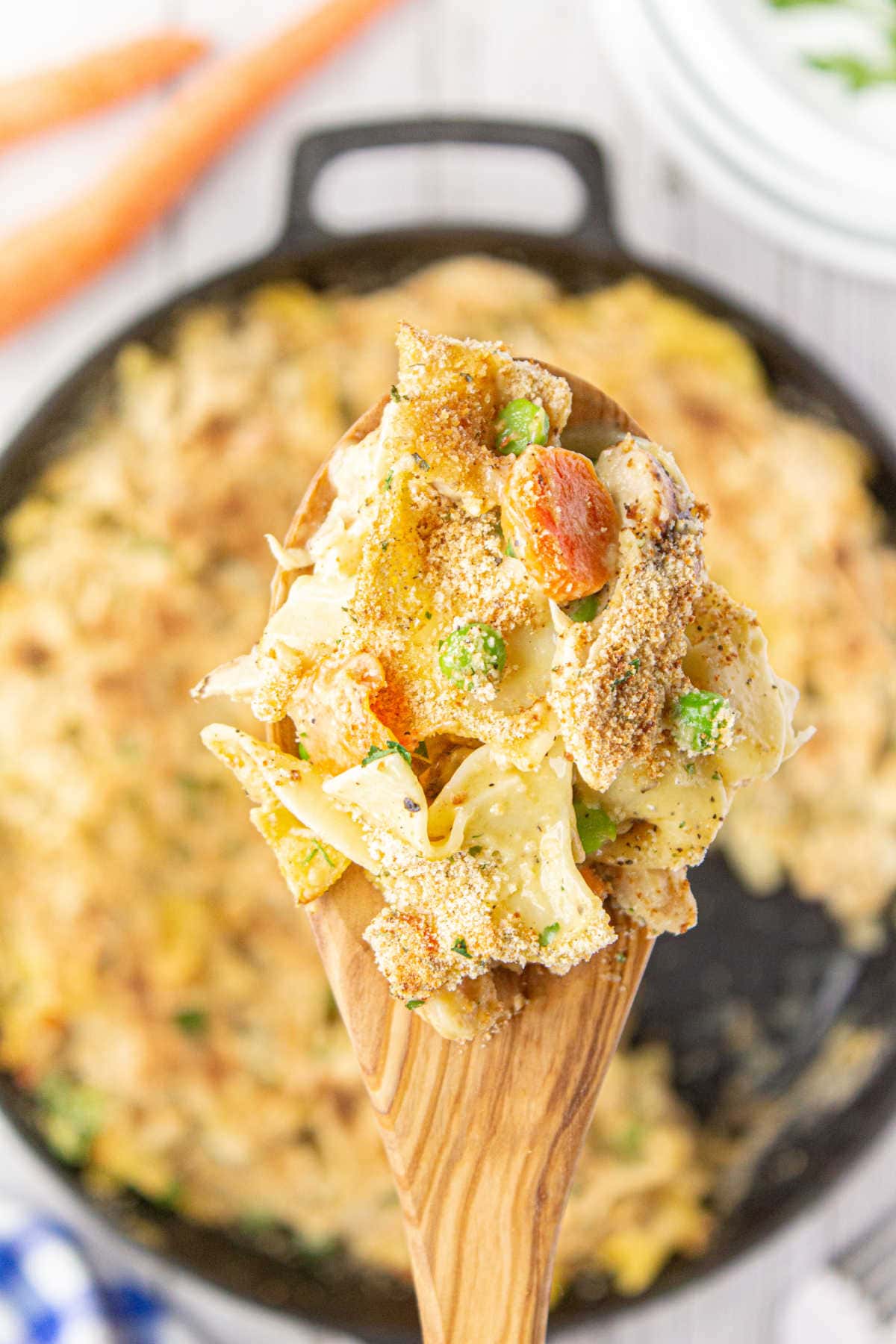 📖 Variations
Forgot to pick up something at the grocery store? Dealing with allergies or picky eaters? Don't worry! There are a few ways to alter the recipe if you need to.
Let's start with the protein:
Instead of chicken breasts, use chicken thighs or meat from other parts.
You can use bone-in chicken (or a whole chicken, like those cheap and quick rotisseries from your fave bulk food store!) Just pick the cooked chicken meat from the bones and stir it into the skillet.
Extra ham or turkey from thanksgiving dinner? It's great in this recipe.
Use your favorite pork, veal, or game instead of chicken.
Need a vegetarian-friendly dish? You can use white beans, tofu, or tempeh.
Now, about the noodles:
You can use pretty much any kind of pasta or macaroni you want—it is an easy dinner recipe after all.
Sub the noodles for rice, quinoa, or couscous.
The creamy chicken and veggie mixture is also delicious over grits, polenta, or mashed potatoes.
Make creamy chicken and "dumplings" instead of noodles by rolling out biscuit dough thinly and cutting into squares. Then, drop the raw dough into the simmering chicken broth for about 3 minutes, or until done.
Finally, the fun stuff:
Stir in cooked cauliflower, broccoli, green beans, or asparagus.
Add some mushrooms or minced cloves of garlic to the saute mixture.
Dump a little bit of frozen corn in place of (or in addition to) the peas.
If you don't have the cream of celery or cream of chicken soup, any "cream of" variety will work, but it'll alter the flavor slightly. Cream of mushroom and asparagus are good substitutes.
You can swap the half-and-half with milk or a non-dairy cream alternative if you need to, but you definitely lose some richness!
Make a homemade cream sauce instead of canned—see recipe card!
Use your favorite gravy as the creamy base instead of soup.
You can use either store-bought or homemade chicken broth.
I like to add a bay leaf to the chicken stock and about half a teaspoon of herbes de Provence or a thyme sprig to the sauce for some more great flavor. It's not exactly traditional, but it's really good!
Try this crispy, copycat French's Fried Onions as a topping!
💭 Things to know
Expert Tip: Use good chicken stock and a piece of celery to flavor the chicken better than any other method. With simple ingredients like stock, quality makes a difference!
Set a bowl or large stock pot under your strainer before you start cooking so you don't accidentally strain the broth right down the drain!
Use the leftover stock in homemade chicken noodle soup.
Feel free to dice or shred the chicken breast depending on the texture you prefer. I like shredding it because it soaks up more sauce!
Follow the package directions when cooking your dry noodles. I prefer to cook them slightly past al dente, then simmer them in the sauce for a few minutes to make them even more tender and soft.
Wide egg noodles have more surface area than medium or thin ones so they grab onto the yummy sauce better.
Frozen peas work best in this easy chicken recipe. Canned peas will get mushy.
Use a slotted spoon to transfer the cooked egg noodles straight from their boiling water into the creamy chicken base. It's okay if they're a little wet—the starchy water will help the sauce stick to the noodles.
If you don't have a large skillet, or if you want to double the recipe, you can use a dutch oven.
👩‍🍳 FAQs
What does old fashioned chicken and noodles taste like?
It takes the best parts of chicken noodle soup and combines them with the best parts of chicken noodle casserole! It tastes creamy, with a nice poultry flavor, accented by whatever veggies you choose to stir in!
Is this dish like chicken noodle casserole?
It is similar in taste. However, the cooking police will say that a casserole meal is cooked in an oven. Technically, we could get away with saying that it is a casserole since we do bake the bread crumb topping in the oven, but it's a stretch since most of the action takes place on the stovetop!
Can I use crock pot chicken?
If you have leftover crockpot chicken to use up, you definitely can stir it into the recipe. However, I do recommend cooking the meat in the stock, as it really enhances the flavor of the chicken. Though, if you need to, you can use the slow cooker—I won't argue against an easier step!
Can I use olive oil instead of butter?
If you need to, swap the butter for olive oil one-to-one. However, blame it on my Southern roots, but I feel that butter adds a rich, creaminess that olive oil just doesn't.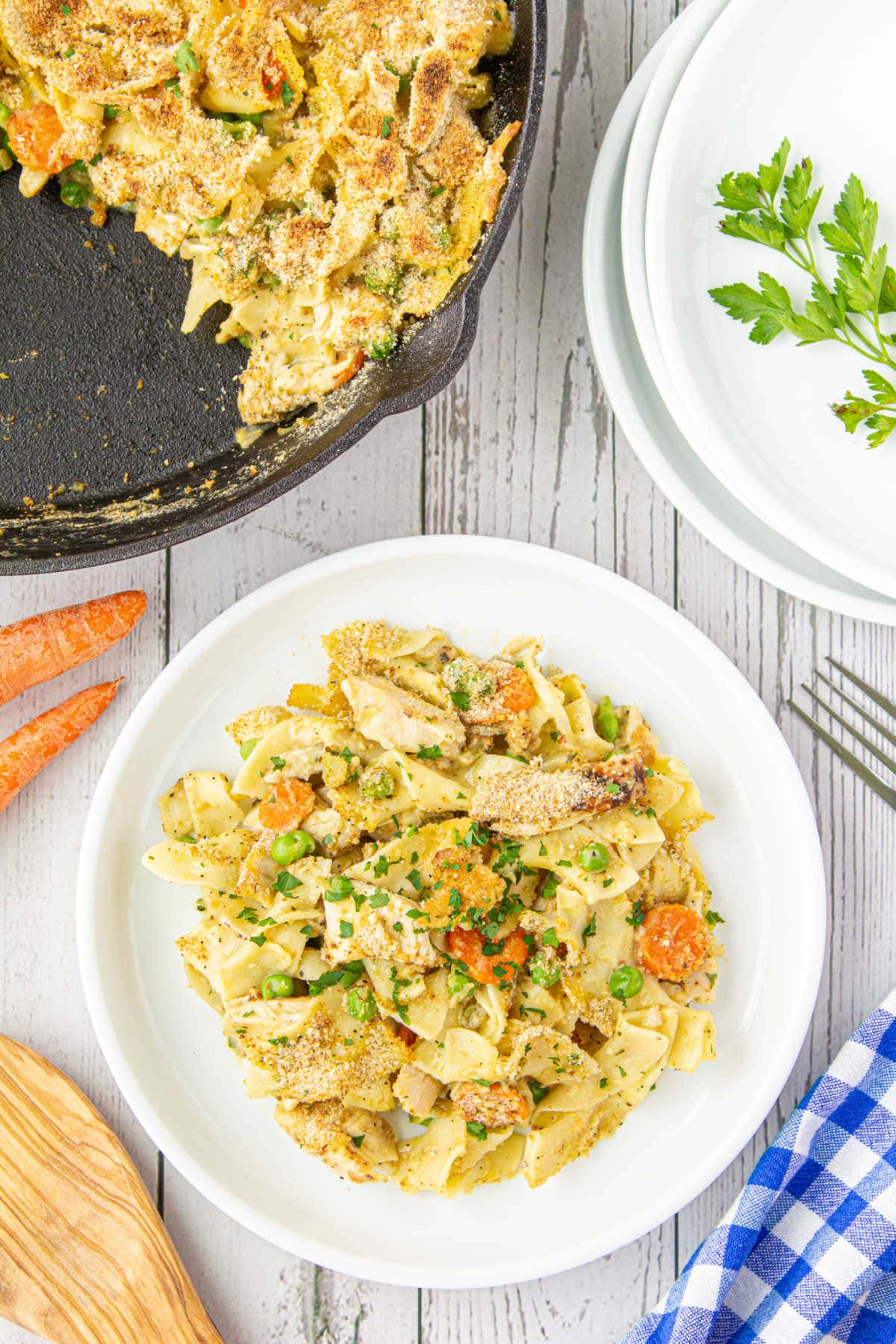 📚 Related recipes
🍽️ Serve with...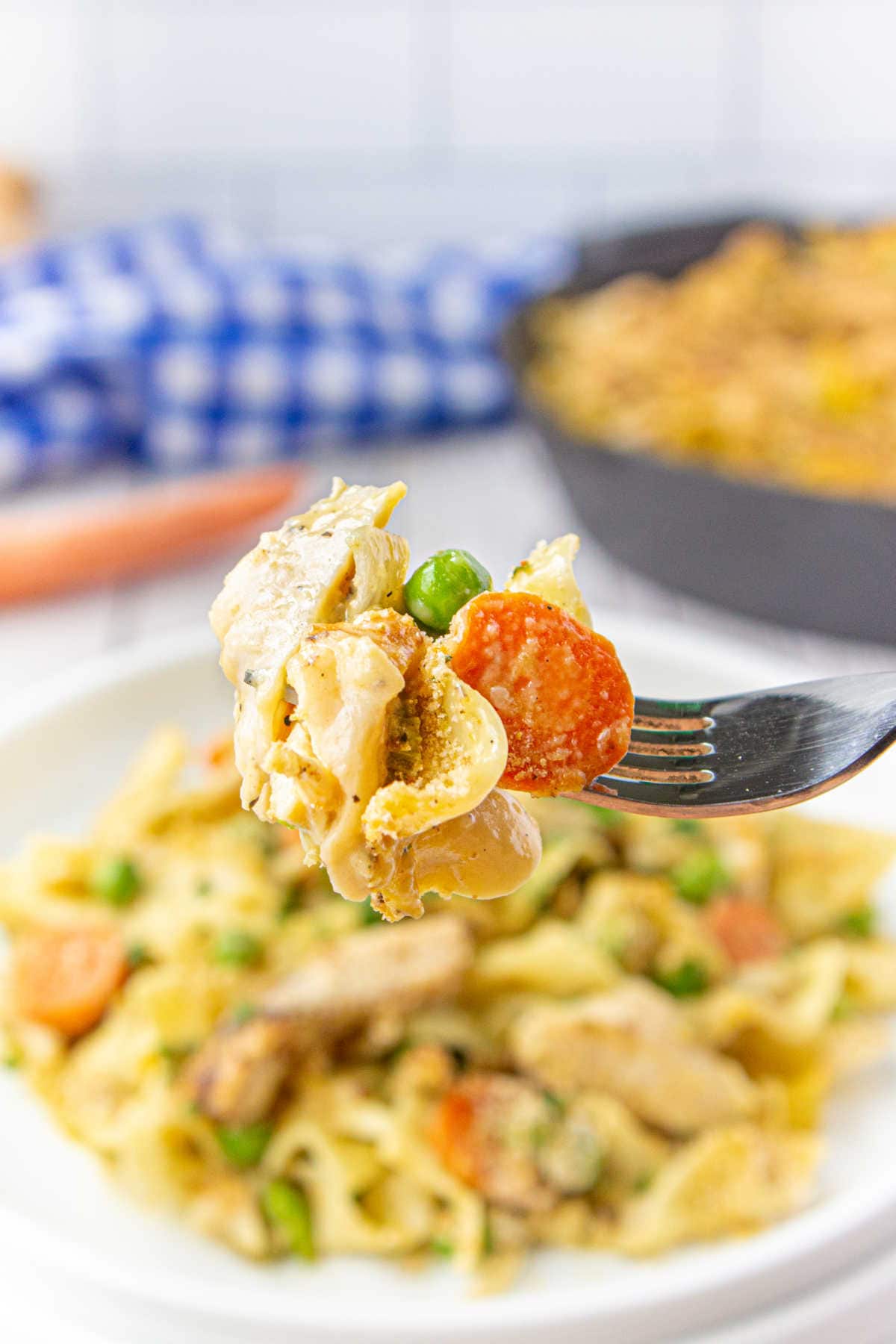 📞 The last word
You'll also like this 30 minute chicken pot pie skillet with biscuits.
If you click on the number of servings in the recipe card you can adjust the measurements up or down for the exact number of servings you need. Don't forget that you can click on "add to collection" to save it to your own, private recipe box!
If you love this recipe please give it 5 stars! ⭐️⭐️⭐️⭐️⭐️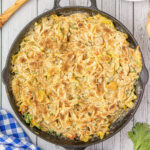 Easy Chicken and Noodles
Print
Pin Recipe
Save
Go to Collections
Chicken and noodles is a delicious weeknight casserole dinner that's made quick & easy on top of the stove. It's full of egg noodles, chicken, and veggies in a creamy sauce. Think of it as an easy version of chicken pot pie! You can also add breadcrumbs and bake until crispy!
As an Amazon Associate I earn from qualifying purchases.
Ingredients
1

pound

chicken breast

,

or thighs - or 3 cups cooked chicken

2

cups

chicken stock

3

tablespoons

butter

1

stalk

celery

1

cup

onion

,

chopped

1

cup

carrots

,

sliced

½

cup

celery

,

sliced

12

ounces

pasta dumplings or egg noodles

,

cooked and drained - I used Skinner

10 ½

ounces

condensed cream of chicken soup

10 ½

ounces

condensed cream of celery soup

,

cream of asparagus or mushroom are good, too

½

cup

½ & ½ cream

,

may use milk if desired but some of the richness is lost

½

cup

chicken stock

,

left over from poaching chicken

1

cup

peas

,

frozen works best

2

cups

breadcrumbs

,

if desired

black pepper

¼

cup

parsley

,

chopped - optional
I earn a commission from Instacart from qualifying purchases.
Instructions
Add the chicken stock, chicken, and 1 stalk of celery to a saucepan. (omit this and the next step if using cooked chicken)

Simmer until the chicken is cooked through.

Drain the stock, reserving ½ cup for this recipe and saving the remaining stock for another recipe.

Dice or shred chicken, as desired.

Meanwhile, melt the butter in a heavy, iron skillet.

Add the sliced celery, onions, and carrots.

Add the cooked chicken to the skillet.

Add the remaining ingredients except the breadcrumbs and let simmer uncovered for 5 minutes. Stir often to keep it from sticking to the bottom.

If the dish is too "saucy" let simmer a little longer, stirring often, until the liquid is reduced.

Taste and add salt if needed.

Sprinkle with cracked black pepper - I like a generous amount!

Stir in parsley if desired.

Serve as is...or sprinkle the top with breadcrumbs and place under the broiler for a few minutes until golden brown.
Homemade White Sauce (If you don't have or don't want to use cream soups)
In a small saucepan, melt butter over medium heat. Whisk in the flour, salt and pepper until smooth. Gradually whisk in the milk. Bring to a boil; cook and stir for 2 minutes or until thickened. Use immediately or refrigerate.

Melt butter in a small saucepan over medium heat.

Whisk in flour and salt until smooth.

Cook over low heat for 2 minutes whisking constantly.

Add the milk and whisk until smooth.

Cook, whisking occasionally, until thick.

You can add chicken bullion or use half milk and half chicken broth if you like.
Notes
Storage:
May be wrapped tightly and frozen for up to 3 months if made with the cream of chicken soup.
Tips
Poach the chicken breast in a good chicken stock with a piece of celery in it - this gives it more flavor that any other cooking method. Be sure to keep the stock for other recipes
Frozen peas work best in this recipe. Canned peas are too mushy
While most pasta dishes call for a la dente pasta you'll want to cook these noodles until they are very tender. I like to cook them a la dente then simmer them in the sauce for a few minutes
I like to add about a half teaspoon of herbes de Provence. It gives the recipe a great flavor but that's completely up to you - it's not traditional
It's a great way to use up leftover chicken
If you hold it in the fridge overnight you will want to add a little milk or cream when you warm it up because the noodles will soak up the liquid
You can dice the cooked chicken breast or shred it, depending on what texture you prefer. I like it shredded because it soaks up more sauce that way
Nutrition Facts
Calories:
488
kcal
|
Carbohydrates:
62
g
|
Protein:
25
g
|
Fat:
14
g
|
Saturated Fat:
6
g
|
Cholesterol:
96
mg
|
Sodium:
812
mg
|
Potassium:
610
mg
|
Fiber:
4
g
|
Sugar:
6
g
|
Vitamin A:
3265
IU
|
Vitamin C:
10.8
mg
|
Calcium:
120
mg
|
Iron:
3.3
mg
Sign up for the emails and never miss another recipe!!
We'll never share your email or send you spam. Pinkie swear.
🥄 Equipment
The following are affiliate links. We are a participant in the Amazon Services LLC Associates Program, an affiliate advertising program designed to provide a means for us to earn fees by linking to Amazon.com and affiliated sites.
I love my Lodge Cast Iron Skillet!! It's perfect for this dish because you can add the topping and throw it under the broiler - quick quick!!
First published January 4, 2018. Last updated September 6, 2022 to improve images.