Welcome to the South, y'all.
If you have been around very long at all you know that there is nothing new to me about adding coke (this is what soda, pop, soft drinks are called at my house no matter what type) to a meat dish. I have this really rockin recipe for meatballs in gingerale...
Anyway... Back to pulled pork.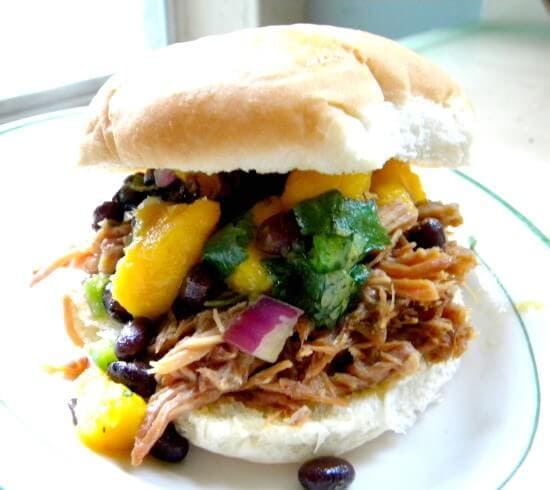 Pulled pork is this incredibly tender meat. It is called pulled because once it is cooked to perfection you take two forks and pull the meat apart, or shred it. Then it is piled onto a bun, a little barbecue sauce added, some cole slaw...and you have ya a sammich. Well, usually. Often I find that the actual meat is somewhat tasteless.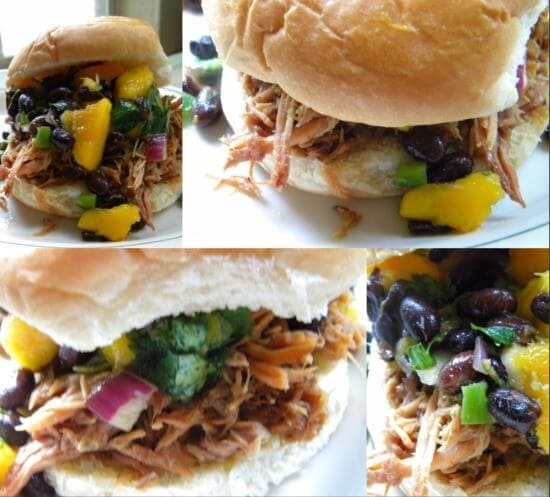 This isn't at all. It is sweet, spicy, and just deliciously tender. And you can do this as long as you can procure a can of Dr. Pepper.
I use pork tenderloin rather than a less expensive cut of meat. You are paying a little more but there is  less waste, less fat, and  it is so much better. You can use a butt if you want or any large, boneless cut. But just once? Try the tenderloin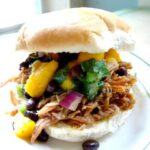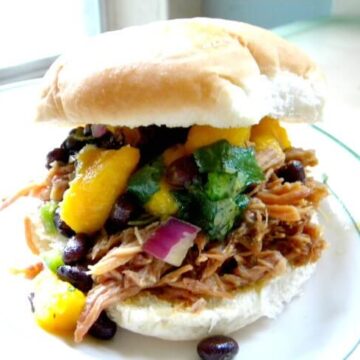 Homemade Mango Salsa
Print
Save
Go to Collections
As an Amazon Associate I earn from qualifying purchases.
Ingredients
2

cups

black beans

,

cooked and rinsed

2

very ripe mangoes

,

peeled and diced

½

red onion

,

diced

1

jalapeno seeded and chopped

1

tablespoon

lime zest

¼

cup

freshly squeezed lime juice

⅛

cup

freshly squeezed orange juice

a splash of balsamic vinegar

1

tablespoon

agave syrup

¼

cup

olive oil

⅓

cup

chopped

,

fresh cilantro

Kosher salt and pepper to taste
Instructions
Combine all ingredients and allow the flavors to mature for 20 minutes.

Now, all you do is pile a big ole spoonful of the meat on a hamburger bun, add a little of the juice from the slow cooker, and a spoonful of salsa and you are ready to go.
Sign up for the emails and never miss another recipe!!
We'll never share your email or send you spam. Pinkie swear.