What is the best chocolate frosting? Creamy, rich, chocolate...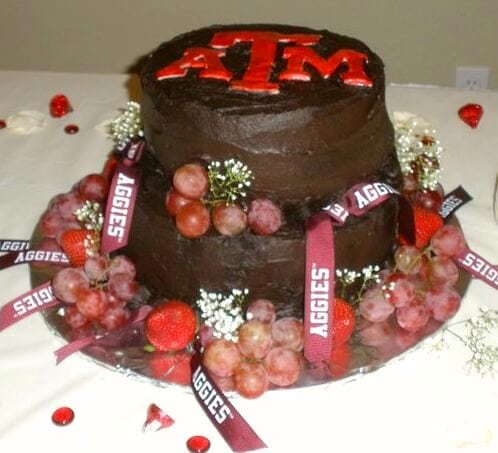 I am always on the prowl for something better. I guess it is the way I am configured but nothing is ever good enough...I mean what if there is something better out there and I miss out?
So understand that when I say I have found the *THE* perfect chocolate frosting I am not basing that judgment on one or two other frostings but on 50 years of being a chocolate frosting taster. Also understand that this frosting is the perfect one only until I find one  I like better.
The wedding was fabulous and Kelly's cake was a bog hit, of course! I wanted to make the groom's cake myself, I had a vision of a cowboy boot but ultimately had to go with his other favorite thing, his alma mater, since time was so short. I wanted to do a chocolate cake with chocolate frosting.
Nothing hard about that, right?
I decided on a four layer stack, two 10 inch layers and two 8 inch layers. Since I was in a hurry I didn't take a lot of foodie style pictures; no close ups, no tempting food porn shots... but the frosting was absolutely amazing. Rich, buttery, chocolaty, creamy....
The frosting is simple, quick, and luscious. I think you are gonna love it.
Easy Chocolate Frosting
¾ cup unsalted butter
⅓ cup unsweetened extra dark cocoa powder plus two tablespoons
2 cups confectioners' sugar
2-4 tablespoons heavy cream (depends on the finished consistency that you want. Just add a little at a time and keep checking)
2 Tbs cold espresso
1 teaspoon vanilla extract
Cream butter and extract until light and fluffy
Mix the confectioners and the cocoa together
Add the cocoa mixture to the butter slowly, beating until incorporated.
Add the espresso
Add the cream a little at a time, whipping until the correct consistency is reached.
That's it. Use this for any cake, cupcake, or cookie that you want. It is so simple. And it was fresh for several days after the wedding. We were so caked out!