Bake this and your house will smell amazing, and it tastes just as good as it smells.
Don't want to scroll through the page to get to the recipe? Use the table of contents to click on the section you want to go to.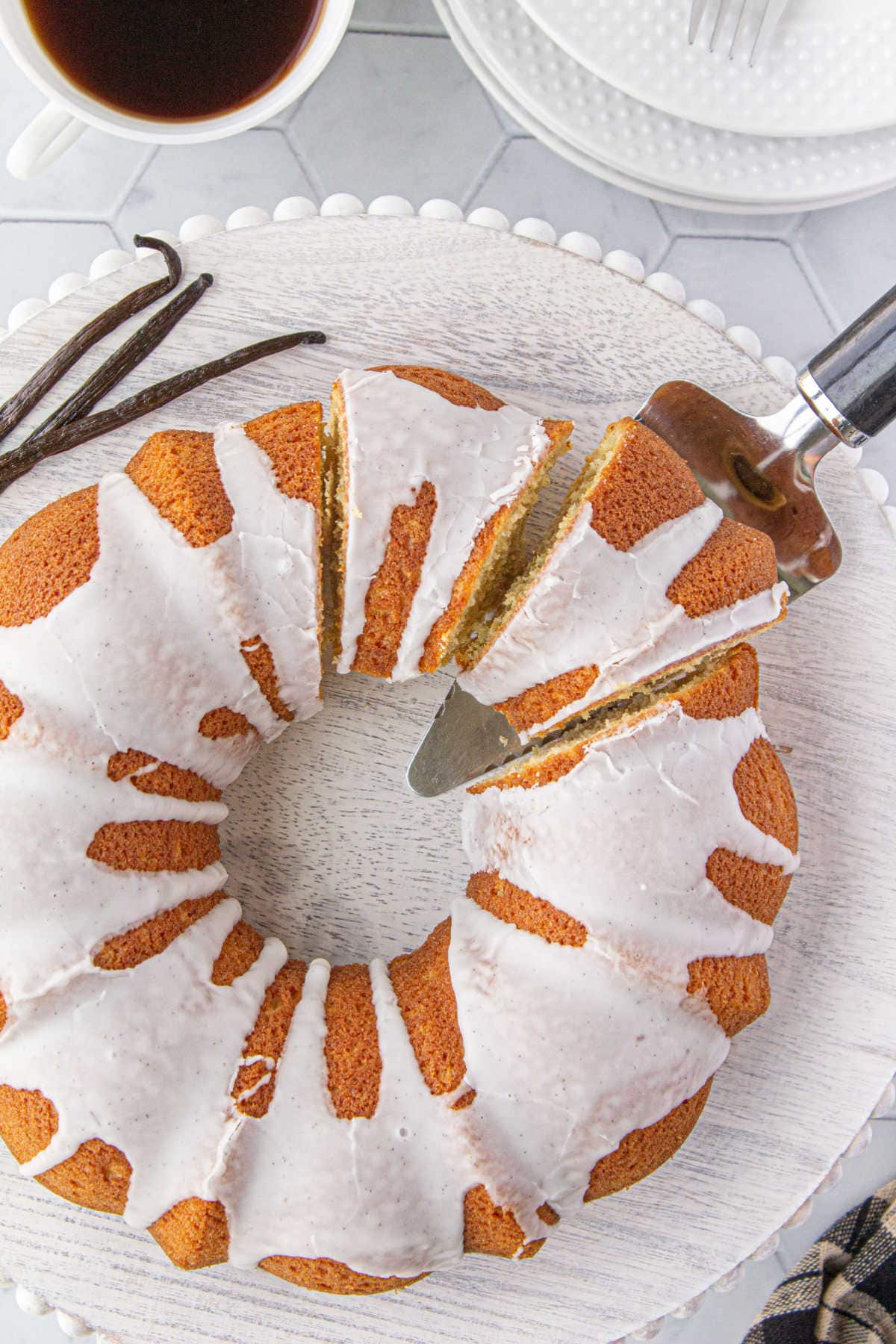 Jump to:
❤️ Why you'll love it
A moist cake that releases perfectly from the pan—every time!
Full of rich brown butter and sweet vanilla flavors
No fancy decorating skills are required for a beautiful cake
This homemade vanilla bundt cake recipe is moist, dense, and just sweet enough to make you keep going back for more.
It's the perfect base for any glaze, sauce, fruit topping, or frosting you can think of, but it's just as good plain with a cup of coffee, too!
🧾 Ingredients
This is an overview of the ingredients. You'll find the full measurements and instructions in the green recipe card (printable) at the bottom of the page.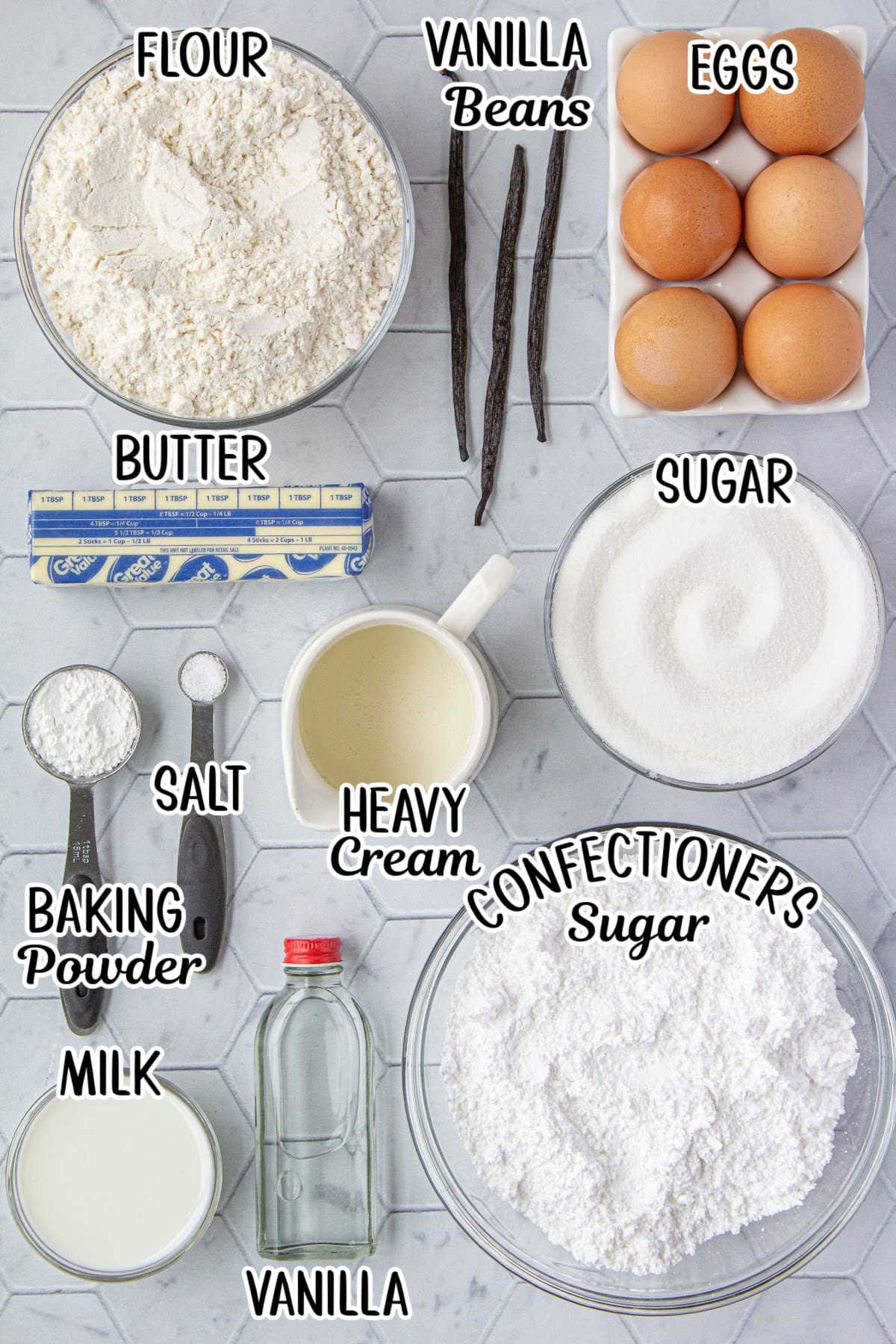 🔪 Instructions
This is an overview of the instructions. Full instructions are in the green recipe card at the bottom of the page.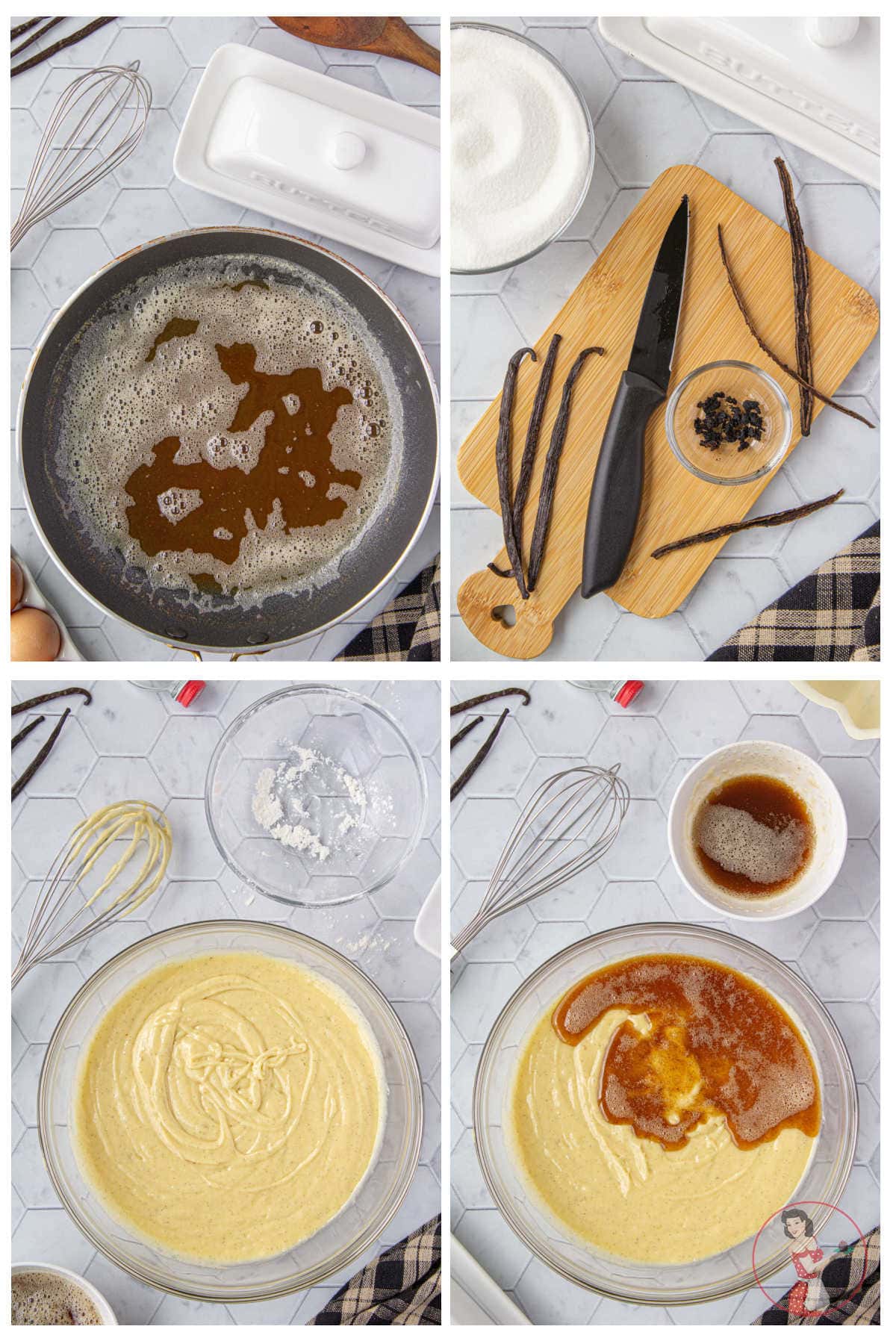 Brown the butter in a heavy saucepan and set aside. Be careful not to scorch it.
Cut the vanilla beans in half vertically and scrap the seeds out. Mush the seeds into the sugar and set aside.
Whisk the dry ingredients together in a bowl. Beat the eggs, sugar, vanilla, and cream in another bowl. Mix the dry ingredients into the sugar mixture.
Fold in the brown butter, spoon into the prepared bundt pan, and bake as directed in the recipe card below.
🥫 Storage
There's nothing better than enjoying a little bit of leftover cake once the party's over. I always loved to sneak a slice after the kids went to bed!
Wrap any leftover vanilla bundt cake slices with plastic, or seal them in an airtight container. Store at room temperature for two days. Move the cake to the fridge to extend the storage life by two additional days.
This buttery vanilla bundt cake is a great candidate for freezing, too. Wrap the unfrosted cake or individual slices with two layers of plastic wrap. Freeze for up to three months!
Let the cake leftovers thaw and warm up at room temperature for the best flavor and texture before enjoying it again.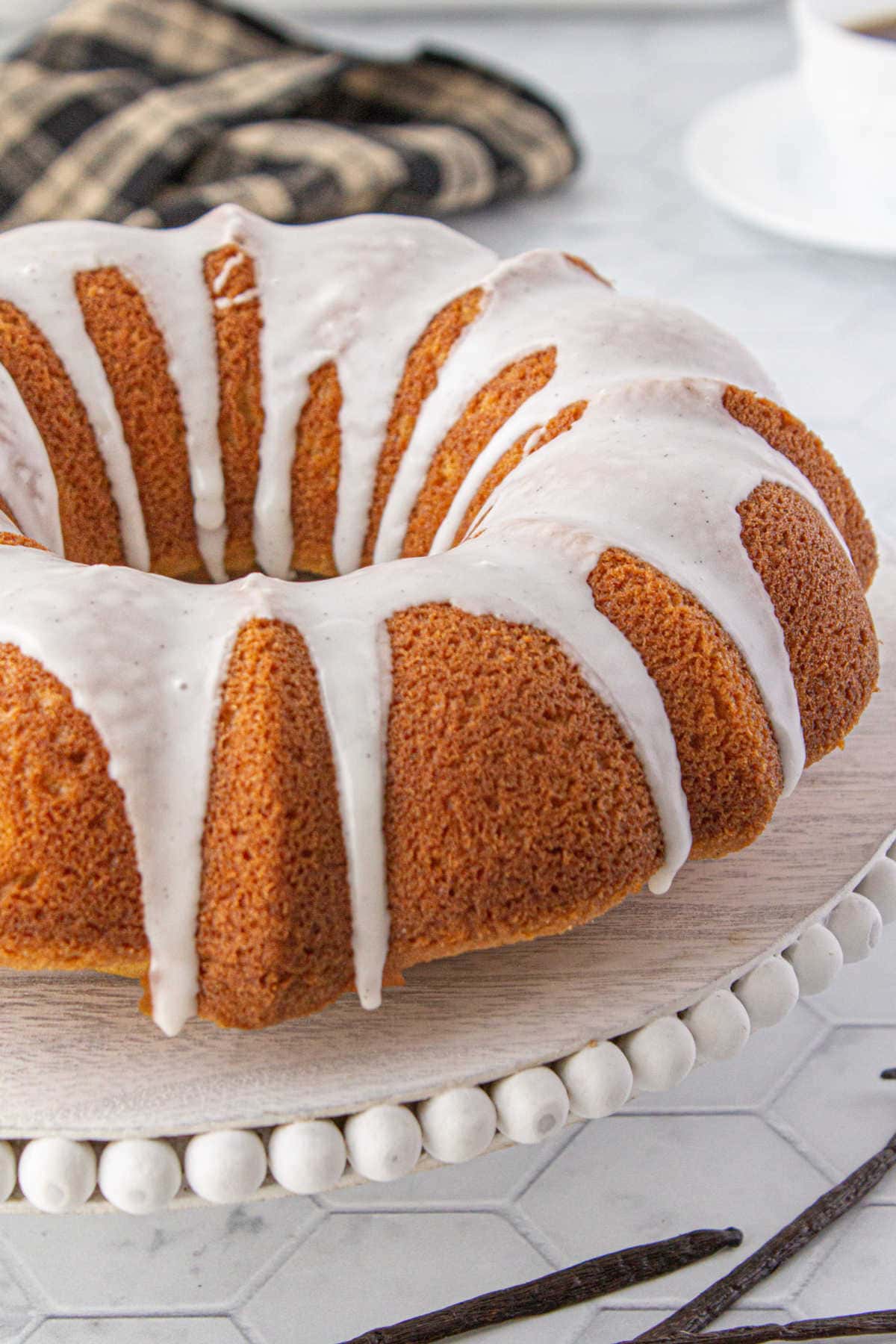 📖 Variations
If you're struggling to find vanilla beans, you can use 2 tablespoons of vanilla bean paste, instead. (It's a syrupy mixture made of real vanilla bean pod flecks, so it'll give the same flavor as the vanilla beans.)
Add floral flavor by mixing a few drops of rose essence or culinary lavender oil into the batter. Be careful—a little bit goes a long way.
Make your birthday cake a little more colorful by adding ¼ cup of sprinkles to the batter before baking. It'll look like a Funfetti cake!
Craving the flavor of a wedding cake, without the fancy dress and shoes? Add ¼ teaspoon of almond flavoring with the vanilla extract.
Stir 1 cup of mini chocolate chips into the cake batter.
Add some fresh lemon zest to the batter and swap the vanilla for orange extract. It adds a slightly zesty flavor to the classic vanilla bundt cake.
You can swap the heavy cream for the same measurement of sour cream if you're in a pinch!
Using a few drops of food coloring, you can tint the batter to match any party or holiday theme!
💭 Things to know
Expert Tip: Don't let the cake cool fully in the pan or it will stick! However, don't try to flip the pan straight out of the oven, or the cake may break. Five minutes of cooling is the "sweet spot."
Use a pastry brush or cooking spray to coat the delicate nooks and crannies of an intricate bundt cake pan. This helps it release smoothly.
Your bundt pan should sit in the center of the oven for the most even cooking. If the top of the pan is too close to the top of the oven, drop the rack down a notch or two from the middle position to center the cake.
When making brown butter, watch it carefully. The mixture goes from dark and caramelly to burnt in the blink of an eye!
Room temperature ingredients are key to everything mixing together smoothly, which creates a perfect texture. I like to pull out my butter, eggs, and heavy cream before I even preheat the oven.
This moist vanilla bundt cake is best made with all-purpose flour. Cake flour is too delicate and can make the whole thing collapse!
After adding the flour mixture, combine gently until everything comes together. Too much mixing at this point can make a tough sponge.
This vanilla cake recipe is done baking when the internal temperature reads 210 degrees F on an instant thermometer.
This cake is delicious with a scoop of ice cream, fresh fruit, or just a simple vanilla glaze.
👩‍🍳 FAQs
Does this vanilla bundt taste like a pound cake?
It is similar! The density and texture are similar to a pound cake, but a little lighter. Pound cakes are a specific recipe that can be made in a tube, loaf, or bundt pan. This is a good bundt cake recipe if you enjoy the flavor of a classic vanilla pound cake.
Can I use vegetable oil instead of melted butter?
Vegetable oil technically works as a substitute for melted butter, but you will lose so, so, SO much delicious flavor. With such simple ingredients, you want the best flavors to shine through. So, I really recommend browning butter and using that.
How do you know when the cake is finished baking?
The top will look golden brown and the edges will just slightly start pulling away from the pan. A great way to know for sure is by inserting a cake tester or a long toothpick near the center. (There shouldn't be any batter on the tester, but moist crumbs are okay.)
Can I freeze the bundt cake whole?
Absolutely! Follow the directions under the "Storage" section earlier on this page. However, it's best to freeze the cake without any glaze or icing.
Why is it called a bundt cake?
Many people think the term "bundt cake" comes from the German word "bundkuchen," which refers to a version of coffee cake.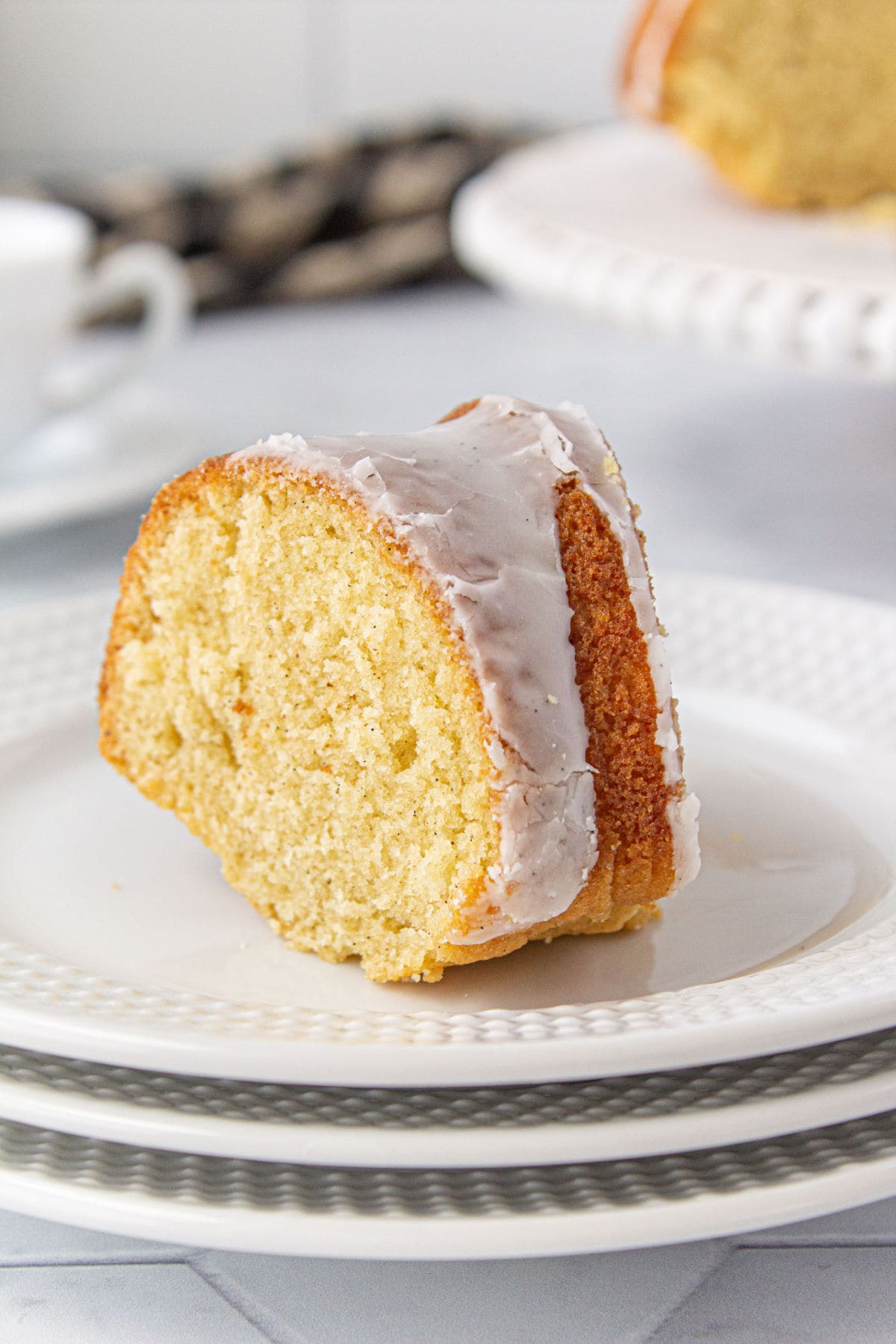 📚 Related recipes
🍽️ Serve with...
🥄 Restless Chipotle recommends
The following are affiliate links. We are a participant in the Amazon Services LLC Associates Program, an affiliate advertising program designed to provide a means for us to earn fees by linking to Amazon.com and affiliated sites.
You'll need the following items to make this recipe successfully.
A bundt pan - I love Nordic Ware products because they are sturdy and last forever. There are tons of different designs, too!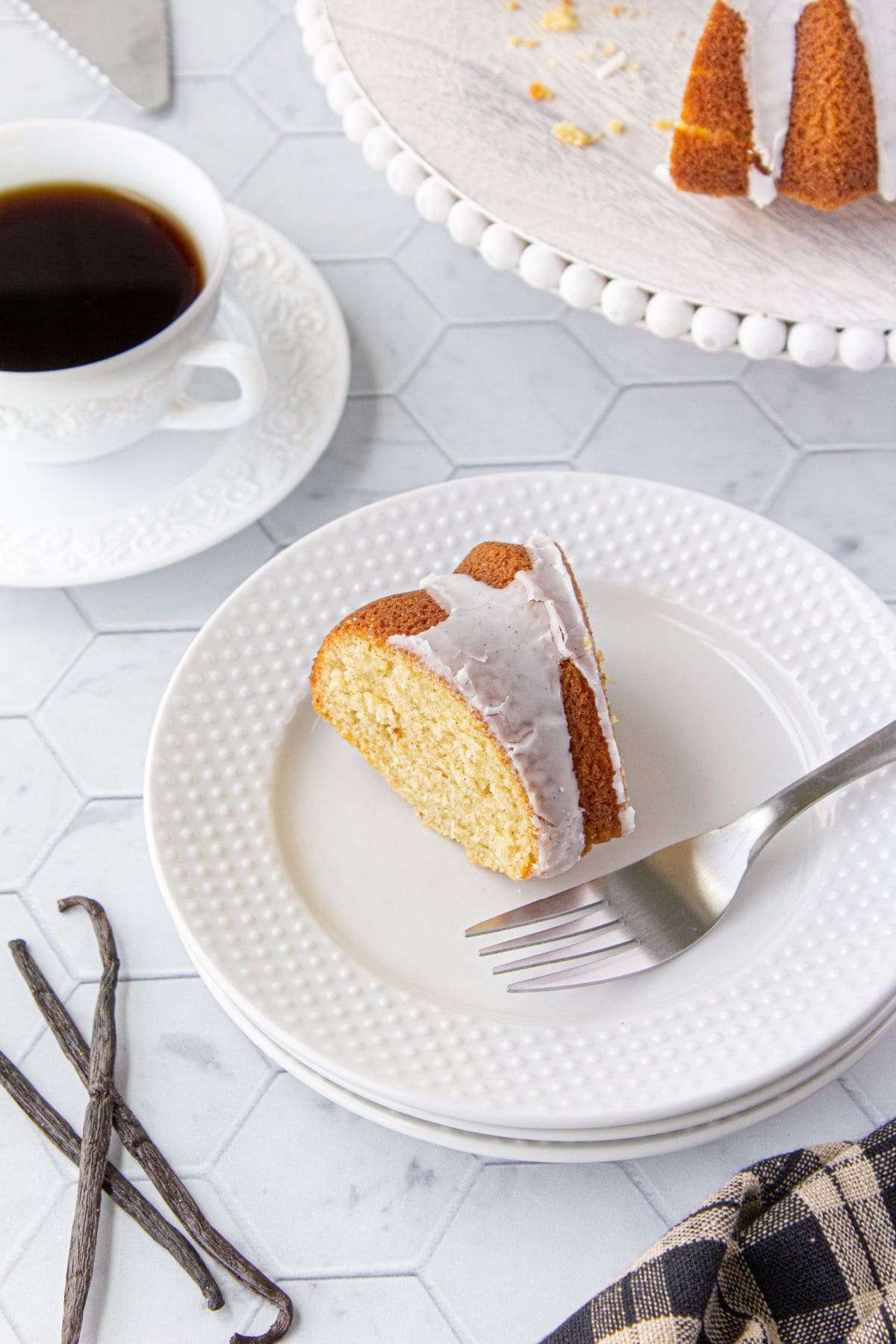 📞 The last word
This vanilla bundt cake recipe is made with brown butter and vanilla bean for flavor that explodes with every bite.
It's an easy cake that's the perfect go to recipe for almost anything from strawberry shortcake to birthday cake!
I think this Jack Daniels caramel sauce would be amazing served alongside!
If you click on the number of servings in the recipe card you can adjust the measurements up or down for the exact number of servings you need. Don't forget that you can click on "add to collection" to save it to your own, private recipe box!
If you love this recipe please give it 5 stars! ⭐️⭐️⭐️⭐️⭐️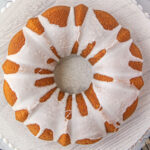 Vanilla Bean Brown Butter Bundt Cake
Print
Pin Recipe
Save
Go to Collections
A simple, basic vanilla bundt cake gets a pop of flavor from brown butter and vanilla beans. So moist and delicious - it's the perfect base for shortcake or ice cream.
As an Amazon Associate I earn from qualifying purchases.
Ingredients
Cake
Optional Glaze
2

cups

Confectioner's sugar

,

sifted and lumps removed

3

tablespoons

milk

½

teaspoom

clear vanilla extract

seeds of one vanilla bean
I earn a commission from Instacart from qualifying purchases.
Instructions
Preheat the oven to 350F.

Generously butter and flour a bundt pan, shaking out any excess flour. Or use non-stick cooking spray.

In a heavy saucepan melt the butter until it turns a rich, golden brown. Be careful not to let it burn.

Add the sugar to a large bowl.

Split the vanilla beans in half and scrape the seeds in to the sugar.

Smush the vanilla beans into the sugar with a big spoon until the sugar is moist and smells like vanilla.

Whisk the flour, salt, and baking powder together in another bowl.

Beat the eggs into the sugar until light - about a minute on high speed of an electric mixer.

Beat in the vanilla extract then the cream.

Stir in the dry ingredients until the batter is smooth.

Fold in the melted butter in 2 different batches, mixing well after each.

Spoon the batter into the pan.

Bake for 55 minutes or until a cake tester comes out clean.

Cool in the pan for five minutes and then turn out to cool all the way.
Optional Glaze
Mix the glaze ingredients together until smooth.
Notes
Storage:
Wrap any leftover vanilla bundt cake slices with plastic, or seal them in an airtight container. Store at room temperature for two days.
Move the cake to the fridge to extend the storage life by two additional days.
This buttery vanilla bundt cake is a great candidate for freezing, too. Wrap the unfrosted cake or individual slices with two layers of plastic wrap. Freeze for up to three months!
Let the cake leftovers thaw and warm up at room temperature for the best flavor and texture before enjoying it again.
Tips:
Grease and flour the bundt pan very well all through the inside, including the tube that sticks up in the middle. If your pan is very decorative you will probably get better results if you use a baker's release spray generously.
Cool for 5 to 10 minutes then carefully run a knife around the inside of the pan to loosen the cake. Place a baking sheet or big plant over the top of the pan and flip over so that the cake slides out onto the cookie sheet.
If you let it cool completely in the pan it will stick. If this happens you can try putting it back in the oven to warm it back up.
This cake freezes well for up to 3 months. Leave it unglazed and unfrosted.
Store the finished cake in a cake carrier that seals tightly or wrap it in plastic wrap.
This was tested in a 6-cup bundt pan.
Variations
Use rosewater for flavoring
Add ¼ cup sprinkles to the batter
Add ¼ teaspoon almond flavoring in with the vanilla extract
Add 1 cup mini chocolate chips to the batter
Nutrition Facts
Calories:
191
kcal
|
Carbohydrates:
28
g
|
Protein:
3
g
|
Fat:
8
g
|
Saturated Fat:
5
g
|
Cholesterol:
22
mg
|
Sodium:
52
mg
|
Potassium:
70
mg
|
Fiber:
1
g
|
Sugar:
16
g
|
Vitamin A:
251
IU
|
Calcium:
23
mg
|
Iron:
1
mg
Sign up for the emails and never miss another recipe!!
We'll never share your email or send you spam. Pinkie swear.
✍🏻 A note from Marye...
I know y'all don't always like the stories bloggers tell so when I have one I try to put it at the very bottom so you can read or skip as you like.
I was in the mood to bake a cake the other night. I didn't really have time for a full blown layer cake with all kinds of gooey yumminess... I wasn't even in the mood for that.
I wanted something simple and easy.
Simple and easy - like this amazingly moist and dense bundt cake with the nutty goodness of browned butter and.
This cake is seriously good, not cloyingly sweet like a yellow cake but delicately sweet in a way that encourages you to take another bite.
And another. And... well, you know. Another.
First published March 3, 2015. Last updated March 24, 2023 for better images and more information.