Tomato swirl bread is a recipe that I came up with a couple of years ago. I love tomato soup and toasted cheese, I mean who doesn't, right? Well this bread is the perfect bread for the toasted cheese sandwiches that you dunk into the soup…It is also fantastic with summer salads and anything else you want to make. I originally posted this in 2007 and I need to update the images….In the meantime give this a try…it really is good.
YUM! This has a faint aftertaste of tomato soup!
I took the original tomato bread recipe from The Farm Journal Bread Cookbook. I did tweak it a bit as I felt that whole wheat would need a stronger flavor. This scented the entire kitchen this morning. It would make great toast to go with tomato soup, or cheese soup…it would be a good base for burgers…or even a bologna sandwich.
Dough 1-tomato
1 c tomato sauce
2 tbs butter
2 tbs brown sugar
1/2 tsp salt
1/2 tsp cloves (just trust me, o.k.?)
2 Tbs ketchup
1 package of dry yeast (or 2 1/4 tsp)
1/4 c warm water
4 cups or so of whole wheat flour OR white flour OR a blend. I used whole wheat.
Soften yeast in water.
Heat tomato sauce, butter, and ketchup and let cool to lukewarm. Add sugar, cloves, salt and yeast mixture to tomato mixture and mix in enough flour to make a soft but kneadable dough (or mix according to mixer directions).
Turn out and knead until smooth and elastic.
Rub lightly with oil and set aside to rise.
Dough 2- whole wheat
1 1/2 c warm water
2 Tbs butter
2 tbs brown sugar
1 tsp salt
1 pack dry yeast (or 2 1/4 tsp)
4 cups or so whole wheat flour
Soften yeast in 1/4 c water with sugar. TO other 1 1/4 c water add butter until butter melts (you may need to microwave it and let cool to luke warm). Add salt and yeast mixture…then add flour until you get a soft, kneadable dough…proceed as above.
Let balls of dough rise until double-about 1 1/2 hours. punch down and knead lightly…cut each ball of dough into 2 equal pieces. Let rest 10 minutes.
Roll each ball out into a rectangle of equal sizes. Place a tomato dough rectangle on top of a whole wheat rectangle and roll up tightly pinching dough together at bottom to seal. Repeat with other loaf.
Let rise in greased bread pans for 1 hour or until double.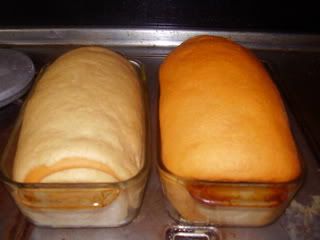 Bake at 375 for 30 minutes or until loaves sound hollow when tapped…Let cool if you can.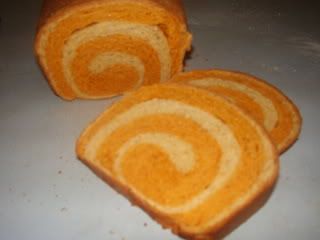 Love this? Please share!
You may also like: