This herb baked chicken with cream gravy is easy comfort food anytime of the year.
Comfort food. Whether you have been traipsing through the snow all afternoon or have had one "those" days at work it's likely that there is some sort of food that you crave. There is something that smooths the most frayed nerves, wipes the slate clean on the most chaotic day, and creates a happy place where-ever you are.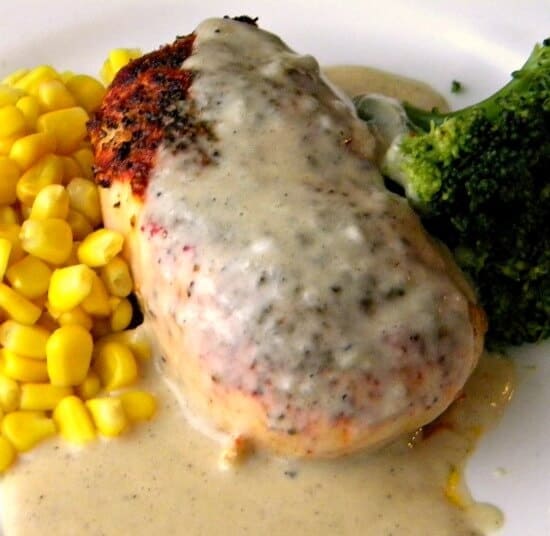 If baked chicken with cream gravy is not one of those things then more than likely, once you make this recipe, it will be. The chicken breast is meltingly tender and juicy with a thin crust of herbs. A little butter is melted on top during the baking to give the chicken both flavor and a more golden color. Once plated, velvety smooth cream gavy is ladled over the top, steaming and fragrant with the drippings from the chicken.
And if that doesn't entice you to give this a try I don't know what will.
Menu Suggestion
Baked Herbed Chicken with Cream Gravy
Mashed potatoes or fried potatoes
Steamed broccoli
Biscuits or rolls
Honey butter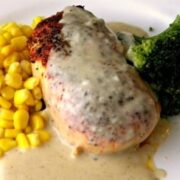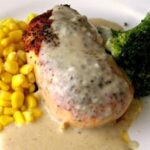 Herbed Baked Chicken with Cream Gravy
Print
Save
Go to Collections
Tender chicken breast flavored with herbs and smothered in smooth country style gravy
As an Amazon Associate I earn from qualifying purchases.
Ingredients
8 6-

oz

chicken breasts

4

tablespoons

butter

½

teaspoon

smoked paprika

¼

teaspoon

ground ancho chile

¼

teaspoon

garlic powder

Salt and pepper as needed

4

tablespoons

all-purpose flour

2

tablespoons

butter

4

tablespoons

drippings from chicken

½

teaspoon

salt

¼

teaspoon

ground black pepper

1

cup

milk

⅓

cup

half and half
Instructions
Preheat oven to 350

Mix herbs and rub over the chicken breasts

Place chicken in a 13 x 9 inch dish

Dot each chicken breast with ½ tablespoon of butter

Bake until chicken reaches about 160F (20-30 minutes)

Remove from oven, tent with foil and allow to stand while preparing the gravy. Chicken will finish cooking to 165F during standing time

Add the drippings from the baking dish to a pan over medium heat

Add butter and allow it to melt

Add the flour and whisk until flour is thick and begins to get golden

Add the milk and half and half whisking constantly

Cook until gravy thickens

Taste and add salt and pepper to taste
Notes
Be generous with the pepper!
Sign up for the emails and never miss another recipe!!
We'll never share your email or send you spam. Pinkie swear.