Sweet. Spicy. Rich with caramelized onion flavor. Really, y'all, this recipe has it all.
Don't want to scroll through the page to get to the recipe? Use the table of contents to click on the section you want to go to.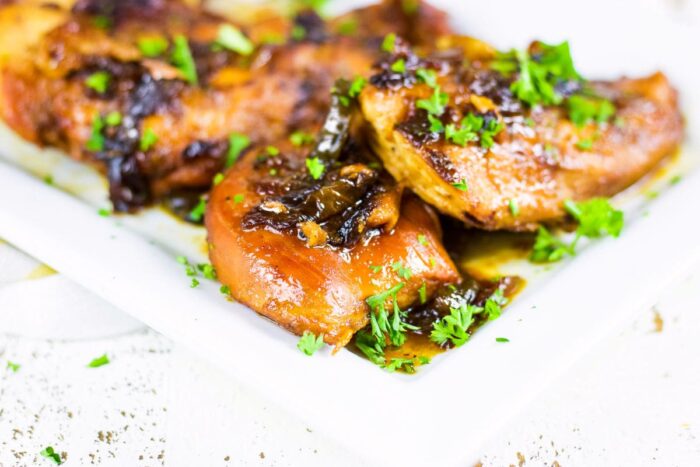 Jump to:
❤️ Why you'll love it
Only takes 5-10 minutes of prep at the most
Great for busy weeknights and as an easy date night dinner, too
The best chicken dish to make in big batches for family and friends—and it doesn't break the bank!
This caramelly sweet and slightly spicy garlic brown sugar chicken has a perfect balance of flavor and goes great with any of your favorite sides.
It's a mouth-watering, delicious new recipe that will make your entire family excited to hear the words "easy chicken dinner!"
🧾 Ingredients
This is an overview of the ingredients. You'll find the full measurements and instructions in the green recipe card (printable) at the bottom of the page.
Chicken breast, thighs, or bone in chicken parts
Onion
Jalapeno (optional)
Garlic (or garlic powder or both)
Butter
Brown sugar
Oil
🔪 Instructions
This is an overview of the instructions. Full instructions are in the green recipe card at the bottom of the page.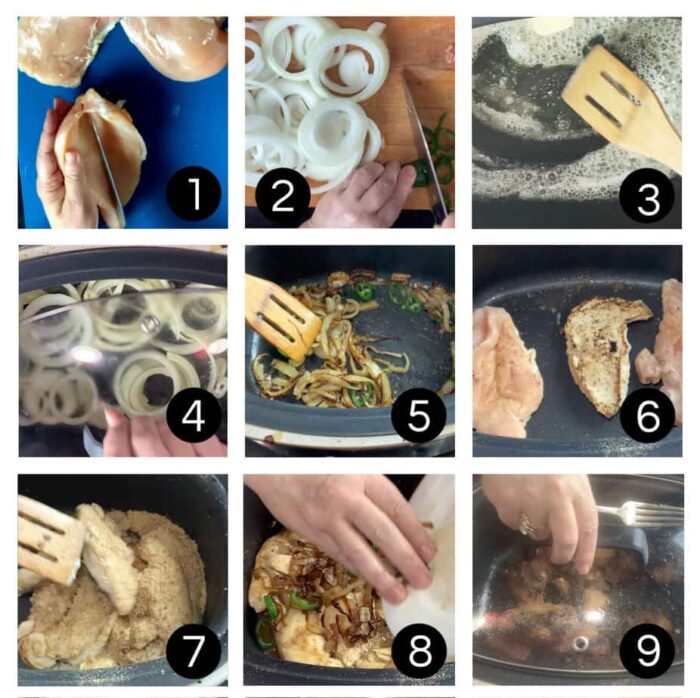 Adding the extra step of caramelizing the onions and searing the chicken in the butter that was used is what sets this recipe apart. It will take you an extra 10 to 15 minutes, and you can omit the step, but it really perks up this version of brown sugar garlic chicken.
Butterfly the chicken breasts, if using.
Slice the onions and jalapeno.
Melt 2 tablespoons of butter and the oil in a skillet. This will give it flavor but the butter won't burn as easily as it would if it was just butter.
Add the onions, and slowly saute, stirring often, until they are a rich, golden brown. You can chop them or leave them in slices - I always opt for slices because they are easier for my onion haters to remove from their serving.
Add the jalapeno and cook another minute or two. You can skip this if you don't like spicy but I love the combination! If you're using freshly chopped garlic you'll want 3 cloves and you'll add it with the jalapeno.
Sprinkle salt, pepper, and garlic powder over the chicken. Remove the onion mixture from the pan and add the chicken breasts, a few at a time. If you add too many at once they'll steam. You want a good caramelization on the outside without them being cooked on the inside. This helps keep them moist and delicious! Sear just to put some color on each side.
Add the brown sugar and stir well.
Top with the caramelized onions.
Cover and cook on low for 8 hours. OR bake for 20 minutes (or until internal temperature of the chicken is 160F)
🎥 Video
Click on the image to watch me make this recipe from start to finish with extra tips! (Video opens in a new tab).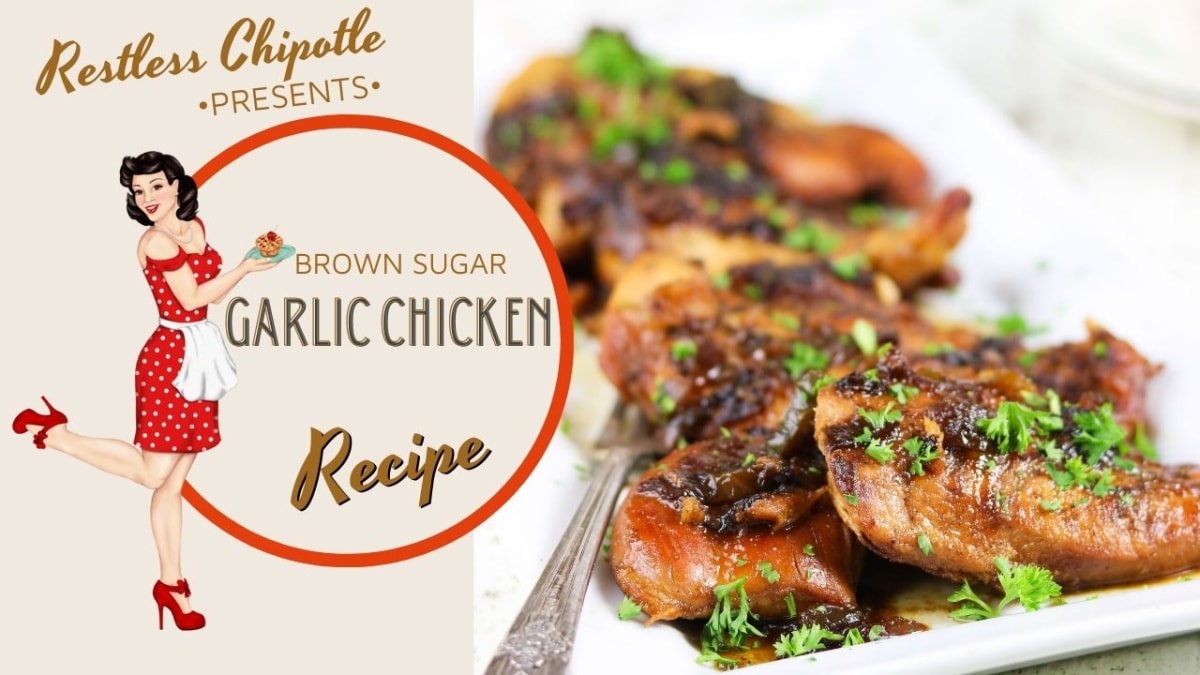 🥫 Storage
This brown sugar chicken recipe makes great leftovers. For that reason, it's also one of my favorite dishes to share with friends in need as an easy-to-prep freezer meal!
Once the leftovers have cooled to room temperature, store 'em in an airtight container or freezer bag. I like to vacuum seal individual portions so the family can grab some as they need it.
In the fridge, leftover chicken lasts for about three days. Frozen, the savory, saucy meal will last for up to three months.
Thaw the frozen brown sugar garlic chicken in the fridge for about a day, before transferring it to a microwave-safe dish. Slice the baked chicken into a few large pieces (this'll help it reheat more evenly.) Then, microwave for a few minutes, stirring every so often, until it's hot and steamy.
📖 Variations
Feel free to use pork instead of chicken. The brown sugar sauce tastes great with pork chops and tenderloin!
Omit the salt and use two tablespoons of soy sauce for an Asian twist.
Don't like to chop garlic yourself? Buy pre-minced, or use 1 ½ teaspoons of garlic powder instead.
Add some veggies. We like it with red and green bell peppers, or sliced carrots and celery.
If you want an extra spicy sauce, add a teaspoon of red pepper flakes. (You can also garnish with hot sauce at the end to taste.)
Making it in the oven? Wrap the chicken in bacon before baking. One caution: this doesn't work in the crockpot!
Still want bacon, but cooking in the crock pot? Saute some bacon with the onion, then add it to the recipe as written.
Brighten things up by squeezing a lemon, orange, or lime over the top of the chicken before serving.
Or, garnish with fresh herbs. Green onion, parsley, or thyme complement the flavors of the sweet brown sugar really well.
💭 Things to know
Expert Tip: Sear the chicken in a large, oven-safe, cast iron skillet. That way, you can pop everything thing straight into the oven—and save yourself from cleaning extra dishes!
Pound boneless chicken pieces with a meat mallet (or rolling pin) until they're an even thickness. This will help them all cook at the same rate.
You can skip the caramelizing and searing process, but it adds so much flavor with just a few minutes of effort. I pinky-promise, it's worth it!
Dab the chicken with a paper towel before searing it. You'll get a better, crisper crust if there isn't any excess moisture.
Remember, you don't need to fully cook the chicken over the stove. Just sear it until it's a nice, golden brown.
If the sauce is too liquidy at the end, remove the crockpot lid and cook for an extra 30 minutes to reduce (thicken) it. You can also pour the sauce into a pan and simmer it until thick. Scrape the bottom often as the brown sugar mixture can burn quickly.
The cooking time will ultimately depend on the size of the chicken pieces. I always recommend starting to check with an instant-read thermometer a few minutes before the cook time has elapsed.
You can make this easy recipe in advance by caramelizing and searing the ingredients and combining them all into a baking dish. Cover tightly with aluminum foil or plastic wrap. Refrigerate for up to two days, or freeze for three months. (If frozen, let thaw in the fridge overnight before baking.)
👩‍🍳 FAQs
What does garlic brown sugar chicken taste like?
The name describes it pretty well! If you've ever tried popular bourbon chicken, it's similar. Sweet, a little spicy, savory from the caramelized onions, and so, so, so satisfying.
Can I use bone-in chicken?
Sure thing! This recipe is great with boneless, skinless chicken breasts or thighs, but it's also delicious with bone-in meat. Just be sure to check the internal temperature for doneness before enjoying—it should reach 160 degrees F.
Do I have to remove the skin from the chicken?
Nope, feel free to use skin-on chicken pieces. However, I do recommend oven preparation in this case. And, don't skip the searing step! There's nothing better than crispy chicken skins that cut open to reveal moist and juicy oven-baked meat.
How do you serve garlic brown sugar chicken?
It's so versatile and truly the star of the show. We love it served with our favorite sides and something to scoop up the extra sauce, of course! Try it with rolls, fresh bread slices, or even over white rice.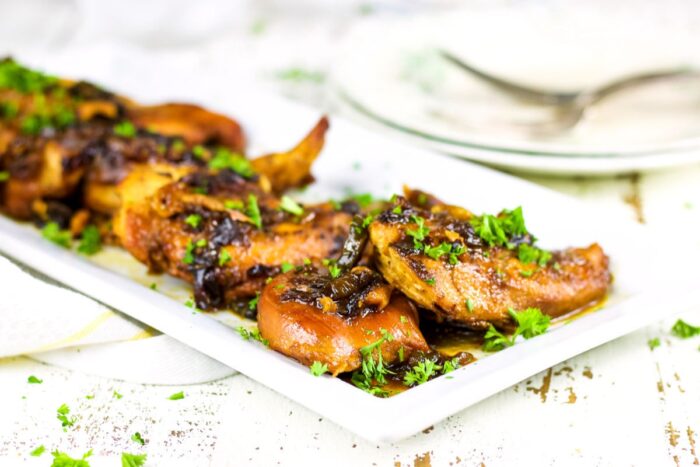 📚 Related recipes
🍽️ Serve with...
📞 The last word
This brown sugar chicken is memory making food. It's one of those recipes that family members look back on with a smile because it feeds the soul as well as the tummy.
Because it's so versatile I like to take it to potlucks - you can grab a giant bag of chicken thighs at Costco very inexpensively and just make a big batch. It's great for taking to families who are sick, sad, or celebrating - and they'll want the recipe, for sure.
Serve with roasted sweet potatoes and a salad - so simple but SO delicious!
Try this fiesta chicken next! Full of southwestern flavor!
If you click on the number of servings in the recipe card you can adjust the measurements up or down for the exact number of servings you need. Don't forget that you can click on "add to collection" to save it to your own, private recipe box!
If you love this recipe please give it 5 stars! ⭐️⭐️⭐️⭐️⭐️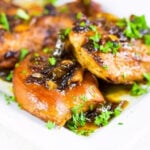 Brown Sugar Chicken
Print
Pin Recipe
Save
Go to Collections
This simple garlic brown sugar chicken recipe is made in the slow cooker or oven with almost no prep time! It's one of my favorites for weekends when I don't want to fuss.
As an Amazon Associate I earn from qualifying purchases.
Ingredients
¼

cup

butter

,

divided use

1

tablespoon

oil

2

pounds

chicken breast

,

or thighs or chicken parts

2

cups

onion

,

sliced

1

jalapeno

,

cleaned and sliced

⅓

cup

brown sugar

2

tablespoons

garlic

,

or 1 ½ teaspoons garlic powder

pepper
I earn a commission from Instacart from qualifying purchases.
Instructions
Optional Step - Caramelize Onions and Sear Chicken
Melt 2 tablespoons of butter and the oil in a skillet.

Add the onions, and slowly saute, stirring often, until they are a rich, golden brown.

Add the jalapeno and cook another minute or two.

Sprinkle salt, pepper, and garlic powder over the chicken.

Remove the onion mixture from the pan and add the chicken breasts, a few at a time.

Sear just to put some color on each side.
In the Slow Cooker
Add the remaining butter to the slow cooker and let it melt.

Add the chicken and brown sugar.

Stir to coat in the brown sugar.

Add the onions, jalapeno, and chopped garlic (if using) on top.

Cover and cook 8 hours on low.
In the Oven
Add the brown sugar to to skillet with the chicken breast and stir to coat.

Top with the onion mixture and fresh garlic if using.

Add the skillet to the oven and bake 20-30 minutes or until the internal temperature of the chicken in 160°.

Remove and let stand for 5 minutes. The internal temperature will continue to rise to a perfect 165°.
Notes
Variations
There's a lot of different ways to change up this dish! It's similar to the bourbon chicken but with a more savory flavor.
Saute bacon with the onion
Use pork instead of chicken
Omit salt and use 2 tablespoons soy sauce for a more Asian flavor
Add a red and green Bell pepper strips
Add sliced carrots and/or celery
Wrap the chicken in bacon before baking in the oven (this does not work with slow cooking!)
A squeeze of lemon, orange, or lime over the top before serving really brightens it up!
If you like it extra spicy add 1 teaspoon of crushed red peppers.
Storage
You can store leftovers, tightly covered, in the refrigerator about 3 days OR freeze for up to 3 months. I like to vacuum seal individual sized portions and freeze so the family can warm it up as needed.
Tips
If the sauce is too liquidy you can uncover and cook for an extra 30 minutes to reduce the liquid OR, what I tend to do because I am impatient, pour off the sauce into a pan and simmer it until it's thickened then add it back to the chicken.
If you are cooking in the oven put the whole skillet in a 375F oven. If your skillet is not oven safe then transfer the chicken to a greased baking dish. This is why I like to use a cast iron skillet - you can cook and bake in the same one!
You'll want something to sop up the sauce. I love this easy baguette for doing just that!
Nutrition Facts
Calories:
333
kcal
|
Carbohydrates:
18
g
|
Protein:
33
g
|
Fat:
14
g
|
Saturated Fat:
6
g
|
Cholesterol:
117
mg
|
Sodium:
249
mg
|
Potassium:
664
mg
|
Fiber:
1
g
|
Sugar:
14
g
|
Vitamin A:
307
IU
|
Vitamin C:
9
mg
|
Calcium:
37
mg
|
Iron:
1
mg
Sign up for the emails and never miss another recipe!!
We'll never share your email or send you spam. Pinkie swear.
First published April 3, 2020. Last updated April 29, 2023 for readability and better user experience.