Here are 50 of the best cheesecake recipes I could find. Dense, rich, creamy cheesecake. It's one of those recipes that seems to be too difficult to make at home and yet it isn't hard at all. Cheesecake comes in infinite variations and flavors, baked or no-baked, and is just as perfect for a fancy dinner as it is a family meal.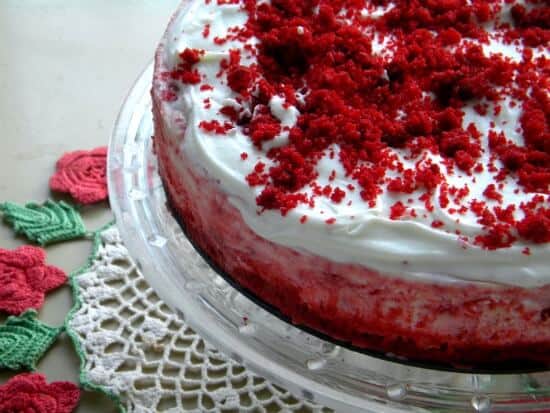 I learned to make cheesecake when I was in my 20s and I loved it so much that I began selling them to local restaurants. Once you ind a recipe that you love, and that works for you, it's easy to create variations. Cheesecake is expensive but don't buy inferior ingredients or your cake just won' be as good.
Remember, practice makes perfect! 🙂
I'm pretty sure I have shared these tips before but here they are again. Cheesecake is really easy to make, and it can be perfect every single time if you remember these -
Tips for Perfect Cheesecake
Prebaking your crust will keep it from getting soggy.
Always have all ingredients at room temperature.
Beat the cream cheese until it is smooth and satiny before adding the rest of your ingredients.
Never whip or beat the batter.
Add eggs one at a time, mixing 2 minutes or so between each.
ALWAYS mix ingredients at the lowest speed possible with paddles. You don't want air getting into your batter.
Give the pan a quick drop on the counter to release air bubble. A small drop...don't stand on a chair or anything. three inches is plenty.
Wrap the bottom of the springform pan tightly with aluminum foil so it is waterproof.
Use a bain marie (water bath - just put your springform in a larger pan and half fill with hot water)
Follow directions exactly.
Use the proper oven temperature.
Don't open the oven until it's time to take the cake out. For some recipes this may mean AFTER a resting period in the closed, turned off oven.
Don't over bake! It should be slightly jiggly in the middle.
Allow to come to room temperature before chilling overnight or at least 6 hours.
Place paper towel on the top before refrigerating to absorb moisture.
Store tightly covered and not with onions, garlic, or other strong flavors.
Use a good cream cheese. I like Philadelphia because it always works for me.
Leave the springform sides on until serving time. Then loosen the clasp slowly. If it seems to be sticking run a knife around it.
Here are the 50 best cheesecake recipes on the Internet. The criteria for my choices? A balance between easy to make, unique flavors and styles, and clear instructions. The hardest thing about this list is which to make first.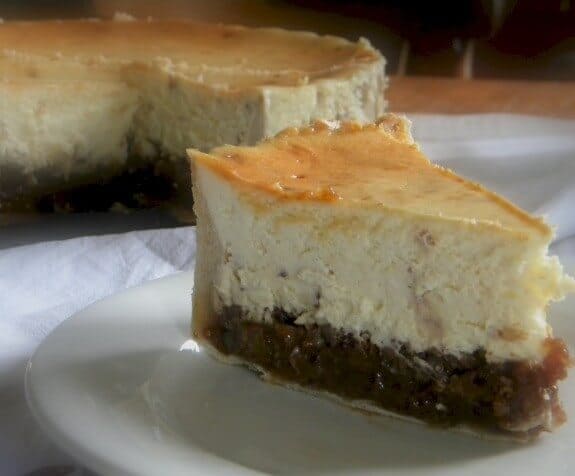 Hot Buttered Rum Pecan Pie Cheesecake
50 Best Cheesecake Recipes Anywhere!