Wondering what to serve with baked brie that's not the same old thing? I've got you with over 100 easy ideas to inspire your imagination!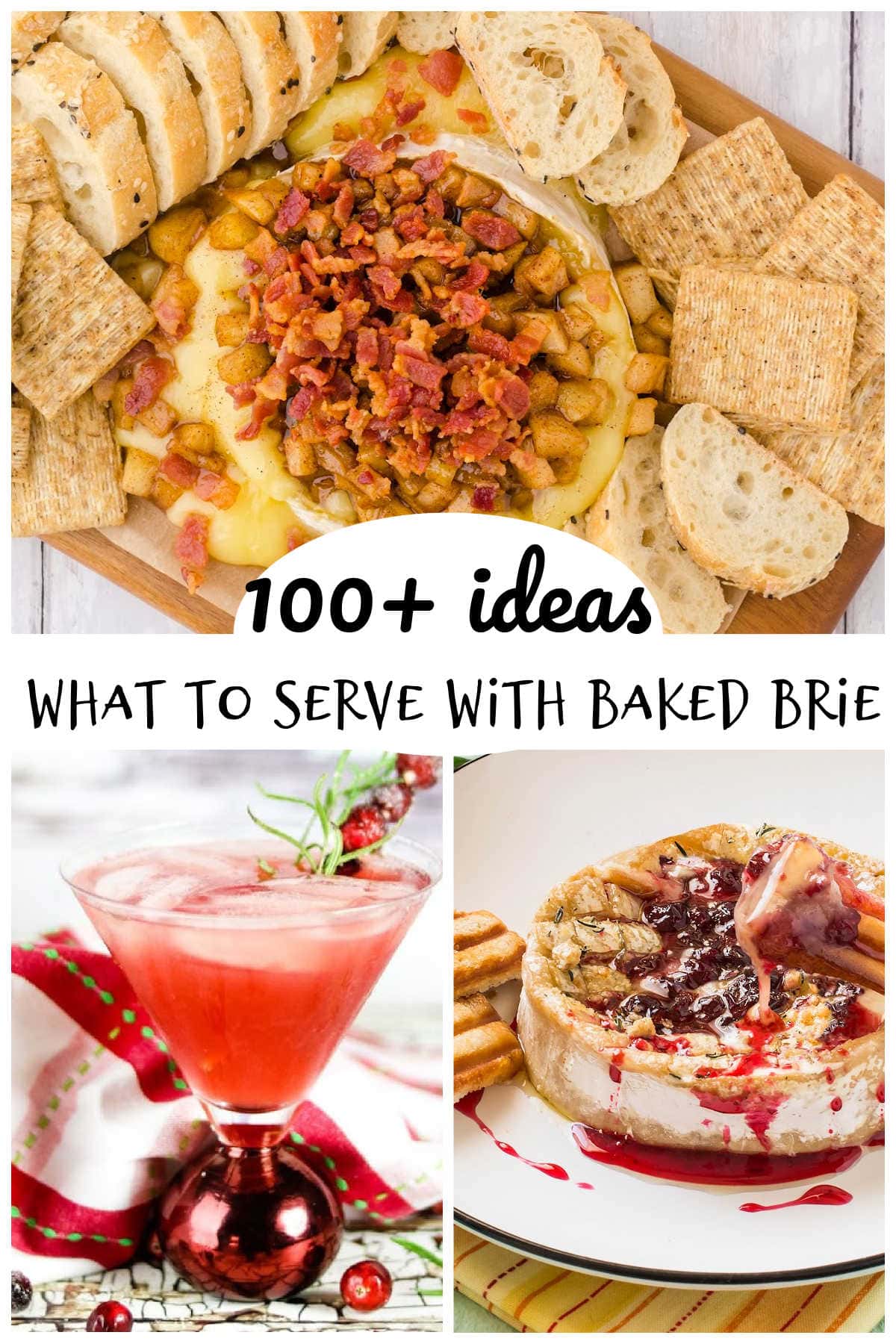 Jump to:
❤️ Why we love it
Baked brie is an easy appetizer that is as perfect for a fancy cocktail party as it is for a family movie night.
It takes just 10 minutes to bake.
You can make it work for any occasion by changing the toppings.
Baked brie is always a crowd pleaser on charcuterie boards, cheese plate, or served on it's own in an oven-safe dish. I like a small cast iron skillet for serving
While this is usually served as a delicious party appetizer I like it as a light main dish with a salad and some fresh fruit.
Following are some basic ideas to use as inspiration.
🥧 Crusts
To crust or not to crust?
Brie cheese can be baked as it is or the full wheel of cheese can be placed inside pastry dough and baked that way (brie en croute).
Either way it's delicious!
If you're baking brie in a crust then you'll generally slice the rind of the cheese off the top, cover with the pastry, and bake it at the temperature stated for the dough you're using.
For example, baked brie in flaky puff pastry dough is baked at 400F while baked brie in a pie pastry crust would be baked at 375F.
Go by the instructions on the package of dough or in the recipe.
Any of the toppings are usually placed on top of the wheel of brie before you cover it in the pastry.
puff pastry
refrigerated crescent roll dough
phyllo dough
hollow out a enough space in a round loaf of bread to bake it inside the bread
🍯 Toppings
The ability to use so many different kinds of toppings make this the perfect appetizer!
Use these singly or in your favorite combinations. The toppings are generally added after the brie is baked unless you are tucking it beneath a crust.
🫒 Savory
caramelized onions
olive tapenade - homemade or purchased
drizzle of olive oil
drizzle of balsamic vinegar
roasted garlic
sun dried tomatoes in olive oil
crispy bacon
pesto
pecans
walnuts
almonds
pine nuts
fresh herbs
prosciutto
cornichons (small sour pickles)
🍐Sweet
dried cherries
dried cranberries
apples diced and sauteed in butter and cinnamon
pears diced and sauteed in butter and cinnamon
roasted pineapple
fruit pie fillings - just chop them up
raisins
dates
most dried fruit
raspberry jam or preserves
drizzle of maple syrup
drizzle of honey
brown sugar
cranberry sauce
drizzle of caramel sauce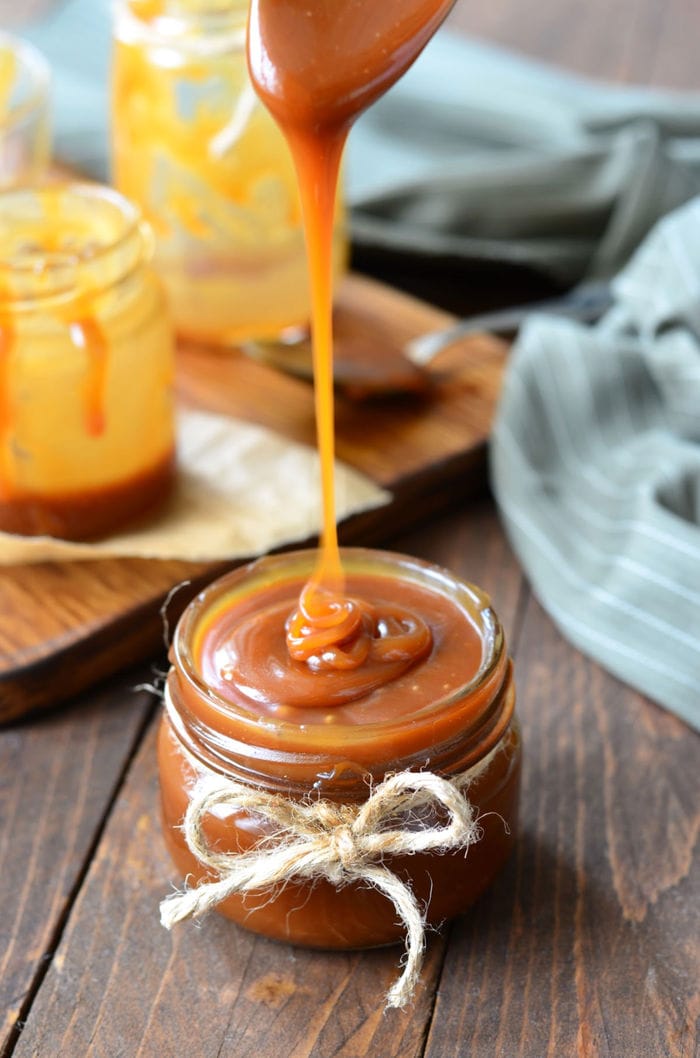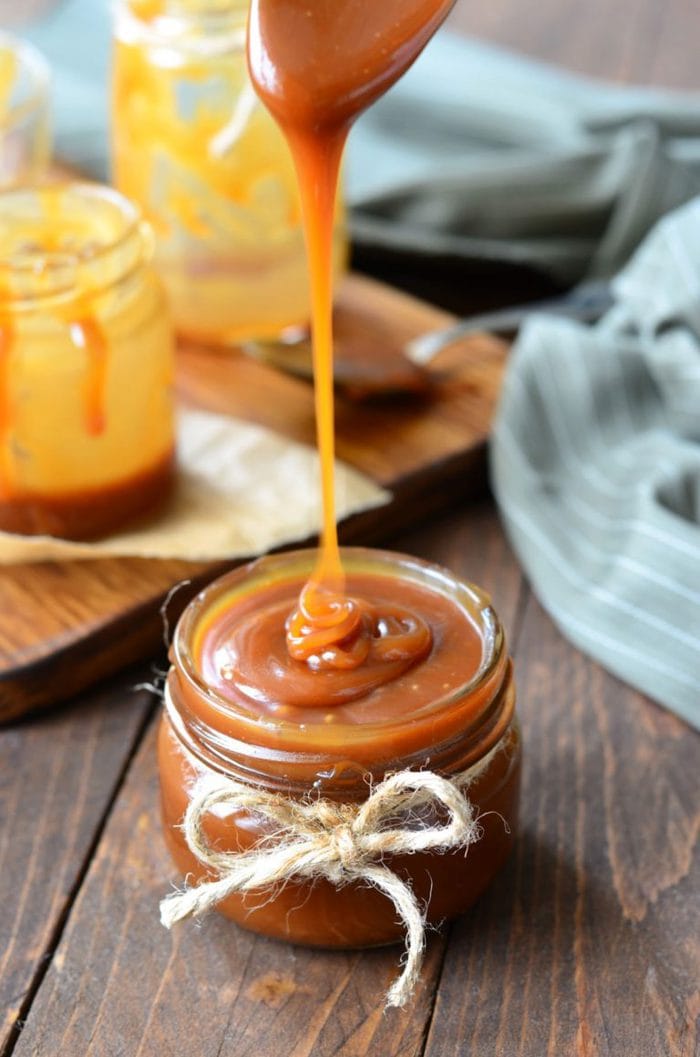 🌶️ Sweet-savory combinations
bacon and apple
bacon and pear
chutney
🥖 Breads and crackers
There are so many different kinds of crackers out there that I can't possibly list them all. Almost all of them can be served with baked brie but in my opinion saltines and water crackers are too bland.
baguette - either toasted or not
crusty bread
toast points
buttery crackers like Ritz
whole grain crackers
flax crackers
Wheat Thins
Triscuit
graham crackers
sugar cookie cutouts are perfect for the holiday table when you make a sweet topping.
crostini
gingerbread cookies
🍓 Fruit
Baked brie pairs well with most fresh fruit depending on what you've topped it with.
sliced apples and pears
strawberries
raspberries
blueberries
blackberries
mango
cherries
peaches
plums
pineapple
pomegranate
dried apricots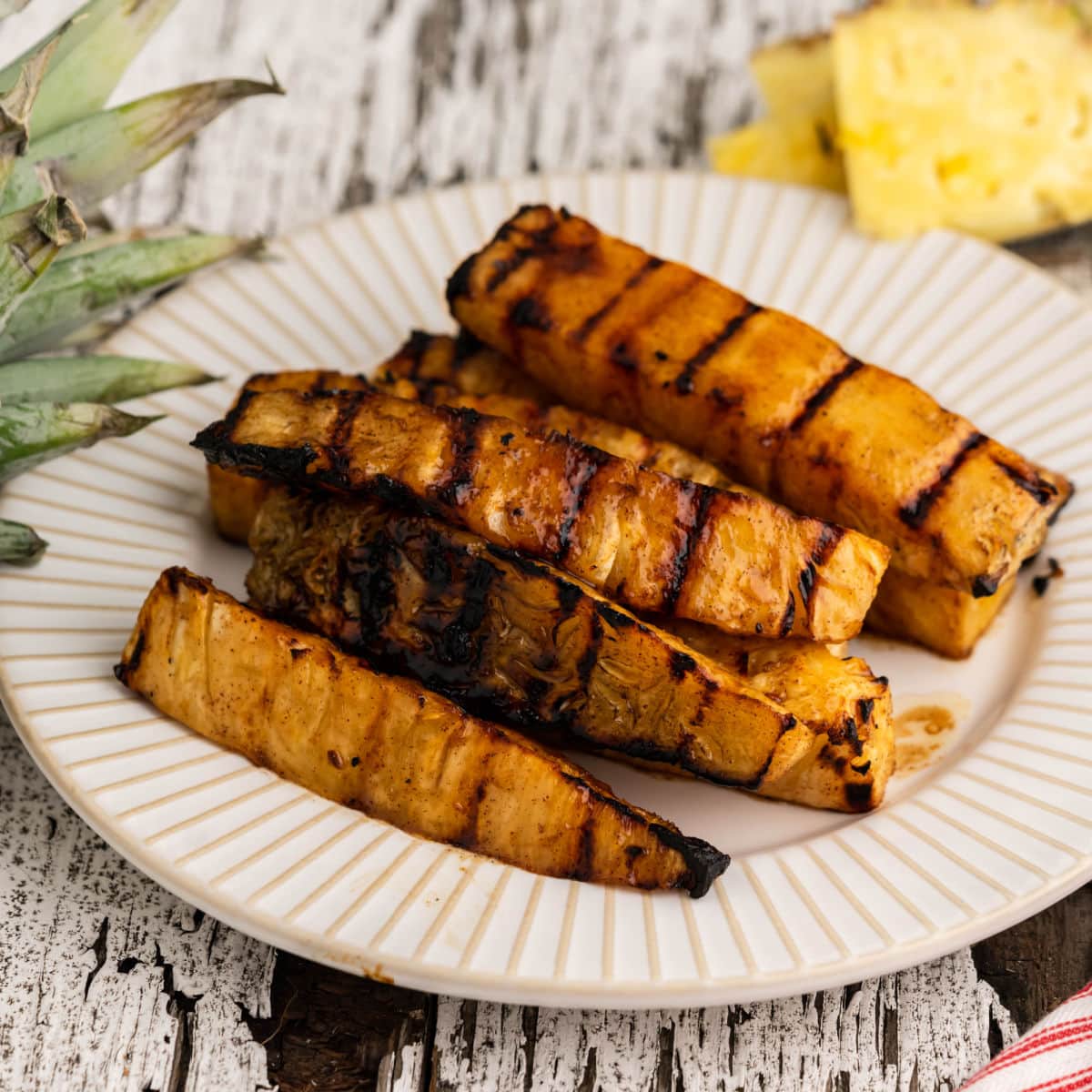 🥦 Vegetables
Crunchy crudites or marinated veggies both are great on your charcuterie board.
raw broccoli
raw cauliflower
baby carrots
celery
sweet pepper slices
marinated olives
marinated artichokes
roasted peppers
pickled vegetables
🌰 Nuts
Salty and smoked nuts balance the buttery, decadent brie. All kinds add texture to the plate.
salted pecans
candied pecans
smoked pecans
salted almonds
smoked almonds
candied walnuts
salted walnuts
🧀 Other cheeses
I usually choose either a sharp Cheddar or bleu cheese because they "go with" both sweet and savory ingredients. You can add others to your own tastes.
sharp Cheddar
bleu cheese
other cheeses you like
🍫 Sweets
When I'm making a cheese board I like to add a few sweets to it to balance everything out. These are some of my favorites but there are plenty of other possibilities!
honeycomb
dark chocolate
chocolate covered pomegranate seeds
chocolate dipped oranges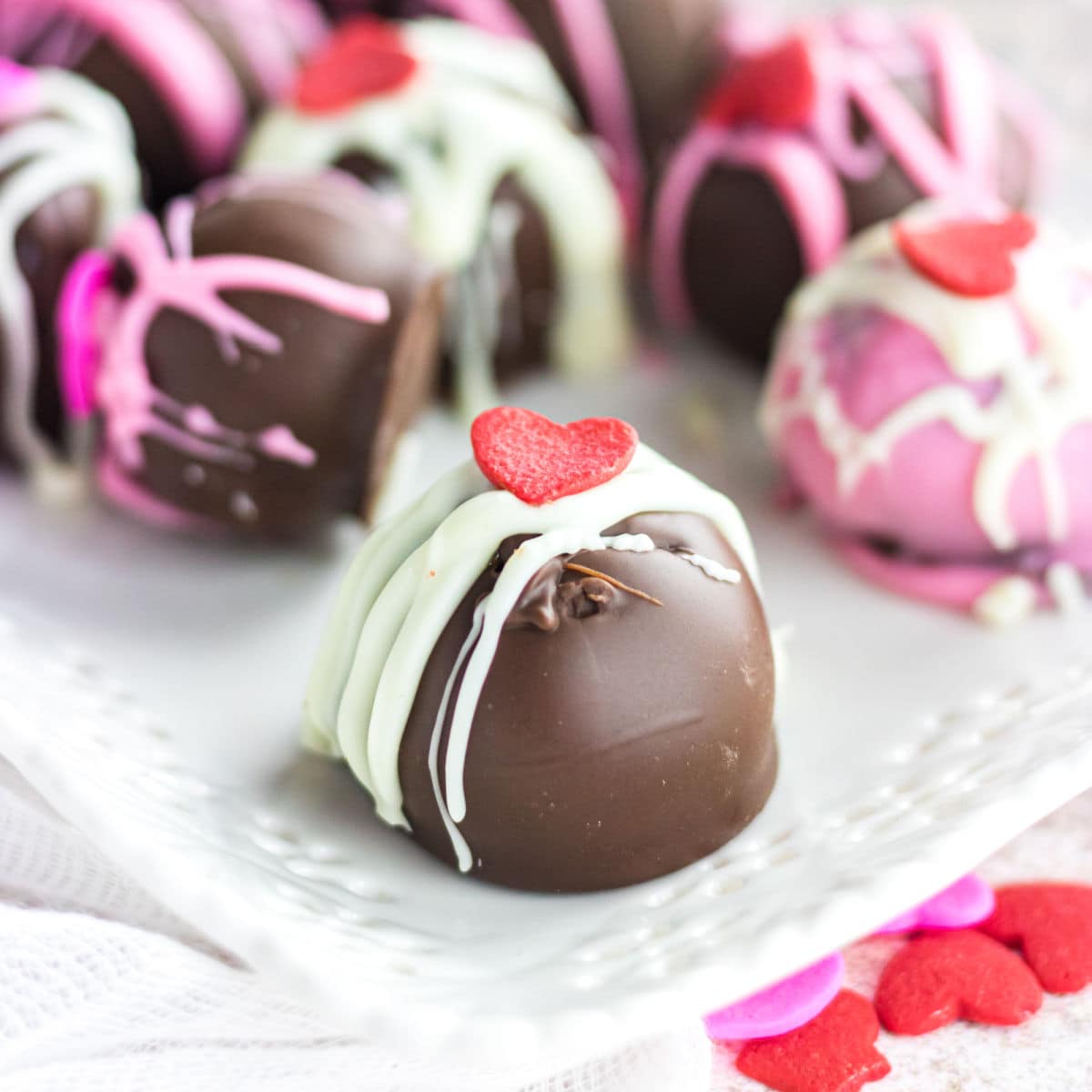 🍷 Wine and cocktails
Different flavors and levels of acidity bring out different characteristics. Here are some wines and cocktails that pair well with baked brie.
chardonnay
sauvignon blanc
champagne
syrah
pinot noir
beaujolais
French 75
gin & tonic
🍇 Garnish
A pretty garnish goes a long way whether you've created a full charcuterie board or just baked brie with some crudites and crackers.
sprigs of rosemary
sprigs of dill
basil leaves
fresh thyme sprigs
edible flowers
sugared cranberries
sugared grapes
additional fruits
clusters of red grapes
💭 Things to know
These tips will help you to have the best baked brie ever!
Keep the fruit at room temperature if possible. It will have more flavor that way.
Baked brie in a ceramic dish or iron skillet will stay deliciously gooey for 10 to 15 minutes. After that you'll need to spread it with a knife or warm it back up in the microwave for a few seconds.
If you can keep it on a warming plate it will stay gooey longer.
Don't overbake the brie - it will get tough in the middle.
Check to make sure it's finished by sticking a thin skewer or knife down in the middle. If it comes out clean it's NOT ready!
You'll want to use a round wheel of brie cheese, not a wedge.
The baked brie will be much easier to move from the baking sheet if you bake it on top of a piece of parchment paper.
Leftover brie? Cover it with plastic wrap and refrigerate. Just warm it up for a couple of seconds in the microwave when you're ready to treat yourself to this decadent snack!
Brie has an edible rind and it helps to hold the melty cheese in place when you serve it.
No matter what the occasion a delicious wheel of oozy gooey baked brie fits in perfectly. Using these ideas and my basic baked brie recipe you can come up with hundreds of possibilities!
Be sure to try the pumpkin cheese ball for your fall and holiday parties!