How do I luv Ritz? This Onion Bacon Jam appetizer is perfect for the holidays because it's so versatile. Sweet caramelized onions, smoky bacon, rich maple syrup, and spicy chipotle are simmered until the mixture becomes thick and jammy. Once it's cooled you spread Ritz crackers with cream cheese and spoon this on top. Southwest Airlines, Ritz Crackers, and I have partnered together to bring you this great appetizer recipe.
The ingredients that you'll need for this onion bacon jam appetizer are: onions, garlic, bacon, maple syrup, red wine, balsamic vinegar, cinnamon, cloves, chipotle powder, smoked paprika, cream cheese, Ritz crackers, and bleu cheese. You'll need about 40 minutes to make this recipe.
In a hurry? Click here to go straight to the Onion and Bacon Jam recipe.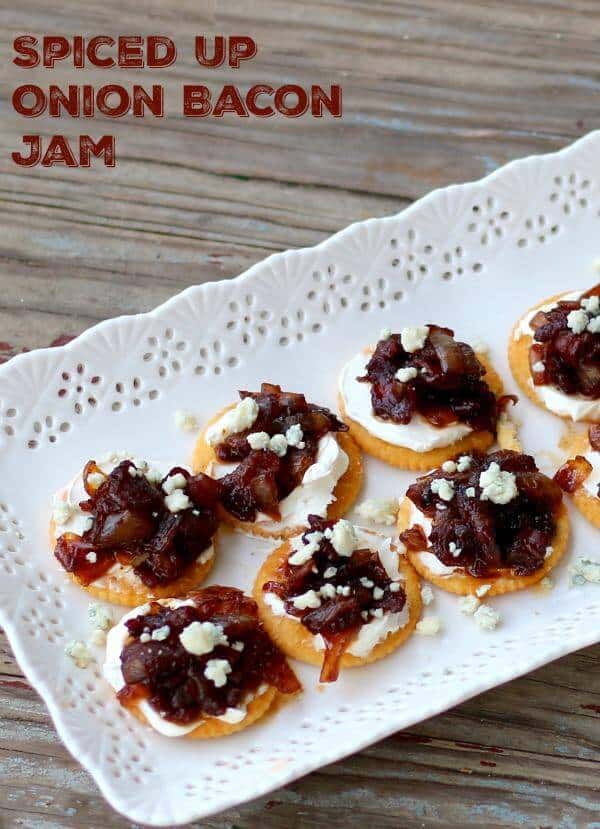 Ritz and Southwest Airlines want to know where you want to go and how you enjoy Ritz Crackers. One lucky winner will win $5,000 in Southwest gift cards! Just Tweet or Instagram your response along with #LuvRitzSweepstakes to be entered. (Example: "I want to go to #Dallas for the holidays and enjoy Ritz Mint Thins #LuvRitzSweepstakes")
I got to thinking about that. I love to travel and there are so many places that Southwest Airlines flies that I'd love to go! Being from Dallas I've been familiar with, and flown with, SWA many times. Back in the 1970s the guy that did my hair moved to Houston and I'd fly down every six weeks or so for a trim. He was that good and back then I think it was round trip for something like $25. Totally worth it to me. He was one of those people that you just let have total control of your hair and it always came out perfectly. He kept me in a Dorothy Hamill cut, some of you might remember those, until I lost touch and didn't go to Houston anymore. Then it was something like 5 years before I got another cut!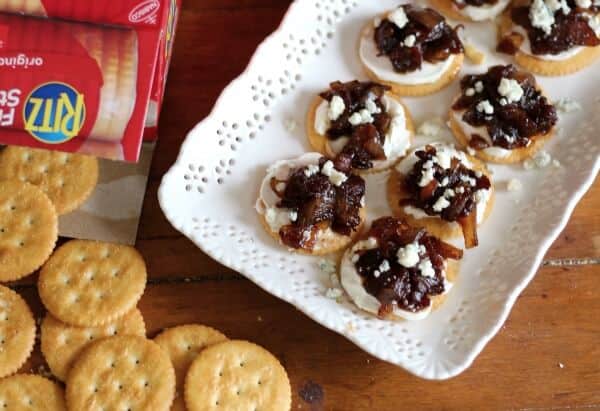 Anyway, When I was thinking about where I'd like to go and what I wanted to share with you I decided that Aruba would be my choice. It just sounds very romantic and exotic to me. So I started looking for classic Aruban recipe and came across something called Zult. The name doesn't sound romantic at all and actually once I started reading the recipe I decided that there was no way Zult and I could ever be friends but I could create a twist on that recipe. I mean, it called for pigs' ears and that's not on my "wow I always wanted to eat that!" list. However, I am familiar with bacon and I decided that it would be a great substitute. From what I could understand Zult is kind of like hogshead cheese or bologna and it's quite popular. If the dish tastes anything like my take on it then I can totally see why!
I fried bacon then caramelized onions in the grease. Toward the end I added some chopped garlic, too. Other than the bacon substitution I was following the recipe pretty closely. Once the onion was caramelized I added the bacon back in along with red wine, maple syrup, balsamic vinegar, and the spices and I tried to stay pretty close to the flavors called for in the Zult. I simmered that for about 30 minutes, it may take a little longer for you or even a little less time. Just watch it carefully and stir once in awhile to keep it from sticking. One the liquid has evaporated and the mixture is thick and jammy remove it from the heat and let it cool.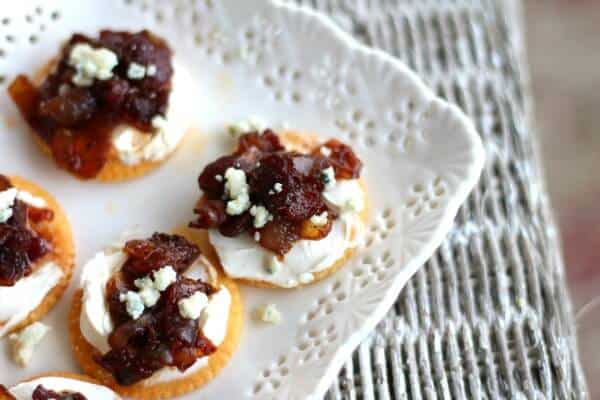 I spread the original Ritz crackers with cream cheese, topped with a spoonful of the caramelized onion bacon jam recipe then sprinkled it with bleu cheese. The cream cheese helps to keep the cracker crisp and the salty bleu cheese balances out the sweet and spicy notes. It's one big bite of fantastic and it's super easy!
Here's the Onion Bacon Jam Recipe!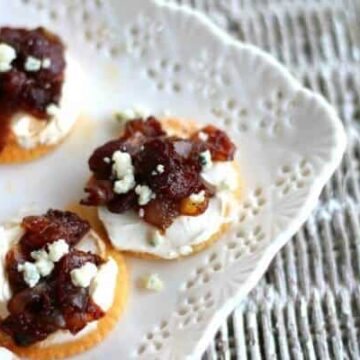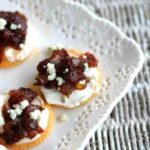 Onion Bacon Jam
Print
Add to Collection
Go to Collections
This onion bacon jam recipe is sweet, tangy, spicy, smoky, and most of all -- delicious! It is infused with the unique flavors of roasted cinnamon, cloves, smoked paprika, and chipotle. Perfect on cracker, on slices of french bread, or on your favorite hamburger!
As an Amazon Associate I earn from qualifying purchases.
Ingredients
½

pound

bacon

2

cups

chopped onion

2

cloves

garlic

,

, finely chopped

⅓

cup

red wine

2

tablespoons

balsamic vinegar

2

tablespoons

maple syrup

⅛

teaspoon

of salt

,

, or to taste (depends on how salty the bacon is)

⅛

teaspoon

roasted cinnamon

⅛

teaspoon

cloves

⅛

teaspoon

smoked paprika

1

pinch chipotle powder

,

, or to taste
For Cracker Appetizers
8

ounces

of cream cheese

Original Ritz Crackers

Onion Bacon Jam

Bleu Cheese

,

, optional
Instructions
Cut the bacon into small squares.

Fry it until done -- do not over cook.

Remove from pan but don't drain the grease.

Set bacon aside.

Add the onion and garlic to the pan.

Cook over low heat until the onion is tender and transparent, stirring often.

Add the bacon back into the pan.

Add the remaining ingredients.

Simmer, stirring often, for 30 minutes.

Remove from heat.
For Cracker Appetizers
Spread each cracker with ½ tablespoon of cream cheese.

Top with a spoonful of the onion bacon jam.

Sprinkle with bleu cheese if desired.
Sign up for the emails and never miss another recipe!!
We'll never share your email or send you spam. Pinkie swear.
If you liked this Onion Bacon Jam recipe you might also like...
Homemade Dried Fig Jam with Chipotle
This is a sponsored post and I was compensated for writing it. All opinions are my own.