Pink Velvet cupcakes are so 2012, you know? This Rose Gold Velvet cupcakes recipe is unique in flavor and the finished cupcakes are absolutely beautiful to look at. They're perfect for any glittery special occasion from bridal showers to New Years' Eve parties! I'm thinking that a Wish on a Star themed tea for New Years Day would be AMAZING! The flavor is a combination of spice cake and white chocolate with a hint of rose water; the matching buttercream is decadently rich and creamy. Many thanks to Sprinkle Pop for sponsoring this recipe for day 3 of #Choctoberfest! As always, all opinions are my own.
For this recipe you'll need: butter, sugar, light brown sugar, eggs, rose water, vanilla, white chocolate, red food coloring, flour, baking powder, baking soda, salt, cloves, cinnamon, ginger, nutmeg, buttermilk, edible shimmer, Rose Gold Sprinkles, Gold Star Sprinkles (sprinkles available at Sprinkle Pop)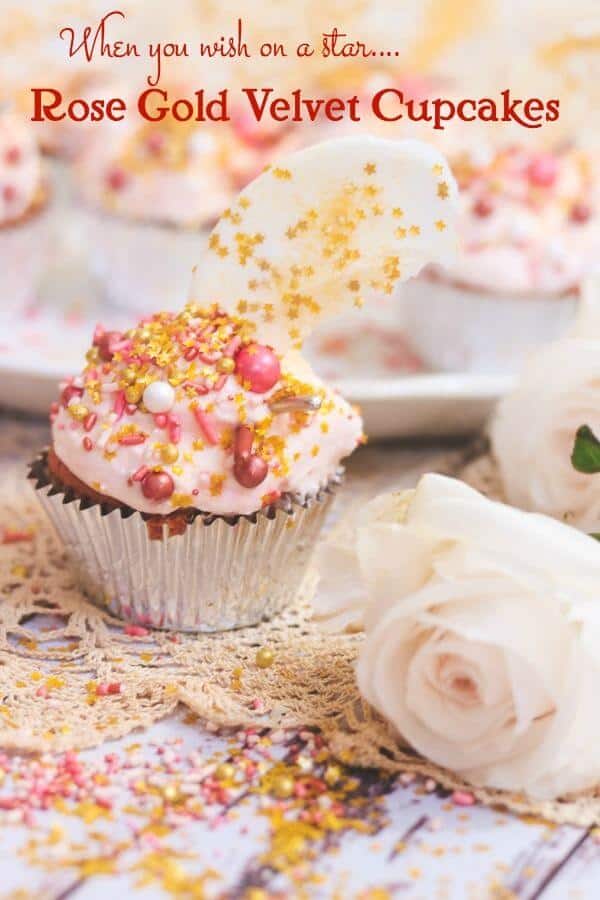 Rose Gold Velvet Cupcakes Recipe Backstory
I love rose gold.

The Restless Chipotle Channel
Honestly, I don't usually buy in to fads and crazes but this whole idea of rose gold everything?
Bring it.
So, when Sprinkle Pop wanted to partner with me for #Chocotoberfest, and I saw their rose gold sprinkles? I was hooked. I knew that I wanted to use them in a special, celebratory kind of way that was girly and sparkly but also romantic and warm. Seriously, I don't ask for much.
I kicked flavor ideas around for days, bouncing ideas off of my own personal mastermind group of family and friends until I ended up with this Rose Gold Velvet cupcakes recipe. Gentle autumn spices like cinnamon, ginger and cloves paired with rich, sweet white chocolate, and balanced with just a touch of rose water. It made me think of old fashioned holidays, New Year's Eve, and The Nutcracker.
Now, I have no idea WHY it made me think of The Nutcracker but it did – and I let the music from that ballet waft through the kitchen while I created this recipe and designed these rose gold cupcakes. I hope you love them as much as I do.
Velvet Cupcake Recipe FAQs
This recipe is rated: Moderately Easy – perfect for a baker with some experience.
What Makes It Velvet Cake?
What makes a Velvet Cake velvet? That's a good question considering you can find everything from white velvet cake to red velvet cake, purple velvet cake to black velvet cupcakes… and pink velvet cupcakes recipe variations like these rose gold velvet cupcakes!
There are numerous answers but keep in mind that I am a purist and for it to be a velvet cake it HAS to have buttermilk and baking soda. To me these are the ingredients that give velvet cake it's unique, velvety texture.
What Is the Flavor of Blue Velvet Cake?
Blue Velvet cake is a red velvet cake with blue food coloring instead of red to give it a vibrant blue color.
What's the Difference Between Chocolate Cake and Red Velvet Cake?
Initially Red Velvet cake was created by a chemical reaction between the cocoa and the acid in the buttermilk that gave the cake a reddish brown color. Thanks to Steel Magnolias we have enhanced the red over the year to make it bright crimson – the brighter the better.
Red Velvet cake is not as fudgy/ chocolatey as a chocolate cake – the chocolate is more of a whisper than a marching band.
What Flavor Is Pink Velvet Cake?
When I created this Pink Velvet Cake recipe in 2010 I couldn't find another recipe for Pink Velvet Cake anywhere.  I totally need to update the images but every time I make it it disappears too fast! At the time I thought Pink Velvet should be a lighter, gentler version of Red Velvet cake so I made it with white chocolate – it's still my favorite recipe for Pink Velvet.
About Our Sponsor, Sprinkle Pop
Sprinkle Pop was founded by Liz Butts, a fellow Texan, who realized that she had an eye for creating perfect custom blends of colors and textures. She founded the business in her home in the spring of 2017 and it has just grown and grown since then!
If you head over to the website you'll be blown away by the variety and combinations of sprinkles that are available! If you're serious about sprinkles, she's your girl.
Follow Sprinkle Pop on social media – it's great inspiration:
More Restless Chipotle Cupcakes Recipes
If you like a good cupcakes recipe as much as I do you'll love checking out some of my favorites here on Restless Chipotle.
Rose Gold Velvet Cupcakes Recipe
I am totally in love with this Rose Gold Velvet cupcakes recipe. It's easy, it's delicious, and it's pretty. That makes it perfect in my book!
If you've never used rose water before you can get it in many places as well as my Restless Chipotle Amazon Storefront. The sprinkles are available at Sprinkle Pop but be prepared to spend some time there. It's mesmerizing!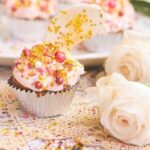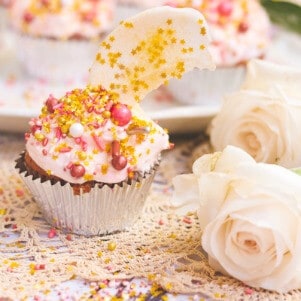 Print Recipe
Rose Gold Velvet Cupcakes with Rose Buttercream
Light and fluffy, warm rose gold pink, and a warm autumn spice flavor with a hint of white chocolate and rose - these rose gold cupcakes are deliciously unique in every way. Perfect for special occasions - wedding showers, baby showers, teas, and New Years Eve.
Nutrition
Calories:
432
kcal
|
Carbohydrates:
42
g
|
Protein:
4
g
|
Fat:
27
g
|
Saturated Fat:
16
g
|
Cholesterol:
76
mg
|
Sodium:
215
mg
|
Potassium:
163
mg
|
Fiber:
0
g
|
Sugar:
30
g
|
Vitamin A:
16.6
%
|
Vitamin C:
0.3
%
|
Calcium:
10.3
%
|
Iron:
4.3
%
More Day 3 #Choctoberfest Recipes!
Click on the image to be taken to the recipe pictured.
"

"
Participant in Meal Plan Monday