If this isn't the Queen of Thanksgiving Desserts I don't know what is! Next time try this southern sweet potato pie.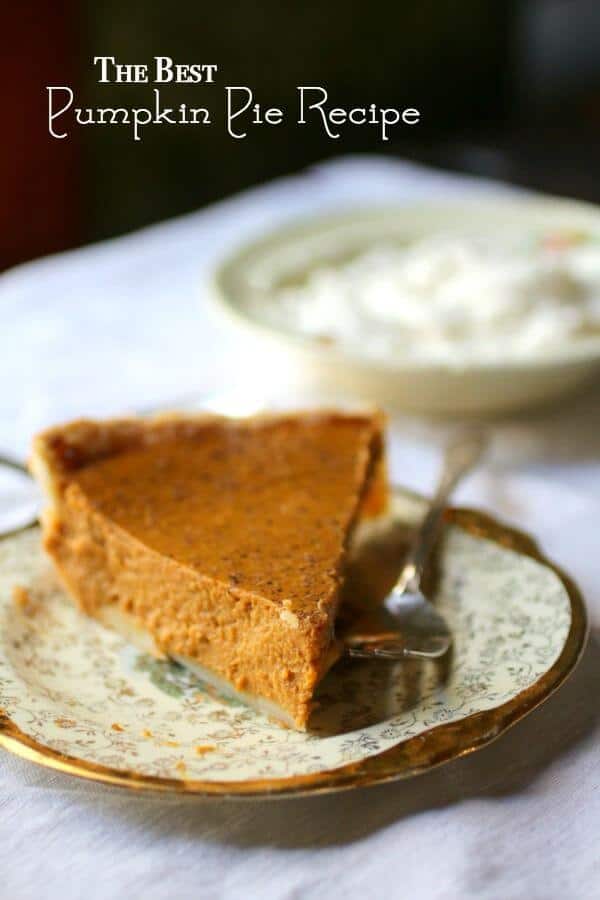 Jump to:
❤️ Why you'll love this recipe
Here's an easy pumpkin pie recipe that's full of creamy pumpkin spice goodness in every memory invoking bite.
This is the recipe your grandma probably used - and certainly the one that has remained popular over the past several decades.
Tucked into a buttery crust and imbued with autumn flavor - this iconic Thanksgiving dessert has earned its popularity through the generations right along with this old fashioned southern pecan pie recipe.
Honestly, it's simply the best pumpkin pie recipe you ever stirred up.
Ingredients for Homemade Pumpkin Pie
I promise you this is a simple pumpkin pie recipe. Although the original is written on a stained piece of notebook paper in my mother's handwriting I am relatively sure it originated on the back of a Libby's pumpkin label.
Sugar is the sweetener of choice here. I've tried a lot of different pumpkin pie recipes with a lot of different sweeteners and I always come back to this.
Brown sugar plays nicely with pumpkin and spice and adds a little more flavor.
Cinnamon, ginger, nutmeg, and cloves are traditional pumpkin pie spices. I prefer to grate whole nutmeg but you can just get what you like. Try to get really fresh spices though - you'll be shocked at how much difference it makes.
Salt used is kosher salt. Use a little less if you use table salt.
Eggs are the binder in this recipe. I used pasture raised, large, organic eggs.
Canned, solid pack pumpkin is my choice. I've used homemade pumpkin puree but I think it's too watery. Just be sure not to get the canned pumpkin pie filling.
Evaporated milk works best in custards and cream pies and puddings. Just be sure you're NOT getting sweetened condensed milk - there's a huge difference.
Unbaked pie crust. Some people do blind bake the crust prior to adding the filling but I've never seen the need to do that. This is my favorite homemade pie crust recipe. Here's the thing - don't let a crust stop you. Buy a frozen crust if you need to...no one cares.
Chipotle powder, just a pinch, adds a smoky goodness that I love. It's my own contribution and you can sure leave it out... but dang it's good.
Mom's Pumpkin Pie
I can tell you that this is my mom's pumpkin pie recipe, and it is, but we all know that it came off the back of the Libby's pumpkin can at some point in the past.
In fact, the recipe was first printed on the label in 1950, the year my parents married - so it makes sense that she'd have gotten it there.
She always used part brown sugar and then added a fresh grating of nutmeg before she put it in the oven.
I do the same but I also add a pinch of chipotle powder to enhance the cinnamon. I love that touch of smoky, spicy flavor. We all add our own touches to recipes - that's what makes cooking so unique and personal!
All the Variations
Over the years I've made pumpkin pie from fresh pumpkin, added browned butter, used cream, added rum or bourbon, topped it with pecans...you name it.
The truth is, while all of those twists and variations are delicious, I just really like my mom's version when it comes to the serving the best pumpkin pie.
After all, that's what is a big part of the holidays, right? Family, memories, and tradition are the core of who we are and a large part of what we celebrate.
Here are some of my favorite variations -
Add a pinch of cardamom with the other spices
Use all white sugar
Use a gingersnap crumb crust
Add a layer of chopped pecans to the top
Add a streusel topping
Stir in 1 tablespoon of bourbon or rum
Thanksgiving Memories
Thanksgiving at our house was usually began with my dad sitting at the table and tearing up loaf after loaf of stale bread for the stuffing. It was one of the three jobs he did for Thanksgiving.
The other two were cleaning the turkey and added grated nutmeg to the top of the egg nog.
He wasn't a food snob but he was very food oriented. Dad knew the value of a sun warmed ripe tomato slice, dusted lightly with salt and pepper and valued it as much as he did a perfectly grilled steak.
He loved a good mince pie, made from tender , young mince!, and was thrilled when I was old enough to make them. He and I were the only ones that liked them. Sad to say, I haven't made one since he died in 2001.
Pumpkin pies? That's a different story!
I make several because they generally disappear pretty quickly. I like to tuck one piece away to have for breakfast the day after Thanksgiving.
It's a little guilty pleasure and it is how I usher in the holiday season. No standing in the cold or fighting someone for the last Elsa doll for me! You can have black Friday... I'll sit by the fire and read, thanks!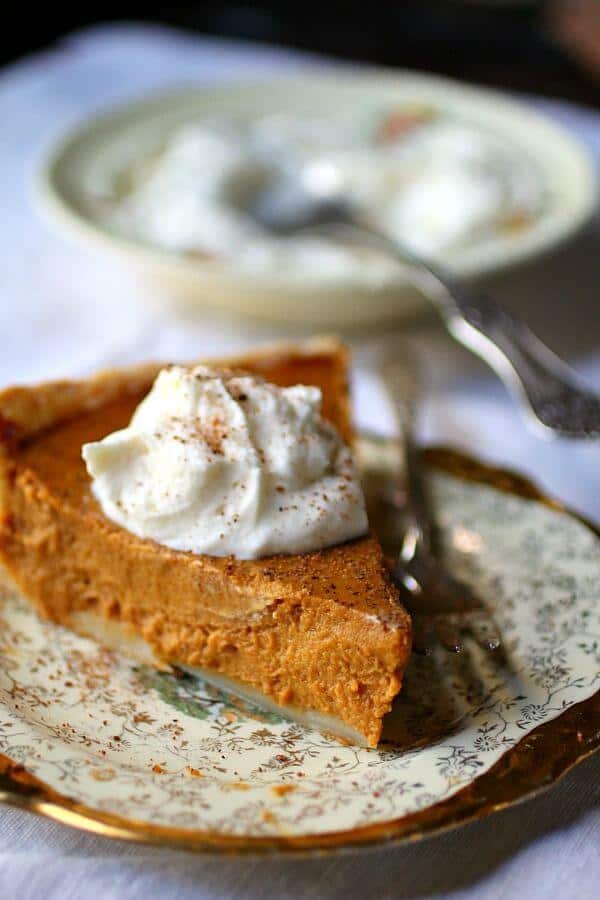 More Pumpkin Recipes
Pumpkin is one of my favorite flavors - especially for fall. I think you love these other pumpkin recipes!
Pumpkin FAQs
Here are the questions I am most frequently asked about this recipe.
What is a substitute for evaporated milk in pumpkin pie?
You can use 1-½ cups of heavy cream or half and half for each 12 ounce can of evaporated milk.
What does pumpkin pie taste like?
Well, it's the texture of the creamiest pudding ever and the flavor is sweet and cinnamony - similar to a sweet potato.
Why is my pumpkin pie wet on top?
If your finished pumpkin pie has droplets of water on top it means that you've over cooked it a little. No big deal. Just dab the water off with a paper towel and you're good to go.
How do you know when pumpkin pie is done?
Insert a knife near the center of the pie. If it comes out clean the pie is done. You can also shake it gently - the filling will no longer jiggle when it's cooked. MY FAVORITE trick is to insert an insta-read thermometer in the center - it will read 175F when it's done.
Can you freeze pumpkin pie/ How do you store pumpkin pie?
Pumpkin pie doesn't freeze well but if you wrap it tightly in plastic wrap it will keep in the fridge for 3 or 4 days.
You Might Need...
The following are affiliate links. We are a participant in the Amazon Services LLC Associates Program, an affiliate advertising program designed to provide a means for us to earn fees by linking to Amazon.com and affiliated sites.
What's new? Check out my Restless Chipotle & Co. Store on Amazon where you'll find all kinds of nostalgic goodness! Thanks so much for being a part of Restless Chipotle!
I love glass pie plates! This deep dish glass pie plate by Anchor Hocking has an expandable cover that goes with it to keep pies fresh.
Homemade Pumpkin Pie Recipe
Everyone should make this classic pumpkin pie recipe at least once. It's easy, delicious, and ... well PUMPKIN! Traditionally it's made in a 9 inch deep dish pie pan but you can use a 10 inch regular pie pan as well. The deep dish pans tend to be pretty, though.
No time for pie? Try this easy pumpkin pie dip!
If you click on the number of servings in the recipe card you can adjust the measurements up or down for the exact number of servings you need. Don't forget that you can click on "add to collection" to save it to your own, private recipe box!
If you love this recipe please give it a 5 star rating. ⭐️⭐️⭐️⭐️⭐️
📖 Recipe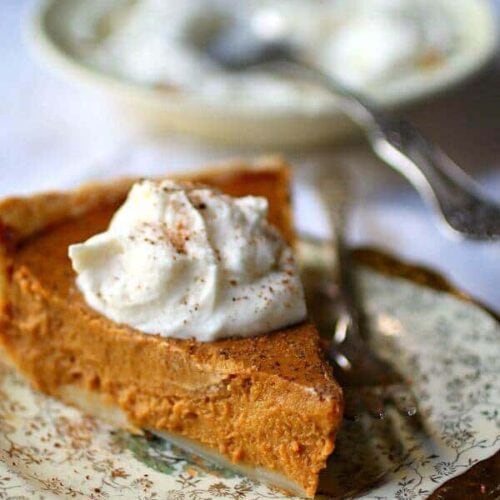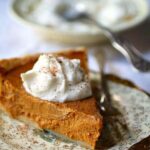 Pumpkin Pie Recipe from Scratch
Print
Save
Go to Collections
Traditional pumpkin pie is a holiday classic. Spicy, creamy pumpkin custard is tucked into a buttery crust in this version of the Libby's original. There's nothing like a homemade pumpkin pie recipe made from scratch!
As an Amazon Associate I earn from qualifying purchases.
Ingredients
½

cup

Sugar

½

cup

Brown sugar

1

teaspoon

Cinnamon

,

ground

½

teaspoon

Salt,

I use kosher salt - if you use table salt cut the measurement by about ¼

½

teaspoon

Ground ginger

¼

teaspoon

Cloves

,

ground

pinch

Chipotle

,

ground, optional but try it!

2

Eggs

,

beaten

15

ounces

Pumpkin

,

solid pack not pumpkin pie filling

12

ounces

Evaporated milk

,

not sweetened condensed milk

1

pie crust,

homemade crust or purchased. 4- cup volume (9-inch deep dish or a 10-inch pie plate)

Whole nutmeg for grating.
Instructions
Preheat oven to 425 degrees F.

Add the ingredients to a large bowl in order, mixing as you go.

Make sure the pumpkin filling is well blended.

Pour mixture into the pie shell.

Grate nutmeg over the top of the pie.

Bake for 15 minutes.

Reduce oven temperature to 350F.

Bake 40 to 50 minutes (if using a 10-inch pan bake for 30 to 40 minutes) longer, or until a knife inserted close to the center comes out clean or the center registers 175°F on an insta-read thermometer.

Cool.

Serve or refrigerate.

Cover and refrigerate leftovers.
Notes
Here are some of my favorite variations -
Add a pinch of cardamom with the other spices
Use all white sugar
Use a gingersnap crumb crust
Add a layer of chopped pecans to the top
Add a streusel topping
Stir in 1 tablespoon of bourbon or rum
Nutrition Facts
Calories:
274
kcal
|
Carbohydrates:
44
g
|
Protein:
6
g
|
Fat:
9
g
|
Saturated Fat:
4
g
|
Cholesterol:
12
mg
|
Sodium:
294
mg
|
Potassium:
361
mg
|
Fiber:
1
g
|
Sugar:
32
g
|
Vitamin A:
4627
IU
|
Vitamin C:
6
mg
|
Calcium:
140
mg
|
Iron:
1
mg
Sign up for the emails and never miss another recipe!!
We'll never share your email or send you spam. Pinkie swear.
First published November 2014. Last updated October 16, 2021 for editorial changes and structural updates.