O is for this oatmeal walnut bread recipe. Just as full disclosure I actually wrote this in 2010. I am rewriting and republishing it now because it is a great recipe that deserves some attention AND because I am currently on vacation, or as close as I get to vacation, and I didn't get a chance to bake oatmeal bread before I left.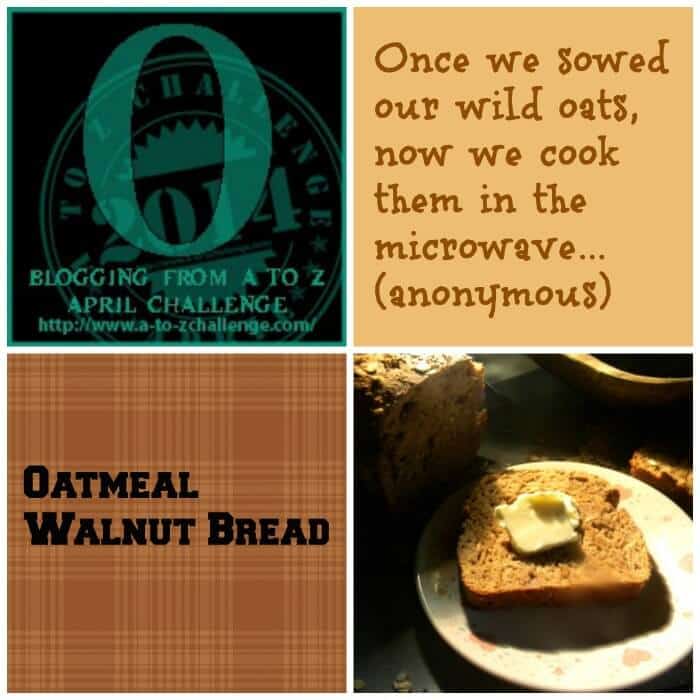 This oatmeal walnut bread is a rustic loaf that can be made in a bread pan, free form, or boule. You can make unbelievable toast with it — the crust gets crunchy and the toasting process brings out the walnut flavor. It holds together well for sandwiches, too.

The Restless Chipotle Channel
This is a heavy bread and it will take a bit more time to rise than white flour breads. Using the 1/4 cup gluten will make a huge difference in how the bread rises and it's final texture. Another trick to enhancing the dough is to dissolve a vitamin C tablet in the water you are using in the oatmeal walnut bread. Something about it makes the dough very happy and it performs better.
The walnuts add texture. If you chop the walnuts coarsely you'll have more texture and if you chop finely you'll have less. I like a coarser chop, personally. This also is really good with raisins kneaded in. Before you put the oatmeal walnut bread loaf in the oven brush it with an egg beaten with a teaspoon of water, a teaspoon of molasses, and a teaspoon of melted butter. Brush it on the top and then sprinkle with rolled oats. I also added a sprinkle of turbinado sugar for crunch.
Oatmeal is seriously good for you. I personally love it but have to stay away from it because my doctor says when you have no thyroid you have to focus on vegetable carbs and cut way back on grains, even good ones. Once in awhile I'll treat myself to oatmeal and cream with a little brown sugar. Anyway, I know a lot of people, kids especially, don't like oatmeal. This is a great way to get it into their diet on a regular basis.
Print Recipe
Molasses Oatmeal Walnut Bread
Nutty, wholesome oatmeal bread with old fashioned flavor.
Ingredients
1

pkg dry yeast

1/4

cup

warm water

1/3

cup

molasses

,

, unsulfured

1/4

cup

brown sugar

2

cups

packed old-fashioned oats

2

cups

scalded milk

,

, with 1/2 cup butter melted in. Allow to cool to about 110F

1 1/2

tsp

Kosher salt

1/4

cup

gluten flour

,

(optional, makes kneading easier)

4

to 5 cups bread

,

, adjust this as needed - the dough will be sticky

1

cup

chopped walnuts

1

tablespoon

melted butter

1

tsp

molasses

1

egg beaten

Turbinado sugar
Instructions
Place 1/4 cup warm water, molasses, sugar, and yeast in a bowl.

Allow to stand for 10 minutes, or until yeast is disolved and foamy.

Add milk, 2 cups of flour and 1 cup of oatmeal.

Allow to rise for 30 minutes

Add salt and the rest of the oatmeal

Stir in flour slowly until dough leaves the sides of the bowl

Turn out on a floured surface and knead about 5 minutes

Butter a bowl and place the ball of dough in it

Allow to rise for an hour, or until doubled (can be as much as 3 hours, or let rise overnight in the fridge)

Form into loaves, place in buttered pans or free form the loaves and allow to rise for 45 minutes

Preheat oven to 375F

Brush the top of the bread with the glaze and sprinkle on oatmeal and turbinado sugar

Bake 35 to 40 minutes

Cool before slicing
If you like oatmeal walnut bread you may also like…
Multigrain Oatmeal Bread Red Star
No Knead Maple Oatmeal Bread Bakeaholic Mama
No Knead English Muffin Bread Restless Chipotle
Whole Wheat and Oatmeal Bread Restless Chipotle