Pan fried potatoes that are perfectly crispy aren't difficult but there is a trick to getting that golden crust and tender, buttery interior. I'm sharing my tips and tricks for getting them perfect every time. Here they are — just like you remember.Updated from the 2016 version
For this recipe you'll need: potatoes, onions, fresh garlic, Bell pepper, poblano, or jalapeno, salt, pepper, peanut oil, butter, heavy cast iron frying pan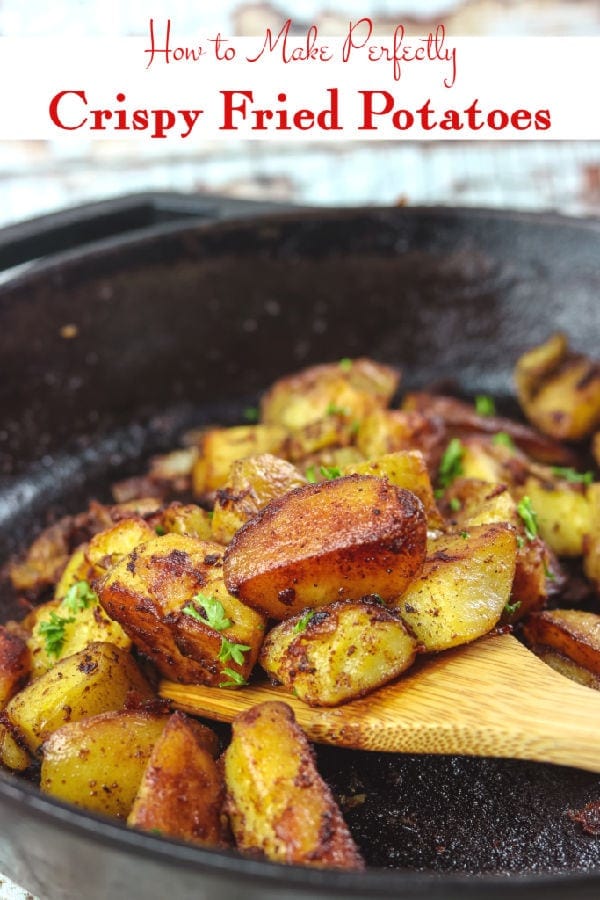 Cottage Fries Are Comfort Food
I grew up with what we called home fries– breakfast, lunch, dinner… they would find their way to the table almost any time of the day. I would walk in the house after school on a chilly, blustery day and before I even got my coat off the aroma of those sizzling spuds would waft down into the foyer.
It didn't matter to me what else we were having — the smell said welcome home!
Depending on the meal my mom would make the potatoes with onion, chopped garlic, or green peppers — and sometimes she would get a little crazy and toss in all kinds of leftovers. They would sizzle and pop in the pan until the undersides were golden, crispy brown and then she would deftly flip them and brown the other side.
I thought it was magic. How did she know that perfect moment to slide the spatula underneath and begin turning?
Why Your Fried Potatoes Aren't Perfect
If your pan fries are soggy rather than crispy, or raw rather than tender, or even burnt rather than golden brown you are probably doing (or not doing) one of the following:
You're using the wrong oil
You're using very starchy potatoes and not removing some of the starch
You're putting them in the pan wet
You are over crowding the pan and they are steaming
You are leaving to cover on the pan too long
When all else fails check your skillet. An iron skillet is a beautiful thing and it's definitely THE BEST skillet for fried foods. Even though making home fries isn't hard it is a bit like riding a bike — easy when you know how.
Need something this easy but a little different? Try my easy "top of the stove" au gratin potatoes!
Tips for Perfect Fried Potatoes
Slice or cube them the same size so that they all cook evenly. They shouldn't be too thick or too thin — about 1/8 inch is right.
Slice them into salted ice water and let them soak for five minutes or so. Drain, rinse and pat dry before frying. Do not try to fry them when they are wet.
Use peanut oil unless someone has an allergy. It is the best oil I have found for frying.
The amount of oil needed may vary from one time to the next. Use enough to keep them from sticking.
Fry them in an iron skillet if you have one – try not to fry them in nonstick. The nonstick coating hampers the frying process because it doesn't get hot enough.
Let the oil get really hot before adding potatoes. It won't smoke but it will ripple in the pan.
Don't overcrowd the skillet.
You can put a cover on the skillet to help them cook for the first bit but take it off for the last part of cooking or your potatoes will be soggy.
If these potatoes still aren't the recipe that you've been looking for try this. Boil the potatoes until almost done the night before. Drain and refrigerate. Next day pat them dry and fry. You can also bake potatoes (or use leftover baked potatoes) and use them for pan fried potatoes.
Fried Potatoes FAQs
How long do you pan fry potatoes?
Cook without moving them around until they begin to brown around the edges…that will take about 10 minutes. Then maybe 5 more minutes on the other side.
What's the best cooking oil?
You need a cooking oil with a high smoking point – I prefer peanut oil but if you have allergy concerns any light vegetable oil is fine.
Can you make fried potatoes with butter?
You can but you won't be able to use high heat. If you're set on using butter I'd recommend using cold, boiled potatoes that have been patted dry. Slice them and cook in butter until golden brown.
Why do you soak potatoes in water before frying?
Soaking potatoes in cold water helps to remove excess potato starch.
Do you have to soak potatoes in water?
Actually, if you use a low starch potato like Yukon Gold you don't have to soak them.
Variations
I love this dish because there are so many variations possible. You can even make it into a main course. Here are some of my favorite add-ins…
Onions
Bell pepper
Jalapeno
Sliced smoked sausage
Bacon
Cubed leftover ham
Cooked ground beef
Taco meat
BBQ
Cheese
You can also cut the potatoes any way you like -wedges, slices, or cubes!
More Great Side Dishes
Side dishes make the meal, don't you think? Can you imagine steak without corn on the cob or a giant, buttery baked potato? What about lasagna without a crispy salad or BBQ without potato salad?
I have some favorites here on Restless Chipotle that I use over and over again. My family loves them and I think yours will, too!
And these Rosemary Lemon Roasted Potatoes from Bowl Me Over sound perfect to go alongside that Sunday roast!
You May Need
The following are affiliate links. We are a participant in the Amazon Services LLC Associates Program, an affiliate advertising program designed to provide a means for us to earn fees by linking to Amazon.com and affiliated sites.
What's new? Check out my Restless Chipotle & Co. Store on Amazon! Thanks so much for being a part of Restless Chipotle!
Like everything – getting the best results with fried potatoes means using the right tools. One of the most important things to getting these exactly right? An
Lodge Iron Skillet!!
Pan Fried Potatoes Recipe
Crispy home fried potatoes are just one of those dishes that invites you to sit down and relax, isn't it? Give this recipe a try and see if they aren't a big bite of Mom's kitchen. You'll find more great side dish ideas here.
If you like this recipe please give it 5 stars.
Easy, Crispy Pan Fried Potatoes – Perfect Every Time
Print
Add to Collection
Go to Collections
Perfect, crispy pan fried potatoes every single time. The secret is in the two step process. It's easy and it only takes 30 minutes total.
As an Amazon Associate I earn from qualifying purchases.
Ingredients
6 – 8

large potatoes

,

peeled (or not) and sliced about 1/4-inch thick

1

large onion

,

optional

1

clove

garlic

,

optional

1

pepper optional

,

green, red, poblano, jalapeno – you decide

Salt to taste

Pepper to taste

1/4

cup

Peanut Oil

,

no good substitute, sorry

2

tablespoons

unsalted butter
Instructions
Peel and slice (or cube) potatoes.

Let soak for 5-10 minutes (longer if possible) in salted ice water.

Drain well and pat dry – make sure they are VERY dry!

Heat 1/4 cup peanut oil in a skillet on high heat until it's shimmering and almost smoking.

Add potatoes and let fry for about 2 minutes or until they start to get golden on the bottom.

Cover the pan and reduce heat to medium. Allow to steam for about 2 to 3 minutes.

Remove cover and turn the heat back up to medium high. Flip the potatoes. Fry for a minute or two, or until the bottom layer begins to get golden.

Dump the pan of potatoes into a colander over the sink to remove excess oil and moisture. Blot with a paper towel and return them to the pan on medium heat.

Add the onion and peppers plus any seasonings you'd like on your potatoes.

Fry, stirring occasionally, until potatoes are tender and done. Do not cover at this stage of frying because they will get soggy!

Add the butter at the very end of cooking.

Taste for seasoning and serve hot with plenty of cracked pepper.
Notes
Recipe Variations
Onions
Bell pepper
Jalapeno
Sliced smoked sausage
Bacon
Cubed leftover ham
Cooked ground beef
Taco meat
BBQ
Cheese
Your favorite bbq rub seasoning
Monterey Steak seasoning
Cut in cubes, slices, or wedges
Nutrition
Calories:
265
kcal
|
Carbohydrates:
53
g
|
Protein:
6
g
|
Fat:
4
g
|
Saturated Fat:
2
g
|
Cholesterol:
10
mg
|
Sodium:
15
mg
|
Potassium:
1211
mg
|
Fiber:
4
g
|
Sugar:
2
g
|
Vitamin A:
115
IU
|
Vitamin C:
17.7
mg
|
Calcium:
41
mg
|
Iron:
2.5
mg
Tried this recipe?
Tag me!! @Marye_RestlessChipotle
Submit Your Own Image