There's nothing like the food at the Texas State Fair! If you hate waiting then you'll love this recipe!
Don't want to scroll through the page to get to the recipe? Use the table of contents to click on the section you want.
Jump to:
🗝️ Key takeaways
Fresh, hand-battered corn dogs have superior flavor plus you control what type of hot dog they're made with.
Corn dogs are great for weekends, lunches, and tailgating.
Be sure to read the FAQ section to learn what oils will work best in this recipe.
📖 Variations
Korean corn dogs are lightly rolled in sugar after frying. This gives them the sweet-salty flavor that some of us love.
Use vegan hot dogs.
Slice the hot dog and lay a thin piece of cheese inside before dipping in batter.
🔪 Instructions
This is the easiest way that I have found to make a perfect corn dog.
Ladle the batter into a quart Mason jar.
Remove the hot dogs from the package and pat dry with a paper towel.
Dust lightly with some flour or cornstarch.
Push the sticks firmly into the hot dog.
Dip the hot dog straight down into the batter.
Pull it straight back up. It comes out perfectly.
Let the excess batter drip off and then slowly dip them into the hot oil while you hold the stick.
Doing it this way allows the batter to cook on the outside so it doesn't stick to your fryer basket. Once the outside is firm (a couple of seconds) you can drop the rest of the corn dog in.
Plus, if you have some batter left you can just twist the top on the jar and pop it in the refrigerator for next time.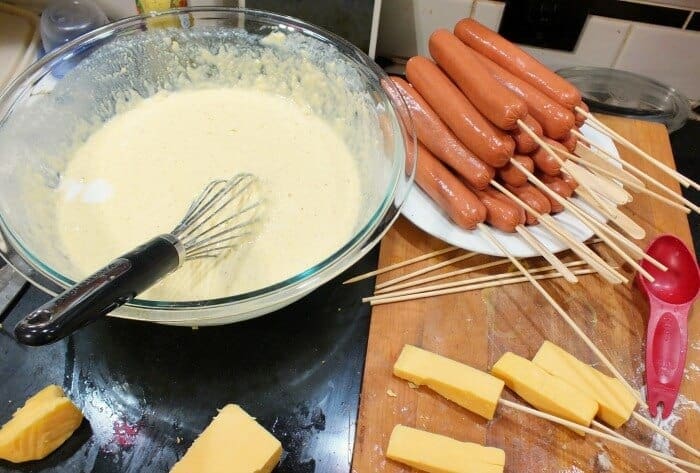 I tried to make these with cheese but it didn't work for me. LOL!
🥫 How to store leftovers
Wrap in plastic wrap and store in the refrigerator for up to 4 days. You can also freeze homemade corn dogs and reheat in the oven when ready to eat.
I like to freeze them individually. Place the finished corn dogs on a large baking sheet and put them in the freezer for an hour or two until frozen.
Wrap the frozen hot dogs in plastic wrap and keep in the freezer for up to 4 months.
Cover the sticks with aluminum foil before heating them in the oven.
💭 Things to know
Expert Tip: Skewers work better than popsicle sticks to hold the corn dogs.
Believe it or not if you've got chopsticks at home they work as well or better than the skewers.
It takes about 3 minutes per corn dog for the crust to be cooked and the hot dog heated all the way through.
Cut the hot dogs in half crosswise and dip them for mini-corndogs.
👩‍🍳 FAQs
Why does my corn dog batter fall off?
There's nothing for it to stick to on a slippery hot dog! Dust the hot dogs with flour or cornstarch before trying to batter it. Another possibility is that the cornmeal batter isn't the right texture. Too
Where can I get the sticks?
Craft and popsicle sticks can be found at Hobby Lobby, Michaels, and other craft stores. I like to use either chopsticks (I save them from takeout) or skewers. Skewers are available at most grocery stores.
What's the best oil for frying corn dogs?
If there are no peanut allergies and you're just serving to family I'd say go with peanut oil because of its high smoke point. Otherwise, sunflower oil, canola oil, safflower oil, or avocado oil are good options. Vegetable oil is ok - it's not the best.
📚 Related recipes
🍽️ Serve with...
While mustard and ketchup are the most common dips for corn dogs there are others that are just as good or better.
I like to serve these with homemade tater tots, coleslaw, and a stack of oatmeal cookies.
📓 Meal plans in minutes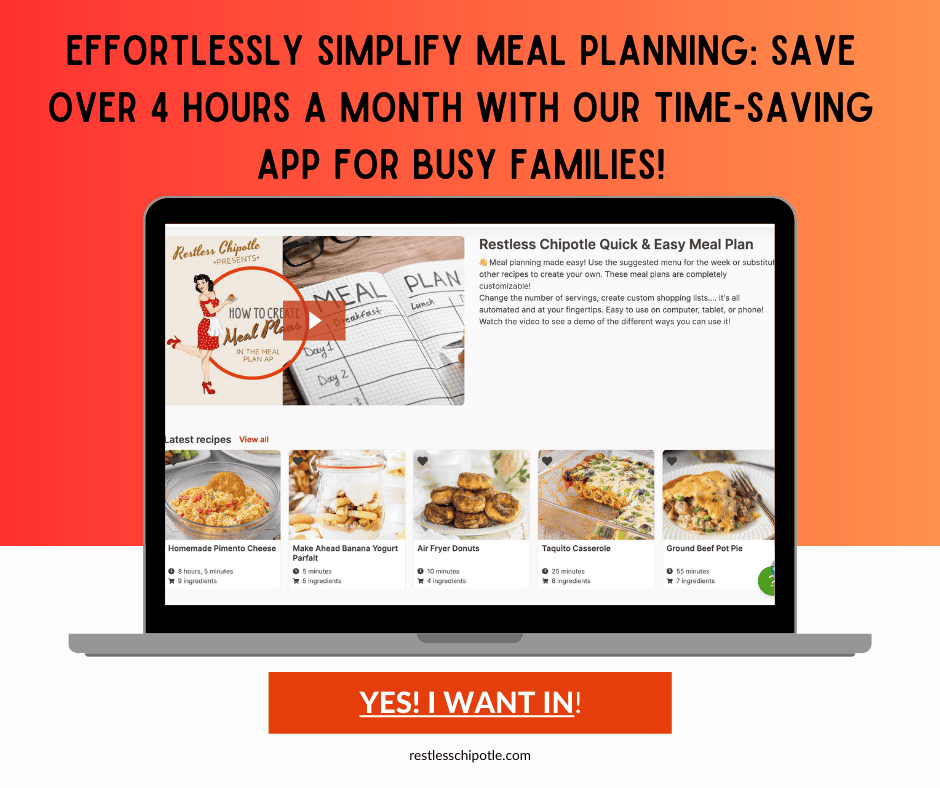 📞 The last word
I don't know when I had my first State Fair corn dog but I do know it wasn't my last.
Not by a long shot. There's something about the mixture of flavors that's just...
Delicious.
If you click on the number of servings in the recipe card you can adjust the measurements up or down for the exact number of servings you need.
If you love this recipe please give it 5 stars! ⭐️⭐️⭐️⭐️⭐️
📖 Recipe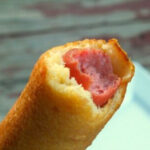 Homemade Corn Dogs
Print
Pin Recipe
Save
Saved!
Homemade corn dogs wrapped in a slightly sweet, slightly spicy batter - just like the state fair. Maybe better. Choose a good quality, smoky, all beef hot dog for best flavor.
As an Amazon Associate I earn from qualifying purchases.
Equipment Needed
Deep Fryer

quart jar

wooden skewers

or popsicle sticks or wooden chopsticks
Ingredients
1 ½

cups

yellow cornmeal

1 ½

cups

all purpose flour

1

teaspoons

baking powder

½

teaspoon

baking soda

11/2

tablespoon

honey

1

teaspoon

salt

A few gratings whole nutmeg

,

¼ teaspoon give or take

¼

teaspoon

chipotle powder

,

optional

¼

teaspoon

smoked paprika

1 ½

cup

buttermilk

4

eggs

8

beef hot dogs

Cornstarch

,

(or flour but cornstarch works better) for rolling hot dogs in
I earn a commission from Instacart from qualifying purchases.
Instructions
Preheat an electric fryer to 355-360F

Combine the cornmeal, flour, baking powder, baking soda, honey, salt, nutmeg, paprika,and chipotle powder.

In another bowl combine the eggs, honey, and buttermilk and beat until well blended.

Mix the buttermilk mixture into the cornmeal mixture. The batter will be thick.

Ladle the batter into a quart mason jar. That way when you are done you can easily store any leftover batter.

Push the wooden skewers into the hot dogs firmly.

Make sure the hot dogs are dry – roll them in cornstarch or flour to make the batter stick better.

Dip the hot dogs upside down into the cornbread batter. Make sure the batter covers the entire hot dog.

Pull them out and let the excess drip off back into the batter.

Slowly add them to the fryer in small batches until the batter is golden and cooked through.

Remove and drain on paper towels.
Notes
Storage:
Store corn dogs wrapped in plastic wrap in the refrigerator for up to 4 days. You may freeze them for longer storage.
Tips:
Skewers work better than popsicle sticks.
Believe it or not if you've got chopsticks at home they work as well or better than the skewers.

It takes about 3 minutes per corn dog for the crust to be cooked and the hot dog heated all the way through.

Cut the hot dogs in half crosswise and dip them for mini-corndogs.
You'll find more helpful tips and variations in the body of the post.
Nutrition Facts
Calories:
450
kcal
|
Carbohydrates:
54
g
|
Protein:
15
g
|
Fat:
19
g
|
Saturated Fat:
8
g
|
Polyunsaturated Fat:
2
g
|
Monounsaturated Fat:
8
g
|
Trans Fat:
0.01
g
|
Cholesterol:
112
mg
|
Sodium:
903
mg
|
Potassium:
330
mg
|
Fiber:
3
g
|
Sugar:
15
g
|
Vitamin A:
243
IU
|
Vitamin C:
0.1
mg
|
Calcium:
97
mg
|
Iron:
2
mg
Nutrition information is estimated as a courtesy. If using for medical purposes, please verify information using your own nutritional calculator. Percent Daily Values are based on a 2000 calorie diet.
Sign up for the emails and never miss another recipe!!
We'll never share your email or send you spam. Pinkie swear.
First published September 19, 2014. Last updated July 27, 2023 for editorial improvements and helpful information.
✍🏻 A note from Marye...
I know y'all don't always like the stories bloggers tell so when I have one I try to put it at the very bottom so you can read or skip as you like.
It's almost time for the State Fair — and if you have to ask me which one you must be visiting for the first time.
The Texas State Fair is an experience that is hard to explain.
I wish Yankee Candle made a Texas State Fair scent. It would be a mixture of popcorn, funnel cakes, hot pavement, and frying oil plus just a touch of something else.
Magic maybe.
One of the most magical foods of all is the original, not to be missed, corn dog.
Homemade corn dog recipes almost never make me happy.
There is some flavor missing or the batter isn't right — I don't know, it's always something. I compare them in my head to the ones at the State Fair and they never measure up.
The frozen ones from the store are just ick.
So, this is simple and there no real trick to it other than the choice of hot dogs. This is going to make the biggest difference in how it comes out.
Please, please do not use cheap ones in this and for the love of God don't use turkey or chicken.
What you want is an all-beef hot dog that has a strong smoky flavor. I think that the Ballpark Franks Angus type are the best here but you may have a local brand that is better.
The perfect homemade corn dog has just the right amount of lightly honey-sweetened batter. The batter should taste delicately of cornbread but not so much that it overpowers the hot dog.
Back in the 70s there was a corn dog place here in the Dallas area that served what they called corn cheese — chunks of cheese that were battered and fried in the same way.
When you bit into them the cheese was melty and gooey. I tried to do that but it didn't work... so it's still in the development process.