It's almost time for the State Fair — and if you have to ask me which one you must be visiting for the first time. The Texas State fair is an experience that is hard to explain. I wish Yankee Candle made a Texas State Fair scent. It would be a mixture of popcorn, funnel cakes, hot pavement, and frying oil plus just a touch of something else. Magic maybe. One of the most magical foods of all is the original, not to be missed, corn dog.
Homemade corn dog recipes almost never make me happy. There is some flavor missing or the batter isn't right — I don't know, it's always something. I compare them in my head to the ones at the state fair and they never measure up. The frozen ones from the store are just ick.
So, this is simple and there no real trick to it other than the choice of hot dogs. This is going to make the biggest difference in how it comes out. Please, please do not use cheap ones in this and for the love of God don't use turkey or chicken. What you want is an all beef hot dog that has a strong smoky flavor. I think that the Ballpark Franks Angus type are the best here but you may have a local brand that is better.
The perfect homemade corn dog has just the right amount of lightly sweetened batter. The batter should be sweetened with honey and should taste delicately of cornbread but not so much that it overpowers the hot dog. Back in the 70s there was a corn dog place here in the Dallas area that served what they called corn cheese — chunks of cheese that were battered and fried in the same way. When you bit into them the cheese was melty and gooey. I tried to do that but it didn't work... so it's still in the development process.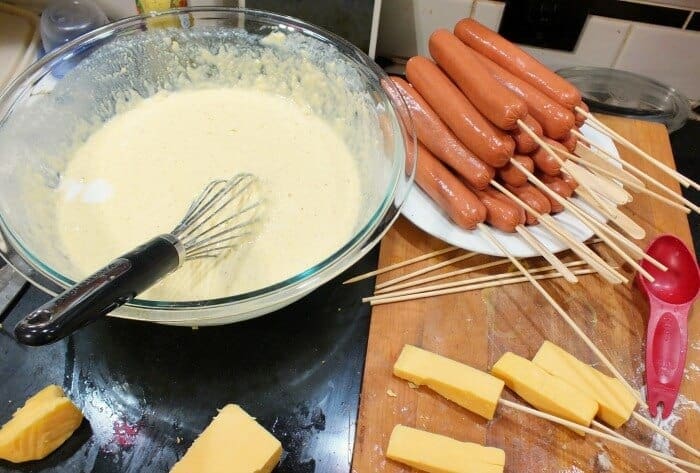 The easiest way to batter the corn dog is to ladle the batter in quart Mason jar and then dip the hot dog straight down into it and straight back up. It comes out perfectly. Plus, if you have some batter left you can just twist the top on the jar and pop it in the refrigerator for next time... oh, and there will be a next time.
Let the excess batter drip off and then slowly dip them into the hot oil while you hold the stick. Doing it this way allows the batter to cook on the outside so it doesn't stick to your fryer basket. One the outside is firm (a couple of seconds) you can drop the rest of the corn dog in.
Next time you've got to try these old fashioned sloppy joes!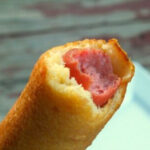 Homemade Corn Dogs That Are Texas State Fair Worthy
Print
Save
Go to Collections
Homemade corn dogs wrapped in a slightly sweet, slightly spicy batter - just like the state fair. Maybe better. Choose a good quality, smoky, all beef hot dog for best flavor.
As an Amazon Associate I earn from qualifying purchases.
Ingredients
1 ½

cups

yellow cornmeal

1 ½

cups

flour

1

teaspoons

baking powder

½

teaspoon

baking soda

11/2

tablespoon

honey

1

teaspoon

salt

A few gratings whole nutmeg

,

(¼ teaspoon give or take)

¼

teaspoon

of chipotle powder

¼

teaspoon

smoked paprika

1 ½

cup

buttermilk

4

eggs

8

beef hot dogs

Non-GMO Cornstarch

,

(or flour but cornstarch works better) for rolling hot dogs in
I earn a commission from Instacart from qualifying purchases.
Instructions
Preheat an electric fryer to 355-360F

Combine the cornmeal, flour, baking powder, baking soda, honey, salt, nutmeg, paprika,and chipotle powder.

In another bowl combine the eggs, honey, and buttermilk and beat until well blended.

Mix the buttermilk mixture into the cornmeal mixture. The batter will be thick.

Ladle the batter into a quart mason jar. That way when you are done you can easily store any leftover batter.

Push the sticks into the hot dogs firmly.

Make sure the hot dogs are dry – roll them in cornstarch or flour to make the batter stick better.

Dip the hot dogs upside down into the batter.

Let the excess drip off.

Slowly add them to the fryer in small batches until the batter is golden and cooked through.
Sign up for the emails and never miss another recipe!!
We'll never share your email or send you spam. Pinkie swear.
If you liked this Corn Dog Recipe, you may also like..
Homemade Tater Tots Restless Chipotle