When it starts cooling down I want spicy aromas and flavors coming out of my kitchen. These cupcakes are a little time more time consuming than your basic vanilla or chocolate but I think you will agree, after one bite, that they are just SO worth it!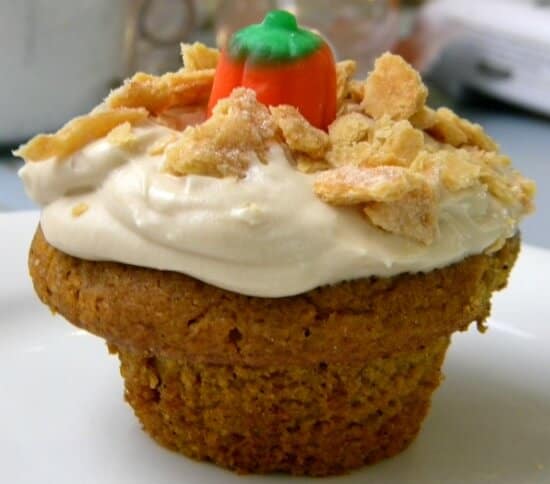 The pumpkin cupcake is spicy and the pumpkin flavor is strong because you are going to roast the pumpkin before you use it. It is filled with a rich cream cheese filling, swirled with a creamy brown sugar frosting and then topped with a sprinkle of crunchy pie crust bits that have been sugar glazed.
Whatever you are looking for it is all here.
When I was making these I wasn't thinking and made them HUGE. You can easily get 24 cupcakes out of this recipe, although I made just 12. I think they are probably too rich for the average person to eat a whole one but my kids have been in training since birth to consume disgustingly rich, sweet desserts in massive quantities. Don't try this at home.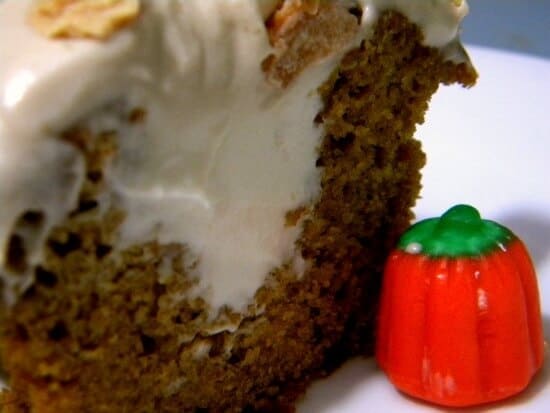 I know someone is going to ask if the pumpkin MUST be roasted and the answer is, of course, no. However, you will be missing out on an explosion of flavor and I don't want any grumbling about how they are not that flavorful. Change or adjust the recipe and you are on your own.
As the pumpkin roasts it caramelizes and reduces. Measure it out at the end, you should have 1 ¾ cups. If you used canned pumpkin you will need about 2 -3 tablespoons of cream to bring it back up to 1 ¾ cups.
This recipe calls for oil because it adds moistness without flavor. Use any mild oil you want - walnut would totally rock... I used peanut oil.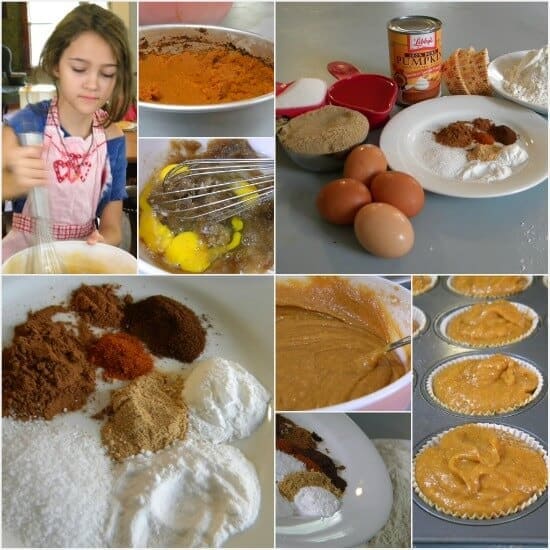 The cayenne pepper adds a pop of heat that I like. You don't have to use it but - hey, what the heck ... Try it once. If you don't like it you can leave it out the next time.
Be sure and cool the cupcakes completely before hollowing them out or they will totally crumble. Leave at least ¼ inch of cake on the bottom or the filling will squirt out when you bite into it.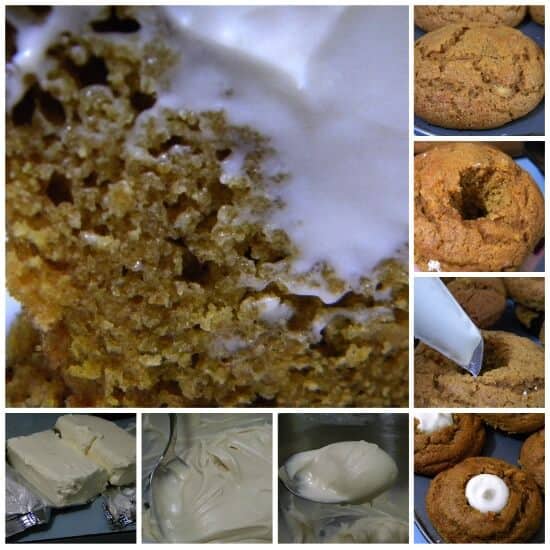 I looked and looked for a filling recipe to base mine off of and finally found one..a perfect one...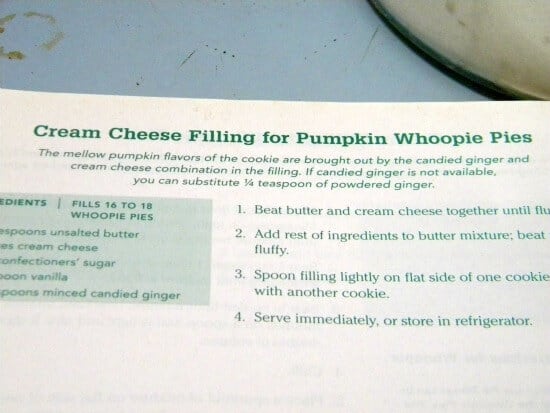 ....Right in my own cookbook...LOL!
You will definitely want to chill this frosting for awhile before frosting your cakes. Keep these refrigerated until about 15-20 minutes before serving. Store any leftovers (as IF!) in the fridge.
📖 Recipe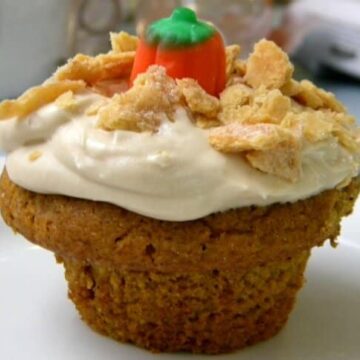 Pumpkin Pie Cupcakes
Print
Save
Saved!
: Tender cupcake with the flavor of pumpkin pie
As an Amazon Associate I earn from qualifying purchases.
Ingredients
I earn a commission from Instacart from qualifying purchases.
Instructions
Roast the pumpkin under a broiler set on high -stir often and keep watch until it has reduced and is a darker color.

Cool completely

Measure pumpkin -you should have 1 ¾ cups,if not, add heavy cream to make 1 ¾ cups cream and pumpkin

Mix eggs, sugars, and oil into pumpkin/cream mixture

Mix dry ingredients

Add the dry ingredients to the wet and mix well

Preheat oven to 350F and bake for 15-20 minutes or until a cake tester comes out clean

Let cool completely

Meanwhile mix the 1 cup of flour with the salt

Work in the butter until crumbly

Add enough ice water to make a stiff dough

Roll out and brush with melted butter and then sprinkle with sugar

Bake at 400 about 10 minutes or until golden and crispy

Mix cream cheese and butter in a mixer until well blended

Add vanilla and maple

Beat in confectioners until creamy and fluffy

Hollow out the middles of the cupcakes but don't go all the way through the bottom

Fill a frosting bag with the filling and squeeze the filling into each cupcake

Chill for 30 minutes

Beat the 8 oz cream cheese and the ½ cup of butter together until creamy

Add the brown sugar, cornstarch, salt, lemon and flavorings

Beat until creamy

Chill for 30 -40 minutes or until it is a good consistency for frosting

Frost cupcakes and then sprinkle broken pastry over the top

Refrigerate until about 30 minutes before serving
Notes
These are BIG cupcakes - you can cut the calories in half by making 24 rather than 12
You'll find more helpful tips and variations in the body of the post.
Nutrition information is estimated as a courtesy. If using for medical purposes, please verify information using your own nutritional calculator. Percent Daily Values are based on a 2000 calorie diet.
Sign up for the emails and never miss another recipe!!
We'll never share your email or send you spam. Pinkie swear.