Although McKinney Texas is a small town there's plenty of things to see and do whether you are there for an afternoon or an entire week. No matter what time of year you plan on visiting this historic Texas town you're sure to find something interesting going on.
My husband and I were invited to experience historic McKinney, Texas at no cost to ourselves. All opinions expressed are my own. A special thanks to McKinney Visitor's Bureau for all of their help in making arrangements for this series.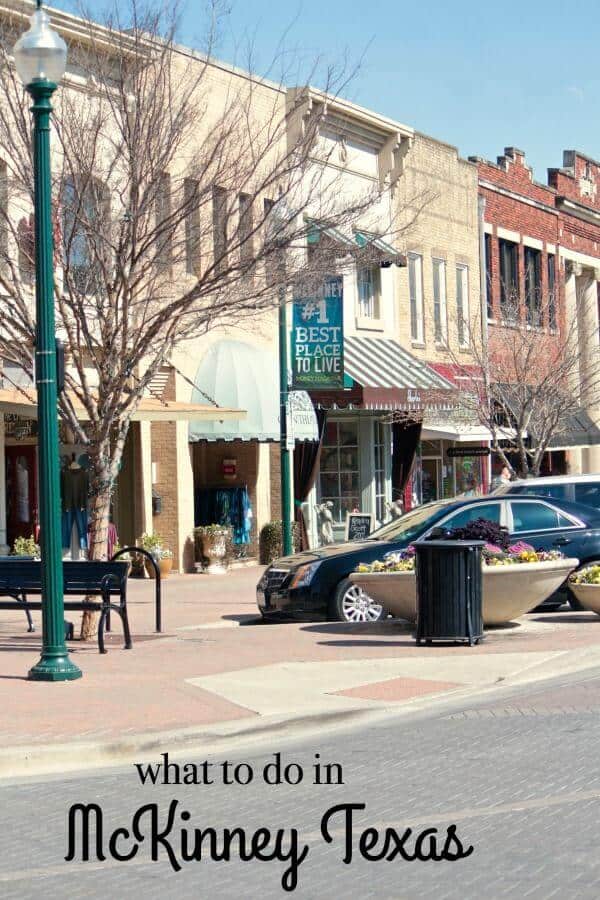 If you live in north Texas or even if you've ever been here you know that the weather is as unpredictable as an angsty teenager. February can be bitter cold and nasty but during the time we were in McKinney it was in the 60's or 70's and sunny. Perfect weather to walk around outside.
Shopping in McKinney Texas
The historic downtown is pure heaven for history buffs. The wide, tree lined streets and old buildings will sweep you back in time. If you, like me, you grew up in the 50's and 60's you'll remember shopping "downtown" rather than going to a mall. Well, downtown McKinney Texas is exactly like that. And, if you, like me, happen to LOVE shopping for unique items and antiques all I can say is bring your credit card!
At one of the antique shops I picked up some vintage tableware for props. You've seen some of it right here on the blog! If there were only antique stores lining the picturesque downtown I'd be perfectly happy but there's more. We slipped in to a jewelry store that handles estate pieces (oh my goodness!) and perused handmade soaps in one of the boutiques. An artists' market, kitchen shop, a store specializing in international handmade fair trade items, and a couple of wineries are only a few of the shopping experiences we enjoyed. You can get a better look at what's available in this McKinney business directory.
Outdoor Adventures on a Segway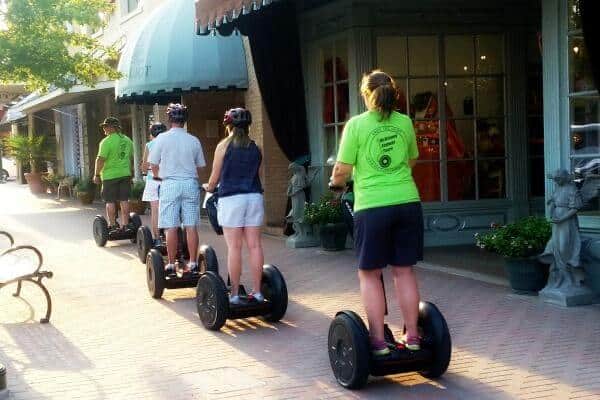 This trip was all about experiences and I'm not one to turn down an opportunity for a new adventure. For a super conservative introvert I am a risk taker. When I found out that a segway tour was a scheduled part of our visit I had some trepidation. I'll be honest, I am not the most graceful person in the room -- and right now I'm the ONLY person in the room unless you count the two snoring dogs as people.
The idea of balancing while moving forward at 12 mph AND steering was kind of sobering but our guide assured me that I could do it. We practiced getting on and off the segway, moving forward, turning, and a variety of other necessary things before heading cautiously down the street. Once we got going I was cautious for about two minutes and then I forgot what I was doing.
I also forgot the fact that a face-plant on concrete at 12 mph could going to do a lot of damage. Thank God, I didn't find out! I sped along behind the guide admiring the architecture. We stopped every so often so he could tell us about a particularly interesting building or a funny story about the area.
Do this. It is so worth it. It's an experience you won't forget.
Touring Chestnut Square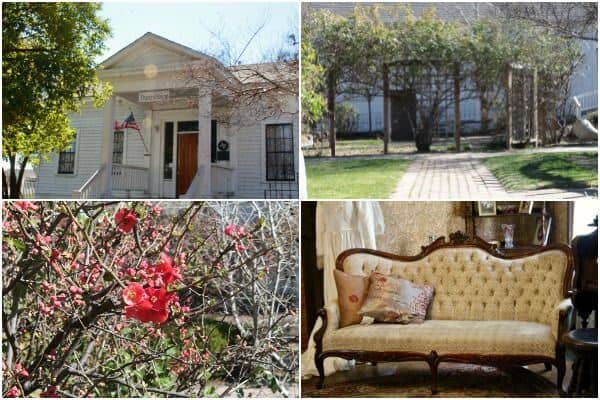 Chestnut Square Historic Village is a collection of buildings built in the 1850s through the early part of the 20th century. There are several homes with period appropriate furnishings, a schoolhouse, a store, what used to be an inn, and a chapel. There's also a gorgeous garden area.
While Chestnut Square is a great tour it also offers a variety of events on the two plus acre site.
Weddings and receptions are held on this glorious spot -- which makes McKinney Texas a great destination for weddings and honeymoons.
You can book a tea for your group complete with vintage china and fancy sandwiches.
Investigate paranormal activity or take the Ghost Tour.
Start here to take the trolley tour of historic downtown.
Stroll through the Farmer's Market when it's going on.
Spending Time at Spa Esoteric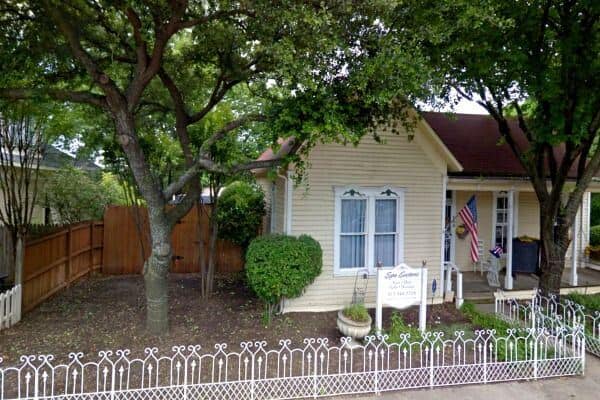 My husband and I finished up the afternoon at Spa Esoteric for massages. The spa is situated in a quaint cottage just off the downtown area at 105 S Church St. The room was the perfect temperature and allowed me to relax completely and enjoy the massage therapist turning my muscles into soft butter.
It was a great way to end the day.
There's More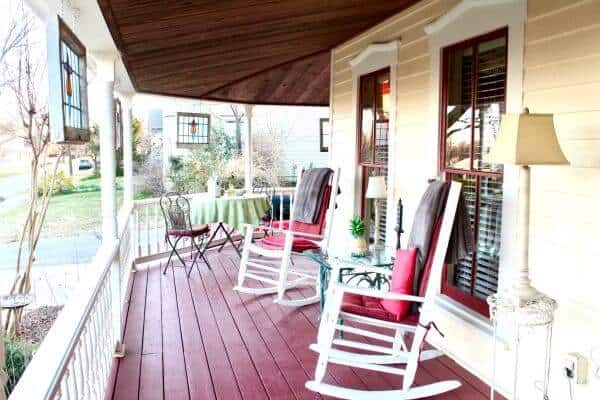 There's no way I could do and see everything. You'll definitely want to check the McKinney Visitor's Bureau for more ideas and events specific to the time you'll be there. Or, when you get there stop in -- the office is right on Virginia Street and the people that run it are the best. Check out the pictures on the McKinney Facebook page.
Many Texas towns have forgotten that they are part of the Lone Star State. I'm not going to point fingers but you know the ones They have chain stores, chain restaurants, and you can't tell much difference from the town in Texas and a California city. It seems that so often we lose the family businesses, the family restaurants, and the things that make each city in Texas unique. Not so with McKinney. They've done a heck of a job keeping it real, keeping it unique, and most of all keeping it Texan. If I seem a little partial ... well I am. I came away from my time there with more of a feeling of belonging than I have had in 20 years of living in my current location.
That says a lot, don't you think?
images by Marye Audet unless otherwise noted
If you liked this post about McKinney you may also like
From left to right: McKinney Restaurants, Red Gate Inn McKinney, A Visit to Collin Street Bakery