Whether you are headed to Austin, Texas for a conference, a corporate takeover, or a weekend away with your favorite sidekick, the Westin Austin Downtown is ready to make every moment all about you. Even if your favorite sidekick is your dog.
Disclosure: My husband and I were guests of the Westin Austin Downtown and enjoyed dinner and drinks at Stella San Jac at no cost to us. All opinions are my own -- based on my experiences.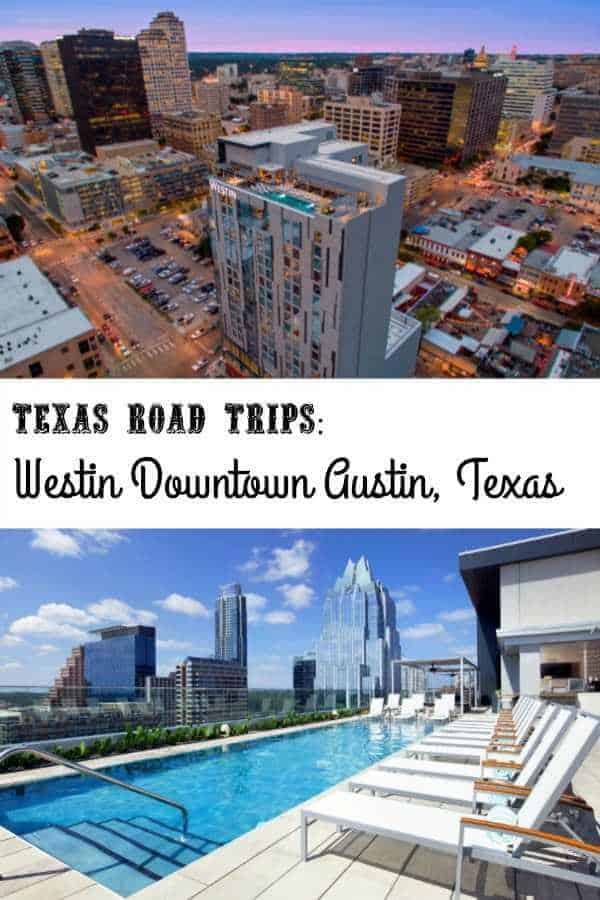 When my husband and I were invited to head down to Austin and stay for a couple of nights at the Westin Austin Downtown I was thrilled. For one thing, it meant a stop at Bucc-ee's for Beaver Nuggets. Beaver Nuggets are like the love child of Cap'n Crunch and Corn Pops -- totally addictive and way more carbs than I should eat in a year. Yet I finished a bag mostly by myself.
Another reason -- and definitely the prevailing one -- was that I was ready for a few days away from home. France in April was wonderful but it was in APRIL! Here it was July and April was a great memory and a bazillion pictures. I was ready for more vacation time.
Austin is just a couple of hours from Dallas, right down I-35. It didn't seem like any time at all before we were pulling up to the valet and being ushered into the lobby by a friendly young lady. She waited with our luggage while we checked in and then showed us to our room on the 18th floor.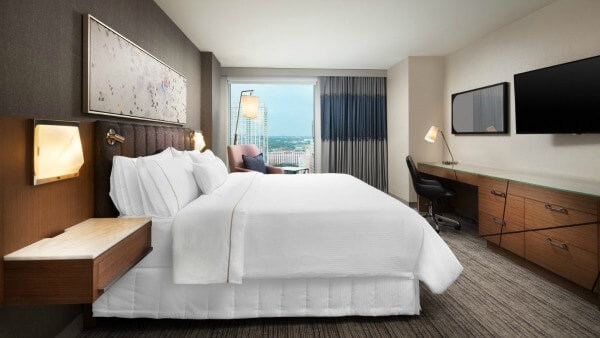 Oh y'all. When that door swung open I knew my vacation had begun. The room was light and airy with a huge, floor to ceiling window that overlooked the city and the hills beyond.
We didn't have a lot of time before we were to meet the general manager, Kris Carlson, for the grand tour and cocktails.
Reflections of Austin's Musical Roots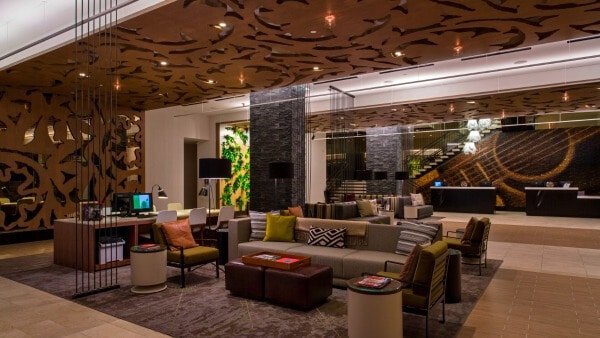 The downtown Westin Austin Downtown is just a year old and it is beautiful. Everything about it reflects Austin's music scene from the dividers that looked like guitar strings to the conference rooms named after some of Austin's greatest musicians... Joplin, Strait, Vaughan. Guitar motifs are used everywhere - the huge image of a guitar behind the front desk (you can't see it unless you are on the other side of the room), the cutout shapes on the lobby ceiling inspired by the cutout designs in a Dobro guitar, and everywhere else you look.
366 rooms, conference rooms, hallways -- there is natural light everywhere. I don't know about you but I've been in hotel hallways where I almost expected to glance up into the faces of the twins from The Shining. That's not a problem here. It's gorgeous.
Austin's Tallest Hotel Rooftop Bar and Pool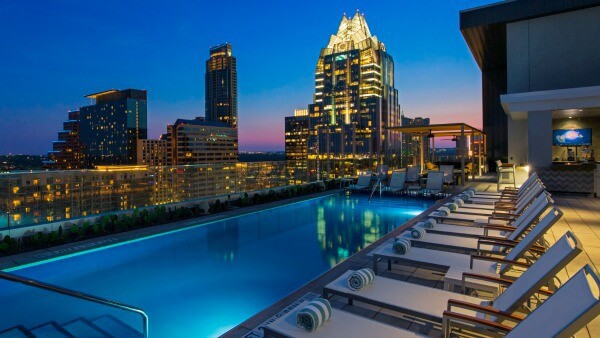 Kris walked us through hallways and conference rooms and then we headed up to the hotel's fitness area and rooftop pool. I'll admit that I totally slacked off while I was there but the gym was inspiring. One entire wall is made entirely of glass giving you a beautiful view while you workout on the cardio machines. There is also a small weight area with strength training equipment and free weights. If you are a runner you can head out on a guided group run.
Next to the gym area is the pool and rooftop bar, Azul. Azul is the tallest hotel rooftop bar and pool in the city and the views are spectacular. If you are looking for a romantic interlude head up there for cocktails and to watch the sunset turn from vibrant corals and pinks to deep purple.
It was super windy up there so we headed down to the bar at Stella San Jac where we could talk without the wind grabbing our words and whisking them off to Galveston or something. I'm going to talk about the bar and the restaurant later this week. There's just too much to share in one post.
The Westin Austin Downtown Is Dog Friendly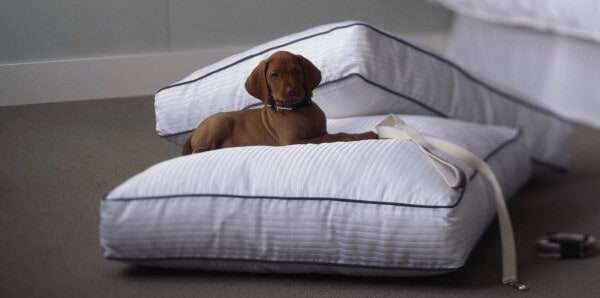 The hotel is dog friendly. You'll see water bowls outside for passing pups as you walk into the hotel. There's a chalk board with the names of the dogs who are staying at the hotel. There is even a special doggie beer so your dog can enjoy a drink with you. A dog bed, bowl, waste bags, and freshly made dog treats from a local bakery round out your pup's VIP treatment.
Here's the flip side of that. It isn't over run with four legged friends. The dogs that were there were very well behaved. If you are not a dog person you won't have to worry about a pack of dogs running rampant or keeping you up all night with barking. It's all very well done.
Location, Location, Location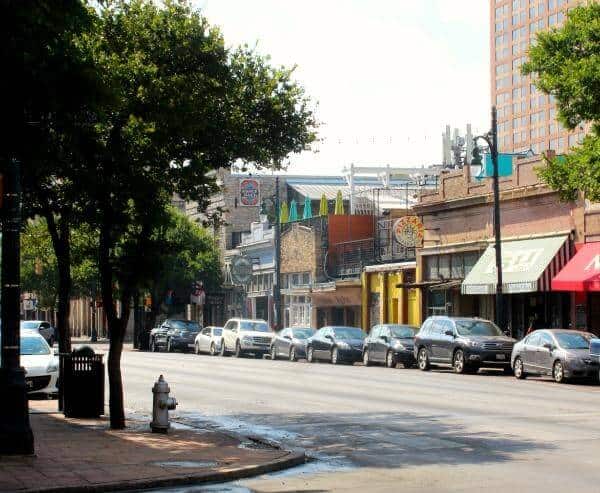 Location is everything whether you're on a romantic getaway or a business trip. I love the location -- just a block from the Convention Center and a block from the famous (infamous?) 6th Street entertainment district.
6th Street encompasses nine blocks on E. 6th Street between Lavaca Street and I-35. You'll find bars, pubs, clubs, music venues, cool little shops, and eateries. We were actually there during the week but I've heard that on weekend evenings the traffic is blocked so you can walk safely anywhere you want.
To Be Continued
I'm going to wrap this up for now. I could wax poetic on all of the little details at the Westin Austin Downtown that made my stay so fabulous but it really boils down to beautiful surroundings, a fabulous location, and top notch customer service. Everyone is incredibly friendly and helpful. I'm definitely planning on making it my home base for SXSW and any other conference I get to attend in Austin -- on my own dime.
Hey -- be sure and come back. I'll be sharing all week long about Stella San Jac Restaurant, the bar, and a couple of the other spots we visited. I've even got a recipe that Chef Michael Cerrie is sharing with us. It's a dish that quickly became my favorite -- pretty sure you're going to love it, too.
Later, y'all.
More in this series:
More Texas Road Trips
San Antonio's Historic Saint Anthony Hotel
First 5 images courtesy of: Westin Austin Downtown
Last Image: Marye Audet