If you love expansive wilderness views, gorgeous skies, and the possibility of seeing pods of whales at any moment you'll love the Princess Alaskan cruise!! I experienced all those things and more on my vacation to Alaska- scroll down for the insider information!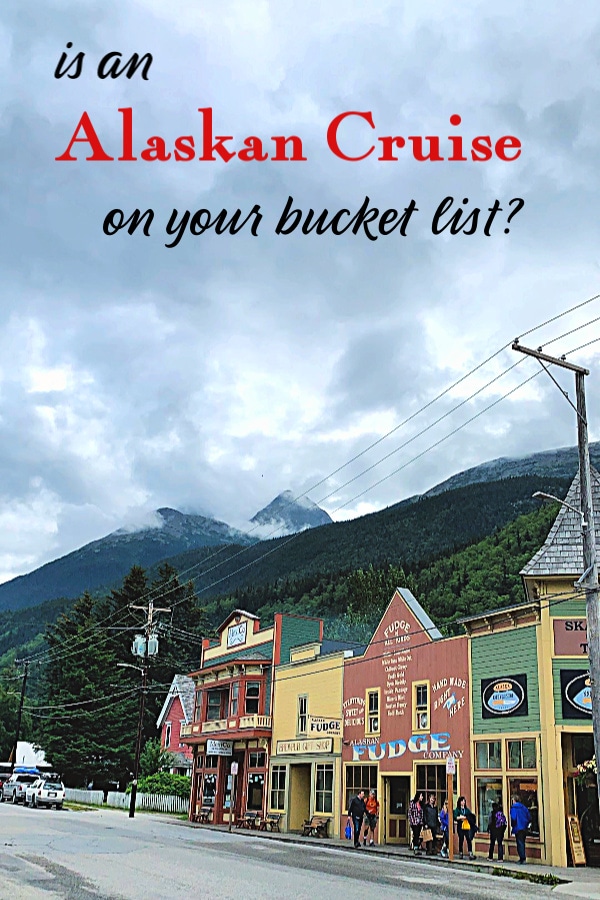 Jump to:
I have traveled a ton this year. In fact, I have been on some kind of trip every month since April and I have three more trips scheduled before Christmas. I never-ever thought that I would be that person who is running off here and there and having amazing adventures - but here I am.
Just a quick FYI - these were trips that we took - they weren't comped or sponsored. I'm including the links to various places so that you can look into them more if you're intrested but I am not being paid by any of them.
In July my husband and I flew to Seattle to take a 7 day cruise to Alaska on the Ruby Princess. I was super excited because Alaska has always been a bucket list item for me and here I was checking off another travel adventure!
Seattle's Edgewater Hotel
We got into Seattle a day early and checked into our gorgeous room at the Edgewater Hotel. It was situated close to the area where we would be boarding ship so it was a good choice for us.
We knew we weren't going to go sightseeing because of time but the area around the hotel was so gorgeous I didn't feel like we missed out at all!
The decor is somewhat rustic and cabin-like. I loved the way that the entire downstairs was decorated with what looked like tree trunks running up the walls.
Even more beautiful than the room (complete with fireplace and a bear) was the view - we were literally right on the water.
Alaskan Cruise on the Ruby Princess
I have been on several cruise lines but hadn't experienced Princess cruises. The Ruby Princess was refurbished in 2018 and it's just beautiful!
The balcony room was similar to others except for one thing... there was a HUGE closet and dressing area which I appreciated!
I love getting the balcony rooms because there's nothing more relaxing to me than sitting out on the balcony in the morning with a cup of coffee and my journal - at least usually. Alaska in July is similar to Texas in December so with 55 degrees and rain I didn't spend a ton of time out there.
One of the mornings my husband arranged for us to have a champagne breakfast in our room. It was fabulous with tons of fresh fruit, coffee, breakfast rolls, and champagne. Definitely worth it!
First Stop Juneau
The first stop on my Alaskan cruise was in Juneau. I was surprised at how small it was - I expect cities to be large and busy but after Alaska and then Santa Fe I am learning that it isn't always the case!
My husband had arranged for us to hike in a National Park where we'd see a waterfall as well as Mendenhall Glacier. I was hoping for bears, too but that didn't happen. I did see lots of eagles.
Don't Miss
The Red Dog Saloon. It's a historic honky tonk with sawdust on the floor and some pretty great burgers and beer.
Mount Roberts Tramway if you're not afraid of heights. It's a fabulous trip up the mountain and you get a beautiful view. There's also a bar up there.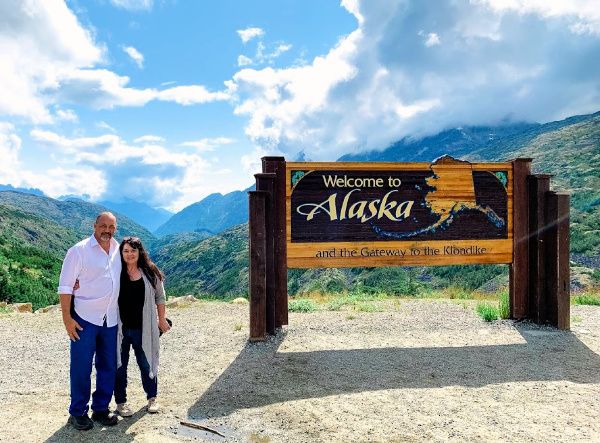 On to Skagway
In Skagway we panned for gold in Liarsville as well as took a bus tour over to Canada and back in so that we could see the harsh terrain that the gold miners had to survive.
It was interesting although I was not impressed with the panning for gold. You're basically given a pan of dirt that's been seeded with gold flake and you use that. I was thinking more along the lines of actually panning for gold -similar to looking for diamonds in Arkansas.
Don't Miss
Shopping is primo! There are a lot of cute little shops with items created by native artisans.
The railroad tour. We didn't do it but I heard it was fabulous.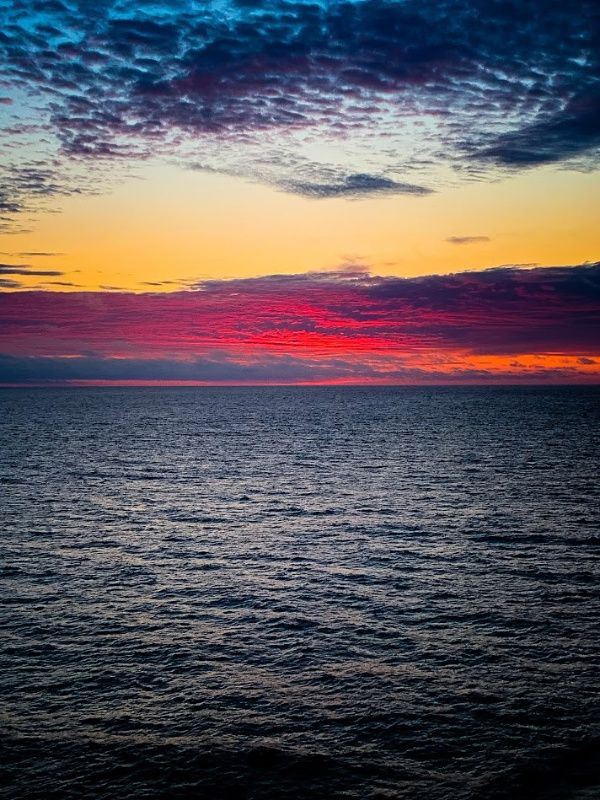 Last Stop on Our Alaskan Cruise
Ketchikan was the tiniest town of all. We chose to just relax and walk around rather than to do any excursions. It was chilly and rainy but it was here that I had the BEST Burger of my entire life.
Don't Miss
Burger Queen. Better get there before it opens and stand in line but OMG it is SO worth it. Best burgers ever.
Arctic Bar but be ready to explain to your kids why the bears are smiling...
Victoria BC
Victoria was actually the last stop on our cruise but it was at night and only for a few hours so we had dinner on the ship.
Alaskan Cruise FAQs
Here are some of the things I wish I'd known before I headed to Alaska. Being from Texas meant that I was terribly unsuspecting and unprepared when it came to weather.
What is the best month to cruise to Alaska?
July and August are the warmest but warmth is very subjective. I've heard it was unusually chilly when I was there.
How long is a Alaska cruise?
Plan on 7 days. I think anything longer than that would not have worked for me.
Is it worth getting a balcony on a cruise?
For an Alaskan cruise? Absolutely! The views are expansive and beautiful!
Can you see the northern lights from an Alaskan cruise?
I didn't - and I think it's only possible if you go super early in the season. Northern lights are a winter thing.
Do you see whales on Alaska cruises?
Maybe. I saw a couple of tails coming out of the water as well as a few spouts. Obviously there's no guarantee.
Where should you stay on a cruise to avoid seasickness?
Go for something in the center of the ship. I have terrible motion sickness and I only have had problems twice in all the cruises I've taken - both during big storms with rolling seas. I did NOT have a problem in Alaska - the water was super calm.
Do I need my passport for an Alaskan cruise?
Yep.
What to Pack for an Alaskan Cruise
This is the one that got me. Packing is always hard because I tend to like dressing cute and wearing heels. I didn't want to overpack (but I did). Here's what I'd suggest -
Lightweight tank tops that you can layer.
Long sleeve shirts that can go over the tank tops
A couple of pair of jeans.
Hiking boots or very comfortable walking shoes.
Socks
A couple of cute things to wear to dinner plus your formal night outfit.
A rain poncho that's super lightweight and can pack away in your backpack or purse.
A rain hat
Waterproof mascara
Umbrella that packs away easily
Be ready for warm OR cold weather.
Basically, the Alaskan cruise is the most casual cruise I've been on as far as what I've worn. Think layers and waterproofing and you'll be fine.
More Great Places to Vacation
Here are some of my favorite spots we've visited and things we've done.
The St Anthony Hotel in San Antonio is a fabulous retreat for anyone who love to be pampered and surrounded by glorious Victorian charm.
Mayan Ruins in Costa Maya were breathtaking. I could hardly contain my excitement at finally experiencing ancient history and actually being in the same spot as the Mayans lived so long ago. I can't explain it – it was amazing.
Normandy and Mont St Michel were one of my most emotional stops in France..."Looking down I saw the beach. Not just a beach but THE BEACH. The sand was white and the waves were gently lapping at the shoreline but in my mind I could hear the weapons and the shouts of that long ago day..."
Port Aransas, Texas was an amazing time of family fun and relaxation – and I learned a bit about what to do in Port Aransas!
Do It!
I love travel! It was great to see a place that I had dreamed about for a very long time.
Would I go again? Probably not. I like to go new places each time but I definitely think it's worth doing and I am so glad we did! What's on your bucket list? Leave me a comment and let me know!