September 9, 2010 Mayan Ruins in Costa Maya were breathtaking. I could hardly contain my excitement at finally experiencing ancient history and actually being in the same spot as the Mayans lived so long ago. I can't explain it - it was amazing.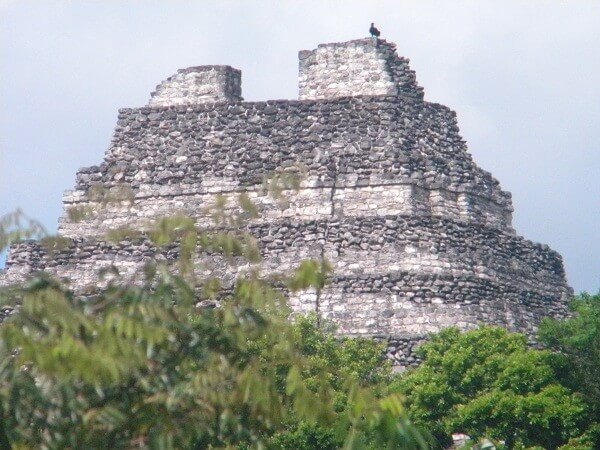 Costa Maya is beautiful, lush, tropical, and now I can say I have been in a rain forest. I have also climbed 1000 year old temples and touched architecture that hands built 200 years after Christ. The thought amazes me and I have to stop and force myself to accept the truth of it. This is something I have dreamed of but never thought I would do. In fact, my bucket list had things like "write a cookbook, jump out of a plane, restore a historic home"… but it I never had the faith to write "visit a Mayan temple."
The tour bus took an hour to get to the archeological site. The tour guide was Aztec and explained about the Mayan culture and how Mayan is still spoken in this area. She remarked that they had gotten electricity for the first time just nine years ago after a hurricane devastated the area. The homes are a pole structure with woven thatch on top. You can see that when they begin to fall apart they are left to return to the soil, the ultimate in maintaining a low carbon foot-print.
Inland in Costa Maya
The homes in Costa Maya have cisterns on top of the roofs to catch water. The cattle and goats feed on the lush grasses both in pasture and just tethered alongside the roadways. Most of what I could see from the roads was purely swamp and out guide told us we might see alligators (or was it crocs?), tigers, puma, and other animals. I saw none of the above but did get to see more of the native, diminutive Mayan horses that are used for work and transport. They are adorable, a bit smaller than an American POA and much more delicate skeletal system yet they seem to be able to do a complete day's work. They seem to mostly be bay with a very few creamy whites. As expected, the lighter horses are a bit bigger – my guess is that these are the ones that have some mix of Spanish horses in their blood.
The temple area is …dang, how can I explain the awe that I felt? You look up…up…up… into a clear blue sky and see the tops of the temples, notched so that the rays of the sun pour through at just the perfect moment in time. There is a western, northern, southern, and eastern temple with a special area in the middle. You could still see some of the ancient red paint on some of the stones.
We climbed the 32 steps to the top platform of one of the temples. I want so badly to share with you this experience but I just can't. There are no words, even for me. If history is your thing then this is something to do …someday. You are standing, one foot on the ancient past an one in the future, knowing that truly your life is a vapor and you are not the center of the universe after all.
Heading Back to the Ship at the Port of Costa Maya
I slept nearly the whole way back, even through the military check point. I have seen my share of military personnel with machine guns on this trip.
When we got back to the port area of Costa Maya we shopped a bit more. Marc was a bit frustrated with me because I hadn't bought anything for myself. I tend to leave myself out of the equation when shopping – a habit born out of years of scrimping. Apparently Marc is not going to put up with that for long…it wasn't long before I had a beautiful necklace around my neck, that cost far more than I was comfortable with but looked like the artisan had pulled a piece of the Caribbean sky down to earth and fashioned it into something that will remind me of this trip forever. I will get a picture of it when I get home…promise. Right now I just don't want to take it off to take a picture of it.
So Much Healing on this Vacation
Warning: The following is truly just introspective…skip it if you like…
As I write this it is the afternoon of the last day of the cruise. I have relaxed. I have slept late, gone to bed early, taken naps and gazed out windows. I have seen things I never thought to see and experienced things I never imagined I would.
I have healed more this last week than in the many months that went before. I feel centered and I am reminded of who I am, who I have always been…what I want and where I am supposed to be going. The first night out I dreamed that the ship went through a huge wave. I knew what the symbolism there was for me… This is a baptism of sorts, a time in the belly of the whale, a time on the ark, a time to reflect and renew, and that when I return to reality my life will be changed. I don't know what all of those changes are but I know that I have been prepared for them and I look forward to this new chapter of my life with anticipation and excitement knowing that truly…it is well with my soul.
For those of you who have prayed for me, sent good thoughts and wishes my way, and blessed me by your friendship…Thank you. I hope you are going to continue the ride…
More later –
Love, Marye